Abstract
Objectives
The aim was to investigate the effect of clinico-radiologic variables, including total tumor (Ttotal) size and clinical T category, on the prognosis of patients with stage IA (T1N0M0) lung adenocarcinomas appearing as part-solid nodules (PSNs).
Methods
This institutional review board-approved retrospective study included 506 patients (male:female = 200:306; median age, 62 years) with PSNs of the adenocarcinoma spectrum in clinical stage IA who underwent standard lobectomy at a single tertiary medical center. Prognostic stratification of the patients in terms of disease-free survival was analyzed with variables including age, sex, Ttotal size, solid portion size, clinical T category, and tumor location using univariate and subsequent multivariate Cox regression analysis. Subgroup analysis was performed to reveal the effect of the Ttotal size at each clinical T category.
Results
Multivariate Cox regression analysis demonstrated that Ttotal size*cT1b [interaction term; hazard ratio (HR) = 1.091; 95% confidence interval (CI): 1.015, 1.173; p = 0.019] and cT1c (HR = 68.436; 95% CI: 2.797, 1674.415; p = 0.010) were independent risk factors for the tumor recurrence. When patients with cT1b were dichotomized based on a Ttotal size cutoff of 3.0 cm, PSNs with Ttotal > 3.0 cm showed a significantly worse outcome (HR = 3.796; 95% CI: 1.006, 14.317; p = 0.049). No significant difference was observed in the probability of recurrence between cT1b with Ttotal > 3.0 cm and cT1c (p = 0.915).
Conclusions
Ttotal size is a significant prognostic factor in adenocarcinoma patients in cT1b without lymph node or distant metastasis. PSNs in cT1b with Ttotal > 3.0 cm have a comparable risk of lung cancer recurrence to those in cT1c.
Key Points
• Current T descriptor was a powerful prognostic factor in stage IA adenocarcinomas appearing as part-solid nodules.
• Total tumor size further stratified risk of recurrence of adenocarcinomas in cT1b.
• Upstaging of tumors in cT1b with total tumor size > 3.0 cm may be more appropriate.
Access options
Buy single article
Instant access to the full article PDF.
US$ 39.95
Tax calculation will be finalised during checkout.
Subscribe to journal
Immediate online access to all issues from 2019. Subscription will auto renew annually.
US$ 119
Tax calculation will be finalised during checkout.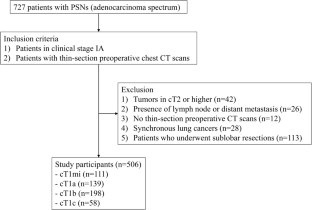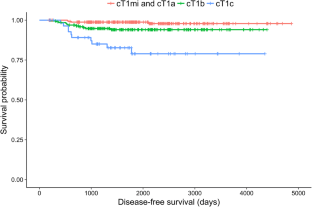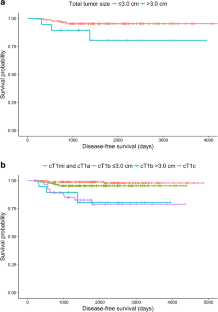 Abbreviations
AIS:

Adenocarcinoma-in-situ

CTR:

Consolidation-to-tumor ratio

DFS:

Disease-free survival

HU:

Hounsfield unit

IQR:

Interquartile range

MIA:

Minimally invasive adenocarcinoma

PSN:

Part-solid nodule

SSN:

Subsolid nodule

Ttotal :

Total tumor
References
1.

Naidich DP, Bankier AA, MacMahon H et al (2013) Recommendations for the management of subsolid pulmonary nodules detected at CT: a statement from the Fleischner Society. Radiology 266:304–317

2.

Kakinuma R, Noguchi M, Ashizawa K et al (2016) Natural history of pulmonary subsolid nodules: a prospective multicenter study. J Thorac Oncol 11:1012–1028

3.

Matsuguma H, Mori K, Nakahara R et al (2013) Characteristics of subsolid pulmonary nodules showing growth during follow-up with CT scanning. Chest 143:436–443

4.

Silva M, Sverzellati N, Manna C et al (2012) Long-term surveillance of ground-glass nodules: evidence from the MILD trial. J Thorac Oncol 7:1541–1546

5.

Henschke CI, Yankelevitz DF, Mirtcheva R et al (2002) CT screening for lung cancer: frequency and significance of part-solid and nonsolid nodules. AJR Am J Roentgenol 178:1053–1057

6.

Hwang EJ, Park CM, Ryu Y et al (2015) Pulmonary adenocarcinomas appearing as part-solid ground-glass nodules: is measuring solid component size a better prognostic indicator? Eur Radiol 25:558–567

7.

Maeyashiki T, Suzuki K, Hattori A, Matsunaga T, Takamochi K, Oh S (2013) The size of consolidation on thin-section computed tomography is a better predictor of survival than the maximum tumour dimension in resectable lung cancer. Eur J Cardiothorac Surg 43:915–918

8.

Tsutani Y, Miyata Y, Nakayama H et al (2012) Prognostic significance of using solid versus whole tumor size on high-resolution computed tomography for predicting pathologic malignant grade of tumors in clinical stage IA lung adenocarcinoma: a multicenter study. J Thorac Cardiovasc Surg 143:607–612

9.

Detterbeck FC, Boffa DJ, Kim AW, Tanoue LT (2017) The eighth edition lung cancer stage classification. Chest 151:193–203

10.

Travis WD, Asamura H, Bankier AA et al (2016) The IASLC lung cancer staging project: proposals for coding T categories for subsolid nodules and assessment of tumor size in part-solid tumors in the forthcoming eighth edition of the TNM classification of lung cancer. J Thorac Oncol 11:1204–1223

11.

Aokage K, Miyoshi T, Ishii G et al (2018) Influence of ground glass opacity and the corresponding pathological findings on survival in patients with clinical stage I non-small cell lung cancer. J Thorac Oncol 13:533–542

12.

Cohen JG, Goo JM, Yoo RE et al (2016) Software performance in segmenting ground-glass and solid components of subsolid nodules in pulmonary adenocarcinomas. Eur Radiol 26:4465–4474

13.

Cohen JG, Goo JM, Yoo RE et al (2016) The effect of late-phase contrast enhancement on semi-automatic software measurements of CT attenuation and volume of part-solid nodules in lung adenocarcinomas. Eur J Radiol 85:1174–1180

14.

Cohen JG, Kim H, Park SB et al (2017) Comparison of the effects of model-based iterative reconstruction and filtered back projection algorithms on software measurements in pulmonary subsolid nodules. Eur Radiol 27:3266–3274

15.

Kim H, Park CM, Hwang EJ, Ahn SY, Goo JM (2018) Pulmonary subsolid nodules: value of semi-automatic measurement in diagnostic accuracy, diagnostic reproducibility and nodule classification agreement. Eur Radiol 28:2124–2133

16.

Yoo RE, Goo JM, Hwang EJ et al (2017) Retrospective assessment of interobserver agreement and accuracy in classifications and measurements in subsolid nodules with solid components less than 8mm: which window setting is better? Eur Radiol 27:1369–1376

17.

Hansell DM, Bankier AA, MacMahon H, McLoud TC, Muller NL, Remy J (2008) Fleischner Society: glossary of terms for thoracic imaging. Radiology 246:697–722

18.

Travis WD, Brambilla E, Noguchi M et al (2011) International Association for the Study of Lung Cancer/American Thoracic Society/European Respiratory Society international multidisciplinary classification of lung adenocarcinoma. J Thorac Oncol 6:244–285

19.

Lee KH, Goo JM, Park SJ et al (2014) Correlation between the size of the solid component on thin-section CT and the invasive component on pathology in small lung adenocarcinomas manifesting as ground-glass nodules. J Thorac Oncol 9:74–82

20.

Rami-Porta R, Ball D, Crowley J et al (2007) The IASLC lung cancer staging project: proposals for the revision of the T descriptors in the forthcoming (seventh) edition of the TNM classification for lung cancer. J Thorac Oncol 2:593–602

21.

Berry MF, Gao R, Kunder CA et al (2018) Presence of even a small ground-glass component in lung adenocarcinoma predicts better survival. Clin Lung Cancer 19:e47–e51

22.

Kim H, Park CM, Goo JM, Wildberger JE, Kauczor HU (2015) Quantitative computed tomography imaging biomarkers in the diagnosis and management of lung cancer. Invest Radiol 50:571–583

23.

Asamura H, Hishida T, Suzuki K et al (2013) Radiographically determined noninvasive adenocarcinoma of the lung: survival outcomes of Japan Clinical Oncology Group 0201. J Thorac Cardiovasc Surg 146:24–30

24.

Nitadori J, Bograd AJ, Morales EA et al (2013) Preoperative consolidation-to-tumor ratio and SUVmax stratify the risk of recurrence in patients undergoing limited resection for lung adenocarcinoma ≤ 2cm. Ann Surg Oncol 20:4282–4288

25.

Aokage K, Yoshida J, Ishii G et al (2013) Identification of early T1b lung adenocarcinoma based on thin-section computed tomography findings. J Thorac Oncol 8:1289–1294

26.

Tsurugai Y, Kozuka T, Ishizuka N, Oguchi M (2016) Relationship between the consolidation to maximum tumor diameter ratio and outcomes following stereotactic body radiotherapy for stage I non-small-cell lung cancer. Lung Cancer 92:47–52

27.

Revel MP, Mannes I, Benzakoun J et al (2018) Subsolid lung nodule classification: a CT criterion for improving interobserver agreement. Radiology 286:316–325

28.

Kadota K, Villena-Vargas J, Yoshizawa A et al (2014) Prognostic significance of adenocarcinoma in situ, minimally invasive adenocarcinoma, and nonmucinous lepidic predominant invasive adenocarcinoma of the lung in patients with stage I disease. Am J Surg Pathol 38:448–460

29.

Behera M, Owonikoko TK, Gal AA et al (2016) Lung adenocarcinoma staging using the 2011 IASLC/ATS/ERS classification: a pooled analysis of adenocarcinoma in situ and minimally invasive adenocarcinoma. Clin Lung Cancer 17:e57–e64

30.

Kamiya S, Iwano S, Umakoshi H et al (2018) Computer-aided volumetry of part-solid lung cancers by using CT: solid component size predicts prognosis. Radiology 287:1030–1040

31.

Takenaka T, Yamazaki K, Miura N, Mori R, Takeo S (2016) The prognostic impact of tumor volume in patients with clinical stage IA non-small cell lung cancer. J Thorac Oncol 11:1074–1080

32.

Yanagawa M, Tanaka Y, Leung AN et al (2014) Prognostic importance of volumetric measurements in stage I lung adenocarcinoma. Radiology 272:557–567
Acknowledgements
We sincerely express our gratitude to Sunkyung Jeon, Jong Hyuk Lee, Su Yeon Ahn, Roh-Eul Yoo, Hyun-ju Lim, Juil Park, and Woo Hyeon Lim for their help in data acquisition.
Funding
This study has received funding by a grant from the National R&D Program for Cancer Control, Ministry for Health and Welfare, Republic of Korea (1520230).
Ethics declarations
Guarantor
The scientific guarantor of this publication is Jin Mo Goo.
Conflict of Interest
The authors of this manuscript declare no relationships with any companies, whose products or services may be related to the subject matter of the article.
Statistics and Biometry
No complex statistical methods were necessary for this paper.
Informed Consent
Written informed consent was waived by the Institutional Review Board.
Ethical Approval
Institutional Review Board approval was obtained.
Study subjects or cohorts overlap
Some study subjects or cohorts have been previously reported in journal articles (Eur Radiol 2016 26:4465-4474; Eur J Radiol 2016 85:1174-1180; Eur Radiol 2017 27:3266-3274; Eur Radiol 2018 28:2124-2133; Eur Radiol 2017 27:1369-1376).
Methodology
• retrospective
• diagnostic or prognostic study
• performed at one institution
About this article
Cite this article
Kim, H., Goo, J.M., Suh, Y.J. et al. Implication of total tumor size on the prognosis of patients with clinical stage IA lung adenocarcinomas appearing as part-solid nodules: Does only the solid portion size matter?. Eur Radiol 29, 1586–1594 (2019). https://doi.org/10.1007/s00330-018-5685-7
Received:

Revised:

Accepted:

Published:

Issue Date:
Keywords
Lung neoplasms

Adenocarcinoma

Prognosis

Disease-free survival

Neoplasm staging