Abstract
Objectives
To determine whether it would be hygienic to evaluate dogs and humans in the same MRI scanner.
Methods
We compared the bacterial load in colony-forming units (CFU) of human-pathogenic microorganisms in specimens taken from 18 men and 30 dogs. In addition, we compared the extent of bacterial contamination of an MRI scanner shared by dogs and humans with two other MRI scanners used exclusively by humans.
Results
Our study shows a significantly higher bacterial load in specimens taken from men's beards compared with dogs' fur (p = 0.036). All of the men (18/18) showed high microbial counts, whereas only 23/30 dogs had high microbial counts and 7 dogs moderate microbial counts. Furthermore, human-pathogenic microorganisms were more frequently found in human beards (7/18) than in dog fur (4/30), although this difference did not reach statistical significance (p = 0.074). More microbes were found in human oral cavities than in dog oral cavities (p < 0.001). After MRI of dogs, routine scanner disinfection was undertaken and the CFU found in specimens isolated from the MRI scanning table and receiver coils showed significantly lower bacteria count compared with "human" MRI scanners (p < 0.05).
Conclusion
Our study shows that bearded men harbour significantly higher burden of microbes and more human-pathogenic strains than dogs. As the MRI scanner used for both dogs and humans was routinely cleaned after animal scanning, there was substantially lower bacterial load compared with scanners used exclusively for humans.
Key points
• Bearded men harbour significantly more microbes than dogs.
• Dogs are no risk to humans if they use the same MRI.
• Deficits in hospital hygiene are a relevant risk for patients.
Access options
Buy single article
Instant access to the full article PDF.
US$ 39.95
Tax calculation will be finalised during checkout.
Subscribe to journal
Immediate online access to all issues from 2019. Subscription will auto renew annually.
US$ 119
Tax calculation will be finalised during checkout.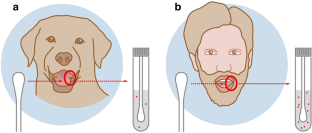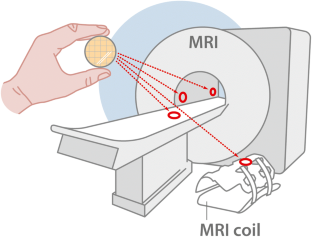 References
1.

Udell M, Wynne CA (2008) Review of domestic dogs' (Canis familiaris) human-like behaviors: or why behavior analysts should stop worrying and love their dogs. J Exp Anal Behav 89:247–261

2.

Eurostat (2018) Population and population change statistics. http://ec.europa.eu/eurostat/statistics-explained/index.php/Population_and_population_change_statistics. Accessed 28 Mar 2018

3.

Statista (2018) Number of dogs in the European Union in 2017, by country (in 1000s). https://www.statista.com/statistics/414956/dog-population-european-union-eu-by-country/. Accessed 28 Mar 2018

4.

Destatis (2017) Bevölkerung, Familien, Lebensformen. https://www.destatis.de/DE/Publikationen/StatistischesJahrbuch/Bevoelkerung.pdf?__blob=publicationFile. Accessed 28 Mar 2018

5.

Klopfenstein M, Howard J, Rossetti M, Geissbühler U (2016) Life expectancy and causes of death in Bernese mountain dogs in Switzerland. BMC Vet Re 12:153

6.

Cozzi B, Ballarin C, Mantovani R, Rota A (2017) Aging and veterinary care of cats, dogs, and horses through the records of three university veterinary hospitals. Front Vet Sci 4:14

7.

AnimalScan (2013) Understanding MR imaging for your pet. http://animalscan.com/understanding-mr-imaging-for-your-pet/. Accessed 28 Mar 2018

8.

Torres S, Clayton JB, Danzeisen JL et al (2017) Diverse bacterial communities exist on canine skin and are impacted by cohabitation and time. Peer J 5:e3075

9.

Sartoretti T, Sartoretti E, Bucher C et al (2017) Bacterial contamination of ultrasound probes in different radiological institutions before and after specific hygiene training: do we have a general hygienical problem? Eur Radiol 27:4181–4187

10.

Nyhsen CM, Humphreys H, Koerner RJ et al (2017) Infection prevention and control in ultrasound - best practice recommendations from the European Society of Radiology Ultrasound Working Group. Insights Imaging 8:523–535

11.

Murphy RA, Chua AC (2016) Prevention of common healthcare-associated infections in humanitarian hospitals. Curr Opin Infect Dis 29:381–387

12.

Klevens M, Edwards JR, Richards CL Jr et al (2007) Estimating health care-associated infections and deaths in U.S. hospitals, 2002. Public Health Rep 122:160–166

13.

Stone PW (2009) Economic burden of healthcare-associated infections: an American perspective. Expert Rev Pharmacoecon Outcomes Res 9:417–422

14.

Gerlich MG, Piegsa J, Schäfer C et al (2015) Improving hospital hygiene to reduce the impact of multidrug-resistant organisms in health care–a prospective controlled multicenter study. BMC Infect Dis 15:441

15.

Hôpitaux Universitaires de Genève (2017) Point prevalence survey 2017 of healthcare-associated infections and antimicrobial use in Swiss acute care hospitals. https://www.swissnoso.ch/fileadmin/swissnoso/Dokumente/5_Forschung_und_Entwicklung/2_Punktpraevalenzstudie/Report_Point_Prevalence_Survey_2017_of_HAI_and_antimicrobial_use_in_Swiss_acute_care_hospitals.pdf. Accessed 16 Feb 2018

16.

[No authors listed] (2015) Health care-associated infections in the USA. Lancet 385:304. https://doi.org/10.1016/S0140-6736(15)60101-5

17.

Shen DT, Crawford TB, Gorham JR, McGuire TC (1977) Inactivation of equine infectious anemia virus by chemical disinfectants. Am J Vet Res 38:1217–1219

18.

Scott FW (1980) Virucidal disinfectants and feline viruses. Am J Vet Res 41:410–414

19.

Brown TT Jr (1981) Laboratory evaluation of selected disinfectants as virucidal agents against porcine parvovirus, pseudorabies virus, and transmissible gastroenteritis virus. Am J Vet Res 42:1033–1036
Acknowledgements
We would like to thank our radiologic technologists Anke Gölz, Bea Keller and Susanne Weidmann, who try to make every day the best day possible both for our human patients and for our sick dogs. We also want to thank Nicole Graf, our professional statistician, who provided valuable support during the statistical evaluation of our results (graf@biostatistics.ch).
Funding
The authors state that this work has not received any funding.
Ethics declarations
Guarantor
The scientific guarantor of this publication is Andreas Gutzeit.
Conflict of interest
The authors of this manuscript declare no relationships with any companies whose products or services may be related to the subject matter of the article.
Statistics and biometry
Nicole Graf kindly provided statistical advice for this manuscript.
Informed consent
Written informed consent was waived by the institutional review board
Ethical approval
Institutional review board approval was obtained.
Approval from the institutional animal care committee was obtained.
Methodology
• prospective
• experimental
• multicenter study
About this article
Cite this article
Gutzeit, A., Steffen, F., Gutzeit, J. et al. Would it be safe to have a dog in the MRI scanner before your own examination? A multicenter study to establish hygiene facts related to dogs and men. Eur Radiol 29, 527–534 (2019). https://doi.org/10.1007/s00330-018-5648-z
Received:

Revised:

Accepted:

Published:

Issue Date:
Keywords
Hygiene

Cross infection

Disinfection

Animal experiments