Abstract
Introduction
Safe practice and safety culture are important issues in outpatient diagnostic imaging services. As questionnaires assessing safety culture through the measurement of safety climate in this setting are not yet available, the present study aimed to develop and validate such an instrument.
Materials and methods
After adaptation of an existing questionnaire and qualitative pretesting, the instrument was tested by collaborators from three outpatient imaging services in Switzerland. Results were first assessed using descriptive statistics. Scores of individual services were compared using a Wilcoxon test assessing differences between rank distributions. The final instrument was tested for validity using inter-rater agreement measures, such as reliability within groups (rWG), and an intraclass correlation coefficient measure (ICC(1)). These measures allowed the assessment of validity of aggregation into a total score (rWG(j)) and validated the instrument for its capacity to distinguish various safety climates of different groups by comparing inter-rater agreement in the overall sample to inter-rater agreement of individual services (rWG) and by measuring group effects (ICC(1)). Furthermore, the final instrument was tested for internal consistency and reliability using Cronbach's Alpha.
Results
Safety climate scores vary significantly between services. Inter-rater agreement measures show that item aggregation is justified and that the instrument distinguishes various patterns of safety climate. The final instrument proves to be valid, consistent and reliable.
Conclusions
The final instrument presents a valid, consistent and reliable option to measure safety climate in outpatient diagnostic imaging services. Results can be used as a basis for quality improvement.
Key Points
• An adapted questionnaire that assesses safety climate in outpatient diagnostic imaging services was developed and tested in Switzerland.
• Psychometric evaluation showed the questionnaire to be a valid, consistent and reliable instrument.
• Results are of interest for imaging services as well as for stakeholders interested more globally in monitoring and quality improvement.
This is a preview of subscription content, log in to check access.
Access options
Buy single article
Instant access to the full article PDF.
US$ 39.95
Price includes VAT for USA
Subscribe to journal
Immediate online access to all issues from 2019. Subscription will auto renew annually.
US$ 199
This is the net price. Taxes to be calculated in checkout.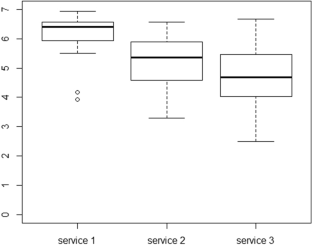 Abbreviations
aQUA:

Institut Institut für angewandte Qualitätsförderung

CSS:

Culture of Safety Survey

EQUAM:

Externe Qualitätssicherungin der ambulanten Medizin

HSOPS:

Hospital Survey on Patient Safety

ICC(1):

Intraclass correlation coefficient

IRA:

Inter-rater agreement

rwg :

Reliability within groups

rwg(j) :

Reliability within groups for multiple judgments

SAQ:

Safety Attitude Questionnaire
References
1.

Foederatio Medicorum Helveticorum FMH (2017) Ärztestatistik 2016. Foederatio Medicorum Helveticorum, Bern. Available at http://aerztestatistik.myfmh2.fmh.ch. Accessed 13 march 2018

2.

Bundesamt für Gesundheit BAG (2017) [Change of the Ordinance on the Determination and Adaptation of Structures of the Reimbursement System of the Health Insurance]. Bundesamt für Gesundheit, Bern

3.

George R, Lau L, Ng K (2014) Team approach to optimize radiology techniques. In: Lau L, Ng K (eds) Radiological safety and quality. Paradigms in leadership and innovation. Springer, Dordrecht

4.

Gehring K, Schwappach D, Battaglia M et al (2012) Frequency of harm associated with primary care safety incidents. Am J Manag Care 19:323–337

5.

Weaver SJ, Lubomksi LH, Wilson RF et al (2013) Promoting a culture of safety as a patient safety strategy. A systematic review. Ann Intern Med 158:369–374

6.

Zohar D, Livine Y, Tenne-Gazit O, Admi H, Donchin Y (2007) Healthcare climate: A framework for measuring and improving patient safety. Crit Care Med 35:1312–1317

7.

DiCuccio MH (2015) The relationship between patient safety culture and patient outcomes: A systematic review. J Patient Saf 11:135–142

8.

Azevedo KB, da Silva CA, Abrantes A (2017) Assessing the hospital survey of patient safety culture. A review of the assumptions, methods and data analysis protocol. Desenvolvimento e Sociedade 3:7-31

9.

Colla JB, Bracken AC, Kinney LM, Weeks WB (2005) Measuring patient safety climate: A review of surveys. Qual Saf Health Care 14:364–366

10.

Manser T, Brösterhaus M, Hammer A (2014) You can't improve what you don't measure: Safety climate measures available in the German-speaking countries to support safety culture development in healthcare. Z Evid Fortbild Qual Gesundhwes 114:58–71

11.

Sorra JS, Dyert N (2010) Multilevel psychometric properties of the AHRQ hospital survey on patient safety culture. BMC Health Serv Res 10:199

12.

Sexton JB, Helmreich RL, Neilands TB et al (2006) The safety attitudes questionnaire: psychometric properties, benchmarking data, and emerging research. BMC Health Serv Res 6:44

13.

Weingart SN, Farbstein K, Davis RB, Phillips RS (2004) Using a multihospital survey to examine the safety culture. Jt Comm J Qual Saf 30:125–132

14.

Pfeiffer Y, Manser T (2010) Development of the german version of the hospital survey on patient safety culture: Dimensionality and psychometric properties. Saf Sci 48:1452–1462

15.

Zimmermann N, Küng K, Sereika SM, Engberg S, Sexton B, Schwendimann R (2013) Assessing the safety attitudes questionnaire (SAQ), German language version in Swiss university hospitals - a validation study. BMC Health Serv Res 13:347

16.

Gehring K, Mascherek A, Bezzola P, Schwappach D (2015) Safety climate in Swiss hospital units: Swiss version of the safety climate survey. J Eval Clin Pract 21:332–338

17.

Schutz A, Counte MA, Meurer S (2007) Development of a patient safety culture measurement tool for ambulatory health care settings: Analysis of content validity. Health Care Manag Sci 10:139–149

18.

Hoffmann B, Domanska OM, Müller V, Gerlach FM (2009) Development of a questionnaire on the safety climate in family doctor's services (FraSiK): Transcultural adaptation – report on methods. Z Evid Fortbild Qual Gesundhwes 103:521–529

19.

Modak I, Helmreich RL, Thomas EJ, Sexton BJ, Lux TR (2007) Measuring safety culture in the ambulatory setting: The safety attitudes questionnaire - ambulatory version. J Gen Intern Med 22:1–5

20.

Ferris N, Kavnoudias H, Thiel C, Stuckey S (2007) The 2005 Australian MRI safety survey. AJR Am J Roentgenol 188:1388–1394

21.

De Wet C, Spence W, Mash R, Johnson P, Bowie P (2010) The development and psychometric evaluation of a safety climate measure for primary care. Qual Saf Health Care 19:578–854

22.

Häder M (2006) Empiric social research – An introduction. Verlag für Sozialforschung, Wiesbaden

23.

Giai J, Boussat B, Occelli P et al (2017) Hospital survey on patient safety culture (HSOPS): variability of scoring strategies. Int J Qual Healthcare 29:685–692

24.

Sorra J, Gray L, Streagle S et al (2016) AHRQ Hospital Survey on Patient Safety Culture: User's Guide. AHRQ Publication No. 15-0049-EF. Rockville, MD: Agency for Healthcare Research and Quality

25.

Bauer DF (1972) Constructing confidence sets using rank statistics. J Am Stat Assoc 67:687–690

26.

Hollander M, Douglas AW (1973) Nonparametric statistical methods. Wiley, New York

27.

LeBreton JM, Senter JL (2008) Answers to 20 questions about inter-rater reliability and inter-rater agreement. Organizational Research Methods 11:815–852

28.

James LR, Demaree RG, Wolf G (1984) Estimating within-group inter-rater reliability with and without response bias. J Appl Psychol 69:85–98

29.

James LR, Demaree RG, Wolf G (1993) rwg: An assessment of within-group inter-rater agreement. J Appl Psychol 78:306–309

30.

Ginsburg L, Oore GD (2016) Patient safety climate strength: a concept that requires more attention. BMJ Qual Saf. 25:680–687

31.

Smith-Crowe K, Burke MJ, Cohen A, Doveh E (2014) Statistical significance criteria for the rWG and average deviation inter-rater agreement indices. J Appl Psychol 99:239–261

32.

Mascherek AC, Schwappach DLB (2017) Patient safety climate profiles across time: Strength and level of safety climate associated with a quality improvement program in Switzerland - A cross-sectional survey study. PLoS One 12:e0181410. https://doi.org/10.1371/journal.pone.0181410

33.

Cronbach LJ (1951) Coefficient alpha and the internal strucutre of tests. Psychometrika 16:297–334

34.

R DevelopmentCore Team (2008) R: A language and environment for statistical computing. R Foundation for Statistical Computing, Vienna
Funding
The authors state that this work has not received any funding.
Ethics declarations
Guarantor
The scientific guarantor of this publication is Marianne Jossen
Conflict of interest
The authors of this manuscript declare relationships with the following companies:
Marianne Jossen works for the EQUAM foundation, which uses the developed questionnaires as products.
Statistics and biometry
One of the authors, Fabio Valeri, has significant statistical expertise.
Informed consent
Written informed consent was not required for this study because data collection was anonymous, and participation was voluntary and did not include medical data.
Ethical approval
Institutional Review Board approval was not required because data collection was anonymous, and participation was voluntary and did not include medical data.
Methodology
• Cross-sectional study
• Multicentre study
Electronic supplementary material
About this article
Cite this article
Jossen, M., Valeri, F., Heilmaier, C. et al. Assessment of the safety climate in outpatient diagnostic services: Development and psychometric evaluation of a questionnaire. Eur Radiol 29, 1538–1545 (2019). https://doi.org/10.1007/s00330-018-5646-1
Received:

Revised:

Accepted:

Published:

Issue Date:
Keywords
Outpatient service

Safety

Psychometrics

Organisational culture

Surveys and questionnaires