Abstract
Objectives
To determine the value of 18F-FDG-PET/MRI in the diagnosis and management of patients with pelvic recurrence of rectal cancer.
Methods
Forty-four patients (16 women, 28 men) with a history of rectal cancer who received FDG-PET/MRI between June 2011 and February 2017 at our institution were retrospectively enrolled. Three patients received two FDG-PET/MRIs; thus a total of 47 examinations were included. Pelvic recurrence was confirmed either with histology (n = 27) or imaging follow-up (n = 17) (> 4 months). Two readers (one radiologist, one nuclear medicine physician) interpreted the images in consensus. Pelvic lesions were assessed regarding FDG uptake and morphology. Sensitivity, specificity, positive and negative predictive values as well as accuracy of PET/MRI in detecting recurrence were determined.
Results
In 47 FDG-PET/MRIs 30 suspicious pelvic lesions were identified, 29 of which were malignant. Two patients underwent resection and had histologically proven pelvic recurrence without showing suspicious findings on FDG-PET/MRI. Changes in management due to FDG-PET/MRI findings had been implemented in eight patients. Eighty per cent (16/20) of resected patients had histologically negative resection margins (R0), one patient had uncertain resection margins. Sensitivity of FDG-PET/MRI in detecting recurrence was 94%, specificity 94%, positive/negative predictive value and accuracy were 97%, 90% and 94%, respectively.
Conclusions
FDG-PET/MRI is a valuable tool in the diagnosis and staging of pelvic recurrence in patients with rectal cancer.
Key Points
• Metabolic information obtained from PET coupled with excellent soft tissue contrast from MRI could facilitate detection of rectal cancer recurrence and assist in treatment planning.
• PET/MRI demonstrates high sensitivity and specificity for the diagnosis of local recurrence of rectal cancer
• PET/MRI led to alterations in management in 18.2% of patients.
Access options
Buy single article
Instant access to the full article PDF.
US$ 39.95
Tax calculation will be finalised during checkout.
Subscribe to journal
Immediate online access to all issues from 2019. Subscription will auto renew annually.
US$ 119
Tax calculation will be finalised during checkout.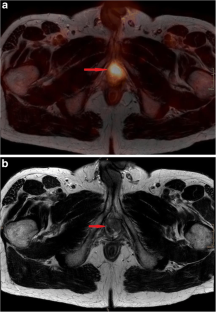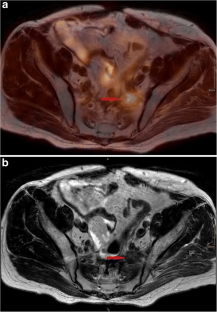 References
1.

Ferlay J, Shin HR, Bray F, Forman D, Mathers C, Parkin DM (2010) Estimates of worldwide burden of cancer in 2008: GLOBOCAN 2008. Int J Cancer 127:2893–2917

2.

Even-Sapir E, Parag Y, Lerman H et al (2004) Detection of recurrence in patients with rectal cancer: PET/CT after abdominoperineal or anterior resection. Radiology 232:815–822

3.

Schaefer O, Langer M (2007) Detection of recurrent rectal cancer with CT, MRI and PET/CT. Eur Radiol 17:2044–2054

4.

Sebag-Montefiore D, Stephens RJ, Steele R et al (2009) Preoperative radiotherapy versus selective postoperative chemoradiotherapy in patients with rectal cancer (MRC CR07 and NCIC-CTG C016): a multicentre randomized trial. Lancet 373:811–820

5.

Arriola E, Navarro M, Pares D et al (2006) Imaging techniques contribute to increased surgical rescue of relapse in the follow-up of colorectal cancer. Dis Colon Rectum 49:478–484

6.

Abir F, Alva S, Longo WE, Audiso R, Virgo KS, Johnson FE (2006) The postoperative surveillance of patients with colon cancer and rectal cancer. Am J Surg 192:100–108

7.

Rahbari NN, Ulrich AB, Bruckner T et al (2011) Surgery for locally recurrent rectal cancer in the era of total mesorectal excision: is there still a chance for cure? Ann Surg 253:522–533

8.

Huguier M, Houry S, Barrier A (2001) Local recurrence of cancer of the rectum. Am J Surg 182:437–439

9.

Goldberg RM, Fleming TR, Tangen CL et al (1998) Surgery for recurrent colon cancer: strategies for identifying resectable recurrence and success rates after resection. Eastern Cooperative Oncology Group, the North Central Cancer Treatment Group, and the Southwest Oncology Group. Ann Intern Med 129:27–35

10.

Yamada K, Ishizawa T, Niwa K, Chuman Y, Aikou T (2002) Pelvic exenteration and sacral resection for locally advanced primary and recurrent rectal cancer. Dis Colon Rectum 45:1078–1084

11.

Law WL, Chu KW, Choi HK (2000) Total pelvic exenteration for locally advanced rectal cancer. J Am Coll Surg 190:78–83

12.

Domes T, Colquhoun P, Taylor B, Izawa J, House A, Luke P (2011) Total pelvic exenteration for rectal cancer: outcomes and prognostic factors. Can J Surg 54:387–393

13.

De Lange EE, Fechner RE, Wanebo HJ (1989) Suspected recurrent rectosigmoid carcinoma after abdominoperinea resection: MR imaging and histopathologic findings. Radiology 170:323–328

14.

Blomqvist L, Fransson P, Hindmarsh T (1998) The pelvis after surgery and radio-chemotherapy for rectal cancer studies with Gd-DTPA-enhanced fast dynamic MR imaging. Eur Radiol 8:781–787

15.

Kelvin FM, Koronkin M, Heaston DK, Grant JP, Akwari O (1983) The pelvis after surgery for rectal carcinoma: serial CT observations with emphasis on nonneoplastic features. AJR Am J Roentgenol 141:959–964

16.

Muller-Schimpfle M, Brix G, Layer G et al (1993) Recurrent rectal cancer: diagnosis with dynamic MR imaging. Radiology 189:881–889

17.

Beets-Tan RGH, Lambregts DMJ, Maas M et al (2018) Magnetic resonance imaging for clinical management of rectal cancer: updated recommendations from the 2016 European Society of Gastrointestinal and Abdominal Radiology (ESGAR) consensus meeting. Eur Radiol 28:1465–1475

18.

Titu LV, Nicholson AA, Hartley JE et al (2006) Routine follow-up by magnetic resonance imaging does not improve detection of resectable local recurrences from colorectal cancer. Ann Surg 243:348–352

19.

Moore HG, Akhurst T, Larson SM, Minsky BD, Mazumdar M, Guillem JG (2003) A case-controlled study of 18-fluordeoxyglucose positron emission tomography in the detection of pelvic recurrence in previously irradiated rectal cancer patients. J Am Coll Surg 197:22–28

20.

Platzek I, Beuthien-Baumann B, Schneider M et al (2013) PET/MRI in head and neck cancer: initial experience. Eur J Nucl Med Mol Imaging 40:6–11

21.

Boellaard R, O'Doherty M, Weber W et al (2009) FDG PET and PET/CT: EANM procedure guidelines for tumour PET imaging: version 1.0. Eur J Nucl Med Mol Imaging 37:181–200

22.

Lerman H, Metser U, Grisaru D, Fishman A, Lievshitz G, Even-Sapir E (2004) Normal and abnormal 18F-FDG endometrial and ovarian uptake in pre- and postmenopausal patients: assessment by PET/CT. J Nucl Med 45:266–271

23.

Berger K, Nicholson S, Dehdashti F, Siegel B (2000) FDG PET evaluation of mucinous neoplasms: correlation of FDG uptake with histopathologic features. AJR Am J Roentgenol 174:1005–1008

24.

Imbriaco M, Akhurst T, Hilton S et al (2000) Whole-body FDG-PET in patients with recurrent colorectal carcinoma: a comparative study with CT. Clin Positron Imaging 3:107–114

25.

Huebner RH, Park KC, Shepherd JE et al (2000) A meta-analysis of the literature for whole-body FDG PET detection of recurrent colorectal cancer. J Nucl Med 41:1177–1189

26.

Ogunbiyi OA, Flanagan FL, Dehdashti F et al (1997) Detection of recurrent and metastastatic colorectal cancer: comparison of positron emission tomography and computed tomography. Ann Surg Oncol 4:613–620

27.

Imdahl A, Reinhardt MJ, Nitzsche EU et al (2000) Impact of 18F-FDG-positron emission tomography for decision making in colorectal cancer recurrences. Langenbecks Arch Surg 385:129–134

28.

Flamen P, Stroobants S, Van Cutsem E et al (1999) Additional value of whole body positron emission tomography with fluorine-18-2-fluoro-2-deoxy-d-glucose in recurrent colorectal cancer. J Clin Oncol 17:894–901

29.

Hupkens BJP, Maas M, Martens MH et al (2017) MRI surveillance for the detection of local recurrence after transanal endoscopic microsurgery. Eur Radiol 27:4960–4969

30.

Lambregts DMJ, Lahaye MJ, Heijnen LA et al (2016) MRI and diffusion-weighted MRI to diagnose a local tumour regrowth during long-term follow-up of rectal cancer patients treated with organ preservation after chemoradiotherapy. Eur Radiol 26:2118–2125

31.

Ito K, Kato T, Tadokoro M et al (1992) Recurrent rectal cancer and scar: differentiation with PET and MR imaging. Radiology 182:549–552
Funding
The authors state that this work has not received any funding.
Ethics declarations
Guarantor
The scientific guarantor of this publication is Verena Plodeck.
Conflict of interest
The authors of this manuscript declare no relationships with any companies whose products or services may be related to the subject matter of the article.
Statistics and biometry
No complex statistical methods were necessary for this paper.
Informed consent
Written informed consent was obtained from all subjects (patients) in this study.
Ethical approval
Institutional review board approval was obtained.
Study subjects or cohorts overlap
Some study subjects or cohorts have been previously reported at the RSNA 2017.
Methodology
• retrospective
• diagnostic or prognostic study
• performed at one institution
Additional information
The original version of this article was revised: The name of Klaus Zöphel was presented incorrectly.
About this article
Cite this article
Plodeck, V., Rahbari, N.N., Weitz, J. et al. FDG-PET/MRI in patients with pelvic recurrence of rectal cancer: first clinical experiences. Eur Radiol 29, 422–428 (2019). https://doi.org/10.1007/s00330-018-5589-6
Received:

Revised:

Accepted:

Published:

Issue Date:
Keywords
Positron-emission tomography

Magnetic resonance imaging

Rectal cancer

Neoplasm

Recurrence, local