Abstract
Objectives
The purpose of this study was to investigate which feature of the breast-specific gamma imaging (BSGI) uptake in women who were recently diagnosed with breast cancer was associated with malignancy.
Methods
Data on 231 newly diagnosed breast cancer patients who underwent preoperative BSGI were retrospectively reviewed. Feature analysis was done by classifying BSGI uptake into mass, non-mass, or focus/foci. Descriptors for mass, non-mass, or focus/foci were shape, distribution, number, and intensity. BSGI features of known malignancies and lesions that were additionally found by BSGI were correlated with mammographic breast density, histology, hormonal status, and clinical follow-up data obtained over at least 2 years.
Results
Among 372 breast lesions from 231 patients, 241 malignancies had been pathologically confirmed prior to BSGI and 131 additional lesions were found on BSGI. Irregular shape was more predictive of malignancy than oval shape (p=0.004) in mass uptake. Linear/ductal distribution was more predictive of malignancy than focal, regional, and segmental distribution (p<0.05) in non-mass uptake. Mammographic breast density was not associated with BSGI features. The lesion to normal ratio (LNR) was higher in the postmenopausal patients than that in the premenopausal patients (p=0.003).
Conclusions
The feature analysis of radiotracer uptake in BSGI is useful in predicting whether breast lesions are malignant or benign.
Key Points
• The feature analysis of BSGI uptake is useful in predicting malignancy.
• Irregular shape was predictive of malignancy in mass uptake.
• Linear/ductal distribution was predictive of malignancy in non-mass uptake.
This is a preview of subscription content, log in to check access.
Access options
Buy single article
Instant access to the full article PDF.
US$ 39.95
Price includes VAT for USA
Subscribe to journal
Immediate online access to all issues from 2019. Subscription will auto renew annually.
US$ 199
This is the net price. Taxes to be calculated in checkout.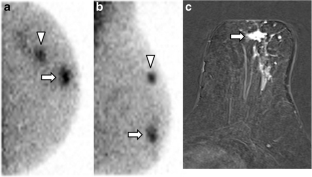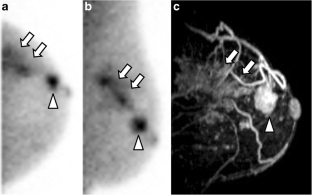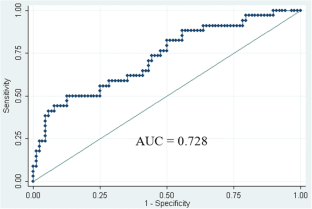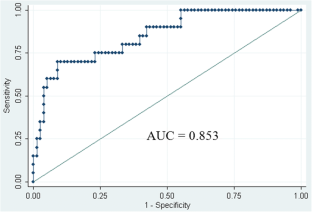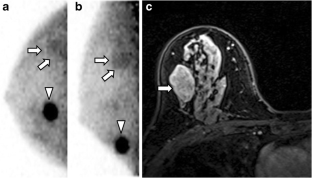 Abbreviations
BI-RADS:

Breast imaging reporting and data system

BSGI:

Breast-specific gamma imaging

CC:

Craniocaudal

DCIS:

Ductal carcinoma in situ

IDC:

Invasive ductal carcinoma

LNR:

Lesion to normal ratio

MBI:

Molecular breast imaging

MLO:

Mediolateral oblique

PET:

Positron emission tomography

ROC:

Receiver operating characteristics

ROI:

Region of interest

Tc-99m:

MIBI Tc-99m sestamibi
References
1.

Taillefer R (1999) The role of 99mTc-sestamibi and other conventional radiopharmaceuticals in breast cancer diagnosis. Semin Nucl Med 29:16–40

2.

Villanueva-Meyer J, Leonard MH Jr, Briscoe E et al (1996) Mammoscintigraphy with technetium-99m-sestamibi in suspected breast cancer. J Nucl Med 37:926–930

3.

Hruska CB (2017) Molecular Breast Imaging for Screening in Dense Breasts: State of the Art and Future Directions. AJR Am J Roentgenol 208:275–283

4.

Rechtman LR, Lenihan MJ, Lieberman JH et al (2014) Breast-specific gamma imaging for the detection of breast cancer in dense versus nondense breasts. AJR Am J Roentgenol 202:293–298

5.

Rhodes DJ, Hruska CB, Phillips SW, Whaley DH, O'Connor MK (2011) Dedicated dual-head gamma imaging for breast cancer screening in women with mammographically dense breasts. Radiology 258:106–118

6.

Hruska CB, Conners AL, Jones KN et al (2015) Diagnostic workup and costs of a single supplemental molecular breast imaging screen of mammographically dense breasts. AJR Am J Roentgenol 204:1345–1353

7.

Bassett L, Berg W, Feig S (2003) Breast Imaging Reporting and Data System, BI-RADS: Mammography. American College of Radiology, Reston

8.

Mendelson E, Baum J, Berg W, Merritt C, Rubin E (2003) Breast imaging reporting and data system, BI-RADS: ultrasound. American College of Radiology, Reston

9.

Ikeda D, Hylton N, Kuhl C (2003) BI-RADS: magnetic resonance imaging. American College of Radiology Reston, VA, 1–114

10.

Narayanan D, Madsen KS, Kalinyak JE, Berg WA (2011) Interpretation of positron emission mammography: feature analysis and rates of malignancy. AJR Am J Roentgenol 196:956–970

11.

Conners AL, Hruska CB, Tortorelli CL et al (2012) Lexicon for standardized interpretation of gamma camera molecular breast imaging: observer agreement and diagnostic accuracy. Eur J Nucl Med Mol Imaging 39:971–982

12.

Conners AL, Maxwell RW, Tortorelli CL et al (2012) Gamma camera breast imaging lexicon. AJR Am J Roentgenol 199:W767–W774

13.

Meissnitzer T, Seymer A, Keinrath P et al (2015) Added value of semi-quantitative breast-specific gamma imaging in the work-up of suspicious breast lesions compared to mammography, ultrasound and 3-T MRI. Br J Radiol 88:20150147

14.

Tan H, Jiang L, Gu Y et al (2014) Visual and semi-quantitative analyses of dual-phase breast-specific gamma imaging with Tc-99m-sestamibi in detecting primary breast cancer. Ann Nucl Med 28:17–24

15.

Yoon HJ, Kim Y, Chang KT, Kim BS (2015) Prognostic value of semi-quantitative tumor uptake on Tc-99m sestamibi breast-specific gamma imaging in invasive ductal breast cancer. Ann Nucl Med 29:553–560

16.

Hong AS, Rosen EL, Soo MS, Baker JA (2005) BI-RADS for sonography: positive and negative predictive values of sonographic features. AJR Am J Roentgenol 184:1260–1265

17.

Rahbar G, Sie AC, Hansen GC et al (1999) Benign versus malignant solid breast masses: US differentiation. Radiology 213:889–894

18.

Cole-Beuglet C, Soriano RZ, Kurtz AB, Goldberg BB (1983) Fibroadenoma of the breast: sonomammography correlated with pathology in 122 patients. AJR Am J Roentgenol 140:369–375

19.

Liberman L, Abramson AF, Squires FB, Glassman J, Morris E, Dershaw D (1998) The breast imaging reporting and data system: positive predictive value of mammographic features and final assessment categories. AJR Am J Roentgenol 171:35–40

20.

Yabuuchi H, Matsuo Y, Kamitani T et al (2010) Non-mass-like enhancement on contrast-enhanced breast MR imaging: lesion characterization using combination of dynamic contrast-enhanced and diffusion-weighted MR images. Eur J Radiol 75:e126–e132

21.

Morakkabati-Spitz N, Leutner C, Schild H, Traeber F, Kuhl C (2005) Diagnostic usefulness of segmental and linear enhancement in dynamic breast MRI. Eur Radiol 15:2010–2017

22.

Yoon HJ, Kim Y, Lee JE, Kim BS (2015) Background 99mTc-methoxyisobutylisonitrile uptake of breast-specific gamma imaging in relation to background parenchymal enhancement in magnetic resonance imaging. Eur Radiol 25:32–40

23.

Delmon-Moingeon LI, Piwnica-Worms D, Van den Abbeele AD, Holman BL, Davison A, Jones AG (1990) Uptake of the cation hexakis(2-methoxyisobutylisonitrile)-technetium-99m by human carcinoma cell lines in vitro. Cancer Res 50:2198–2202

24.

Scopinaro F, Schillaci O, Scarpini M et al (1994) Technetium-99m sestamibi: an indicator of breast cancer invasiveness. Eur J Nucl Med 21:984–987

25.

Freitas JE, Freitas AE (1994) Thyroid and parathyroid imaging. Semin Nucl Med 24:234–245

26.

Brem RF, Floerke AC, Rapelyea JA, Teal C, Kelly T, Mathur V (2008) Breast-specific gamma imaging as an adjunct imaging modality for the diagnosis of breast cancer. Radiology 247:651–657

27.

Huang YT, Cheung YC, Lo YF, Ueng SH, Kuo WL, Chen SC (2011) MRI findings of cancers preoperatively diagnosed as pure DCIS at core needle biopsy. Acta Radiol 52:1064–1068

28.

Lee CW, Wu HK, Lai HW et al (2016) Preoperative clinicopathologic factors and breast magnetic resonance imaging features can predict ductal carcinoma in situ with invasive components. Eur J Radiol 85:780–789

29.

Berger KL, Nicholson SA, Dehdashti F, Siegel BA (2000) FDG PET evaluation of mucinous neoplasms: correlation of FDG uptake with histopathologic features. AJR Am J Roentgenol 174:1005–1008

30.

Kumar R, Rani N, Patel C, Basu S, Alavi A (2009) False-Negative and False-Positive Results in FDG-PET and PET/CT in Breast Cancer. PET Clin 4:289–298

31.

Miglioretti DL, Walker R, Weaver DL et al (2011) Accuracy of screening mammography varies by week of menstrual cycle. Radiology 258:372–379

32.

Giess CS, Yeh ED, Raza S, Birdwell RL (2014) Background parenchymal enhancement at breast MR imaging: normal patterns, diagnostic challenges, and potential for false-positive and false-negative interpretation. Radiographics 34:234–247
Funding
This study was supported by the Brain Research Program through the National Research Foundation of Korea (NRF) funded by the Ministry of Science and ICT (NRF-2015M3C7A1064832).
Ethics declarations
Guarantor
The scientific guarantor of this publication is Jin Kyoung Oh.
Conflict of interest
The authors of this manuscript declare no relationships with any companies, whose products or services may be related to the subject matter of the article.
Statistics and biometry
No complex statistical methods were necessary for this paper.
Informed consent
Written informed consent was waived by the Institutional Review Board.
Ethical approval
Institutional Review Board approval was obtained.
Methodology
• retrospective
• observational
• performed at one institution
About this article
Cite this article
Choi, E.K., Im, J.J., Park, C.S. et al. Usefulness of feature analysis of breast-specific gamma imaging for predicting malignancy. Eur Radiol 28, 5195–5202 (2018). https://doi.org/10.1007/s00330-018-5563-3
Received:

Revised:

Accepted:

Published:

Issue Date:
Keywords
Breast Neoplasms

Radionuclide Imaging

Molecular Imaging

Diagnostic Imaging

Technetium Tc 99m Sestamibi