Abstract
Objective
To investigate the usefulness of contrast-enhanced ultrasound (CEUS) in the evaluation of renal masses.
Methods
This study included 255 patients with renal masses. Ages ranged from 18–86 years. CEUS was used for determining malignancy or benignancy and findings were correlated with the histopathological outcome. Out of 255 lesions, 212 lesions were malignant (83.1%) and 43 were benign (16.9%). Diagnostic accuracy was tested using the histopathological diagnosis as the gold standard.
Results
CEUS showed a sensitivity of 99.1% [95% confidence interval (CI): 96.7%, 99.9%], a specificity of 80.5% (CI: 65.1%, 91.2%), a positive predictive value of 96.4% (CI: 93.0%, 98.4%) and a negative predictive value of 94.3% (CI: 80.8%, 99.3%). Kappa for diagnostic accuracy was κ = 0.85 (CI: 0.75, 0.94). Of 212 malignant lesions, 200 renal cell carcinomas and 12 other malignant lesions were diagnosed. Out of 43 benign lesions, 10 angiomyolipomas, 3 oncocytomas, 8 renal cysts and 22 other benign lesions were diagnosed.
Conclusion
CEUS is an useful method to differentiate between malignant and benignant renal lesions. To date, to our knowledge, this is the largest study in Europe for the evaluation of renal lesions using CEUS with a histopathological validation.
Key Points
• CEUS helps clinicians detect and characterise unclear solid and cystic renal lesions
• CEUS shows a high diagnostic accuracy in the characterization of these lesions
• Proper surgical treatment or follow-up can be given with better diagnostic confidence
Access options
Buy single article
Instant access to the full article PDF.
US$ 39.95
Tax calculation will be finalised during checkout.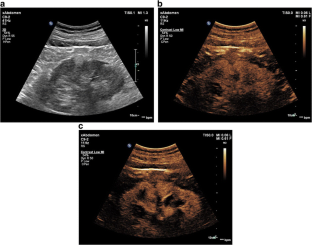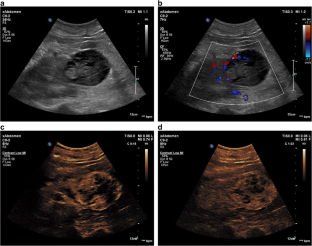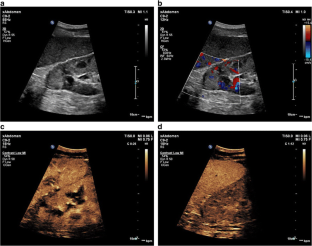 Abbreviations
CE-CT:

Contrast-enhanced computed tomography

CEUS:

Contrast-enhanced ultrasound

CI:

Confidence interval

NPV:

Negative predictive value

PACS:

Picture archiving and communication system

PPV:

Positive predictive value
References
1.

Motzer RJ, Hutson TE, Tomczak P et al (2007) Sunitinib versus interferon alfa in metastatic renal-cell carcinoma. N Engl J Med 356(2):115–124

2.

Hock LM, Lynch J, Balaji KC (2002) Increasing incidence of all stages of kidney cancer in the last 2 decades in the United States: an analysis of surveillance, epidemiology and end results program data. J Urol 167(1):57–60

3.

Wallen EM, Pruthi RS, Joyce GF, Wise M, Urologic Diseases in America P (2007) Kidney cancer. J Urol 177(6):2006–2018 discussion 18–9

4.

Woldrich JM, Mallin K, Ritchey J, Carroll PR, Kane CJ (2008) Sex differences in renal cell cancer presentation and survival: an analysis of the National Cancer Database, 1993–2004. J Urol 179(5):1709–1713 discussion 13

5.

Kazmierski B, Deurdulian C, Tchelepi H, Grant EG (2018) Applications of contrast-enhanced ultrasound in the kidney. Abdom Radiol (NY) 43(4):880–898

6.

Sidhu PS, Cantisani V, Dietrich CF et al (2018) The EFSUMB guidelines and recommendations for the clinical practice of contrast-enhanced ultrasound (CEUS) in non-hepatic applications: update 2017 (Long version). Ultraschall Med 39(2):e2–e44

7.

Bosniak MA (1991) The small (less than or equal to 3.0 cm) renal parenchymal tumor: detection, diagnosis, and controversies. Radiology 179(2):307–317

8.

Rübenthaler J, Bogner F, Reiser M, Clevert DA (2016) Contrast-enhanced ultrasound (CEUS) of the kidneys by using the Bosniak classification. Ultraschall Med 37(3):234–251

9.

Rübenthaler J, Paprottka K, D'Anastasi M, Reiser M, Clevert DA (2017) Diagnosis of perinephric retroperitoneal lymphangioma supported by contrast-enhanced ultrasound (CEUS). Clin Hemorheol Microcirc 65(1):43–47

10.

Ljungberg B, Bensalah K, Canfield S et al (2015) EAU guidelines on renal cell carcinoma: 2014 update. Eur Urol 67(5):913–924

11.

Greis C (2009) Ultrasound contrast agents as markers of vascularity and microcirculation. Clin Hemorheol Microcirc 43(1–2):1–9

12.

Greis C (2011) Summary of technical principles of contrast sonography and future perspectives. Radiologe 51(6):456–461

13.

Rübenthaler J, Reiser M, Clevert DA (2016) Diagnostic vascular ultrasonography with the help of color Doppler and contrast-enhanced ultrasonography. Ultrasonography 35(4):289–301

14.

Piscaglia F, Bolondi L, Italian Society for Ultrasound in M, Biology Study Group on Ultrasound Contrast A (2006) The safety of Sonovue in abdominal applications: retrospective analysis of 23188 investigations. Ultrasound Med Biol 32(9):1369–1375

15.

ter Haar G (2009) Safety and bio-effects of ultrasound contrast agents. Med Biol Eng Comput 47(8):893–900

16.

Escudier B, Porta C, Schmidinger M et al (2014) Renal cell carcinoma: ESMO Clinical Practice Guidelines for diagnosis, treatment and follow-up. Ann Oncol 25(Suppl 3):iii49–iii56

17.

Clevert DA, Sterzik A, Braunagel M, Notohamiprodjo M, Graser A (2013) Modern imaging of kidney tumors. Urologe A 52(4):515–526

18.

Rübenthaler J, Reimann R, Hristova P, Staehler M, Reiser M, Clevert DA (2015) Parametric imaging of clear cell and papillary renal cell carcinoma using contrast-enhanced ultrasound (CEUS). Clin Hemorheol Microcirc 63(2):89–97

19.

Reimann R, Rübenthaler J, Hristova P, Staehler M, Reiser M, Clevert DA (2015) Characterization of histological subtypes of clear cell renal cell carcinoma using contrast-enhanced ultrasound (CEUS). Clin Hemorheol Microcirc 63(1):77–87

20.

Houtzager S, Wijkstra H, de la Rosette JJ, Laguna MP (2013) Evaluation of renal masses with contrast-enhanced ultrasound. Curr Urol Rep 14(2):116–123

21.

Barr RG, Peterson C, Hindi A (2014) Evaluation of indeterminate renal masses with contrast-enhanced US: a diagnostic performance study. Radiology 271(1):133–142

22.

Gerst S, Hann LE, Li D et al (2011) Evaluation of renal masses with contrast-enhanced ultrasound: initial experience. AJR Am J Roentgenol 197(4):897–906

23.

Clevert DA, Minaifar N, Weckbach S et al (2008) Multislice computed tomography versus contrast-enhanced ultrasound in evaluation of complex cystic renal masses using the Bosniak classification system. Clin Hemorheol Microcirc 39(1–4):171–178

24.

Sanz E, Hevia V, Arias F et al (2015) Contrast-enhanced ultrasound (CEUS): an excellent tool in the follow-up of small renal masses treated with cryoablation. Curr Urol Rep 16(1):469

25.

Haendl T, Strobel D, Legal W, Frieser M, Hahn EG, Bernatik T (2009) Renal cell cancer does not show a typical perfusion pattern in contrast-enhanced ultrasound. Ultraschall Med 30(1):58–63

26.

Fan L, Lianfang D, Jinfang X, Yijin S, Ying W (2008) Diagnostic efficacy of contrast-enhanced ultrasonography in solid renal parenchymal lesions with maximum diameters of 5 cm. J Ultrasound Med 27(6):875–885

27.

Tamai H, Takiguchi Y, Oka M et al (2005) Contrast-enhanced ultrasonography in the diagnosis of solid renal tumors. J Ultrasound Med 24(12):1635–1640

28.

Siegel CL, Middleton WD, Teefey SA, McClennan BL (1996) Angiomyolipoma and renal cell carcinoma: US differentiation. Radiology 198(3):789–793

29.

Sim JS, Seo CS, Kim SH et al (1999) Differentiation of small hyperechoic renal cell carcinoma from angiomyolipoma: computer-aided tissue echo quantification. J Ultrasound Med 18(4):261–264

30.

Reuter VE, Presti JC Jr (2000) Contemporary approach to the classification of renal epithelial tumors. Semin Oncol 27(2):124–137
Funding
The authors state that this work has not received any funding.
Ethics declarations
Guarantor
The scientific guarantor of this publication is Prof. Dirk-André Clevert.
Conflict of interest
The authors of this manuscript declare relationships with the following companies: Dirk-André Clevert declares that he received compensation as a speaker from the following companies: Samsung, Philips, Siemens, Bracco, and Falk.
The other authors of this manuscript declare no relationships with any companies, whose products or services may be related to the subject matter of the article.
Statistics and biometry
Dipl.-Stat. Regina Schinner (Department of Radiology, LMU Munich) kindly provided statistical advice for this manuscript. She is not an author of the manuscript.
Informed consent
Written informed consent was waived by the institutional review board.
Ethical approval
Institutional review board approval was obtained.
Methodology
• Retrospective
• diagnostic prognostic study
• performed at one institution
About this article
Cite this article
Rübenthaler, J., Negrão de Figueiredo, G., Mueller-Peltzer, K. et al. Evaluation of renal lesions using contrast-enhanced ultrasound (CEUS); a 10-year retrospective European single-centre analysis. Eur Radiol 28, 4542–4549 (2018). https://doi.org/10.1007/s00330-018-5504-1
Received:

Revised:

Accepted:

Published:

Issue Date:
Keywords
Carcinoma, renal cell

Kidney

Contrast media

Perfusion imaging