Abstract
Objectives
To develop a routinely applicable severity index for the management of acute appendicitis in adults using combined clinical and radiological parameters and retroperitoneal space planes (RSP).
Methods
Two hundred consecutive patients with histologically proven acute appendicitis and available presurgical CT scans were analysed retrospectively. Two radiologists assessed all CT scans for morphologic sings of appendicitis and six RSP. Clinical parameters were age, body temperature, C-reactive protein (CRP), white blood cell count, and duration of symptoms. Radiological parameters were appendix diameter and wall thickness, periappendiceal fat stranding and fluid, intraluminal and extraluminal air, thinning of appendiceal wall, caecal wall thickening, appendicolith and abscess formation.
Results
One hundred and three patients (51%) had histologically proven complicated appendicitis. Based on three clinical (age ≥52 years, body temperature ≥37.5°C, duration of symptoms ≥48 h) and four computed tomography (CT) findings (appendix diameter ≥14 mm, presence of periappendiceal fluid, extraluminal air, perityphlitic abscess), the APSI was developed using regression coefficients of multivariate logistic regression analyses with a maximum of 10 points. A score of ≥4 points predicted complicated appendicitis with a positive predictive value of 92% and a negative predictive value of 83%. Substantial to excellent interobserver agreement was found for the four radiological parameters of the APSI [intraclass correlation coefficient (ICC), 0.78-0.83]. The RSP evaluation presented no added value for the diagnosis of complicated appendicitis.
Conclusions
Using APSI, an accurate and simple prediction of complicated appendicitis in adults was possible. The RSP count was not useful for the diagnosis of complicated appendicitis.
Key points
• Appendicitis severity score provides an accurate and simple prediction of complicated appendicitis
• Appendicitis severity score ≥4 accurately predicted complicated appendicitis (PPV 92%;NPV 83%)
• Evaluation of retroperitoneal space planes was not useful in diagnosing complicated appendicitis
Access options
Buy single article
Instant access to the full article PDF.
US$ 39.95
Tax calculation will be finalised during checkout.
Subscribe to journal
Immediate online access to all issues from 2019. Subscription will auto renew annually.
US$ 119
Tax calculation will be finalised during checkout.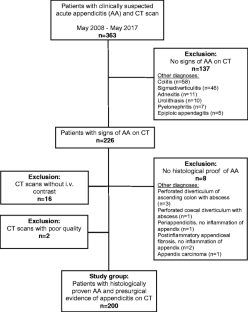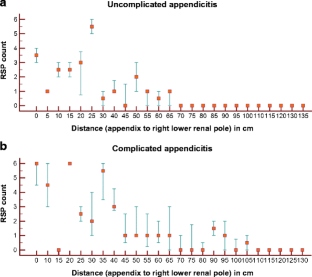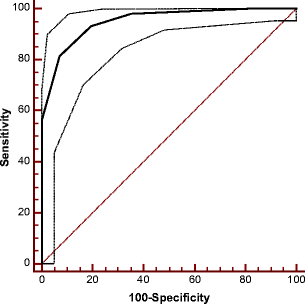 Abbreviations
AA:

Acute appendicitis

APSI:

Appendicitis severity index

ARF:

Anterior renal fascia

BS:

Bridging septa

CFP:

Combined fascial plane

CRP:

C-reactive protein

eGFR:

Estimated glomerular filtration rate

LCP:

Lateroconal plane

RRP:

Retrorenal plane

RSP:

Retroperitoneal space planes

WBC:

White blood cell
References
1.

Petroianu A (2012) Diagnosis of acute appendicitis. Int J Surg 10:115–119

2.

Jaschinski T, Mosch C, Eikermann M, Neugebauer EAM (2015) Laparoscopic versus open appendectomy in patients with suspected appendicitis: a systematic review of meta-analyses of randomised controlled trials. BMC Gastroenterol 15:48

3.

Hobeika C, Hor T, Chereau N et al (2017) Day surgery for acute appendicitis in adults: a prospective series of 102 patients. Surg Laparosc Endosc Percutan Tech 27:158–162

4.

Varadhan KK, Neal KR, Lobo DN (2012) Safety and efficacy of antibiotics compared with appendicectomy for treatment of uncomplicated acute appendicitis: meta-analysis of randomised controlled trials. BMJ 344:e2156

5.

Rollins KE, Varadhan KK, Neal KR, Lobo DN (2016) Antibiotics versus appendicectomy for the treatment of uncomplicated acute appendicitis: an updated meta-analysis of randomised controlled trials. World J Surg 40:2305–2318

6.

Hansson J, Körner U, Ludwigs K et al (2012) Antibiotics as first-line therapy for acute appendicitis: evidence for a change in clinical practice. World J Surg 36:2028–2036

7.

Sallinen V, Akl EA, You JJ et al (2016) Meta-analysis of antibiotics versus appendicectomy for non-perforated acute appendicitis. Br J Surg 103:656–667

8.

Salminen P, Paajanen H, Rautio T et al (2015) Antibiotic therapy vs appendectomy for treatment of uncomplicated acute appendicitis. The APPAC Randomized Clinical Trial. JAMA 313:2340–2348

9.

Van RA, Bipat S, Zwinderman AH, Ubbink DT, Stoker J, Boermeester MA (2008) Acute appendicitis: meta-analysis of diagnostic performance of CT and graded compression us related to prevalence of disease. Radiology 249:97–106

10.

Hansen AJ, Young SW, De Petris G, Tessier DJ, Hernandez JL, Johnson DJ (2004) Histologic severity of appendicitis can be predicted by computed tomography. ArchSurg 139:1304–1308

11.

Bixby SD, Lucey BC, Soto JA, Theyson JM, Ozonoff A, Varghese JC (2006) Perforated versus nonperforated acute appendicitis: accuracy of multidetector CT detection. Radiology 241:780–786

12.

Kim MS, Park HW, Park JY et al (2014) Differentiation of early perforated from nonperforated appendicitis: MDCT findings, MDCT diagnostic performance, and clinical outcome. Abdominal Imaging 39:459–466

13.

Antonopoulos P, Konstantinidis F, Dalamarinis K et al (2006) Acute gangrenous appendicitis-diagnosis by spiral CT. Ann Gastroenterol 19:72–76

14.

Foley TA, Earnest F IV, Nathan MA, Hough DM, Schiller HJ, Hoskin TL (2005) Differentiation of nonperforated from perforated appendicitis : accuracy of CT diagnosis and relationship of CT findings to length of hospital stay 1. Radiology 235:89–96

15.

Lietzén E, Mällinen J, Grönroos MJ et al (2016) Is preoperative distinction between complicated and uncomplicated acute appendicitis feasible without imaging ? Surgery 160:789–795

16.

Yu CW, Juan LI, Wu MH, Shen CJ, Wu JY, Lee CC (2013) Systematic review and meta-analysis of the diagnostic accuracy of procalcitonin, C-reactive protein and white blood cell count for suspected acute appendicitis. Br J Surg 100:322–329

17.

Imaoka Y, Itamoto T, Takakura Y, Suzuki T, Ikeda S, Urushihara T (2016) Validity of predictive factors of acute complicated appendicitis. World J Emerg Surg 11:48

18.

Kitaoka K, Saito K, Tokuuye K (2014) Important CT findings for prediction of severe appendicitis: involvement of retroperitoneal space. World J Emerg Surg 9:62

19.

Jeon HG, Ju HU, Kim GY et al (2014) Bacteriology and changes in antibiotic susceptibility in adults with community-acquired perforated appendicitis. PLoS One 9:e111144

20.

Balthazar EJ, Robinson DL, Megibow AJ, Ranson JH (1990) Acute pancreatitis: value of CT in establishing prognosis. Radiology 174:331–336

21.

Mortele KJ, Wiesner W, Intriere L et al (2004) A modified CT severity index for evaluating acute pancreatitis: improved correlation with patient outcome. AJR Am J Roentgenol 183:1261–1265

22.

De Waele JJ, Delrue L, Hoste EA, De Vos M, Duyck P, Colardyn FA (2007) Extrapancreatic inflammation on abdominal computed tomography as an early predictor of disease severity in acute pancreatitis: evaluation of a new scoring system. Pancreas 34:185–190

23.

Atema JJ, van Rossem CC, Leeuwenburgh MM, Stoker J, Boermeester MA (2015) Scoring system to distinguish uncomplicated from complicated acute appendicitis. Br J Surg 102:979–990

24.

Andersson REB (2004) Meta-analysis of the clinical and laboratory diagnosis of appendicitis. Br J Surg 91:28–37

25.

Bröker MEE, Van Lieshout EMM, van der Elst M et al (2012) Discriminating between simple and perforated appendicitis. J Surg Res 83:79–83

26.

Augustin T, Cagir B, Vandermeer TJ (2011) Characteristics of perforated appendicitis: effect of delay is confounded by age and gender. J Gastrointest Surg 15:1223–1231

27.

Carr NJ (2000) The pathology of acute appendicitis. Ann Diagn Pathol 4:46–58

28.

van Vught LA, Endeman H, Meijvis SC et al (2014) The effect of age on the systemic inflammatory response in patients with community-acquired pneumonia. Clin Microbiol Infect 20:1183–1188

29.

Miki T, Ogata S, Uto M et al (2005) Enhanced multidetector-row computed tomography (MDCT) in the diagnosis of acute appendicitis and its severity. Radiat Med 23:242–255
Funding
The authors state that this work has not received any funding.
Ethics declarations
Guarantor
The scientific guarantor of this publication is Dr. Maxim Avanesov.
Conflict of interest
The authors of this manuscript declare no relationships with any companies, whose products or services may be related to the subject matter of the article.
Statistics and biometry
One of the authors has significant statistical expertise.
Informed consent
Written informed consent was waived by the Institutional Review Board.
Ethical approval
Institutional Review Board approval was obtained.
Methodology
• retrospective
• diagnostic study
• observational
• performed at one institution
About this article
Cite this article
Avanesov, M., Wiese, N.J., Karul, M. et al. Diagnostic prediction of complicated appendicitis by combined clinical and radiological appendicitis severity index (APSI). Eur Radiol 28, 3601–3610 (2018). https://doi.org/10.1007/s00330-018-5339-9
Received:

Accepted:

Published:

Issue Date:
Keywords
Perforated appendicitis

Decision support techniques

Appendectomy

Retroperitoneal space

Spiral computed tomography