Abstract
Objectives
To evaluate if systematically reviewing CT scans using ten signs leads to a better accuracy in diagnosing internal herniation (IH), compared to the original report. Also, the difference in accuracy was analysed between experience levels.
Methods
Patients were retrospectively included if they had undergone laparoscopic gastric bypass surgery between 2011 and 2014, and if additional radiological examination was performed for suspected IH between 2011 and 2016. Out of 1475 patients who had undergone laparoscopic gastric bypass surgery, 183 patients had one or more additional radiological examinations. A total of 245 CT scans were performed. All were reassessed by an abdominal radiologist, a radiology resident and intern. Assessment was done using ten signs from previous literature. Overall suspicion of IH was graded using a 5-point Likert scale. Accuracy was calculated using two-way contingency tables. Interobserver agreement was calculated using Fleiss' kappa.
Results
After 70 reoperations an IH was diagnosed in 48.6% (34/70). There was an increase in specificity for diagnosing IH with reoperation as reference from 52.8% (19/36; 95% CI 35.7–69.2%) in the original report to 86.1% (31/36; 95% CI 74.8–97.4%) for the radiologist (p = 0.002), 77.8% (28/36; 95% CI 64.2–91.4%) for the resident (p = 0.026) and 77.8% (28/36; 95% CI 64.2–91.4%) for the intern (p = 0.026). Interobserver agreement was good.
Conclusions
Systematically reviewing CT scans using a list of ten CT signs can improve specificity and thereby reduce unnecessary reoperations, especially in a high pre-test probability population. The tool can be easily taught to less experienced readers.
Key Points
• Computed tomography is useful to diagnose internal herniation(IH) after gastric bypass surgery
• Ten signs are described to improve CT diagnosis of IH
• Systematically reviewing CT scans improves specificity
• There is no difference in experience levels when using these ten signs
This is a preview of subscription content, log in to check access.
Access options
Buy single article
Instant access to the full article PDF.
US$ 39.95
Price includes VAT for USA
Subscribe to journal
Immediate online access to all issues from 2019. Subscription will auto renew annually.
US$ 199
This is the net price. Taxes to be calculated in checkout.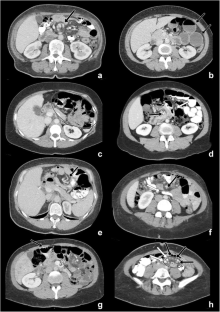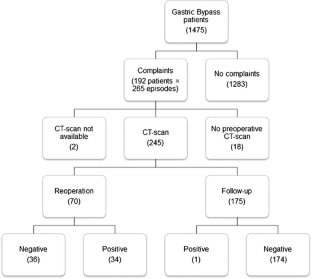 Abbreviations
BMI:

Body mass index

IH:

Internal herniation

LRYGB:

Laparoscopic Roux-en-Y gastric bypass

SMA:

Superior mesenteric artery
References
1.

Dilauro M, McInnes MDF, Schieda N et al (2017) Internal hernia after laparoscopic Roux-en-Y gastric bypass: optimal CT signs for diagnosis and clinical decision making. Radiology 282:752–760

2.

Goudsmedt F, Deylgat B, Coenegrachts K, van de Moortele K, Dillemans B (2015) Internal hernia after laparoscopic Roux-en-Y gastric bypass: a correlation between radiological and operative findings. Obes Surg 25:622–627

3.

Iannuccilli JD, Grand D, Murphy BL, Evangelista P, Roye GD, Mayo-Smith W (2009) Sensitivity and specificity of eight CT signs in the preoperative diagnosis of internal mesenteric hernia following Roux-en-Y gastric bypass surgery. Clin Radiol 64:373–380

4.

Welbourn R, Pournaras DJ, Dixon J et al (2017) Bariatric surgery worldwide: baseline demographic description and one-year outcomes from the second IFSO Global Registry Report 2013-2015. Obes Surg. https://doi.org/10.1007/s11695-017-2845-9

5.

Geubbels N, Lijftogt N, Fiocco M, Leersum NJ, Wouters MWJM, de Brauw LM (2015) Meta-analysis of internal herniation after gastric bypass surgery. Br J Surg 102:451–460

6.

Agaba EA, Gentles CV, Shamseddeen H et al (2008) Retrospective analysis of abdominal pain in postoperative laparoscopic Roux-en-Y gastric bypass patients: is a simple algorithm the answer? Surg Obes Relat Dis 4:587–593

7.

Altieri MS, Pryor AD, Telem DA, Hall K, Brathwaite C, Zawin M (2015) Algorithmic approach to utilization of CT scans for detection of internal hernia in the gastric bypass patient. Surg Obes Relat Dis 11:1207–1211

8.

Lockhart ME, Tessler FN, Canon CL et al (2007) Internal hernia after gastric bypass: sensitivity and specificity of seven CT signs with surgical correlation and controls. Am J Roentgenol 188:745–750

9.

Maier J, Herrasti Gallego A, Floyd AK (2017) Compression of the superior mesenteric vein - a sign of acute internal herniation in patients with antecolic laparoscopic Roux-en-Y gastric bypass. Eur Radiol 27:1733–1739

10.

Park J, Chung M, Teixeira J, Baer J, Frager D (2016) Computed tomography findings of internal hernia after gastric bypass that may precede small bowel obstruction. Hernia 20:471–477

11.

Likert R (1932) A technique for the measurement of attitudes. Arch Psychol 140:1–55

12.

Landis JR, Koch GG (1977) The measurement of observer agreement for categorical data. Biometrics 33:159–174

13.

Karila-Cohen P, Cuccioli F, Tammaro P et al (2017) Contribution of computed tomographic imaging to the management of acute abdominal pain after gastric bypass: correlation between radiological and surgical findings. Obes Surg 27:1961–1972
Funding
The authors state that this work has not received any funding.
Ethics declarations
Guarantor
The scientific guarantor of this publication is J. Nederend, MD, PhD.
Conflict of interest
The authors of this manuscript declare no relationships with any companies whose products or services may be related to the subject matter of the article.
Statistics and biometry
No complex statistical methods were necessary for this paper.
Informed consent
Written informed consent was waived by the institutional review board.
Ethical approval
Institutional review board approval was not required because the study was not performed on human subjects but only used previously collected data.
Methodology
• retrospective
• diagnostic study
• performed at one institution
About this article
Cite this article
Ederveen, J.C., van Berckel, M.M.G., Jol, S. et al. Diagnosing internal herniation after laparoscopic Roux-en-Y gastric bypass: usefulness of systematically reviewing CT scans using ten signs. Eur Radiol 28, 3583–3590 (2018). https://doi.org/10.1007/s00330-018-5332-3
Received:

Revised:

Accepted:

Published:

Issue Date:
Keywords
Multidetector computed tomography

Gastric bypass

Complications

Sensitivity and specificity

Hernia