Abstract
Objectives
To evaluate the changes in mammographic density after tamoxifen discontinuation in premenopausal women with oestrogen receptor-positive breast cancers and the underlying factors
Methods
A total of 213 consecutive premenopausal women with breast cancer who received tamoxifen treatment after curative surgery and underwent three mammograms (baseline, after tamoxifen treatment, after tamoxifen discontinuation) were included. Changes in mammographic density after tamoxifen discontinuation were assessed qualitatively (decrease, no change, or increase) by two readers and measured quantitatively by semi-automated software. The association between % density change and clinicopathological factors was evaluated using univariate and multivariate regression analyses.
Results
After tamoxifen discontinuation, a mammographic density increase was observed in 31.9% (68/213, reader 1) to 22.1% (47/213, reader 2) by qualitative assessment, with a mean density increase of 1.8% by quantitative assessment compared to density before tamoxifen discontinuation. In multivariate analysis, younger age (≤ 39 years) and greater % density decline after tamoxifen treatment (≥ 17.0%) were independent factors associated with density change after tamoxifen discontinuation (p < .001 and p = .003, respectively).
Conclusions
Tamoxifen discontinuation was associated with mammographic density change with a mean density increase of 1.8%, which was associated with younger age and greater density change after tamoxifen treatment.
Key Points
• Increased mammographic density after tamoxifen discontinuation can occur in premenopausal women.
• Mean density increase after tamoxifen discontinuation was 1.8%.
• Density increase is associated with age and density decrease after tamoxifen.
This is a preview of subscription content,
to check access.
Access this article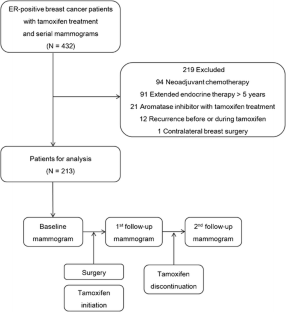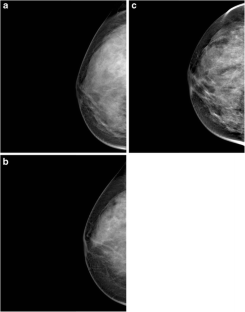 Similar content being viewed by others
References
Early Breast Cancer Trialists' Collaborative G, Davies C, Godwin J et al (2011) Relevance of breast cancer hormone receptors and other factors to the efficacy of adjuvant tamoxifen: patient-level meta-analysis of randomised trials. Lancet 378:771–784

MacNab MW, Tallarida RJ, Joseph R (1984) An evaluation of tamoxifen as a partial agonist by classical receptor theory–an explanation of the dual action of tamoxifen. Eur J Pharmacol 103:321–326

Desta Z, Ward BA, Soukhova NV, Flockhart DA (2004) Comprehensive evaluation of tamoxifen sequential biotransformation by the human cytochrome P450 system in vitro: prominent roles for CYP3A and CYP2D6. J Pharmacol Exp Ther 310:1062–1075

Deroo BJ, Korach KS (2006) Estrogen receptors and human disease. J Clin Invest 116:561–570

Cuzick J, Warwick J, Pinney E et al (2011) Tamoxifen-induced reduction in mammographic density and breast cancer risk reduction: a nested case-control study. J Natl Cancer Inst 103:744–752

Li J, Humphreys K, Eriksson L, Edgren G, Czene K, Hall P (2013) Mammographic density reduction is a prognostic marker of response to adjuvant tamoxifen therapy in postmenopausal patients with breast cancer. J Clin Oncol 31:2249–2256

Kim J, Han W, Moon HG et al (2012) Breast density change as a predictive surrogate for response to adjuvant endocrine therapy in hormone receptor positive breast cancer. Breast Cancer Res 14:R102

Ko KL, Shin IS, You JY, Jung SY, Ro J, Lee ES (2013) Adjuvant tamoxifen-induced mammographic breast density reduction as a predictor for recurrence in estrogen receptor-positive premenopausal breast cancer patients. Breast Cancer Res Treat 142:559–567

Sandberg ME, Li J, Hall P et al (2013) Change of mammographic density predicts the risk of contralateral breast cancer–a case-control study. Breast Cancer Res 15:R57

Nyante SJ, Sherman ME, Pfeiffer RM et al (2015) Prognostic significance of mammographic density change after initiation of tamoxifen for ER-positive breast cancer. J Natl Cancer Inst 107

Slanetz PJ, Grandpre LE, Yeh ED, Kopans DB, Mendel JB (2004) Effect of tamoxifen on breast tissue density in premenopausal breast cancer. Breast J 10:27–32

Byng JW, Yaffe MJ, Jong RA et al (1998) Analysis of mammographic density and breast cancer risk from digitized mammograms. Radiographics 18:1587–1598

Laya MB, Gallagher JC, Schreiman JS, Larson EB, Watson P, Weinstein L (1995) Effect of postmenopausal hormonal replacement therapy on mammographic density and parenchymal pattern. Radiology 196:433–437

McTiernan A, Chlebowski RT, Martin C et al (2009) Conjugated equine estrogen influence on mammographic density in postmenopausal women in a substudy of the women's health initiative randomized trial. J Clin Oncol 27:6135–6143

Rutter CM, Mandelson MT, Laya MB, Seger DJ, Taplin S (2001) Changes in breast density associated with initiation, discontinuation, and continuing use of hormone replacement therapy. JAMA 285:171–176

Sterns EE, Zee B (2000) Mammographic density changes in perimenopausal and postmenopausal women: is effect of hormone replacement therapy predictable? Breast Cancer Res Treat 59:125–132

Stomper PC, Van Voorhis BJ, Ravnikar VA, Meyer JE (1990) Mammographic changes associated with postmenopausal hormone replacement therapy: a longitudinal study. Radiology 174:487–490

Cuzick J, Warwick J, Pinney E, Warren RM, Duffy SW (2004) Tamoxifen and breast density in women at increased risk of breast cancer. J Natl Cancer Inst 96:621–628

Peyrade F, Frenay M, Etienne MC et al (1996) Age-related difference in tamoxifen disposition. Clin Pharmacol Ther 59:401–410

Kim JY, Cho N, Jeyanth JX et al (2014) Smaller reduction in 3D breast density associated with subsequent cancer recurrence in patients with breast cancer receiving adjuvant tamoxifen therapy. AJR Am J Roentgenol 202:912–921

Davies C, Pan H, Godwin J et al (2013) Long-term effects of continuing adjuvant tamoxifen to 10 years versus stopping at 5 years after diagnosis of oestrogen receptor-positive breast cancer: ATLAS, a randomised trial. Lancet 381:805–816

Ko SY, Kim EK, Kim MJ, Moon HJ (2014) Mammographic density estimation with automated volumetric breast density measurement. Korean J Radiol 15:313–321
Funding
This study has received funding by the Basic Science Research Program through the National Research Foundation of Korea funded by the Ministry of Education (NRF-2014R1A1A2053682).
Ethics declarations
Guarantor
The scientific guarantor of this publication is Nariya Cho.
Conflict of interest
The authors of this manuscript declare no relationships with any companies whose products or services may be related to the subject matter of the article.
Statistics and biometry
No complex statistical methods were necessary for this paper.
Ethical approval
Institutional review board approval was obtained.
Informed consent
Written informed consent was waived by the institutional review board.
Methodology
• retrospective
• observational
• performed at one institution
About this article
Cite this article
Kim, W.H., Cho, N., Kim, YS. et al. Mammographic density changes following discontinuation of tamoxifen in premenopausal women with oestrogen receptor-positive breast cancer. Eur Radiol 28, 3176–3184 (2018). https://doi.org/10.1007/s00330-017-5293-y
Received:

Revised:

Accepted:

Published:

Issue Date:

DOI: https://doi.org/10.1007/s00330-017-5293-y
Keywords