Abstract
Objectives
To perform an online survey about the use of magnetic resonance arthrography (MRA) in clinical practice.
Methods
We administered an online survey to all 1,550 members of the European Society of Musculoskeletal Radiology (ESSR) about MRA asking ten different questions. Subgroup analysis was performed between general and orthopaedic hospitals using χ2 and Mann-Whitney U statistics.
Results
One-hundred forty-eight answers were included (148/1,550, 9.5% of ESSR members). A median of 3,000 (interquartile range: 1,567.5-5,324.5) musculoskeletal MR examinations and a median of 125.5 MRAs (50.75-249) per institution were performed in 2016. Ratio between MRA and musculoskeletal MR was 4.7% (1.6%-9.0%). Using MRA, the most investigated joint was the shoulder followed by the hip (96.6%). The most common indications were the evaluation of instability, labrum, and rotator cuff (85.1%). Fluoroscopy represented the preferred injection guidance. A self-prepared mixture of Gadolinium/saline is preferred in general hospitals, while pre-diluted Gadolinium-based syringes are mainly used in orthopaedic hospitals (P=.010). The number of MRA performed at orthopaedic hospitals (284;83.75-449.50) was higher (P=.006) than that performed at general hospitals (115.50;44.75-234.25).
Conclusions
One out of twenty MR examinations is a MRA, with higher prevalence in orthopaedic hospitals. The shoulder and the hip are the most investigated joints. Instability, labrum, and cuff are the most common indications.
Key Points
• The most common MRAs are shoulder and hip (96.6% of answers).
• Most common clinical indications for MRA are instability, labrum, and rotator cuff (85.1% of answers).
• Fluoroscopy represents the preferred guidance to inject joints (61.0% of answers).
• The median number of MRA performed at orthopaedic hospitals (n=284) was significantly higher (P=.006) than that performed at general hospitals (n=115.50).
• A self-prepared mixture of Gadolinium/saline solution is preferred in general hospitals (64.8%) compared to orthopaedic hospitals (36.0%; P=0.010).
Access options
Buy single article
Instant access to the full article PDF.
US$ 39.95
Tax calculation will be finalised during checkout.
Subscribe to journal
Immediate online access to all issues from 2019. Subscription will auto renew annually.
US$ 119
Tax calculation will be finalised during checkout.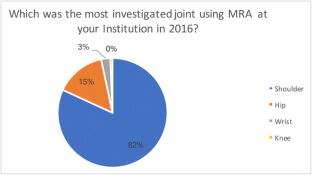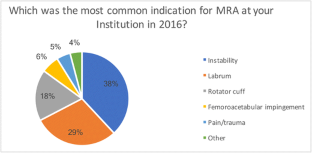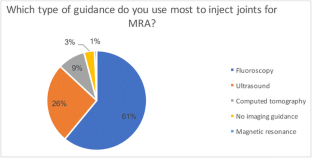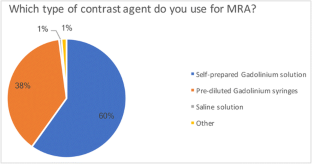 Abbreviations
MRI:

Magnetic resonance imaging

MRA:

Magnetic resonance arthrography

ESSR:

European Society of Musculoskeletal Radiology

ABER:

Abduction-external rotation
References
1.

Ciarrapico AM, Ugenti R, Di Minco L et al (2017) Diagnostic imaging and spending review: extreme problems call for extreme measures. Radiol Med 122:288–293

2.

Symanski JS, Subhas N, Babb J, Nicholson J, Gyftopoulos S (2017) Diagnosis of Superior Labrum Anterior-to-Posterior Tears by Using MR Imaging and MR Arthrography: A Systematic Review and Meta-Analysis. Radiology 285:101–113

3.

Sutter R, Zubler V, Hoffmann A et al (2014) Hip MRI: how useful is intraarticular contrast material for evaluating surgically proven lesions of the labrum and articular cartilage? AJR Am J Roentgenol 202:160–169

4.

Agten CA, Sutter R, Buck FM, Pfirrmann CW (2016) Hip Imaging in Athletes: Sports Imaging Series. Radiology 280:351–369

5.

European Society of Radiology https://essr.org/society/. Accessed 15 Nov 2017

6.

Research Committee of the European Society of Radiology https://essr.org/society/committees/. Accessed 15 Nov 2017

7.

Google documents https://docs.google.com/forms/. Accessed 15 Nov 2017

8.

Ng AW, Hung EH, Griffith JF, Tong CS, Cho CC (2013) Comparison of ultrasound versus fluoroscopic guided rotator cuff interval approach for MR arthrography. Clin Imaging 37:548–553

9.

Albano D, Chianca V, Tormenta S, Migliore A, Sconfienza LM (2017) Old and new evidence concerning the crucial role of ultrasound in guiding intra-articular injections. Skelet Radiol 46:963–964

10.

Messina C, Banfi G, Aliprandi A et al (2016) Ultrasound guidance to perform intra-articular injection of gadolinium-based contrast material for magnetic resonance arthrography as an alternative to fluoroscopy: the time is now. Eur Radiol 26:1221–1225

11.

Messina C, Orlandi D, Sconfienza LM (2016) Do we still need fluoroscopy to perform injections in the musculoskeletal system? Skelet Radiol 45:1717–1718

12.

European Commission. 2013/59/EURATOM directive. Available at http://eur-lex.europa.eu/legal-content/EN/TXT/? uri=uriserv:OJ.L_.2014.013.01.0001.01.ENG Accessed 27 Sept 2017

13.

van Grinsven S, Hagenmaier F, van Loon CJ, van Gorp MJ, van Kints MJ, van Kampen A (2014) Does the experience level of the radiologist, assessment in consensus, or the addition of the abduction and external rotation view improve the diagnostic reproducibility and accuracy of MRA of the shoulder? Clin Radiol 69:1157–1164

14.

Schaeffeler C, Waldt S, Bauer JS et al (2014) MR arthrography including abduction and external rotation images in the assessment of atraumatic multidirectional instability of the shoulder. Eur Radiol 24:1376–1385

15.

Qiu W, Tang X, Li Y, Ji Y, Xu W (2016) Abduction external rotation position in magnetic resonance arthrography for the diagnosis of rotator cuff tears. J Orthop Sci 21:446–451

16.

Petchprapa CN, Dunham KS, Lattanzi R, Recht MP (2013) Demystifying radial imaging of the hip. Radiographics 33:E97–E112

17.

Chan YS, Lien LC, Hsu HL et al (2005) Evaluating hip labral tears using magnetic resonance arthrography: a prospective study comparing hip arthroscopy and magnetic resonance arthrography diagnosis. Arthroscopy 21:1250

18.

Yoon LS, Palmer WE, Kassarjian A (2007) Evaluation of radial-sequence imaging in detecting acetabular labral tears at hip MR arthrography. Skelet Radiol 36:1029–1033
Acknowledgements
All authors are ESSR Members. Luca Maria Sconfienza and Alberto Tagliafico are past and present chairs of the ESSR Research committee, respectively. Luca Maria Sconfienza is currently chair of the Ultrasound ESSR subcommittee. The present work was approved by the ESSR Executive committee in April 2017 and financed with a 500 Euro grant.
The authors want to thank all ESSR members who completed the survey in full and gave their consent to publish their names: José Acosta Batlle, Andrea Alcalá-Galiano, Eduardo Alvarez-Hornia, Natalia Alvarez de Eulate, Maurizio Amato, Rahul Anaspure , Pilar Aparisi-Gómez, Jesús D. Aquerreta, Gulgun Atilla, Ustun Aydingoz, Ali Balci, Hasan Banitalebi, Antonio Barile, Bruno Beber Machado, Fabio Becce, Adan Bello Baez, Guillaume Bierry, Antonia Bintoudi, Bård T. Bjørnarå, Sana Boudabbous, Hugues Brat, Federico Bruno, Carolina Calvo Corbella, Wilson Campos Tavares Junior, Jaime Cardenal, Yves Carillon, Mislav Čavka, Can Cevikol, Ranjana Chaudhuri, Sylvia Connolly, Michel Court-Payen, Francesco Cravero, Ferdinando Cusmano, Keivan Daneshvar , Matias de Albert, Giorgio De Conti, Massimo De Filippo, Jeroen De Groote, Milko de Jonge, Eline De Smet, Dhafer Deeab, Francesco Di Pietto, Fernando Diez Renovales, Jürgen Ederer, Thomas Egelhof, Isabel Elía, Víctor M. Encinas-Tobajas, Carlo Faletti, Daniel Fascia, Javier Fernández-Jara, Giulio Ferrero, Claudio Fonda, Veronique Freire, Lars Benjamin Fritz, Alexandre Fuchs, Sorin Ghiea, Silvana Giannini, Jose Luis González Montané, Thomas Grieser, James Francis Griffith, Benjamin Henninger, Jozsef Illes, Syed Intekhab, Gordana Ivanac, Jon Jacobson, Maciej Jonczy, Achim Kaim, Maria Karamesini, Apostolos Karantanas, Alla Karpenko, Katarzyna Kasiek, Benedikt Kislinger, Josef Kramer, Guenther J. Kraus, Karl Friedrich Kreitner, Dinuka Kuruppu, Lauren Ladd, Radesh Lalam, Robert Lambert, Guillaume Lefebvre, Eva Llopis, Christos Loupatatzis, Enrico Lubin, Nicola Magarelli, Petra Margetic, Daliborka Maric, Silvia Martin, Esteban Mayayo, Paul Michelin , Manuel Montero Jaime, Jerome Mouly, Emanuele Muraro, Margarita Natsika, Vesna Njagulj, Miguel Oliveira e Castro, Davide Orlandi, Erik Pallares Villareal, Giulio Pasquotti, René Patzwahl, Robert Rau, Georg Riegler, Benoît Rizk, Mercedes Roca, Frank Roemer, Mitja Rupreht, Vladka Salapura, Francesca Sambataro, Ricardo Sampaio, Nicolae Sarbu, Gerwin Schmidt, Armin Seifarth, Alireza Semnani, Asad Shah, Casimiro Simonetti, Vasileios Skiadas, Žiga Snoj, Priya Suresh , Linus Swinnen, Tomasz Szalaj, Xavier Tomas, Ioannis Tsifountoudis, Filip Vanhoenacker, Joan C Vilanova, Marianna Vlychou, Marc-André Weber, Herbert Wegmueller, Engin Yeter Kurt, Marco Zanetti, Carlo Zanolini, Marcello Zappia, Amin Zoqurti, and Ivana Zupetic
Funding
The authors state that a 500 Euro grant issued by the European Society of Musculoskeletal Radiology was used to purchase 10 e-coupons to encourage the participation to the online poll.
Ethics declarations
Guarantor
The scientific guarantor of this publication is Luca Maria Sconfienza.
Conflict of interest
The authors of this manuscript declare no relationships with any companies, whose products or services may be related to the subject matter of the article.
Statistics and biometry
No complex statistical methods were necessary for this paper.
Informed consent
Informed consent was not required because the paper does not involve patients.
Ethical approval
Institutional review board approval was not required because the paper does not involve patients' data directly.
Methodology
• prospective
• observational
• multicentre study
About this article
Cite this article
Sconfienza, L.M., Albano, D., Messina, C. et al. How, When, Why in Magnetic Resonance Arthrography: an International Survey by the European Society of Musculoskeletal Radiology (ESSR). Eur Radiol 28, 2356–2368 (2018). https://doi.org/10.1007/s00330-017-5208-y
Received:

Revised:

Accepted:

Published:

Issue Date:
Keywords
Magnetic Resonance Arthrography

Shoulder

Hip

Fluoroscopy

Gadolinium