Abstract
Objective
To determine the clinical efficacy of sonographically-guided percutaneous bone drilling of the lateral epicondyle (LE) for the treatment of patients with LE.
Methods
We included 24 patients with LE who reported pain in this study. All patients underwent sonographically-guided percutaneous bone drilling of the lateral epicondyle. Follow-up sonography and physical examinations were performed 1, 3 and 6 months after the procedure. The outcome measures included sonographic findings, visual analogue scale (VAS) score, maximum voluntary grip strength (MVGS) and patient-related tennis elbow evaluation (PRTEE) score.
Results
None of the patients had immediate complications during the procedure. The area of the extensor carpi radialis brevis (ECRB) tears decreased significantly at 1 month and declined gradually over the remaining 5 months of the study (p < 0.001). The mean pain VAS score was significantly lower at 6 months than preoperatively (respectively; p < 0.001). The mean MVGS increased significantly between pretreatment and 6 months post-treatment (p < 0.001), whereas the PRTEE score decreased significantly during the same period (p < 0.001).
Conclusion
Sonographically-guided percutaneous drilling is a quick and safe treatment option for LE that can be performed in an outpatient setting.
Key Points
• Percutaneous drilling of the lateral condyle is effective for the treatment of LE.
• The area of ECRB tears can be measured by US-guided saline injection.
• US-guided percutaneous drilling is a quick and safe treatment option for LE.
Access options
Buy single article
Instant access to the full article PDF.
US$ 39.95
Tax calculation will be finalised during checkout.
Subscribe to journal
Immediate online access to all issues from 2019. Subscription will auto renew annually.
US$ 119
Tax calculation will be finalised during checkout.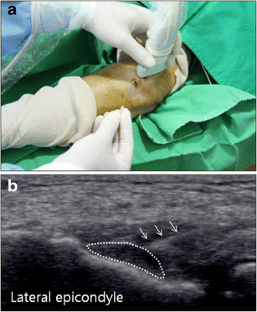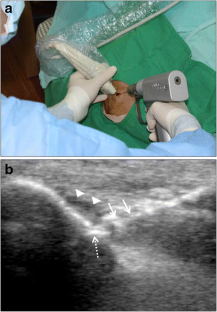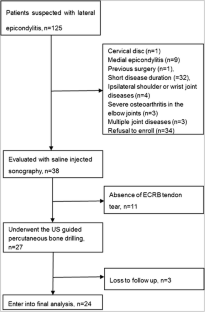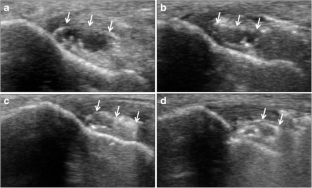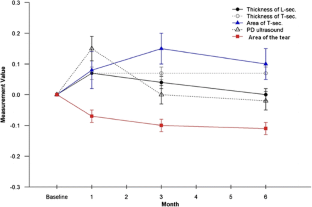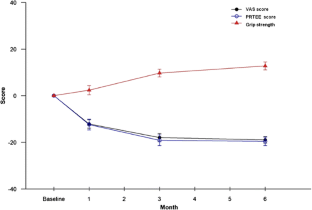 References
1.

Sayegh ET, Strauch RJ (2015) Does nonsurgical treatment improve longitudinal outcomes of lateral epicondylitis over no treatment? A meta-analysis. Clin Orthop Relat Res 473:1093–1107

2.

Smidt N, van der Windt DA (2006) Tennis elbow in primary care. BMJ 333:927–928

3.

Lee MH, Cha JG, Jin W et al (2011) Utility of sonographic measurement of the common tensor tendon in patients with lateral epicondylitis. AJR Am J Roentgenol 196:1363–1367

4.

Ahmad Z, Siddiqui N, Malik SS, Abdus-Samee M, Tytherleigh-Strong G, Rushton N (2013) Lateral epicondylitis: a review of pathology and management. Bone Joint J 95-b:1158–1164

5.

du Toit C, Stieler M, Saunders R, Bisset L, Vicenzino B (2008) Diagnostic accuracy of power Doppler ultrasound in patients with chronic tennis elbow. Br J Sports Med 42:572–576

6.

Clarke AW, Ahmad M, Curtis M, Connell DA (2010) Lateral elbow tendinopathy: correlation of ultrasound findings with pain and functional disability. Am J Sports Med 38:1209–1214

7.

Orchard J, Kountouris A (2011) The management of tennis elbow. BMJ 342:d2687

8.

Walz DM, Newman JS, Konin GP, Ross G (2010) Epicondylitis: pathogenesis, imaging, and treatment. Radiographics 30:167–184

9.

Hechtman KS, Uribe JW, Botto-vanDemden A, Kiebzak GM (2011) Platelet-rich plasma injection reduces pain in patients with recalcitrant epicondylitis. Orthopedics 34:92

10.

Mishra A, Pavelko T (2006) Treatment of chronic elbow tendinosis with buffered platelet-rich plasma. Am J Sports Med 34:1774–1778

11.

Connell DA, Ali KE, Ahmad M, Lambert S, Corbett S, Curtis M (2006) Ultrasound-guided autologous blood injection for tennis elbow. Skelet Radiol 35:371–377

12.

Edwards SG, Calandruccio JH (2003) Autologous blood injections for refractory lateral epicondylitis. J Hand Surg [Am] 28:272–278

13.

Keizer SB, Rutten HP, Pilot P, Morre HH, v Os JJ, Verburg AD (2002) Botulinum toxin injection versus surgical treatment for tennis elbow: a randomized pilot study. Clin Orthop Relat Res: 125–131

14.

Lin CL, Lee JS, Su WR, Kuo LC, Tai TW, Jou IM (2011) Clinical and ultrasonographic results of ultrasonographically-guided percutaneous radiofrequency lesioning in the treatment of recalcitrant lateral epicondylitis. Am J Sports Med 39:2429–2435

15.

Coleman B, Quinlan JF, Matheson JA (2010) Surgical treatment for lateral epicondylitis: a long-term follow-up of results. J Shoulder Elb Surg 19:363–367

16.

Garden RS (1961) Tennis elbow. J Bone Joint Surg Br Vol 43-B:100–106

17.

Barnes DE, Beckley JM, Smith J (2015) Percutaneous ultrasonic tenotomy for chronic elbow tendinosis: a prospective study. J Shoulder Elb Surg 24:67–73

18.

Chiavaras MM, Jacobson JA (2013) Ultrasound-guided tendon fenestration. Semin Musculoskelet Radiol 17:85–90

19.

Housner JA, Jacobson JA, Misko R (2009) Sonographically-guided percutaneous needle tenotomy for the treatment of chronic tendinosis. J Ultrasound Med 28:1187–1192

20.

Rompe JD, Overend TJ, MacDermid JC (2007) Validation of the patient-rated tennis elbow evaluation questionnaire. J Hand Ther 20:3–10, quiz 11

21.

Dunn JH, Kim JJ, Davis L, Nirschl RP (2008) Ten- to 14-year follow-up of the Nirschl surgical technique for lateral epicondylitis. Am J Sports Med 36:261–266

22.

Hayashi K, Kumai T, Higashiyama I, Shinohara Y, Matsuda T, Takakura Y (2009) Repair process after fibrocartilaginous enthesis drilling: histological study in a rabbit model. J Orthop Sci 14:76–84

23.

Schipper ON, Dunn JH, Ochiai DH, Donovan JS, Nirschl RP (2011) Nirschl surgical technique for concomitant lateral and medial elbow tendinosis: a retrospective review of 53 elbows with a mean follow-up of 11.7 years. Am J Sports Med 39:972–976
Ethics declarations
Guarantor
The scientific guarantor of this publication is Jang Gyu Cha.
Conflict of interest
The authors of this manuscript declare no relationships with any companies whose products or services may be related to the subject matter of the article.
Funding
This study has received funding by Soonchunghayng University Research Fund.
Statistics and biometry
Bo Ra Lee kindly provided statistical advice for this manuscript.
Ethical approval
Institutional Review Board approval was obtained.
Informed consent
Written informed consent was obtained from all subjects (patients) in this study.
Methodology
• prospective
• case-series study
Electronic supplementary material
About this article
Cite this article
Yoo, S.H., Cha, J.G. & Lee, B.R. Ultrasound-guided percutaneous bone drilling for the treatment of lateral epicondylitis. Eur Radiol 28, 390–397 (2018). https://doi.org/10.1007/s00330-017-4932-7
Received:

Revised:

Accepted:

Published:

Issue Date:
Keywords
Ultrasonography

Tennis elbow

Sports medicine

Elbow joint

Treatment outcome