Abstract
Objective
To compare the diagnostic accuracy of medical-grade and calibrated consumer-grade digital displays for the detection of subtle bone fissures.
Methods
Three experienced radiologists assessed 96 digital radiographs, 40 without and 56 with subtle bone fissures, for the presence or absence of fissures in various bones using one consumer-grade and two medical-grade displays calibrated according to the DICOM-Grayscale Standard Display Function. The reference standard was consensus reading. Subjective image quality was also assessed by the three readers. Statistical analysis was performed using receiver operating characteristic analysis and by calculating the sensitivity, specificity, and Youden's J for each combination of reader and display. Cohen's unweighted kappa was calculated to assess inter-rater agreement. Subjective image quality was compared using the Wilcoxon signed-rank test.
Results
No significant differences were found for the assessment of subjective image quality. Diagnostic performance was similar across all readers and displays, with Youden's J ranging from 0.443 to 0.661. The differences were influenced more by the reader than by the display used for the assessment.
Conclusion
No significant differences were found between medical-grade and calibrated consumer-grade displays with regard to their diagnostic performance in assessing subtle bone fissures. Calibrated consumer-grade displays may be sufficient for most radiological examinations.
Key points
• Diagnostic performance of calibrated consumer-grade displays is comparable to medical-grade displays.
• There is no significant difference with regard to subjective image quality.
• Use of calibrated consumer-grade displays could cut display costs by 60-80%.
Access options
Buy single article
Instant access to the full article PDF.
US$ 39.95
Tax calculation will be finalised during checkout.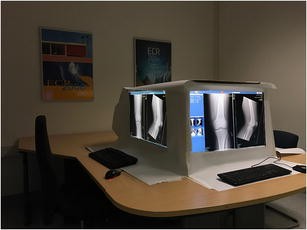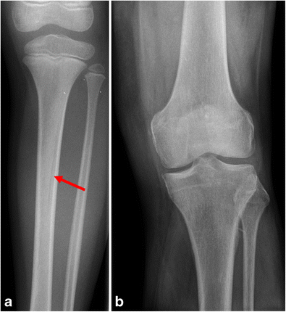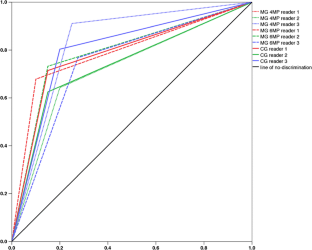 Abbreviations
CR:

computed radiography

DICOM:

Digital Imaging and Communication in Medicine

DR:

direct radiography

GSDF:

Grayscale Standard Display Function

LCD:

liquid crystal displays

PACS:

picture archiving and communication systems

ROC:

receiver operating characteristic

LED:

light-emitting diode

IPS:

in-plane switching

px:

Pixel

cd:

Candela

AUC:

area under the curve
References
1.

Kagadis GC, Walz-Flannigan A, Krupinski EA, Nagy PG, Katsanos K, Diamantopoulos A et al (2013) Medical imaging displays and their use in image interpretation. RadioGraphics 33:275–290

2.

Fetterly KA, Blume HR, Flynn MJ, Samei E (2008) Introduction to grayscale calibration and related aspects of medical imaging grade liquid crystal displays. J Digit Imaging 21:193–207

3.

German Institute for Standardization. Image quality assurance in diagnostic X-ray departments - Part 157: X-ray ordinance acceptance and constancy test of image display systems in their environment (2014). Available via https://www.beuth.de/de/norm/din-6868-157/216064441

4.

Food and Drug Administration. Display Accessories for Full-Field Digital Mammography Systems-Premarket Notification (510(k)) (2008). Available via http://www.fda.gov/MedicalDevices/DeviceRegulationandGuidance/GuidanceDocuments/ucm107549.htm

5.

Likert R (1932) A technique for the measurement of attitudes. Arch Psychol 22:55

6.

Youden WJ (1950) Index for rating diagnostic tests. Cancer 3:32–35

7.

Landis JR, Koch GG (1977) The measurement of observer agreement for categorical data. Biometrics 33:159–174

8.

Abboud S, Weiss F, Siegel E, Jeudy J (2013) TB or Not TB: interreader and intrareader variability in screening diagnosis on an iPad versus a traditional display. J Am Coll Radiol 10:42–44

9.

Salazar AJ, Aguirre DA, Ocampo J, Camacho JC, Díaz XA (2014) DICOM gray-scale standard display function: clinical diagnostic accuracy of chest radiography in medical-grade gray-scale and consumer-grade color displays. AJR Am J Roentgenol 202:1272–1280

10.

Ekpo EU, McEntee MF (2016) An Evaluation of Performance Characteristics of Primary Display Devices. J Digit Imaging 29):175–182

11.

Liukkonen E, Jartti A, Haapea M, Oikarinen H, Ahvenjärvi L, Mattila S et al (2016) Effect of display type and room illuminance in chest radiographs. Eur Radiol 26:3171–3179

12.

Tewes S, Rodt T, Marquardt S, Evangelidou E, Wacker FK, von Falck C (2013) Evaluation of the use of a tablet computer with a high-resolution display for interpreting emergency CT scans. Röfo 185:1063–1069

13.

Krupinski EA (2009) Medical grade vs off-the-shelf color displays: influence on observer performance and visual search. J Digit Imaging 22:363–368

14.

Hiwasa T, Morishita J, Hatanaka S, Ohki M, Toyofuku F, Higashida Y (2009) Need for liquid–crystal display monitors having the capability of rendering higher than 8 bits in display-bit depth. Radiol Phys Technol 2:104–111

15.

Bender S, Lederle K, Weiß C, Schoenberg SO, Weisser G (2011) 8-bit or 11-bit monochrome displays--which image is preferred by the radiologist? Eur Radiol 21:1088–1096

16.

Geijer H, Geijer M, Forsberg L, Kheddache S, Sund P (2007) Comparison of color LCD and medical-grade monochrome LCD displays in diagnostic radiology. J Digit Imaging 20:114–121

17.

Faggioni L, Neri E, Bargellini I, Scalise P, Calcagni F, Mantarro A et al (2015) iPad-based primary 2D reading of CT angiography examinations of patients with suspected acute gastrointestinal bleeding: preliminary experience. Br J Radiol 88:20140477

18.

Kim C, Cha H, Kang BS, Choi HJ, Lim TH, Oh J (2015) A Feasibility Study of Smartphone-Based Telesonography for Evaluating Cardiac Dynamic Function and Diagnosing Acute Appendicitis with Control of the Image Quality of the Transmitted Videos. J Digit Imaging 29:347–356

19.

Johnson PT, Zimmerman SL, Heath D, Eng J, Horton KM, Scott WW et al (2012) The iPad as a mobile device for CT display and interpretation: diagnostic accuracy for identification of pulmonary embolism. Emerg Radiol 19:323–327

20.

Schlechtweg PM, Kammerer FJ, Seuss H, Uder M, Hammon M (2016) Mobile Image Interpretation: Diagnostic Performance of CT Exams Displayed on a Tablet Computer in Detecting Abdominopelvic Hemorrhage. J Digit Imaging 29:183–188

21.

Kawasumi Y, Yamada T, Ota H, Tsuboi M, Takase K, Sato A et al (2008) High-resolution monochrome liquid crystal display versus efficient household colour liquid crystal display: comparison of their diagnostic performance with unenhanced CT images in focal liver lesions. Eur Radiol 18:2148–2154
Acknowledgements
The authors thank Ms. Helen Toder and Ms. Franziska Inka Meyer for their support in conducting this study and for their help with data collection. The authors would also like to thank Dr. Veronika Weyer-Elberich for her help in planning the statistical analysis for this study.
Ethics declarations
Guarantor
The scientific guarantor of this publication is Prof. Dr. Peter Mildenberger.
Conflict of interest
The authors of this manuscript declare no relationships with any companies, that have products or services may be related to the subject matter of the article.
Funding
The authors state that this work has not received any funding.
Statistics and biometry
Ms. Dr. Veronika Weyer- Elberich kindly provided statistical advice for this manuscript.
Informed consent
Written informed consent was waived by the Institutional Review Board.
Ethical approval
Institutional Review Board approval was obtained.
Methodology
•experimental
•performed at one institution
About this article
Cite this article
Pinto dos Santos, D., Welter, J., Emrich, T. et al. Comparison of medical-grade and calibrated consumer-grade displays for diagnosis of subtle bone fissures. Eur Radiol 27, 5049–5055 (2017). https://doi.org/10.1007/s00330-017-4923-8
Received:

Revised:

Accepted:

Published:

Issue Date:
Keywords
Quality Assurance, Health Care

Radiography

Fractures, Bone

Diagnostic Imaging

Computer Terminals