Abstract
Objectives
Aim was to investigate hygienic conditions of ultrasound probes before and after hygiene training in radiology institutions in comparison to bacterial contamination in public places.
Methods
In three radiology departments, bacterial contamination was evaluated using baseline agar plates for cultures taken from 36 ultrasound probes. Afterwards teams were trained by a hygiene service centre and 36 ultrasound probes were routinely disinfected with regular disinfecting wipes and then evaluated. In comparison, bacterial contamination in public places (bus poles, n = 11; toilet seats, n = 10) were analysed. Plates were routinely incubated and the number of colony forming units (CFU) analysed.
Results
Cultures taken from the probes showed a median of 53 CFU before and 0 CFU after training (p < 0.001). Cultures taken from public places showed a median of 4 CFU from toilets and 28 from bus poles and had lower bacterial load in comparison to ultrasound probes before training (p = 0.055, toilets; p = 0.772, bus poles), without statistical significance.
Conclusions
Bacterial contamination of ultrasound probes prior to hygiene training proved to be high and showed higher bacterial load than toilets seats or bus poles. Radiologists should be aware that the lack of hygiene in the field of ultrasound diagnostics puts patients at risk of healthcare-associated infections.
Key points
• Hospital-associated infections are a problem for patient care.
• Hygiene training of staff prevents bacterial contamination of ultrasound probes.
• Disinfection of ultrasound probes is an easy method to protect patients.
This is a preview of subscription content,
to check access.
Access this article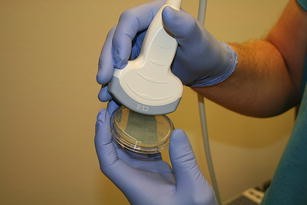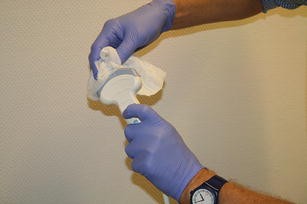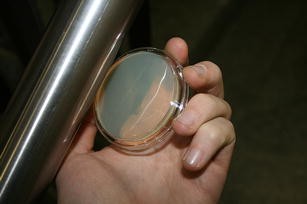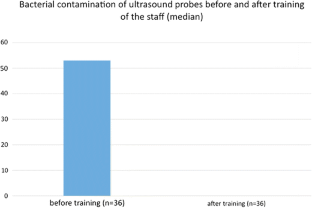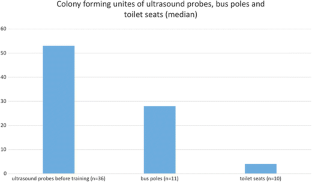 Similar content being viewed by others
References
Murphy RA, Chua AC (2016) Prevention of common healthcare-associated infections in humanitarian hospitals. Curr Opin Infect Dis 29:381–387

Klevens RM, Edwards JR, Richards CL et al (2007) Estimating health care-associated infections and deaths in US Hospitals, 2002. Public Health Rep 122:160–166

Stone PW (2010) Economic burden of healthcare-associated infections: an American perspective. Expert Rev Pharmacoecon Outcomes Res 9:417–422

Paul R, Das NK, Dutta R, Bandyopadhyay R, Banerjee AK (2011) Bacterial contamination of the hands of doctors: a study in the medicine and dermatology wards. Indian J Dermatol Venereol Leprol 77:307–313

Ejtehadi F, Ejtehadi F, Cohen J, Arasteh MM (2014) A safe and practical decontamination method to reduce the risk of bacterial colonizsation of ultrasound transducers. J Clin Ultrasound 42:395–398

Karadeniz YM, Kilic D, Altan K, Altinok D, Güney S (2001) Evaluation of the role of ultrasound machines as a source of nosocomial and cross-infection. Invest Radiol 36:554–558

Mullaney PJ, Munthali P, Vlachou P, Jenkins D, Rathod A, Entwisle J (2007) How clean is your probe? Microbiological assessment of ultrasound transducers in routine clinical use, and cost-effective ways to reduce contamination. Clin Radiol 62:694–698

Frazee B, Fahimi J, Lambert L, Nagdev A (2011) Emergency department ultrasonographic probe contamination and experimental model of probe disinfection. Ann Emerg Med 58:56–63

Chu K, Obaid H, Babyn P, Blondeau J (2014) Bacterial contamination of ultrasound probes at a tertiary referral university medical center. AJR 203:928–932

Davis CP (1996) Normal flora. In: Baron S (ed) Medical microbiology, 4th edn. University of Texas Medical Branch, Galveston

Lawrence MW, Blanks J, Ayala R et al (2014) Hospital-wide survey of bacterial contamination of point-of-care ultrasound probes and coupling gel. J Ultrasound Med 33:457–462

Koibuchi H, Kotani K, Taniguchi N (2013) Ultrasound probes as a possible vector of bacterial transmission. Med Ultrason 15:41–44

Hayashi S, Koibuchi H, Taniguchi N, Hirai Y (2012) Evaluation of procedures for decontaminating ultrasound probes. J Med Ultrasonics 39:11–14

Gerlich MG, Piegsa J, Schäfer C et al (2015) Improving hospital hygiene to reduce the impact of multidrug-resistant organisms in health care - a prospective controlled multicenter study. BMC Infect Dis 15:441

[No authors listed] (2015) Health care-associated infections in the USA. Lancet 385:304

Buerke B, Mellmann A, Kipp F, Heindel W, Wessling J (2012) Hyienic aspects in radiology: what the radiologist should know. Röfo 184:1099–1109

Muradali D, Gold WL, Phillips A, Wilson S (1995) Can ultrasound probes and coupling gel be a source of nosocomial infection in patients undergoing sonography? An in vivo and in vitro study. AJR Am J Roentgenol 164:1521–1524

Rutala WA, Weber DJ (2010) Guideline for disinfection and sterilization of prion-contaminated medical instruments. Infect Control Hosp Epidemiol 31:2107–2117
Acknowledgements
We would like to thank Daniela Jegher from St. Anna Clinic in Lucerne (Switzerland), who led and organized hygiene training of the radiology team in an outstanding manner. We would also like to thank Andrea Pfeifer from the statistical service centre University Zürich for evaluating biomathemathical data.
Ethics declarations
Guarantor
The scientific guarantor of this publication is Andreas Gutzeit.
Conflict of interest
The authors of this manuscript declare no relationships with any companies whose products or services may be related to the subject matter of the article.
Funding
The authors state that this work has not received any funding.
Statistics and biometry
Andrea Pfeifer kindly provided statistical advice for this manuscript.
Ethical approval
Approval from the institutional animal care committee was not required because no animals were included.
Methodology
• prospective
• randomised controlled trial
• multicentre study
About this article
Cite this article
Sartoretti, T., Sartoretti, E., Bucher, C. et al. Bacterial contamination of ultrasound probes in different radiological institutions before and after specific hygiene training: do we have a general hygienical problem?. Eur Radiol 27, 4181–4187 (2017). https://doi.org/10.1007/s00330-017-4812-1
Received:

Revised:

Accepted:

Published:

Issue Date:

DOI: https://doi.org/10.1007/s00330-017-4812-1
Keywords