Abstract
Objectives
To evaluate the potential role of dual energy CT (DECT) to visualize antiangiogenic treatment effects in patients with metastatic renal cell cancer (mRCC) while treated with tyrosine-kinase inhibitors (TKI).
Methods
26 patients with mRCC underwent baseline and follow-up single-phase abdominal contrast enhanced DECT scans. Scans were performed immediately before and 10 weeks after start of treatment with TKI. Virtual non-enhanced (VNE) and colour coded iodine images were generated. 44 metastases were measured at the two time points. Hounsfield unit (HU) values for VNE and iodine density (ID) as well as iodine content (IC) in mg/ml of tissue were derived. These values were compared to the venous phase DECT density (CTD) of the lesions. Values before and after treatment were compared using a paired Student's t test.
Results
Between baseline and follow up, mean CTD and DECT-derived ID both showed a significant reduction (p < 0.005). The relative reduction measured in percent was significantly greater for ID than for CTD (49.8 ± 36,3 % vs. 29.5 ± 20.8 %, p < 0.005). IC was also significantly reduced under antiangiogenic treatment (p < 0.0001).
Conclusions
Dual energy CT-based quantification of iodine content of mRCC metastases allows for significantly more sensitive and reproducible detection of antiangiogenic treatment effects.
Key Points
• A sign of tumour response to antiangiogenic treatment is reduced tumour perfusion.
• DECT allows visualizing iodine uptake, which serves as a marker for vascularization.
• More sensitive detection of antiangiogenic treatment effects in mRCC is possible.
This is a preview of subscription content, log in to check access.
Access options
Buy single article
Instant access to the full article PDF.
US$ 39.95
Price includes VAT for USA
Subscribe to journal
Immediate online access to all issues from 2019. Subscription will auto renew annually.
US$ 199
This is the net price. Taxes to be calculated in checkout.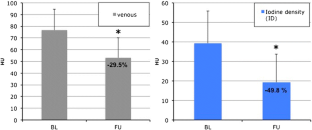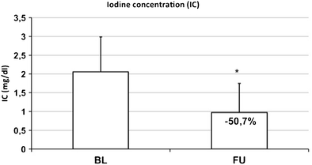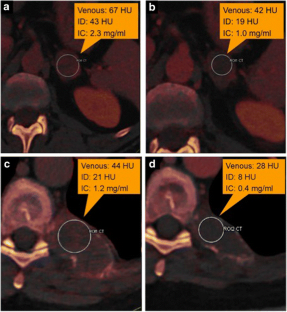 Abbreviations
BL:

Baseline

CTD:

Dual energy CT density (venous phase)

DECT:

Dual energy computed tomography

DLP:

Dose-length product

FU:

Follow up

GIST:

Gastrointestinal stromal tumours

HU:

Hounsfield unit

IC:

Iodine concentration

ID:

Iodine density

IRA:

Iodine related attenuation

(m)RCC:

(metastatic) renal cell cancer

ROI:

Region of interest

TKI:

Tyrosine-kinase inhibitor

VEGF:

Vascular endothelial growth factor

VNE:

Virtual non-enhanced
References
1.

Gupta K, Miller JD, Li JZ, Russell MW, Charbonneau C (2008) Epidemiologic and socioeconomic burden of metastatic renal cell carcinoma (mRCC): a literature review. Cancer Treat Rev 34:193–205

2.

Janzen NK, Kim HL, Figlin RA, Belldegrun AS (2003) Surveillance after radical or partial nephrectomy for localized renal cell carcinoma and management of recurrent disease. Urol Clin N Am 30:843–852

3.

Ljungberg B, Campbell SC, Choi HY et al (2011) The epidemiology of renal cell carcinoma. Eur Urol 60:615–621

4.

Athar U, Gentile TC (2008) Treatment options for metastatic renal cell carcinoma: a review. Can J Urol 15:3954–3966

5.

Aslam S, Eisen T (2013) Vascular endothelial growth factor receptor tyrosine kinase inhibitors in metastatic renal cell cancer: latest results and clinical implications. Ther Adv Med Oncol 5:324–333

6.

Eisenhauer EA, Therasse P, Bogaerts J et al (2009) New response evaluation criteria in solid tumours: revised RECIST guideline (version 1.1). Eur J Cancer 45:228–247

7.

Brufau BP (2013) Metastatic renal cell carcinoma: radiologic findings and assessment of response to targeted antiangiogenic therapy by using multidetector CT. Radiographics 33:1691–1716

8.

Choi H, Cerqueda CS, Villalba LB, Izquierdo RS, Gonzales BM, Molina CN (2008) Response evaluation of gastrointestinal stromal tumors. Oncologist 13:4–7

9.

Graser A, Becker CR, Staehler M (2010) Single-phase dual-energy CT allows for characterization of renal masses as benign or malignant. Investig Radiol 45:399–405

10.

Johnson TR (2012) Dual-energy CT: general principles. AJR Am J Roentgenol 199:S3–S8

11.

Graser A, Johnson TR, Chandarana H, Macari M (2009) Dual energy CT: preliminary observations and potential clinical applications in the abdomen. Eur Radiol 19:13–23

12.

Lee JA, Jeong WK, Kim Y (2013) Dual-energy CT to detect recurrent HCC after TACE: initial experience of color-coded iodine CT imaging. Eur J Radiol 82:569–576

13.

Apfaltrer P, Meyer M, Meier C et al (2012) Contrast-enhanced dual-energy CT of gastrointestinal stromal tumors: is iodine-related attenuation a potential indicator of tumor response? Investig Radiol 47:65–70

14.

Meyer M, Hohenberger P, Apfaltrer P et al (2013) CT-based response assessment of advanced gastrointestinal stromal tumor: dual energy CT provides a more predictive imaging biomarker of clinical benefit than RECIST or Choi criteria. Eur J Radiol 82:923–928

15.

Tawfik AM, Kerl JM, Razek AA (2011) Image quality and radiation dose of dual-energy CT of the head and neck compared with a standard 120-kVp acquisition. AJNR Am J Neuroradiol 32:1994–1999

16.

Stiller W, Schwarzwaelder CB, Sommer CM, Veloza S, Radeleff BA, Kauczor HU (2012) Dual-energy, standard and low-kVp contrast-enhanced CT-cholangiography: a comparative analysis of image quality and radiation exposure. Eur J Radiol 81:1405–1412

17.

Atzpodien J, Schmitt E, Gertenbach U et al (2005) Adjuvant treatment with interleukin-2- and interferon-alpha2a-based chemoimmunotherapy in renal cell carcinoma post tumour nephrectomy: results of a prospectively randomised trial of the German Cooperative Renal Carcinoma Chemoimmunotherapy Group (DGCIN). Br J Cancer 92:843–846

18.

Hudes G, Carducci M, Tomczak P et al (2007) Temsirolimus, interferon alfa, or both for advanced renal-cell carcinoma. N Engl J Med 356:2271–2281

19.

Jonasch E, Corn P, Pagliaro LC et al (2010) Upfront, randomized, phase 2 trial of sorafenib versus sorafenib and low-dose interferon alfa in patients with advanced renal cell carcinoma: clinical and biomarker analysis. Cancer 116:57–65

20.

Motzer RJ, Rini BI, Bukowski RM et al (2006) Sunitinib in patients with metastatic renal cell carcinoma. JAMA 295:2516–2524

21.

Bex A, Fournier L, Lassau N et al (2014) Assessing the response to targeted therapies in renal cell carcinoma: technical insights and practical considerations. Eur Urol 65:766–777

22.

Choueiri TK (2011) VEGF inhibitors in metastatic renal cell carcinoma: current therapies and future perspective. Curr Clin Pharmacol 6:164–168

23.

Lv P, Liu J, Yan X et al (2016) CT spectral imaging for monitoring the therapeutic efficacy of VEGF receptor kinase inhibitor AG-013736 in rabbit VX2 liver tumours. Eur Radiol

24.

Uhrig M, Sedlmair M, Schlemmer HP, Hassel JC, Ganten M (2013) Monitoring targeted therapy using dual-energy CT: semi-automatic RECIST plus supplementary functional information by quantifying iodine uptake of melanoma metastases. Cancer Imaging 13:306–313

25.

Dai X, Schlemmer HP, Schmidt B et al (2013) Quantitative therapy response assessment by volumetric iodine-uptake measurement: initial experience in patients with advanced hepatocellular carcinoma treated with sorafenib. Eur J Radiol 82:327–334

26.

Baxa J, Matouskova T, Krakorova G et al (2015) Dual-phase dual-energy CT in patients treated with erlotinib for advanced non-small cell lung cancer: possible benefits of iodine quantification in response assessment. Eur Radiol

27.

Song KD, Kim CK, Park BK, Kim B (2011) Utility of iodine overlay technique and virtual unenhanced images for the characterization of renal masses by dual-energy CT. AJR 197:1076–1082

28.

Helck A, Hummel N, Meinel FG, Johnson T, Nikolaou K, Graser A et al (2014) Can single-phase dual-energy CT reliably identify adrenal adenomas? Eur Radiol 24:1636–1642

29.

Mileto A, Sofue K, Marin D (2016) Imaging the renal lesion with dual-energy multidetector CT and multi-energy applications in clinical practice: what can it truly do for you? Eur Radiol

30.

Park SY, Kim CK, Park BK (2014) Dual-energy CT in assessing therapeutic response to radiofrequency ablation of renal cell carcinomas. Eur J Radiol 83:73–79

31.

Tsapaki V, Aldrich JE, Sharma R et al (2006) Dose reduction in CT while maintaining diagnostic confidence: diagnostic reference levels at routine head, chest, and abdominal CT--IAEA-coordinated research project. Radiology 240:828–834

32.

Wichmann JL, Hardie AD, Schoepf UJ et al (2016) Single- and dual-energy CT of the abdomen: comparison of radiation dose and image quality of 2nd and 3rd generation dual-source CT. Eur Radiol
Acknowledgments
The scientific guarantor of this publication is Michael Staehler, MD, PhD. The authors of this manuscript declare relationships with the following companies: Bayer, Braco, GSK, Novartis, Pfizer, and Roche. The authors state that this work has not received any funding. No complex statistical methods were necessary for this paper. Institutional Review Board approval was obtained. Written informed consent was obtained from all subjects (patients) in this study. No study subjects or cohorts have been previously reported. Methodology: prospective, case-control study, performed at one institution.
About this article
Cite this article
Hellbach, K., Sterzik, A., Sommer, W. et al. Dual energy CT allows for improved characterization of response to antiangiogenic treatment in patients with metastatic renal cell cancer. Eur Radiol 27, 2532–2537 (2017). https://doi.org/10.1007/s00330-016-4597-7
Received:

Revised:

Accepted:

Published:

Issue Date:
Keywords
Metastatic renal cell carcinoma

Therapy monitoring

Response evaluation

Antiangiogenic treatment

Dual energy computed tomography