Abstract
Objectives
To assess the efficacy and safety profile of stent-retriever thrombectomy (SRT) in acute anterior ischemic stroke patients with tandem occlusion.
Materials and methods
Using the MEDLINE database, we conducted a systematic review and meta-analysis of all studies that included patients with acute ischemic stroke attributable to tandem occlusion who received treatment with SRT between November 2010 and May 2015.
Results
The literature search identified 11 previous studies involving a total of 237 subjects out of whom 193 (81.4 %) were treated with acute stent placement for the extracranial internal carotid artery occlusion. Mean initial NIHSS score was 17, and median time from onset to recanalization was 283.5 min. Mean intravenous thrombolysis rate was 63.8 %. In the meta-analysis, the recanalization rate reached 81 % (95 % CI, 73–89). Meta-analysis of clinical outcomes showed a pooled estimate of 44 % (95 % CI, 33–55; 10 studies) for favourable outcome, 13 % (95 % CI, 8–20; 10 studies) for mortality, and 7 % (95 % CI, 2–13; eight studies) for symptomatic intracranial haemorrhage.
Conclusion
SRT with emergency carotid stenting is associated with acceptable safety and efficacy in acute anterior stroke patients with tandem occlusion compared to natural history. However, the best modality to treat proximal stenosis is based on an individual case basis.
Key Points
• Stent retriever thrombectomy of tandem occlusion is efficient and safe.
• Emergent carotid stenting during thrombectomy increase symptomatic intracranial haemorrhage without impact mortality.
• Thrombectomy of tandem anterior circulation occlusion may be the first therapeutic option
Access options
Buy single article
Instant access to the full article PDF.
US$ 39.95
Tax calculation will be finalised during checkout.
Subscribe to journal
Immediate online access to all issues from 2019. Subscription will auto renew annually.
US$ 119
Tax calculation will be finalised during checkout.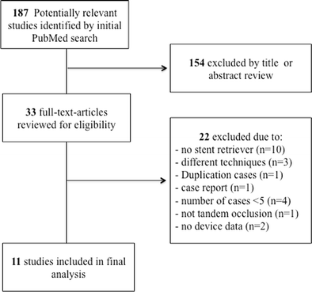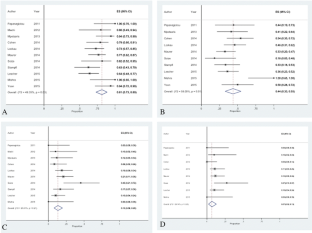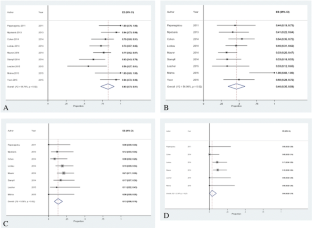 References
1.

Rubiera M, Ribo M, Delgado-Mederos R, Santamarina E, Delgado P, Montaner J et al (2006) Tandem internal carotid artery/middle cerebral artery occlusion: an independent predictor of poor outcome after systemic thrombolysis. Stroke 37:2301–2305

2.

Berkhemer OA, Fransen PS, Beumer D, van den Berg LA, Lingsma HF, Yoo AJ et al (2015) A randomized trial of intraarterial treatment for acute ischemic stroke. N Engl J Med 372:11–20

3.

Goyal M, Demchuk AM, Menon BK, Eesa M, Rempel JL, Thornton J et al (2015) Randomized assessment of rapid endovascular treatment of ischemic stroke. N Engl J Med 372:1019–1030

4.

Campbell BC, Mitchell PJ, Kleinig TJ, Dewey HM, Churilov L, Yassi N et al (2015) Endovascular therapy for ischemic stroke with perfusion-imaging selection. N Engl J Med 372:1009–1018

5.

Jovin TG, Chamorro A, Cobo E, de Miquel MA, Molina CA, Rovira A et al (2015) Thrombectomy within 8 hours after symptom onset in ischemic stroke. N Engl J Med 372:2296–2306

6.

Saver JL, Goyal M, Bonafe A, Diener HC, Levy EI, Pereira VM et al (2015) Stent-retriever thrombectomy after intravenous t-PA vs. t-PA alone in stroke. N Engl J Med 372:2285–2295

7.

Kharitonova TV, Melo TP, Andersen G, Egido JA, Castillo J, Wahlgren N, SITS investigators (2013) Importance of cerebral artery recanalization in patients with stroke with and without neurological improvement after intravenous thrombolysis. Stroke 44:2513–2518

8.

Grotta JC, Hacke W (2015) Stroke neurologist's perspective on the new endovascular trials. Stroke 46:1447–1452

9.

Hacke W, Kaste M, Fieschi C, von Kummer R, Davalos A, Meier D et al (1998) Randomised double-blind placebo-controlled trial of thrombolytic therapy with intravenous alteplase in acute ischaemic stroke (ECASS II). Lancet 352:1245–1251

10.

Nyaga VN, Arbyn M, Aerts M (2014) Metaprop: a Stata command to perform meta-analysis of binomial data. Arch Public Health 72:39

11.

U.S. department of Health and Human services-National Institutes of Health (NIH) (2014) Quality Assessment Tool for Before-After (Pre-Post) Studies With No Control Group

12.

Papanagiotou P, Roth C, Walter S, Behnke S, Grunwald IQ, Viera J et al (2011) Carotid artery stenting in acute stroke. J Am Coll Cardiol 58:2363–2369

13.

Machi P, Lobotesis K, Maldonado IL, Costalat V, Vendrell JF, Riquelme C et al (2012) Endovascular treatment of tandem occlusions of the anterior cerebral circulation with solitaire FR thrombectomy system. Initial experience. Eur J Radiol 81:3479–3484

14.

Mpotsaris A, Bussmeyer M, Buchner H, Weber W (2013) Clinical outcome of neurointerventional emergency treatment of extra- or intracranial tandem occlusions in acute major stroke: antegrade approach with wallstent and solitaire stent retriever. Clin Neuroradiol 23:207–215

15.

Maurer CJ, Joachimski F, Berlis A (2014) Two in one: endovascular treatment of acute tandem occlusions in the anterior circulation. Clin Neuroradiol. Jul 3. [Epub ahead of print].

16.

Stampfl S, Ringleb PA, Möhlenbruch M, Hametner C, Herweh C, Pham M et al (2014) Emergency cervical internal carotid artery stenting in combination with intracranial thrombectomy in acute stroke. AJNR Am J Neuroradiol 35:741–746

17.

Soize S, Kadziolka K, Estrade L, Serre I, Barbe C, Pierot L (2014) Outcome after mechanical thrombectomy using a stent retriever under conscious sedation: comparison between tandem and single occlusion of the anterior circulation. J Neuroradiol 41:136–142

18.

Cohen JE, Gomori JM, Rajz G, Itshayek E, Eichel R, Leker RR (2015) Extracranial carotid artery stenting followed by intracranial stent-based thrombectomy for acute tandem occlusive disease. J Neurointerv Surg 7:412–417

19.

Lescher S, Czeppan K, Porto L, Singer OC, Berkefeld J (2015) Acute stroke and obstruction of the extracranial carotid artery combined with intracranial tandem occlusion: results of interventional revascularization. Cardiovasc Intervent Radiol 38:304–313

20.

Lockau H, Liebig T, Henning T, Neuschmelting V, Stetefeld H, Kabbasch C et al (2015) Mechanical thrombectomy in tandem occlusion: procedural considerations and clinical results. Neuroradiology 57:589–598

21.

Mishra A, Stockley H, Goddard T, Sonwalker H, Wuppalapati S, Patankar T (2015) Emergent extracranial internal carotid artery stenting and mechanical thrombectomy in acute ischaemic stroke. Interv Neuroradiol 21:205–214

22.

Yoon W, Kim BM, Kim DJ, Kim DI, Kim SK (2015) Outcomes and prognostic factors after emergent carotid artery stenting for hyperacute stroke within 6 hours of symptom onset. Neurosurgery 76:321–329

23.

Behme D, Mpotsaris A, Zeyen P, Psychogios MN, Kowoll A, Maurer CJ et al (2015 Aug) Emergency stenting of the extracranial internal carotid artery in combination with anterior circulation thrombectomy in acute ischemic stroke: a retrospective multicenter study. AJNR Am J Neuroradiol 20 [Epub ahead of print]

24.

Steglich-Arnholm H, Holtmannspötter M, Kondziella D, Wagner A, Stavngaard T, Cronqvist ME et al (2015) Thrombectomy assisted by carotid stenting in acute ischemic stroke management: benefits and harms. J Neurol 262:2668–2675

25.

Mokin M, Kass-Hout T, Kass-Hout O, Dumont TM, Kan P, Snyder KV et al (2012) Intravenous thrombolysis and endovascular therapy for acute ischemic stroke with internal carotid artery occlusion: a systematic review of clinical outcomes. Stroke 43:2362–2368

26.

del Zoppo GJ, Poeck K, Pessin MS, Wolpert SM, Furlan AJ, Ferbert A et al (1992) Recombinant tissue plasminogen activator in acute thrombotic and embolic stroke. Ann Neurol 32:78–86

27.

Demchuk AM, Goyal M, Yeatts SD, Carrozzella J, Foster LD, Qazi E et al (2014) Recanalization and clinical outcome of occlusion sites at baseline CT angiography in the interventional management of stroke III trial. Radiology 273:202–210

28.

Saver JL, Jahan R, Levy EI, Jovin TG, Baxter B, Nogueira RG et al (2012) Solitaire flow restoration device versus the Merci Retriever in patients with acute ischaemic stroke (SWIFT): a randomised, parallel-group, non-inferiority trial. Lancet 380:1241–1249

29.

Nogueira RG, Lutsep HL, Gupta R, Jovin TG, Albers GW, Walker GA et al (2012) Trevo versus Merci retrievers for thrombectomy revascularisation of large vessel occlusions in acute ischaemic stroke (TREVO 2): a randomised trial. Lancet 380:1231–1240

30.

Emberson J, Lees KR, Lyden P, Blackwell L, Albers G, Bluhmki E et al (2014) Effect of treatment delay, age, and stroke severity on the effects of intravenous thrombolysis with alteplase for acute ischaemic stroke: A meta-analysis of individual patient data from randomised trials. Lancet 384:1929–1935

31.

Khatri P, Yeatts SD, Mazighi M, Broderick JP, Liebeskind DS, Demchuk AM et al (2014) Time to angiographic reperfusion and clinical outcome after acute ischaemic stroke: an analysis of data from the Interventional Management of Stroke (IMS III) phase 3 trial. Lancet Neurol 13:567–574

32.

Sheth SA, Jahan R, Gralla J, Pereira VM, Nogueira RG, Levy EI, et al (2015) Time to endovascular reperfusion and degree of disability in acute stroke. Ann Neurol Jul 7.. [Epub ahead of print]

33.

Zinkstok SM, Roos YB (2012) ARTIS investigators. Early administration of aspirin in patients treated with alteplase for acute ischaemic stroke: a randomised controlled trial. Lancet 380:731–737

34.

Kappelhof M, Marquering HA, Berkhemer OA, Majoie CB (2015) Intra-arterial treatment of patients with acute ischemic stroke and internal carotid artery occlusion: a literature review. J Neurointerv Surg 7:8–15

35.

Mlynash M, Lansberg MG, De Silva DA, De Silva DA, Lee J, Christensen S, Straka M et al (2011) Refining the definition of the malignant profile: insights from the DEFUSE-EPITHET pooled data set. Stroke 42:1270–1275

36.

Gory B, Sivan-Hoffmann R, Riva R, Labeyrie PE, Huguet N, Nighoghossian N et al (2015) Repeated Solitaire mechanical thrombectomy in an acute anterior stroke patient. Revue Neurologique 171:682–684

37.

Broderick JP, Palesch YY, Demchuk AM, Yeatts SD, Khatri P, Hill MD et al (2013) Endovascular therapy after intravenous t-PA versus t-PA alone for stroke. N Engl J Med 368:893–903

38.

Kidwell CS, Jahan R, Gornbein J, Alger JR, Nenov V, Ajani Z et al (2013) A trial of imaging selection and endovascular treatment for ischemic stroke. N Engl J Med 368:914–923

39.

Ciccone A, Valvassori L, Nichelatti M, Sgoifo A, Ponzio M, Sterzi R et al (2013) Endovascular treatment for acute ischemic stroke. N Engl J Med 368:904–913

40.

Mazighi M, Chaudhry SA, Ribo M, Khatri P, Skoloudik D, Mokin M et al (2013) Impact of onset-to-reperfusion time on stroke mortality: a collaborative pooled analysis. Circulation 127:1980–1985

41.

Sorkin GC, Dumont TM, Mokin M, Eller JL, Natarajan SK, Levy EI et al (2015) Hyperacute carotid stent thrombosis during emergent revascularization treated with intraarterial eptifibatide after systemic administration of recombinant tissue plasminogen activator. J Vasc Interv Neurol 8:50–55
Acknowledgments
The scientific guarantor of this publication is Benjamin Gory, MD, MSc. The authors of this manuscript declare no relationships with any companies, whose products or services may be related to the subject matter of the article. The authors state that this work has not received any funding. Xavier Armoiry kindly provided statistical advice for this manuscript. Institutional Review Board approval was not required because it's a systematic review. Written informed consent was not required for this study because it's a systematic review of published articles. Approval from the institutional animal care committee was not required because it's clinical research. Some study subjects or cohorts have been previously reported in Pubmed database. Methodology: retrospective, observational, multicenter study.
Additional information
Rotem Sivan-Hoffmann and Benjamin Gory contributed equally to this work.
About this article
Cite this article
Sivan-Hoffmann, R., Gory, B., Armoiry, X. et al. Stent-Retriever Thrombectomy for Acute Anterior Ischemic Stroke with Tandem Occlusion: A Systematic Review and Meta-Analysis. Eur Radiol 27, 247–254 (2017). https://doi.org/10.1007/s00330-016-4338-y
Received:

Revised:

Accepted:

Published:

Issue Date:
Keywords
Stent retriever

Stroke

Thrombectomy

Large vessel occlusion

Anterior circulation