Abstract
Objectives
To assess how the portrayal of Radiology on medical TV shows is perceived by patients and radiology professionals.
Methods
In this IRB-approved study with patient consent waived, surveys were conducted among adult patients scheduled for radiological examinations and radiology professionals. The questionnaire investigated medical TV watching habits including interest in medical TV shows, appearance of radiological examination/staff, radiology's role in diagnosis-making, and rating of the shows' accuracy in portraying radiology relative to reality.
Results
One hundred and twenty-six patients and 240 professionals (133 technologists, 107 radiologists) participated. 63.5 % patients and 63.2 % technologists rated interest in medical TV shows ≥5 (scale 1-10) versus 38.3 % of radiologists. All groups noted regular (every 2nd/3rd show) to >1/show appearance of radiological examinations in 58.5-88.2 % compared to 21.0-46.2 % for radiological staff appearance. Radiology played a role in diagnosis-making regularly to >1/show in 45.3-52.6 %. There is a positive correlation for interest in medical TV and the perception that radiology is accurately portrayed for patients (r = 0.49; P = 0.001) and technologists (r = 0.38; P = 0.001) but not for radiologists (r = 0.01).
Conclusions
The majority of patients perceive the portrayed content as accurate. Radiologists should be aware of this cultivation effect to understand their patients' behaviour which may create false expectations towards radiological examinations and potential safety hazards.
Key points
• Radiology in medical TV shows is conveyed as important in diagnosis making
• Presence of radiological staff is less frequent compared to examinations shown
• Positive correlation for interest in medical TV and radiology perceived as accurate
• TV experience may create false expectations and potential safety hazards
This is a preview of subscription content, log in to check access.
Access options
Buy single article
Instant access to the full article PDF.
US$ 39.95
Price includes VAT for USA
Subscribe to journal
Immediate online access to all issues from 2019. Subscription will auto renew annually.
US$ 199
This is the net price. Taxes to be calculated in checkout.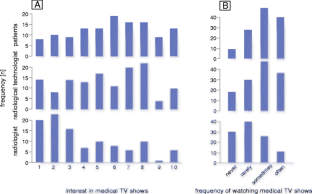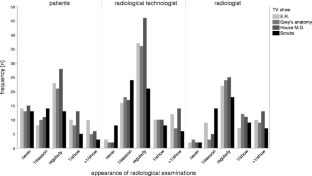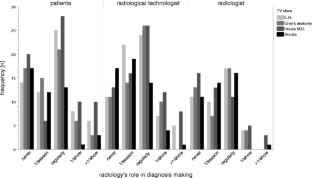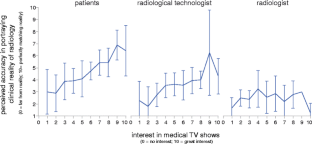 References
1.

Rideout V (2008) Television as a health educator: A case study of Grey's Anatomy. Kaiser Family Foundation 7803:1–36

2.

Diem SJ, Lantos JD, Tulsky JA (1996) Cardiopulmonary resuscitation on television. Miracles and misinformation. N Engl J Med 334:1578–1582

3.

Murphy ST, Hether HJ, Rideout V (2008) How healthy is prime time? An analysis of health content in popular prime time television programs, Kaiser Family Foundation 7764:1–28

4.

Pfau M, Mullen LJ, Garrow K (1995) The influence of television viewing on public perceptions of physicians. J Broadcast Electron Media 39:441–458

5.

Gordon PN, Williamson S, Lawler PG (1998) As seen on TV: observational study of cardiopulmonary resuscitation in British television medical dramas. BMJ 317:780–783

6.

McVey D, Stapleton J (2000) Can anti-smoking television advertising affect smoking behaviour? controlled trial of the Health Education Authority for England's anti-smoking TV campaign. Tob Control 9:273–282

7.

Brodie M, Foehr U, Rideout V, Baer N, Miller C, Flournoy R et al (2001) Communicating health information through the entertainment media. Health Aff (Millwood) 20:192–199

8.

Harris D, Willoughby H (2009) Resuscitation on television: realistic or ridiculous? A quantitative observational analysis of the portrayal of cardiopulmonary resuscitation in television medical drama. Resuscitation 80:1275–1279

9.

Morgan SE, Movius L, Cody MJ (2009) The power of narratives: the effect of entertainment television organ donation storylines on the attitudes, knowledge, and behaviors of donors and nondonors. J Commun 59:135–151

10.

Quick BL (2009) The Effects of Viewing Grey's Anatomy on Perceptions of Doctors and Patient Satisfaction. J Broadcast Electron Media 53:38–55

11.

Czarny MJ, Faden RR, Sugarman J (2010) Bioethics and professionalism in popular television medical dramas. J Med Ethics 36:203–206

12.

Chory-Assad RM, Tamborini R (2003) Television exposure and the public's perceptions of physicians. J Broadcast Electron Media 47:197–215
Acknowledgments
The scientific guarantor of this publication is Tobias Heye. The authors of this manuscript declare no relationships with any companies, whose products or services may be related to the subject matter of the article.
The authors state that this work has not received any funding. One of the authors has significant statistical expertise. No complex statistical methods were necessary for this paper. Institutional Review Board approval was obtained. Written informed consent was waived by the Institutional Review Board. Methodology:Prospective, survey, performed at one institution.
About this article
Cite this article
Heye, T., Merkle, E.M., Leyendecker, J.R. et al. Portrayal of radiology in a major medical television series: How does it influence the perception of radiology among patients and radiology professionals?. Eur Radiol 26, 2863–2869 (2016). https://doi.org/10.1007/s00330-015-4079-3
Received:

Revised:

Accepted:

Published:

Issue Date:
Keywords
Medical TV shows

Radiology

Patients

Portrayal

Survey