Abstract
Objectives
Vascular closure devices can accelerate haemostasis after arteriotomy, but induce scarring. The aim of the study was to prospectively analyse the feasibility of a novel biodegradable arterial closure device (CD).
Methods
Two hundred fifty-five patients (183 male; age 36–98 years) with an access vessel diameter >3 mm received the biodegradable CD after endovascular therapy. Technical success rate, time-to-haemostasis (TTH) and time-to-ambulation (TTA) were measured. Puncture site complications were categorized as minor (local hematoma, minor bleeding) or major (pseudoaneurysm, embolization, dissection, thrombotic occlusion, hematoma/major bleeding requiring surgery, access site infection).
Results
Technical success was achieved in 98.8 % (252 cases); device failure occurred in three cases (1.2 %). The average TTH and TTA were 11.3 ± 26.9 s and 73.0 ± 126.3 min. The major complication rate was 1.6 %, with three pseudoaneurysms and one retroperitoneal bleeding. The minor complication rate was 2.0 %, with five small hematomas. Neither cardiovascular risk factors nor access vessel characteristics had statistically significant influence on adverse events. Re-puncture was uncomplicated in 32 cases after 155.0 ± 128.8 days.
Conclusions
Handling of the new biodegradable CD is safe. The complication rates are tolerably low and comparable to other CDs. Post-procedural sonography showed no significant palpable subcutaneous changes in the access site.
Key Points
• VCDs can increase time efficiency and patient comfort after intervention.
• In this prospective single-centre-study, biodegradable CD was safe and easily applicable.
• Its major and minor complication rates are comparable to other CDs.
• Its mean time-to-haemostasis and time-to-ambulation were 11.3 ± 26.9 s and 73.0 ± 126.3 min.
• Post-procedural sonography showed no significant palpable subcutaneous changes at the access site.
Access options
Buy single article
Instant access to the full article PDF.
USD 39.95
Price includes VAT (USA)
Tax calculation will be finalised during checkout.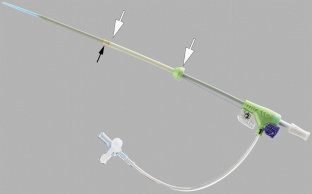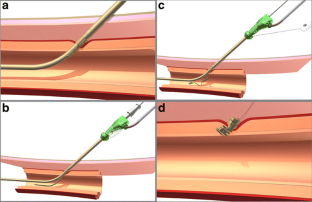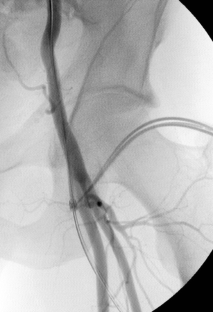 Abbreviations
BMI:

Body mass index

CFA:

Common femoral artery

CHD:

Coronary heart disease

FISH:

Femoral introducer sheath & stasis

PAOD:

Peripheral arterial occlusive disease

SFA:

Superficial femoral artery

TTA:

Time to ambulation

TTH:

Time to haemostasis

VAS:

Visual analogue scale

VCD:

Vascular closure device
References
1.

Patel MR, Jneid H, Derdeyn CP et al (2010) Arteriotomy closure devices for cardiovascular procedures: a scientific statement from the American Heart Association. Circulation 122:1882–1893

2.

Sheth RA, Walker TG, Saad WE et al (2014) Quality improvement guidelines for vascular access and closure device use. J Vasc Interv Radiol 25:73–84

3.

Hon LQ, Ganeshan A, Thomas SM, Warakaulle D, Jagdish J, Uberoi R (2010) An overview of vascular closure devices: what every radiologist should know. Eur J Radiol 73:181–190

4.

Treitl M, Eberhardt KM, Maxien D, Behrends B, Reiser MF (2013) Arterial closure devices. What device for which clinical situation? Radiologe 53:230–245

5.

Schulz-Schupke S, Helde S, Gewalt S et al (2014) Comparison of vascular closure devices vs manual compression after femoral artery puncture: the ISAR-CLOSURE randomized clinical trial. JAMA 312:1981–1987

6.

Nelson PR, Kracjer Z, Kansal N et al (2014) A multicenter, randomized, controlled trial of totally percutaneous access versus open femoral exposure for endovascular aortic aneurysm repair (the PEVAR trial). J Vasc Surg 59:1181–1193

7.

Chevalier B, Lancelin B, Koning R et al (2003) Effect of a closure device on complication rates in high-local-risk patients: results of a randomized multicenter trial. Catheter Cardiovasc Interv 58:285–291

8.

Gargiulo NJ 3rd, Veith FJ, Ohki T et al (2007) Histologic and duplex comparison of the Perclose and Angio-Seal percutaneous closure devices. Vascular 15:24–29

9.

Zhu J, Clark RA (2014) Fibronectin at select sites binds multiple growth factors and enhances their activity: expansion of the collaborative ECM-GF paradigm. J Investig Dermatol 134:895–901

10.

Huppert P, Tacke J, Lawall H, Deutschen Gesellschaft fur AG (2010) S3 guidelines for diagnostics and treatment of peripheral arterial occlusive disease. Radiologe 50:7–15

11.

Koreny M, Riedmuller E, Nikfardjam M, Siostrzonek P, Mullner M (2004) Arterial puncture closing devices compared with standard manual compression after cardiac catheterization: systematic review and meta-analysis. JAMA 291:350–357

12.

Popma JJ, Satler LF, Pichard AD et al (1993) Vascular complications after balloon and new device angioplasty. Circulation 88:1569–1578

13.

Lewis-Carey MB, Kee ST (2003) Complications of arterial closure devices. Tech Vasc Interv Radiol 6:103–106

14.

Das R, Ahmed K, Athanasiou T, Morgan RA, Belli AM (2011) Arterial closure devices versus manual compression for femoral haemostasis in interventional radiological procedures: a systematic review and meta-analysis. Cardiovasc Intervent Radiol 34:723–738

15.

Reekers JA, Muller-Hulsbeck S, Libicher M et al (2011) CIRSE vascular closure device registry. Cardiovasc Intervent Radiol 34:50–53

16.

Biancari F, D'Andrea V, Di Marco C, Savino G, Tiozzo V, Catania A (2010) Meta-analysis of randomized trials on the efficacy of vascular closure devices after diagnostic angiography and angioplasty. Am Heart J 159:518–531
Acknowledgments
The scientific guarantor of this publication is Dr. Marcus Treitl. The authors of this manuscript declare relationships with the following companies: M. Treitl is a consultant for Medtronic and Biotronik. The other authors declare that they have no conflict of interest. The authors of this manuscript declare no relationships with any companies, whose products or services may be related to the subject matter of the article. The authors state that this work has not received any funding. One of the authors kindly provided statistical advice for this manuscript. Institutional review board approval was obtained.
Written informed consent was obtained from all subjects (patients) in this study. Some study subjects or cohorts were reported at the 2014 RSNA meeting. Methodology: prospective, observational, performed at one institution.
About this article
Cite this article
Treitl, K.M., Ali, A. & Treitl, M. Safety and efficiency of femoral artery access closure with a novel biodegradable closure device: a prospective single-centre pilot study. Eur Radiol 26, 2359–2368 (2016). https://doi.org/10.1007/s00330-015-4023-6
Received:

Revised:

Accepted:

Published:

Issue Date:
Keywords
Vascular closure device

Biodegradable implants

Time-to-haemostasis

Time-to-ambulation

Endovascular techniques