Abstract
Objectives
To compare a modified T1-weighted 3D TSE black-blood sequence with sub-millimetre resolution (T1-mVISTA) with a magnetization-prepared rapid gradient echo (MP-RAGE) sequence for the diagnosis of cerebral malignomas.
Methods
Forty-six patients with known or suspected intracranial tumours and 15 control patients were included in this retrospective study. All patients underwent T1-mVISTA (0.75-mm isotropic resolution, 4:43 min) and MP-RAGE (0.8-mm isotropic resolution, 4:46 minutes) at 3-Tesla in random order after application of contrast agent. Two experienced radiologists determined the number of lesions. Maximum diameter, diagnostic confidence (DC), visual assessment of contrast enhancement (VCE) and CNRlesion/parenchyma were assessed for each lesion.
Results
Significantly more lesions were detected with T1-mVISTA compared to the MP-RAGE (61 vs. 36; p < 0.05). Further, DC and VCE was rated significantly higher in the T1-mVISTA (p < 0.05 and p < 0.001). Mean CNRlesion/parenchyma was twofold higher for T1-mVISTA (24.2 ± 17.5 vs. 12.7 ± 11.5, p < 0.001). The 25 lesions detected only in T1-mVISTA were significantly smaller than those detected in both sequences (4.3 ± 3.7 mm vs. 11.3 ± 10.7 mm; p < 0.01).
Conclusions
T1-mVISTA increases the contrast of lesions significantly compared to MP-RAGE and might therefore improve detection rates of small lesions in early stages of disease.
Key points
• T1-mVISTA leads to significantly higher contrast-to-noise ratios of cerebral malignomas.
• T1-mVISTA detects significantly more metastatic lesions compared to 3D-MPRAGE.
• Lesions detected only by T1-mVISTA are smaller than those detected in both sequences.
• Diagnostic confidence is significantly higher for lesions detected by T1-mVISTA.
• Application of T1-mVISTA might be of high relevance in early stages of disease.
Access options
Buy single article
Instant access to the full article PDF.
USD 39.95
Price includes VAT (USA)
Tax calculation will be finalised during checkout.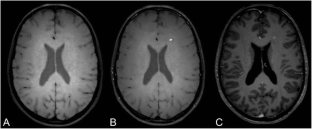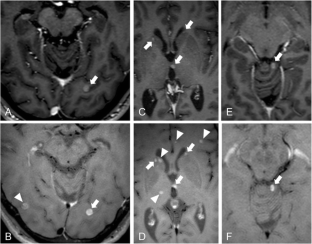 Abbreviations
2D:

Two-dimensional

3D:

Three-dimensional

BB:

Black-blood

CE:

Contrast-enhanced

CNR:

Contrast-to-noise ratio

DC:

Diagnostic confidence

DWI:

Diffusion-weighted imaging

ETL:

Echo train length

FA:

Flip angles

FLAIR:

Fluid attenuated inversion recovery

GRE:

Gradient echo

MP-RAGE:

Magnetization prepared rapid gradient echo

MRI:

Magnetic resonance imaging

Ms:

Milliseconds

MSDE:

Motion-sensitized driven-equilibrium

MT:

Magnetization transfer

Mvista:

Modified Volumetric isotropic TSE Acquisition

ROC:

Receiver operating characteristic

ROI:

Region of interest

SE:

Spin echo

SI:

Signal intensity

SPACE:

Sampling Perfection with Application optimized Contrasts using different flip angle Evolution

T:

Tesla

TE:

Time to echo

TR:

Time of repetition

TSE:

Turbo spin echo

T1w:

T1-weighted

T2w:

T2-weighted

VCE:

Visual assessment of contrast enhancement

VFA:

Variable flip angles
References
1.

Kaal ECA, Niël CGJH, Vecht CJ (2005) Therapeutic management of brain metastasis. Lancet Neurol 4:289–298

2.

Ranjan T, Abrey LE (2009) Current management of metastatic brain disease. Neurotherapeutics 6:598–603

3.

Sze G, Milano E, Johnson C, Heier L (1990) Detection of brain metastases: comparison of contrast-enhanced MR with unenhanced MR and enhanced CT. AJNR Am J Neuroradiol 11:785–791

4.

Davis PC, Hudgins PA, Peterman SB, Hoffman JC (1991) Diagnosis of cerebral metastases: double-dose delayed CT vs contrast-enhanced MR imaging. AJNR Am J Neuroradiol 12:293–300

5.

Schellinger PD, Meinck HM, Thron A (1999) Diagnostic accuracy of MRI compared to CCT in patients with brain metastases. J Neurooncol 44:275–281

6.

Mugler JP, Brookeman JR (1990) Three-dimensional magnetization-prepared rapid gradient-echo imaging (3D MP RAGE). Magn Reson Med 15:152–157

7.

Chappell PM, Pelc NJ, Foo TK et al (1994) Comparison of lesion enhancement on spin-echo and gradient-echo images. AJNR Am J Neuroradiol 15:37–44

8.

Wenz F, Hess T, Knopp MV et al (1994) 3D MPRAGE evaluation of lesions in the posterior cranial fossa. Magn Reson Imaging 12:553–558

9.

Kato Y, Higano S, Tamura H et al (2009) Usefulness of contrast-enhanced T1-weighted sampling perfection with application-optimized contrasts by using different flip angle evolutions in detection of small brain metastasis at 3T MR imaging: comparison with magnetization-prepared rapid acquisition. AJNR Am J Neuroradiol 30:923–929

10.

Yuan C, Kerwin WS, Yarnykh VL et al (2006) MRI of atherosclerosis in clinical trials. NMR Biomed 19:636–654

11.

Saam T, Raya JG, Cyran CC et al (2009) High resolution carotid black-blood 3T MR with parallel imaging and dedicated 4-channel surface coils. J Cardiovasc Magn Reson 11:41

12.

Kawaji K, Nguyen TD, Zou Z et al (2011) Three-dimensional flow-independent balanced steady-state free precession vessel wall MRI of the popliteal artery: preliminary experience and comparison with flow-dependent black-blood techniques. J Magn Reson Imaging 34:696–701

13.

Fan Z, Zhang Z, Chung Y, Weale P (2010) Carotid arterial wall MRI at 3T using 3D variable-flip-angle turbo spin-echo (TSE) with flow-sensitive dephasing (FSD). J Magn Reson Imaging 31:645–654

14.

Qiao Y, Steinman DA, Qin Q et al (2011) Intracranial arterial wall imaging using three-dimensional high isotropic resolution black blood MRI at 3.0 Tesla. J Magn Reson Imaging 34:22–30

15.

Park J, Kim J, Yoo E et al (2012) Detection of small metastatic brain tumors: Comparison of 3D contrast-enhanced whole-brain black-blood imaging and MP-RAGE imaging. Invest Radiol 47:136–141

16.

Komada T, Naganawa S, Ogawa H et al (2008) Contrast-enhanced MR imaging of metastatic brain tumor at 3 tesla: utility of T(1)-weighted SPACE compared with 2D spin echo and 3D gradient echo sequence. Magn Reson Med Sci 7:13–21

17.

Dietrich O, Raya JG, Reeder SB et al (2007) Measurement of signal-to-noise ratios in MR images: influence of multichannel coils, parallel imaging, and reconstruction filters. J Magn Reson Imaging 26:375–385

18.

Reichert M, Morelli JN, Runge VM et al (2013) Contrast-enhanced 3-dimensional SPACE versus MP-RAGE for the detection of brain metastases: considerations with a 32-channel head coil. Invest Radiol 48:55–60

19.

Kwak H-S, Hwang S, Chung G-H et al (2015) Detection of small brain metastases at 3 T: comparing the diagnostic performances of contrast-enhanced T1-weighted SPACE, MPRAGE, and 2D FLASH imaging. Clin Imaging 39:571–575

20.

Mugler JP, Brookeman JR (1993) Theoretical analysis of gadopentetate dimeglumine enhancement in T1-weighted imaging of the brain: comparison of two-dimensional spin-echo and three-dimensional gradient-echo sequences. J Magn Reson Imaging 3:761–769

21.

Kakeda S, Korogi Y, Hiai Y et al (2007) Detection of brain metastasis at 3T: comparison among SE, IR-FSE and 3D-GRE sequences. Eur Radiol 17:2345–2351

22.

Nagao E, Yoshiura T, Hiwatashi A et al (2011) 3D turbo spin-echo sequence with motion-sensitized driven-equilibrium preparation for detection of brain metastases on 3T MR imaging. AJNR Am J Neuroradiol 32:664–670

23.

Yoneyama M, Nakamura M, Tabuchi T et al (2013) Whole-brain black-blood imaging with magnetization-transfer prepared spin echo-like contrast: a novel sequence for contrast-enhanced brain metastasis screening at 3T. Radiol Phys Technol 6:431–436

24.

Yoneyama M, Nakamura M, Takahara T et al (2014) Improvement of T1 Contrast in Whole-brain Black-blood Imaging using Motion-sensitized Driven-equilibrium Prepared 3D Turbo Spin Echo (3D MSDE-TSE). Magn Reson Med Sci 13:61–65
Acknowledgments
The scientific guarantor of this publication is Nora Navina Kammer. The authors of this manuscript declare relationships with the following companies: Dr. Hendrik Kooijman is employee of Philips Healthcare. The authors state that this work has not received any funding. No complex statistical methods were necessary for this paper. Institutional Review Board approval was not required because a waiver was obtained. Written informed consent was waived by the Institutional Review Board.
Methodology: diagnostic or prognostic study, performed at one institution.
About this article
Cite this article
Kammer, N.N., Coppenrath, E., Treitl, K.M. et al. Comparison of contrast-enhanced modified T1-weighted 3D TSE black-blood and 3D MP-RAGE sequences for the detection of cerebral metastases and brain tumours. Eur Radiol 26, 1818–1825 (2016). https://doi.org/10.1007/s00330-015-3975-x
Received:

Revised:

Accepted:

Published:

Issue Date:
Keywords
Magnetic resonance imaging

3-D imaging

Brain imaging

Clinical oncology

Neoplastic processes