Abstract
Objective
To compare the performance of different types of detectors in breast cancer detection.
Methods
A mammography image set containing subtle malignant non-calcification lesions, biopsy-proven benign lesions, simulated malignant calcification clusters and normals was acquired using amorphous-selenium (a-Se) detectors. The images were adapted to simulate four types of detectors at the same radiation dose: digital radiography (DR) detectors with a-Se and caesium iodide (CsI) convertors, and computed radiography (CR) detectors with a powder phosphor (PIP) and a needle phosphor (NIP). Seven observers marked suspicious and benign lesions. Analysis was undertaken using jackknife alternative free-response receiver operating characteristics weighted figure of merit (FoM). The cancer detection fraction (CDF) was estimated for a representative image set from screening.
Results
No significant differences in the FoMs between the DR detectors were measured. For calcification clusters and non-calcification lesions, both CR detectors' FoMs were significantly lower than for DR detectors. The calcification cluster's FoM for CR NIP was significantly better than for CR PIP. The estimated CDFs with CR PIP and CR NIP detectors were up to 15 % and 22 % lower, respectively, than for DR detectors.
Conclusion
Cancer detection is affected by detector type, and the use of CR in mammography should be reconsidered.
Key Points
• The type of mammography detector can affect the cancer detection rates.
• CR detectors performed worse than DR detectors in mammography.
• Needle phosphor CR performed better than powder phosphor CR.
• Calcification clusters detection is more sensitive to detector type than other cancers.
Access options
Buy single article
Instant access to the full article PDF.
US$ 39.95
Tax calculation will be finalised during checkout.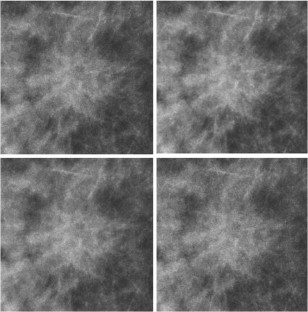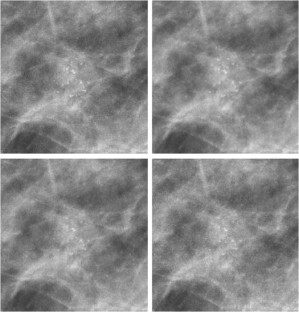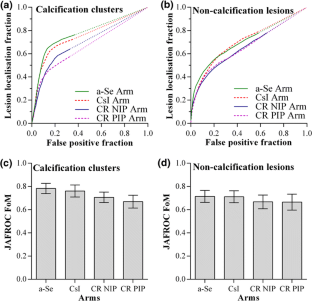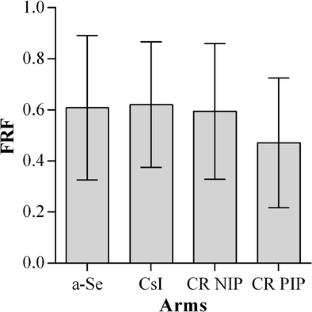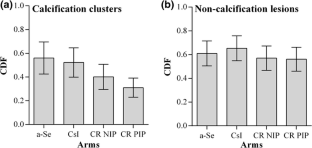 Abbreviations
CDF:

Cancer detection fraction

CR:

Computed radiography

DF:

Degrees of freedom

DR:

Digital radiography

FoM:

Figure of merit

FRF:

False recall fraction

JAFROC:

Jackknife alternative free-response receiver operating characteristics

MGD:

Mean glandular dose

NIP:

Needle image plate

PIP:

Powder image plate

ROI:

Region of interest

SFM:

Screen film mammography
References
1.

Pisano ED, Gatsonis C, Hendrick E et al (2005) Diagnostic performance of digital versus film mammography for breast-cancer screening. N Engl J Med 353:1773–1783

2.

Skaane P, Hofvind S, Skjennald A (2007) Randomized trial of screen-film versus full-field digital mammography with soft-copy reading in population-based screening program: follow-up and final results of Oslo II study. Radiology 244:708–717

3.

Vigeland E, Klaasen H, Klingen TA, Hofvind S, Skaane P (2008) Full-field digital mammography compared to screen film mammography in the prevalent round of a population-based screening programme: the Vestfold County Study. Eur Radiol 18:183–191

4.

Bluekens AM, Holland R, Karssemeijer N, Broeders MJ, den Heeten GJ (2012) Comparison of digital screening mammography and screen-film mammography in the early detection of clinically relevant cancers: a multicenter study. Radiology 265:707–714

5.

Van Ongeval C, Van Steen A, Putte GV et al (2010) Does digital mammography in a decentralized breast cancer screening program lead to screening performance parameters comparable with film-screen mammography? Eur Radiol 20:2307–2314

6.

Weigel S, Berkemeyer S, Girnus R, Sommer A, Lenzen H, Heindel W (2014) Digital mammography screening with photon-counting technique: can a high diagnostic performance be realized at low mean glandular dose? Radiology 271:345–355

7.

Keavey E, Phelan N, O'Connell AM et al (2012) Comparison of the clinical performance of three digital mammography systems in a breast cancer screening programme. Br J Radiol 85:1123–1127

8.

Bosmans H, De Hauwere A, Lemmens K et al (2013) Technical and clinical breast cancer screening performance indicators for computed radiography versus direct digital radiography. Eur Radiol 23:2891–2898

9.

Chiarelli AM, Edwards SA, Prummel MV et al (2013) Digital compared with screen-film mammography: performance measures in concurrent cohorts within an organized breast screening program. Radiology 268:684–693

10.

Séradour B, Heid P, Estève J (2014) Comparison of direct digital mammography, computed radiography and screen film in the French national breast screening program. Am J Roentgenol 202:229–236

11.

Yaffe MJ, Bloomquist AK, Hunter DM et al (2013) Comparative performance of modern digital mammography systems in a large breast screening program. Med Phys 40:121915-1-10

12.

Mackenzie A, Dance DR, Workman A, Yip M, Wells K, Young KC (2012) Conversion of mammographic images to appear with the noise and sharpness characteristics of a different detector and x-ray system. Med Phys 39:2721–2734

13.

Warren LM, Mackenzie A, Cooke J et al (2012) Effect of image quality on calcification detection in digital mammography. Med Phys 39:3202–3213

14.

Patel MN, Looney PT, Young KC, Halling-Brown MD (2014) Automated collection of medical images for research from heterogeneous systems: trials and tribulations. Proc SPIE 90390C:90390C-1-7

15.

Warren LM, Green FH, Shrestha L, Mackenzie A, Dance DR, Young KC (2013) Validation of simulation of calcifications for observer studies in digital mammography. Phys Med Biol 58:N217–N228

16.

Warren LM, Dummott L, Wallis MG et al (2014) Characterisation of screen detected and simulated calcification clusters in digital mammograms. IWDM 2014. LNCS 8539:364–371

17.

Mackenzie A, Dance DR, Diaz O, Young KC (2014) Image simulation and a model of noise power spectra across a range of mammographic beam qualities. Med Phys 41:121901-1-14

18.

Mackenzie A, Warren LM, Dance DR et al (2014) Using image simulation to test the effect of detector type on breast cancer detection. Proc SPIE 9037:90370I-1-14

19.

Dance DR, Skinner CL, Young KC, Beckett JR, Kotre CJ (2000) Additional factors for the estimation of mean glandular breast dose using the UK mammography dosimetry protocol. Phys Med Biol 45:3225–3240

20.

Oduko JM, Young KC, Burch A (2010) A survey of patient doses from digital Mammography systems in the UK in 2007 to 2009. IWDM 2010, LNCS:365–370

21.

Looney PT, Mackenzie A, Young KC, Halling-Brown MD (2014) MedXViewer: an extensible web-enabled software package for medical imaging. Proc SPIE 9037:90371K-1-7

22.

Chakraborty DP, Berbaum KS (2004) Observer studies involving detection and localization: modelling, analysis and validation. Med Phys 31:2313–2330

23.

Dorfman DD, Berbaum KS, Metz CE (1992) Receiver operating characteristic rating analysis. Generalization to the population of readers and patients with the jackknife method. Invest Radiol 27:723–731

24.

Soh BP, Lee W, McEntee MF et al (2013) Screening mammography: test set data can reasonably describe actual clinical reporting. Radiology 268:46–53

25.

Weigel S, Heindel W, Heidinger O, Berkemeyer S, Hense HW (2014) Digital mammography screening: association between detection rate and nuclear grade of ductal carcinoma in situ. Radiology 271:38–44

26.

European Commission (2006) "European guidelines for quality assurance in breast cancer screening and diagnosis," EUREF, 4th edn. European Commission, Brussels

27.

Huda W, Ogden KM, Scalzetti EM, Dance DR, Bertrand EA (2006) How do lesion size and random noise affect detection performance in digital mammography? Acad Radiol 13:1355–1366

28.

Saunders RS Jr, Baker JA, Delong DM, Johnson JP, Samei E (2007) Does image quality matter? Impact of resolution and noise on mammographic task performance. Med Phys 34:3971–3981

29.

Evans KK, Birdwell RL, Wolfe JM (2013) If you don't find it often, you often don't find It: why some cancers are missed in breast cancer screening. PLoS One 8:1–6
Acknowledgments
We are indebted to the clinical support, clinical advice and participation of observers: Sue Barter, Susan Fleischer-Thompson, Christine Flis, Samantha Heller, Lisanne Khoo, Penny Moyle, Charul Patel, Mamatha Reddy, Mary Sinclair, Kathryn Taylor, Louise Wilkinson, Paula Willsher. The scientific guarantor of this publication is Prof Kenneth Young. The authors of this manuscript declare relationships with the following companies: Agfa Healthcare, Carestream Health Inc., and MIS Healthcare. This study has received funding by a Cancer research-UK (CRUK)–Optimam2 grant, number: C30682/A17321. One author (DPC) was supported in part by a grant from the Department of Health and Human Services, National Institutes of Health (R01-EB005243). One of the authors (DPC) has significant statistical expertise. Institutional Review Board approval was obtained. Written informed consent was waived by the Institutional Review Board. Some study subjects or cohorts have been previously reported in 'Warren LM, Given-Wilson RM, Wallis MG, et al. (2014) The effect of image processing on the detection of cancers in digital mammography. Am J Roentgenol; 203:387-393'. Methodology: retrospective, experimental study, multicentre study.
About this article
Cite this article
Mackenzie, A., Warren, L.M., Wallis, M.G. et al. Breast cancer detection rates using four different types of mammography detectors. Eur Radiol 26, 874–883 (2016). https://doi.org/10.1007/s00330-015-3885-y
Received:

Revised:

Accepted:

Published:

Issue Date:
Keywords
Breast cancer screening

Digital mammography

Computed radiography

Image quality

Observer study