Abstract
Objective
The human mesentery is now regarded as contiguous from the duodenojejunal (DJ) to anorectal level. This interpretation prompts re-appraisal of computed tomography (CT) images of the mesentery.
Methods
A digital model and reference atlas of the mesentery were generated using the full-colour data set of the Visible Human Project (VHP). Seventy one normal abdominal CT images were examined to identify mesenteric regions. CT appearances were correlated with cadaveric and histological appearances at corresponding levels.
Results
Ascending, descending and sigmoid mesocolons were identifiable in 75 %, 86 % and 88 % of the CTs, respectively. Flexural contiguity was evident in 66 %, 68 %, 71 % and 80 % for the ileocaecal, hepatic, splenic and rectosigmoid flexures, respectively. A posterior mesocolic boundary corresponding to the anterior renal fascia was evident in 40 % and 54 % of cases on the right and left, respectively. The anterior pararenal space (in front of the boundary) corresponded to the mesocolon.
Conclusions
Using the VHP, a mesenteric digital model and reference atlas were developed. This enabled re-appraisal of CT images of the mesentery, in which contiguous flexural and non-flexural mesenteric regions were repeatedly identifiable. The anterior pararenal space corresponded to the mesocolon.
Key Points
• The Visible Human Project (VHP) allows direct identification of mesenteric structures.
• Correlating CT and VHP allows identification of flexural and non-flexural mesenteric components.
• Radiologic appearance of intraperitoneal structures is assessed, starting from a mesenteric platform.
Access options
Buy single article
Instant access to the full article PDF.
US$ 39.95
Tax calculation will be finalised during checkout.
Subscribe to journal
Immediate online access to all issues from 2019. Subscription will auto renew annually.
US$ 119
Tax calculation will be finalised during checkout.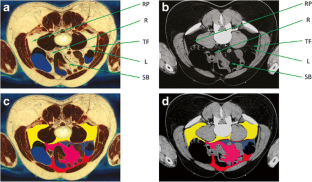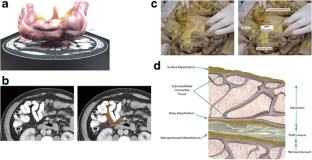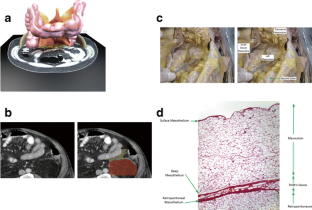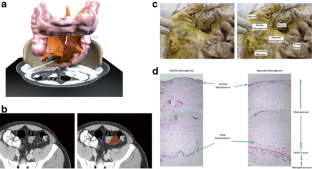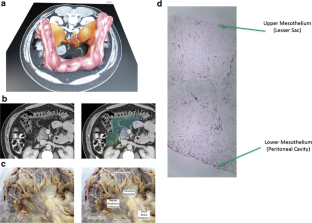 References
1.

Moore KL (2003) The digestive system. In: Moore KL (ed) The developing human, 7th edn. Philadelphia Saunders, Philadelphia, pp 211–241

2.

Treves SF (1885) Lectures on the anatomy of the intestinal canal and peritoneum in man. Br Med J 1:415

3.

Standring S (2008) Large intestine. In: Standring S (ed) Gray's anatomy: The anatomical basis of clinical practice, 40th edn. Churchill Livingstone, London, 1137

4.

McMinn RH (1994) The gastrointestinal tract. In: McMinn RH (ed) Last's Anatomy: Regional and Applied, 9th edn. Langman group Ltd, London, pp 331–342

5.

Netter FH (2007) Abdomen. In: Netter FH (ed) Atlas of human anatomy. Saunders, Philadelphia, 270

6.

Coffey JC (2013) Surgical anatomy and anatomic surgery – Clinical and scientific mutualism. Surgeon 11:177–182

7.

Culligan K, Coffey JC, Kiran RP et al (2012) The mesocolon: a prospective observational study. Color Dis 14:421–430

8.

Culligan K, Remzi FH, Soop M et al (2013) Review of nomenclature in colonic surgery - Proposal of a standardised nomenclature based on mesocolic anatomy. Surgeon 11:1–5

9.

Culligan K, Walsh S, Dunne C, et al (2014) The mesocolon - a histological and electron microscopic characterisation of the mesenteric attachment of the colon prior to and after surgical mobilisation. Ann Surg. Jan 16

10.

Culligan K, Sehgal R, Mulligan D, et al (2014) A detailed appraisal of mesocolic lymphangiology - an immunohistochemical and stereological analysis. J Anat. Jul 19

11.

Tirkes T, Sandrasegaran K, Patel AA et al (2012) Peritoneal and retroperitoneal anatomy and its relevance for cross-sectional imaging. Radiographics 32:437–451

12.

Oliphant M, Berne AS (1982) Computed tomography of the subperitoneal space: demonstration of direct spread of intraabdominal disease. J Comput Assist Tomogr 6:1127–1137

13.

Dodds WJ, Darweesh RM, Lawson TL et al (1986) The retroperitoneal spaces revisited. AJR Am J Roentgenol 147:1155–1161

14.

Spitzer V, Ackerman MJ, Scherzinger AL, Whitlock D (1996) The visible human male: a technical report. J Am Med Inform Assoc 3:118–130

15.

Ackerman MJ (1998) The Visible Human Project. Proc IEEE 86:504–510

16.

Gray H (1918) Anatomy of the Human Body. Lea & Febiger, Philadelphia, pp 1147–1161

17.

Sinnatamby CS (2006) Last's Anatomy: Regional and Applied, 11th edn. Churchill Livingstone Elsevier, London, p 242

18.

Shamshuddin S, Matthews HR (2014) Use of OsiriX in developing a digital radiology teaching library. Clin Radiol May 28

19.

Rosset A, Spadola L, Ratib O (2004) OsiriX: an open-source software for navigating in multidimensional DICOM images. J Digit Imaging 17:205–216

20.

Charnsangavej C, DuBrow RA, Varma DG, Herron DH, Robinson TJ, Whitley NO (1993) CT of the mesocolon. Part 1. Anatomic considerations. Radiographics 13:1035–1045

21.

Charnsangavej C, Dubrow RA, Varma DG, Herron DH, Robinson TJ, Whitley NO (1993) CT of the mesocolon. Part 2. Pathologic considerations. Radiographics 13:1309–1322

22.

Healy JC, Reznek RH (1998) The peritoneum, mesenteries and omenta: normal anatomy and pathological processes. Eur Radiol 8:886–900

23.

Johnson PT, Horton KM, Fishman EK (2009) Nonvascular mesenteric disease: utility of multidetector CT with 3D volume rendering. Radiographics 29:721–740

24.

Dighe S, Purkayastha S, Swift I et al (2010) Diagnostic precision of CT in local staging of colon cancers: a meta-analysis. Clin Radiol 65:708–719

25.

Dewhurst C, Rosen MP, Blake MA et al (2012) ACR Appropriateness Criteria pretreatment staging of colorectal cancer. J Am Coll Radiol 9:775–781

26.

MERCURY Study Group (2007) Extramural depth of tumor invasion at thin-section MR in patients with rectal cancer: results of the MERCURY study. Radiology 243:132–139

27.

Koo BC, Chinogureyi A, Shaw AS (2010) Imaging acute pancreatitis. Br J Radiol 83:104–112
Acknowledgments
The scientific guarantor of this publication is Prof. J. Calvin Coffey. The authors of this manuscript declare no relationships with any companies whose products or services may be related to the subject matter of the article. This study received funding from the Graduate Entry Medical School, University of Limerick seed funding alone. No complex statistical methods were necessary for this paper. Images from the VHP were used under license. The cadavers used in the study had been bequeathed to the Medical School at the National University of Ireland Galway for the purpose of the advancement of medical knowledge. This is covered by legislation governing the practice of Anatomy in the Republic of Ireland (Anatomy Act 1832, the Anatomy Act 1871, Health Order 1949, Medical Practitioners Act 2007). Methodology: prospective, observational, multicenter study.
Electronic supplementary material
About this article
Cite this article
Coffey, J.C., Culligan, K., Walsh, L.G. et al. An appraisal of the computed axial tomographic appearance of the human mesentery based on mesenteric contiguity from the duodenojejunal flexure to the mesorectal level. Eur Radiol 26, 714–721 (2016). https://doi.org/10.1007/s00330-015-3883-0
Received:

Revised:

Accepted:

Published:

Issue Date:
Keywords
Mesentery

Mesocolon

Radiology

Computed axial tomography

Toldt's fascia