Abstract
Introduction
Blunt cerebrovascular injuries (BCVI) are associated with high morbidity and mortality and can lead to neurological deficits. The established criteria for patients undergoing CT angiography (CTA) for BCVI are broad, and can expose patients to radiation unnecessarily. This study aimed to examine the prevalence of BCVI in patients on CTA and determine presentations associated with the highest rates of BCVI.
Materials and methods
With IRB approval, patients were selected for CTA screening for BCVI according to a predefined set of criteria at our hospital between 2007 and 2010. Patients were identified from our institution's trauma database. CTAs were retrospectively reviewed for BCVI including vasospasm and dissection. Electronic medical records were reviewed for clinical presentation and hospital course.
Results
Of 432 patients, vasospasm (n = 10) and/or dissection (n = 36) were found in 46 patients (10.6 %). BCVI was associated with cervical spine and/or skull-base fracture in 40/46 patients (87 %, P < 0.0001). Significant correlations were seen between dissection and fracture in 31/36 patients (86.2 %, p < 0.0001) and between BCVI and both neurological deficits and fractures (27/44, P < 0.0001).
Conclusion
BCVI was significantly associated with cervical and/or skullbase fractures and neurological deficits with coexistent fractures. Patients with these injuries should be prioritized for rapid CTA evaluation for BCVI.
Key Points
• CTA screening is important to identify patients with underlying BCVI
• Cervical spine and/or skullbase fractures were significantly associated with BCVI
• BCVI may occur in up to 11 % of patients with blunt trauma injuries
This is a preview of subscription content, log in to check access.
Access options
Buy single article
Instant access to the full article PDF.
US$ 39.95
Price includes VAT for USA
Subscribe to journal
Immediate online access to all issues from 2019. Subscription will auto renew annually.
US$ 199
This is the net price. Taxes to be calculated in checkout.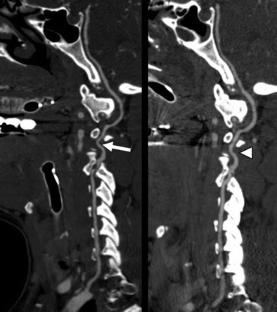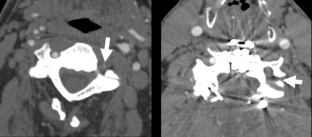 Abbreviations
BCVI:

Blunt cerebrovascular injury

CTA:

Computed tomography angiography
References
1.

Davis JW, Holbrook TL, Hoyt DB, Mackersie RC, Field TO Jr, Shackford SR (1990) Blunt carotid artery dissection: incidence, associated injuries, screening, and treatment. J Trauma 30:1514–1517

2.

Berne JD, Reuland KS, Villarreal DH, McGovern TM, Rowe SA, Norwood SH (2006) Sixteen- slice multi-detector computed tomographic angiography improves the accuracy of screening for blunt cerebrovascular injury. J Trauma 60:1204–1209

3.

Schneidereit NP, Simons R, Nicolaou S et al (2006) Utility of screening for blunt vascular neck injuries with computed tomographic angiography. J Trauma 60:209–215

4.

Biffl WL, Ray CE, Moore EE et al (2002) Treatment related outcomes from blunt cerebrovascular injuries: importance of routine follow-up arteriography. Ann Surg 235:699–706

5.

Baker SP, O'Neill B, Haddon W Jr, Long WB (1974) The injury severity score: a method for describing patients with multiple injuries and evaluating emergency care. J Trauma 14:187–196

6.

Scott WW, Sharp S, Figueroa SA et al (2014) Clinical and radiographic outcomes following traumatic Grade 3 and 4 carotid artery injuries: a 10-year retrospective analysis from a Level 1 trauma center. The Parkland Carotid and Vertebral Artery Injury Survey. J Neurosurg 19:1–6

7.

Biffl WL, Moore EE, Ryu RK et al (1998) The unrecognized epidemic of blunt carotid arterial injuries: early diagnosis improves neurologic outcome. Ann Surg 228:462–470

8.

Vilela MD, Kim LJ, Bellabarba C, Bransford RJ (2014) Blunt cerebrovascular injuries in association with craniocervical distraction injuries: a retrospective review of consecutive cases. Spine J 14:01603–01609

9.

Fabian TC, Patton JH Jr, Croce MA, Minard G, Kudsk KA, Pritchard FE (1996) Blunt carotid injury: importance of early diagnosis and anticoagulant therapy. Ann Surg 223:513–525

10.

Miller PR, Fabian TC, Bee TK et al (2001) Blunt cerebrovascular injuries: diagnosis and treatment. J Trauma 51:279–286

11.

Timpone V, Schneider BE, Sherman PM (2013) Screening CT angiography for detection of blunt carotid and vertebral artery injury in the setting of combat-related trauma. Mil Med 178:416–420

12.

Biffl WL, Moore EE, Elliott JP et al (2000) The devastating potential of blunt vertebral arterial injuries. Ann Surg 231:672–681

13.

Beliaev AM, Barber PA, Marshall RJ, Civil I (2013) Denver screening protocol for blunt cerebrovascular injury reduces the use of multi-detector computed tomography angiography. ANZ J Surg 84:429–432

14.

Beliaev AM, Civil I (2014) Multidetector CT angiography influences the choice of treatment for blunt carotid artery injury. BMJ Case Rep 6

15.

Burlew CC, Biffl WL, Moore EE, Barnett CC, Johnson JL, Bensard DD (2012) Blunt cerebrovascular injuries: redefining screening criteria in the era of noninvasive diagnosis. J Trauma Acute Care Surg 72:330–335

16.

Paulus EM, Fabian TC, Savage SA et al (2014) Blunt cerebrovascular injury screening with 64-channel multidetector computed tomography: more slices finally cut it. J Trauma Acute Care Surg 76:279–283

17.

Anderson GB, Ashforth R, Steinke DE, Findlay JM (2000) CT angiography for the detection of cerebral vasospasm in patients with acute subarachnoid hemorrhage. AJNR Am J Neuroradiol 21:1011–1015

18.

Binaghi S, Colleoni ML, Maeder P et al (2007) CT angiography and perfusion CT in cerebral vasospasm after subarachnoid hemorrhage. AJNR Am J Neuroradiol 28:750–758

19.

Shankar JJ, Tan IY, Krings T, Terbrugge K, Agid R (2012) CT angiography for evaluation of cerebral vasospasm following acute subarachnoid haemorrhage. Neuroradiology 54:197–203

20.

Vertinsky AT, Schwartz NE, Fischbein NJ, Rosenberg J, Albers GW, Zaharchuk G (2008) Comparison of multidetector CT angiography and MR imaging of cervical artery dissection. AJNR Am J Neuroradiol 29:1753–1760

21.

Bruns BR, Tesoriero R, Kufera J et al (2014) Blunt cerebrovascular injury screening guidelines: what are we willing to miss? J Trauma Acute Care Surg 76:691–695

22.

Cothren CC, Moore EE, Biffl WL et al (2004) Anticoagulation is the gold standard therapy for blunt carotid injuries to reduce stroke rate. Arch Surg 139:540–546

23.

Kerwin AJ, Bynoe RP, Murray J et al (2001) Liberalized screening for blunt carotid and vertebral artery injuries is justified. J Trauma 51:308–314

24.

McKinney A, Ott F, Short J, McKinney Z, Truwit C (2007) Angiographic frequency of blunt cerebrovascular injury in patients with carotid canal or vertebral foramen fractures on multidetector CT. Eur J Radiol 62:385–393

25.

Scheid R, Zimmer C, Schroeter ML, Ballaschke O, von Cramon DY (2006) The clinical spectrum of blunt cerebrovascular injury. Neurologist 12:255–262

26.

Utter GH, Hollingworth W, Hallam DK, Jarvik JG, Jurkovich GJ (2006) Sixteen-slice CT angiography in patients with suspected blunt carotid and vertebral artery injuries. J Am Coll Surg 203:838–848

27.

Feiz-Erfan I, Horn EM, Theodore N et al (2007) Incidence and pattern of direct blunt neurovascular injury associated with trauma to the skull base. J Neurosurg 107:364–369

28.

Cothren CC, Moore EE, Ray CE Jr, Johnson JL, Moore JB, Burch JM (2007) Cervical spine fracture patterns mandating screening to rule out blunt cerebrovascular injury. Surgery 141:76–82

29.

Sliker CW, Mirvis SE (2007) Imaging of blunt cerebrovascular injuries. Eur J Radiol 64:3–14

30.

Nuñez DB Jr, Berkmen T (2006) Imaging of blunt cerebrovascular injuries. Eur J Radiol 59:317–326

31.

Hollingworth W, Nathens AB, Kanne JP et al (2003) The diagnostic accuracy of computed tomography angiography for traumatic or atherosclerotic lesions of the carotid and vertebral arteries: a systematic review. Eur J Radiol 48:88–102

32.

Krings T, Geibprasert S, Lasjaunias PL (2008) Cerebrovascular trauma. Eur Radiol 18:1531–1545

33.

Roberts DJ, Chaubey VP, Zygun DA et al (2013) Diagnostic accuracy of computed tomographic angiography for blunt cerebrovascular injury detection in trauma patients: a systematic review and meta-analysis. Ann Surg 257:621–632
Acknowledgments
This study was an oral presentation at the 2013 ASNR Annual Meeting. The scientific guarantor of this publication is Dr. Asim Mian at the Boston University Medical Center. The authors of this manuscript declare no relationships with any companies whose products or services may be related to the subject matter of the article. The authors state that this work has not received any funding. No statistician was included in this study as no complex statistical methods were necessary for this paper. This study was approved by the Institutional Review Board at Boston University Medical Center. Written informed consent was waived by the Institutional Review Board. No results on the study subjects or cohorts have been previously published, but the findings in this study were presented at the 2013 American Society of Neuroradiology Annual Meeting. This study was performed as a retrospective, cross-sectional study performed at one institution.
About this article
Cite this article
Buch, K., Nguyen, T., Mahoney, E. et al. Association between cervical spine and skull-base fractures and blunt cerebrovascular injury. Eur Radiol 26, 524–531 (2016). https://doi.org/10.1007/s00330-015-3858-1
Received:

Revised:

Accepted:

Published:

Issue Date:
Keywords
Blunt trauma

Computed tomography angiogram

Vascular system injuries

Dissection

Cerebrovascular trauma