Abstract
Objectives
Magnetic Resonance-guided Focused Ultrasound Surgery (MRgFUS) is a non-invasive method to treat uterine fibroids. To help determine the patient suitability for MRgFUS, we propose a new objective measure: the scaled signal intensity (SSI) of uterine fibroids in T2 weighted MR images (T2WI).
Methods
Forty three uterine fibroids in 40 premenopausal women were included in this retrospective study. SSI of each fibroid was measured from the screening T2WI by standardizing its mean signal intensity to a 0–100 scale, using reference intensities of rectus abdominis muscle (0) and subcutaneous fat (100). Correlation between the SSI and the non-perfused volume (NPV) ratio (a measure for treatment success) was calculated.
Results
Pre-treatment SSI showed a significant inverse-correlation with post treatment NPV ratio (p < 0.05). When dichotomizing NPV ratio at 45 %, the optimal cut off value of the SSI was found to be 16.0.
Conclusions
A fibroid with SSI value 16.0 or less can be expected to have optimal responses. The SSI of uterine fibroids in T2WI can be suggested as an objective parameter to help in patient selection for MRgFUS.
Key Points
• Signal intensity of fibroid in MR images predicts treatment response to MRgFUS.
• Signal intensity is standardized into scaled form using adjacent tissues as references.
• Fibroids with SSI less than 16.0 are expected to have optimal responses.
Access options
Buy single article
Instant access to the full article PDF.
USD 39.95
Price excludes VAT (USA)
Tax calculation will be finalised during checkout.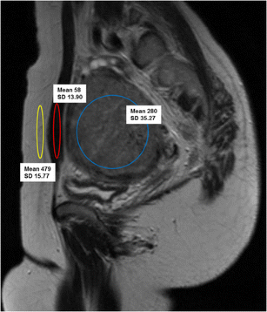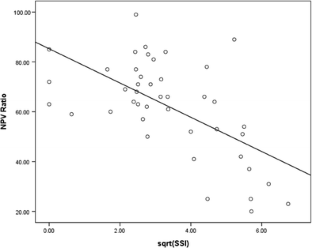 References
McDannold N, Tempany CM, Fennessy FM et al (2006) Uterine leiomyomas: MR imaging-based thermometry and thermal dosimetry during focused ultrasound thermal ablation. Radiology 240:263–272

Stewart EA, Gostout B, Rabinovici J, Kim HS, Regan L, Tempany CM (2007) Sustained relief of leiomyoma symptoms by using focused ultrasound surgery. Obstet Gynecol 110:279–287

LeBlang SD, Hoctor K, Steinberg FL (2010) Leiomyoma shrinkage after MRI-guided focused ultrasound treatment: report of 80 patients. AJR Am J Roentgenol 194:274–280

Yoon SW, Kim KA, Whang YY, Lee C, Cha SH, Lee SY et al (2008) Magnetic resonance imaging-guided focused ultrasound surgery for uterine fibroids: Initial experience in Korea. Korean J Obstet and Gynecol 51:5

Funaki K, Fukunishi H, Funaki T, Sawada K, Kaji Y, Maruo T (2007) Magnetic resonance-guided focused ultrasound surgery for uterine fibroids: relationship between the therapeutic effects and signal intensity of preexisting T2-weighted magnetic resonance images. Am J Obstetrics Gynecol 196:184 e1-6

Lenard ZM, McDannold NJ, Fennessy FM et al (2008) Uterine leiomyomas: MR imaging-guided focused ultrasound surgery–imaging predictors of success. Radiology 249:187–194

Machtinger R, Inbar Y, Cohen-Eylon S, Admon D, Alagem-Mizrachi A, Rabinovici J (2012) MR-guided focus ultrasound (MRgFUS) for symptomatic uterine fibroids: predictors of treatment success. Hum Reprod 27:3425–3431

Yoon SW, Lee C, Cha SH et al (2008) Patient selection guidelines in MR-guided focused ultrasound surgery of uterine fibroids: a pictorial guide to relevant findings in screening pelvic MRI. Eur Radiol 18:2997–3006

Fennessy FM, Tempany CM, McDannold NJ et al (2007) Uterine leiomyomas: MR imaging-guided focused ultrasound surgery–results of different treatment protocols. Radiology 243:885–893

Oguchi O, Mori A, Kobayashi Y, Horiuchi A, Nikaido T, Fujii S (1995) Prediction of histopathologic features and proliferative activity of uterine leiomyoma by magnetic resonance imaging prior to GnRH analogue therapy: correlation between T2-weighted images and effect of GnRH analogue. J Obstet Gynaecol 21:107–117

Cura M, Cura A, Bugnone A (2006) Role of magnetic resonance imaging in patient selection for uterine artery embolization. Acta Radiol 47:1105–1114

Swe TT, Onitsuka H, Kawamoto K, Ueyama T, Tsuruchi N, Masuda K (1992) Uterine leiomyoma: correlation between signal intensity on magnetic resonance imaging and pathologic characteristics. Radiat Med 10:235–242
Acknowledgements
The authors thank Cha Bok Chung and Eun Joo Baek for their help in managing the patients during MRgFUS treatment. We also thank Suk Hee Kim and Seon Ha Yun for their help in preparing the manuscript.
The scientific guarantor of this publication is Professor Sang-Wook Yoon. The authors of this manuscript declare no relationships with any companies, whose products or services may be related to the subject matter of the article. The authors state that this work has not received any funding. One of the authors has significant statistical expertise. Institutional Review Board approval was obtained.
Written informed consent was waived by the Institutional Review Board. Methodology: retrospective, observational study, performed at one institution.
About this article
Cite this article
Park, H., Yoon, SW. & Sokolov, A. Scaled signal intensity of uterine fibroids based on T2-weighted MR images: a potential objective method to determine the suitability for magnetic resonance-guided focused ultrasound surgery of uterine fibroids. Eur Radiol 25, 3455–3458 (2015). https://doi.org/10.1007/s00330-015-3806-0
Received:

Revised:

Accepted:

Published:

Issue Date:

DOI: https://doi.org/10.1007/s00330-015-3806-0
Keywords
Uterine fibroid

Magnetic resonance imaging

Scaled signal intensity

Focused ultrasound

Ablation