Abstract
Objectives
To assess the risk of lung cancer and specific mortality rate in patients with and without solitary pulmonary nodules (SPN) on chest radiograph and CT.
Methods
This prospective study included 16,078 patients ≥35 years old (893 of them had an SPN detected with either chest radiograph or CT) and 15,185 without SPN. Patients were followed up for 18 months or until being diagnosed with lung cancer. Risk and mortality lung cancer were calculated in both groups with Poisson regression.
Results
In patients with SPN, incidence of lung cancer was 8.3 % (95 % CI 6.0–11.2) on radiograph and 12.4 % (95 % CI 9.3–15.9) on CT. A chronic obstructive pulmonary disease in patients with radiographs (odds ratio 2.62; 95 % CI 1.03, 6.67) and smoking habit (odds ratio 20.63; 95 % CI 3.84, 110.77) in patients with CT were associated with a higher probability of lung cancer. Large nodule size and spiculated edge were associated with lung cancer on both CT and radiograph. Lung cancer-specific mortality was lower in patients with SPN than in those without SPN (1.73/1000 person-years, 95 % CI 1.08–2.88 vs. 2.15/1000 person-years, 95 % CI 1.25–3.96).
Conclusions
The risk of lung cancer for patients with SPN is higher in clinical populations than in screening studies. Moreover, patients with SPN showed lower mortality than those without SPN.
Key Points
• Lung cancer risk is 8 % for SPN detected on routine radiographs.
• Lung cancer risk is 12.4 % for SPN detected in routine chest CT.
• Smoking, COPD, SPN diameter and edge were predictors of malignancy.
• Lung cancer risk of SPN in routine practice seems higher than in screening.
Access options
Buy single article
Instant access to the full article PDF.
USD 39.95
Price excludes VAT (USA)
Tax calculation will be finalised during checkout.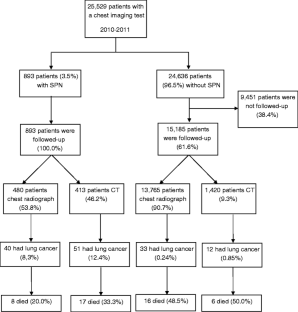 References
Gould MK, Fletcher J, Iannettoni MD et al (2007) American College of Chest Physicians. Evaluation of patients with pulmonary nodules: when is it lung cancer?: ACCP evidence-based clinical practice guidelines (2nd edition). Chest 132:108S–130S

Gould MK, Donington J, Lynch WR et al (2013) Evaluation of individuals with pulmonary nodules: when is it lung cancer? Diagnosis and management of lung cancer, 3rd ed: American College of Chest Physicians evidence-based clinical practice guidelines. Chest 143:e93S–e120S

Aberle DR, DeMello S, Berg CD, National Lung Screening Trial Research Team et al (2013) Results of the two incidence screenings in the National Lung Screening Trial. N Engl J Med 369:920–931

Heuvers ME, Wisnivesky J, Stricker BH, Aerts JG (2012) Generalizability of results from the National Lung Screening Trial. Eur J Epidemiol 27:669–672

Winkler Wille MM, van Riel SJ, Saghir Z et al (2015) Predictive accuracy of the PanCan lung cancer risk prediction model–external validation based on CT from the Danish Lung Cancer Screening Trial. Eur Radiol. doi:10.1007/s00330-015-3689-0

McWilliams A, Tammemagi MC, Mayo JR et al (2013) Probability of cancer in pulmonary nodules detected on first screening CT. N Engl J Med 369:910–919

Devaraj A (2015) Missed cancers in lung cancer screening - more than meets the eye. Eur Radiol 25:89–91

Gómez-Sáez N, González-Álvarez I, Vilar J et al (2014) Prevalence and variables associated with solitary pulmonary nodules in a routine clinic-based population: a cross-sectional study. Eur Radiol 24:2174–2182

Bankier AA, MacMahon H, McLoud TC, Müller NL, Remy J (2008) Fleischner Society: glossary of terms for thoracic imaging. Radiology 246:697–722

Fritz A, Percy C, Jack A et al (eds) (2000) International classification of diseases for oncology, 3rd edn. World Health Organization, Geneva

Li Y, Chen KZ, Wang J (2011) Development and validation of a clinical prediction model to estimate the probability of malignancy in solitary pulmonary nodules in Chinese people. Clin Lung Cancer 12:313–319

Siegelman SS, Khouri NF, Leo FP et al (1986) Solitary pulmonary nodules: CT assessment. Radiology 160:307–312

Lee HY, Choi YL, Lee KS et al (2014) Pure ground-glass opacity neoplastic lung nodules: histopathology, imaging, and management. AJR Am J Roentgenol 202:W224–W233
Acknowledgments
The scientific guarantor of this publication is Prof Ildefonso Hernandez Aguado, Head of the Department of Public Health, Gynecology and History of Medicine, Miguel Hernandez University. The authors of this manuscript declare no relationships with any companies whose products or services may be related to the subject matter of the article. This study has received funding by Instituto de Salud Carlos III (Minister of Science, Spain) (Ref. PI09/0477) and partial funding and support by the CIBER en Epidemiología y Salud Pública (CIBERESP) in Spain. No complex statistical methods were necessary for this paper.
Institutional review board approval was obtained: the ethical committee of the Miguel Hernandez University approved the study protocol (ref. DSP-BLL-001-10). Written informed consent was not required for this study because only secondary data were included. Methodology: cohort study, multicenter study
About this article
Cite this article
Gómez-Sáez, N., Hernández-Aguado, I., Vilar, J. et al. Lung cancer risk and cancer-specific mortality in subjects undergoing routine imaging test when stratified with and without identified lung nodule on imaging study. Eur Radiol 25, 3518–3527 (2015). https://doi.org/10.1007/s00330-015-3775-3
Received:

Revised:

Accepted:

Published:

Issue Date:

DOI: https://doi.org/10.1007/s00330-015-3775-3
Keywords