Abstract
The propensity for Aspergillus spp. to cause lung disease has long been recognised but the satisfactory classification of these disorders is challenging. The problems caused by invasive disease in severely neutropenic patients, saprophytic infection of pre-existing fibrotic cavities and allergic reactions to Aspergillus are well documented. In contrast, a more chronic form of Aspergillus-related lung disease that has the potential to cause significant morbidity and mortality is under-reported. The symptoms of this form of Aspergillus infection may be non-specific and the radiologist may be the first to suspect a diagnosis of chronic pulmonary aspergillosis. The current review considers the classification conundrums in diseases caused by Aspergillus spp. and discusses the typical clinical and radiological profile of patients with chronic pulmonary aspergillosis.
Key Points
• The classification of Aspergillus -related lung disease is mired in confusion.
• The chronic form of Aspergillus infection is associated with significant morbidity and mortality.
• Progressive consolidation and cavitation with intracavitary material is the radiological hallmark.
Access options
Buy single article
Instant access to the full article PDF.
US$ 39.95
Tax calculation will be finalised during checkout.
Subscribe to journal
Immediate online access to all issues from 2019. Subscription will auto renew annually.
US$ 119
Tax calculation will be finalised during checkout.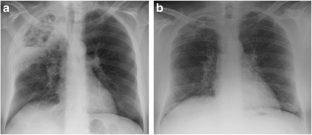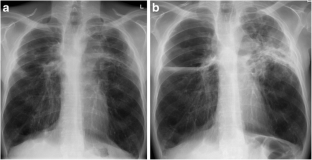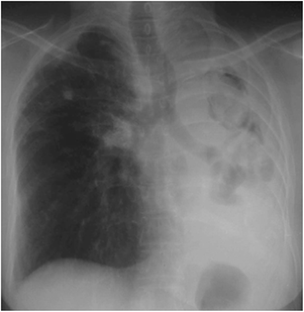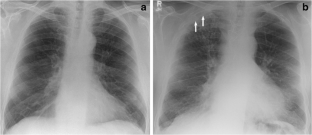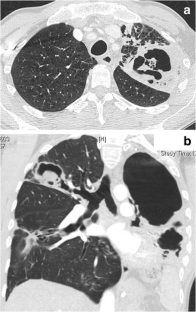 References
1.

Sluyter T (1847) De vegetalibus organismi animalis parasitis. Diss Inaug Berlin

2.

Kradin RL, Mark EJ (2008) The pathology of pulmonary disorders due to Aspergillus spp. Arch Pathol Lab Med 132:606–614

3.

Walsh TJ, Anaissie EJ, Denning DW, Herbrecht R, Kontoyiannis DP, Marr KA et al (2008) Treatment of aspergillosis: clinical practice guidelines of the Infectious Diseases Society of America. Clin Infect Dis 46:327–360

4.

Georgiadou SP, Sipsas NV, Marom EM, Kontoyiannis DP (2011) The diagnostic value of halo and reversed halo signs for invasive mold infections in compromised hosts. Clin Infect Dis 52:1144–1155

5.

Marom EM, Kontoyiannis DP (2011) Imaging studies for diagnosing invasive fungal pneumonia in immunocompromised patients. Curr Opin Infect Dis 24:309–314

6.

Denning DW, Pleuvry A, Cole DC (2011) Global burden of chronic pulmonary aspergillosis as a sequel to pulmonary tuberculosis. Bull World Health Org 86:864–872

7.

Johnson J (1987) Pulmonary aspergillosis. Sem Respir Med 9:187–199

8.

Buckingham SJ, Hansell DM (2003) Aspergillus in the lung: diverse and coincident forms. Eur Radiol 13:1786–1800

9.

Hemphill RA (1946) Mycotic lung infection. Am J Med 1:708

10.

Denning DW (2001) Chronic forms of pulmonary aspergillosis. Clin Microbiol Infect Dis 7:25–31

11.

Leggat PO, De Krester DM (1968) Aspergillus pneumonia in association with an aspergilloma. Brit J Dis Chest 62:147–150

12.

Ein ME, Wallace RJ Jr, Williams TW Jr (1979) Allergic bronchopulmonary aspergillosis-like syndrome consequent to aspergilloma. Am Rev Respir Dis 119:811–820

13.

Shah A, Khan ZU, Chaturvedi S, Ramchandran S, Randhawa HS, Jaggi OP (1989) Allergic bronchopulmonary aspergillosis with coexistent aspergilloma: a long-term followup. J Asthma 26:109–115

14.

Safirstein BH (1973) Aspergilloma consequent to allergic bronchopulmonary aspergillosis. Am Rev Respir Dis 108:940–943

15.

Henderson AH (1968) Allergic aspergillosis: review of 32 cases. Thorax 23:501–512

16.

Greene R (1981) The pulmonary aspergilloses: three distinct entities or a spectrum of disease. Radiology 140:527–530

17.

Ganassini A, Cazzadori A (1995) Invasive pulmonary aspergillosis complicating allergic bronchopulmonary aspergillosis. Respir Med 89:143–145

18.

Hinson KFW, Moon AJ, Plummer NS (1952) Broncho-pulmonary aspergillosis: a review and a report of eight new cases. Thorax 7:317–333

19.

Macartney JN (1964) Pulmonary aspergillosis: a review and a description of three new cases. Thorax 19:287–297

20.

Fraser RS (1993) Pulmonary aspergillosis: pathologic and pathogenetic features. Pathol Annu 28:231–277

21.

Gefter WB, Weingrad TR, Epstein DM, Ochs RH, Miller WT (1981) "Semi-invasive" pulmonary aspergillosis: a new look at the spectrum of Aspergillus infections of the lung. Radiology 140:313–321

22.

Denning DW, Riniotis K, Dobrashian R, Sambatakou H (2003) Chronic cavitary and fibrosing pulmonary and pleural aspergillosis: case series, proposed nomenclature change, and review. Clin Infect Dis 37:S265–S280

23.

Smith NLD, Denning DW (2014) Clinical implications of interferon gamma genetic and epigenetic variants. Immunology 143:499–511

24.

Murdock BJ, Shreiner AB, Mcdonald RA, Osterholzer JJ, White ES, Toews GB et al (2011) Coevolution Of TH1, TH2, and TH17 responses during repeated pulmonary exposure to Aspergillus fumigatus conidia. Infect Immun 79:125–135

25.

Smith NL, Denning DW (2011) Underlying conditions in chronic pulmonary aspergillosis including simple aspergilloma. Eur Respir J 37:865–872

26.

Nam H-S, Jeon K, Um S-W, Suh GY, Chung MP, Kim H et al (2010) Clinical characteristics and treatment outcomes of chronic necrotizing pulmonary aspergillosis: a review of 43 cases. Int J Infect Dis 14:E479–E482

27.

Ohba H, Miwa S, Shirai M, Kanai M, Eifuku T, Suda T et al (2012) Clinical characteristics and prognosis of chronic pulmonary aspergillosis. Respir Med 106:724–729

28.

Camara B, Reymond E, Saint-Raymond C, Roth H, Brenier-Pinchart MP, Pinel C et al (2014) Characteristics and outcomes of chronic pulmonary aspergillosis: a retrospective analysis of a tertiary hospital registry. Clin Respir J. doi:10.1111/crj.12105

29.

Izumikawa K, Tashiro M, Kohno S (2012) Management of chronic aspergillosis. Ann N Y Acad Sci 1272:40–48

30.

Yousem SA (1997) The histological spectrum of chronic necrotizing forms of pulmonary aspergillosis. Hum Pathol 28:650–656

31.

Schweer KE, Bangard C, Hekmat K, Cornely OA (2013) Chronic pulmonary aspergillosis. Mycoses. doi:10.1111/myc.12152

32.

Libshitz HI, Atkinson GW, Israel HL (1974) Pleural thickening as a manifestation of Aspergillus suprinfection. Am J Roentgenol 120:883–886

33.

Meredith HC, Cogan BM, Mclaulin B (1978) Pleural aspergillosis. AJR Am J Roentgenol 130:164–166

34.

Sansom HE, Baque-Juston MC, Wells AU, Hansell DM (2000) Lateral cavity wall thickening as an early radiographic sign of mycetoma formation. Eur Radiol 10:387–390

35.

Franquet T, Giménez A, Cremades R, Domingo P, Plaza V (2000) Spontaneous reversibilty of "pleural thickening" in a patient with semi-invasive pulmonary aspergillosis: radiographic and CT findings. Eur Radiol 10:722–724

36.

Frankel SK, Cool CD, Lynch DA, Brown KK (2004) Idiopathic pleuroparenchymal fibroelastosis: description of a novel clinicopathologic entity. Chest 26:2007–2013

37.

Becker CD, Gil J, Padilla ML (2008) Idiopathic pleuroparenchymal fibroelastosis: an unrecognized or misdiagnosed entity? Mod Pathol 21:784–787

38.

Reddy TL, Tominaga M, Hansell DM, Von Der Thusen J, Rassl D, Parfrey H et al (2012) Pleuroparenchymal fibroelastosis: a spectrum of histopathological and imaging phenotypes. Eur Respir J 40:377–385

39.

Piciucchi S, Tomassetti S, Casoni G, Sverzellati N, Carloni A, Dubini A et al (2011) High resolution CT and histological findings in idiopathic pleuroparenchymal fibroelastosis: features and differential diagnosis. Resp Res 12:1–5

40.

Hafeez I, Muers MF, Murphy SA, Evans EGV, Barton RC, McWhinney P (2000) Non-tuberculous mycobacterial lung infection complicated by chronic necrotising pulmonary aspergillosis. Thorax 55:717–719

41.

Zoumot Z, Boutou AK, Gill SS, Van Zeller M, Hansell DM, Wells AU et al (2014) Mycobacterium avium complex infection in non-cystic fibrosis bronchiectasis. Respirology 19:714–722

42.

Johnston IDA (1988) Mycobacterium xenopi infection and aspergilloma. Tubercle 69:139–143

43.

Choudat D, Horreard P, Pretet S, Grosset J, Toty L (1986) Superinfection by Aspergillus fumigatus of a pulmonary lesion caused by Mycobacterium xenopi. Tubercle 67:71–74

44.

Böllert FGE, Sime PJ, Macnee W, Crompton GK (1994) Pulmonary Mycobacterium malmoense and aspergillus infection: a fatal combination? Thorax 49:521–522

45.

Hansell DM, Bankier AA, Macmahon H, Mcloud TC, Müller NL, Remy J (2008) Fleischner Society: glossary of terms for thoracic imaging. Radiology 246:697–722

46.

Franquet T, Müller NL, Giménez A, Domingo P, Plaza V, Bordes R (2000) Semiinvasive pulmonary aspegillosis in chronic obstructive pulmonary disease: radiologic and pathologic findings in nine patients. AJR 174:51–56

47.

Kim SY, Lee KS, Han J, Kim J, Kim TS, Choo SW et al (2000) Semiinvasive pulmonary aspergillosis: CT and pathologic findings in six patients. AJR 174:795–798

48.

Sambatakou H, Dupont B, Lode H, Denning DW (2006) Voriconazole treatment for subacute invasive and chronic pulmonary aspergillosis. Am J Med 119:527

49.

Koyama K, Ohshima N, Suzuki J, Kawashima M, Takeda K, Ando T et al (2014) Recurrence of chronic pulmonary aspergillosis after discontinuation of maintenance treatment by antifungal triazoles. J Infect Chemother 20:375–379
Acknowledgements
Professor David M. Hansell is the recipient of a National Institute of Health Senior Investigator Award. The scientific guarantor of this publication is Dr. Sujal R. Desai. The authors of this manuscript declare no relationships with any companies whose products or services may be related to the subject matter of the article. The authors state that this work has not received any funding. No statistical methods were necessary for this paper. Institutional review board approval was not required because the submitted manuscript is a review article. Methodology: not applicable. The submitted manuscript is a review article.
About this article
Cite this article
Desai, S.R., Hedayati, V., Patel, K. et al. Chronic Aspergillosis of the Lungs: Unravelling the Terminology and Radiology . Eur Radiol 25, 3100–3107 (2015). https://doi.org/10.1007/s00330-015-3690-7
Received:

Revised:

Accepted:

Published:

Issue Date:
Keywords
Aspergillosis

Chronic necrotising pulmonary aspergillosis

Imaging, diagnostic

Tomography, x-ray computed

Nomenclature