Abstract
Objectives
To examine the prognostic value of mammographic breast density (MBD) and mammographic features and their relationship with established prognostic factors in patients with invasive breast cancer.
Methods
Mammographic characteristics of 270 patients were analyzed. MBD was classified according to percentile density (<5 %, 5-10 %, 10-25 %, 25-50 %, 50-75 %, >75 %) and further categorized into very low density (VLD; <10 %), low density (LOD; <25 %) and mixed density (MID; >25 %). Mammographic features were compared with established prognostic factors and patient outcomes while correcting for possible confounders.
Results
MBD was inversely associated with tumour grade (p = 0.019). Patients with LOD breasts had worse prognoses compared to those with MID breasts (disease-free survival 74.7 % vs. 84.8 %, p = 0.048; overall survival 75.3 % vs. 90.2 %, p = 0.003). Patients with VLD breasts showed the strongest significance compared to the remaining patients, even after adjusting for age, body mass index, and menopausal status. No other mammographic feature was prognostically significant. In Cox regression analysis, VLD proved to be an independent, poor prognostic feature (hazard ratio = 3.275; p < 0.001).
Conclusion
In patients with newly diagnosed breast cancer, very low MBD proved to be an independent prognostic feature, associated with higher tumour grade and predicted worse survival even after correcting for possible confounders.
Key Points
• Percentile mammographic breast density was associated with patient prognosis.
• Very low density proved to be an independent poor prognostic factor.
• Only patients with densities <10 % displayed this difference in survival.
• Mammographic breast density was inversely associated with histological tumour grade.
Access options
Buy single article
Instant access to the full article PDF.
US$ 39.95
Tax calculation will be finalised during checkout.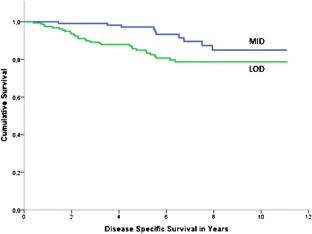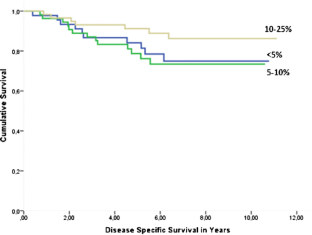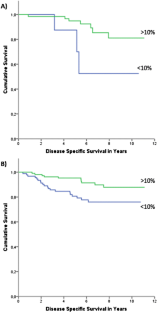 Abbreviations
MBD:

Mammographic breast density

LOD:

Low density

VLD:

Very low density

MID:

Mixed density

HR:

Hazard ratio

BMI:

Body mass index

HER2:

Human epidermal growth factor receptor 2

BI-RADS:

Breast Imaging-Reporting and Data System
References
1.

Jemal A, Bray F, Center MM, Ferlay J, Ward E, Forman D (2011) Global cancer statistics. CA Cancer J Clin 61:69–90

2.

Anothaisintawee T, Wiratkapun C, Lerdsitthichai P et al (2013) Risk factors of breast cancer: a systematic review and meta-analysis. Asia Pac J Public Health 25:368–387

3.

Schnitt SJ (2010) Classification and prognosis of invasive breast cancer: from morphology to molecular taxonomy. Mod Pathol 23:S60–S64

4.

Slamon DJ, Clark GM, Wong SG, Levin WJ, Ullrich A, McGuire WL (1987) Human breast cancer: correlation of relapse and survival with amplification of the HER-2/neu oncogene. Science 235:177–182

5.

Rakha EA, Reis-Filho JS, Baehner F et al (2010) Breast cancer prognostic classification in the molecular era: the role of histological grade. Breast Cancer Res 12:207

6.

Veronesi U, Boyle P, Goldhirsch A, Orecchia R, Viale G (2005) Breast cancer. Lancet 365:1727–1741

7.

Boyd NF, Lockwood GA, Byng JW, Tritchler DL, Yaffe MJ (1998) Mammographic densities and breast cancer risk. Cancer Epidemiol Biomarkers Prev 7:1133–1144

8.

Byng JW, Yaffe MJ, Jong RA et al (1998) Analysis of mammographic density and breast cancer risk from digitized mammograms. Radiographics 18:1587–1598

9.

Martin LJ, Boyd NF (2008) Mammographic density. Potential mechanisms of breast cancer risk associated with mammographic density: hypotheses based on epidemiological evidence. Breast Cancer Res 10:201

10.

Martin LJ, Melnichouk O, Guo H et al (2010) Family history, mammographic density, and risk of breast cancer. Cancer Epidemiol Biomarkers Prev 19:456–463

11.

Wolfe JN (1976) Breast patterns as an index of risk for developing breast cancer. AJR Am J Roentgenol 126:1130–1137

12.

Tabar L, Gad A (1981) Screening for breast cancer: the Swedish trial. Radiology 138:219–222

13.

D'Orsi C, Mendelson E, Ikeda D et al (2003) Breast Imaging Reporting and Data System: ACR BI-RADS – Breast Imaging Atlas. American College of Radiology, Reston

14.

McCormack VA, dos Santos Silva I (2006) Breast density and parenchymal patterns as markers of breast cancer risk: a meta-analysis. Cancer Epidemiol Biomarkers Prev 15:1159–1169

15.

Gierach GL, Ichikawa L, Kerlikowske K et al (2012) Relationship between mammographic density and breast cancer death in the Breast Cancer Surveillance Consortium. J Natl Cancer Inst 104:1218–1227

16.

Porter GJ, Evans AJ, Cornford EJ et al (2007) Influence of mammographic parenchymal pattern in screening-detected and interval invasive breast cancers on pathologic features, mammographic features, and patient survival. AJR Am J Roentgenol 188:676–683

17.

Olsen AH, Bihrmann K, Jensen MB, Vejborg I, Lynge E (2009) Breast density and outcome of mammography screening: a cohort study. Br J Cancer 100:1205–1208

18.

Sala E, Solomon L, Warren R et al (2000) Size, node status and grade of breast tumours: association with mammographic parenchymal patterns. Eur Radiol 10:157–161

19.

Sala E, Warren R, McCann J, Duffy S, Luben R, Day N (2001) Mammographic parenchymal patterns and breast cancer natural history–a case-control study. Acta Oncol 40:461–465

20.

Ghosh K, Brandt KR, Sellers TA et al (2008) Association of mammographic density with the pathology of subsequent breast cancer among postmenopausal women. Cancer Epidemiol Biomarkers Prev 17:872–879

21.

Chiu SY, Duffy S, Yen AM, Tabar L, Smith RA, Chen HH (2010) Effect of baseline breast density on breast cancer incidence, stage, mortality, and screening parameters: 25-year follow-up of a Swedish mammographic screening. Cancer Epidemiol Biomarkers Prev 19:1219–1228

22.

Auvinen P, Tammi R, Kosma VM et al (2013) Increased hyaluronan content and stromal cell CD44 associate with HER2 positivity and poor prognosis in human breast cancer. Int J Cancer 132:531–539

23.

Boyd NF, Byng JW, Jong RA et al (1995) Quantitative classification of mammographic densities and breast cancer risk: results from the Canadian National Breast Screening Study. J Natl Cancer Inst 87:670–675

24.

Boyd NF, Jensen HM, Cooke G, Han HL (1992) Relationship between mammographic and histological risk factors for breast cancer. J Natl Cancer Inst 84:1170–1179

25.

Senkus E, Kyriakides S, Penault-Llorca F et al (2013) Primary breast cancer: ESMO Clinical Practice Guidelines for diagnosis, treatment and follow-up. Ann Oncol 24:vi7–vi23

26.

Goldhirsch A, Winer EP, Coates AS et al (2013) Personalizing the treatment of women with early breast cancer: highlights of the St Gallen International Expert Consensus on the Primary Therapy of Early Breast Cancer 2013. Ann Oncol 24:2206–2223

27.

Theriault RL, Carlson RW, Allred C et al (2013) Breast cancer, version 3.2013: featured updates to the NCCN guidelines. J Natl Compr Cancer Netw 11:753–760, quiz 761

28.

Baumann J, Sevinsky C, Conklin DS (2013) Lipid biology of breast cancer. Biochim Biophys Acta 1831:1509–1517

29.

Murphy RA, Schairer C, Gierach GL et al (2013) Beyond breast cancer: mammographic features and mortality risk in a population of healthy women. PLoS One 8:e78722

30.

Sickles EA, D'Orsi CJ, Bassett LW et al (2013) ACR BI-RADS® mammography. In: ACR BI-RADS® Atlas, Breast Imaging Reporting and Data System. American College of Radiology, Reston

31.

D'Orsi CJ (2013) The breast density conundrum. Radiology 269:646–647

32.

Price ER, Hargreaves J, Lipson JA et al (2013) The California breast density information group: a collaborative response to the issues of breast density, breast cancer risk, and breast density notification legislation. Radiology 269:887–892

33.

Eriksson L, Czene K, Rosenberg LU et al (2013) Mammographic density and survival in interval breast cancers. Breast Cancer Res 15(3):R48
Acknowledgements
The scientific guarantor of this publication is Professor Ritva Vanninen. This work was supported in part by the Kuopio University Hospital EVO funding (grant nos. 5063525, 5063532), the Cancer Center of the University of Eastern Finland, the Cancer Foundation of Finland, the University of Kuopio Foundation and by a grant from Mauri and Sirkka Wiljasalo in 2014. The authors of this manuscript declare no relationships with any companies whose products or services may be related to the subject matter of the article. Tuomas Selander kindly provided statistical advice for this manuscript. Institutional Review Board approval was obtained. Written informed consent was waived by the Institutional Review Board. Methodology: retrospective, performed at one institution. This manuscript was presented at the European Congress of Radiology (ECR) in 2014.
About this article
Cite this article
Masarwah, A., Auvinen, P., Sudah, M. et al. Very low mammographic breast density predicts poorer outcome in patients with invasive breast cancer. Eur Radiol 25, 1875–1882 (2015). https://doi.org/10.1007/s00330-015-3626-2
Received:

Revised:

Accepted:

Published:

Issue Date:
Keywords
Breast

Cancer

Breast neoplasms

Mammographic density

Prognosis