Abstract
Objective
to compare the different adipose tissue (AT) compartments, muscle mass, muscle fat infiltration, coronary calcium, as well as associations among changes in different AT compartments between frail and robust nonagenarians.
Materials and Methods
Forty-two elderly subjects took part in this study: 29 institutionalized frail elderly (92.0 ± 8 years) and 13 robust elderly (88.2 ± 4.1 years). All patients underwent helical thoracic, abdominal and thigh computed tomography (CT). In addition, a non-enhanced prospectively ECG-triggered cardiac CT was performed to quantify the amount of coronary artery calcification and measure pericardial AT.
Results
The robust group presented significantly greater pericardial and abdominal AT volume, as well as greater axial and appendicular muscle size and high-density muscle tissue (greater muscle quality) than the frail group (P < 0.001), whereas no differences between groups were observed in coronary calcium. There were positive correlations between pericardial AT with visceral and subcutaneous AT values, as well as between pericardial AT and quadriceps, hamstrings, psoas and paravertebral low-density muscle tissues in the frail and robust groups (r = 0.57 to 0.91,P < 0.05).
Conclusions
Robust group presented greater muscle size and quality in the axial and appendicular muscles, as well as pericardial and abdominal AT area than the frail group.
Key Points
• Robust nonagenarians presented more pericardial and abdominal AT volume than frail.
• Frailty is associated with lower muscle size and high-density muscle tissue.
• Muscle-fat infiltration shares analogous pattern of visceral and pericardial AT distribution.
This is a preview of subscription content, log in to check access.
Access options
Buy single article
Instant access to the full article PDF.
US$ 39.95
Price includes VAT for USA
Subscribe to journal
Immediate online access to all issues from 2019. Subscription will auto renew annually.
US$ 199
This is the net price. Taxes to be calculated in checkout.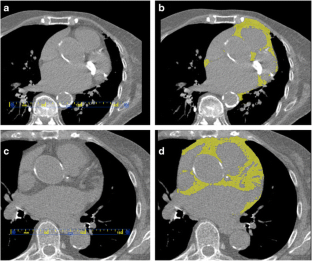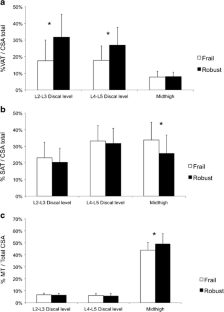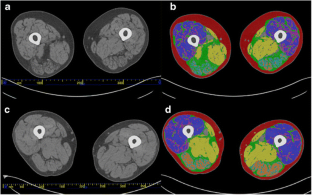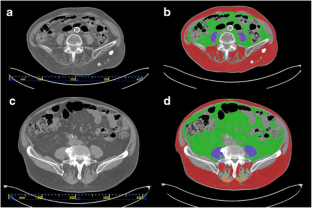 References
1.

Theou O, Jones GR, Vandervoort AA et al (2010) Daily muscle activity and quiescence in non-frail, pre-frail, and frail older women. Exp Gerontol 45:909–917

2.

Clegg A (2001) The frailty syndrome. Clin Med 11:72–75

3.

Fiatarone MA, Marks EC, Ryan ND et al (1990) High-intensity strength training in nonagenarians. Effects on skeletal muscle. JAMA 262:2029–3034

4.

Heuberger RA (2011) The frailty syndrome: a comprehensive review. J Nutr Gerontol Geriatr 30:315–368

5.

Goodpaster BH, Kelley DE, Thaete FL et al (2000) Skeletal muscle attenuation determined by computed tomography is associated with skeletal muscle lipid content. J Appl Physiol 89:104–110

6.

Goodpaster BH, Chomentowski P, Ward BK et al (2008) Effects of physical activity on strength and skeletal muscle fat infiltration in older adults: a randomized controlled trial. J Appl Physiol 105:1498–1503

7.

Cadore EL, Casas-Herrero A, Zambom-Ferraresi F et al (2014) Multicomponent exercises including muscle power training enhance muscle mass, power output, and functional outcomes in institutionalized frail nonagenarians. Age (Dordr) 36(2):773–785

8.

Taffe DR, Henwood TR, Nalls MA et al (2009) Alterations in muscle attenuation following detraining and retraining resistance trained older adults. Gerontology 55:217–223

9.

Ross R (2003) Advances in the application of imaging methods in applied and clinical physiology. Acta Diabetol 40:45–50

10.

Visser M, Goodpaster BH, Kritchevsky SB et al (2005) Muscle mass, muscle strength, and muscle fat infiltration as predictors of incident mobility limitations in well-functioning older persons. J Gerontol A Biol Sci Med Sci 60:324–333

11.

Visser M, Kritchevsky SB, Goodpaster BH et al (2002) Leg muscle mass and composition in relation to lower extremity performance in men and womed aged 70 to 79: the health, aging and body composition study. J Am Geriatr Soc 50:897–904

12.

Casas-Herrero A, Cadore EL, Zambom-Ferraresi F et al (2013) Functional capacity, muscle fat infiltration, power output and cognitive impairment in institutionalized frail oldest-old. Rejuvenation Res 16:396–403

13.

Garcia-Garcia FJ, Gutierrez Avila G, Alfaro-Acha A et al (2011) The prevalence of frailty syndrome in an older population from Spain. The Toledo study for healthy aging. J Nutr Health Aging 15:852–865

14.

Miao C, Chen S, Ding J et al (2011) The association of pericardial fat with coronary artery plaque index at MR imaging: the multi-ethnic study of atherosclerosis (MESA). Radiology 261:109–115

15.

Xie X, Zhao Y, de Bock GH et al (2013) Validation and prognosis of coronary artery calcium scoring in nontriggered thoracic computed tomography: systematic review and meta-analysis. Circ Cardiovasc Imaging 6:514–521

16.

Bertoni AG, Whitt-Glover MC, Chung H et al (2009) The association between physical activity and subclinical atherosclerosis: the Multi-ethnic study of atherosclerosis. Am J Epidemiol 169:444–454

17.

Hamer M, Venuraju SM, Lahiri A et al (2012) Objectively assessed physical activity, sedentary time, and coronary artery calcification in healthy older adults. Arterioscler Thromb Vasc Biol 32:500–505

18.

Fried LP, Tangen CM, Waltson J et al (2001) Cardiovascular health study collaborative research group. Frailty in older adults: evidence for a phenotype. J Gerontol A Biol Sci Med Sci 56:146–155

19.

Baracos VE, Reiman T, Mourtzakis M et al (2010) Body composition in patients with non-small cell lung cancer: a contemporary view of cáncer cachexia with the use of computed tomography image analysis. Am J Clin Nutr 91:1133–1137

20.

Shen W, Punyanitya M, Wang Z et al (2004) Total body skeletal muscle and adipose tissue volumes: estimation from a single abdominal cross-sectional image. J Appl Physiol 97:2333–2339

21.

Demerath EW, Sun SS, Rogers N et al (2007) Anatomical patterning of visceral adipose tissue: race, sex, and age variation. Obesity (Silver Spring) 15:2984–2993

22.

Ruan XY, Gallagher D, Harris T, Albu J, Heymsfield S, Kuznia P, Heshka S (2007) Estimating whole body intermuscular adipose tissue from single cross-sectional magnetic resonance images. J Appl Physiol 102:748–754

23.

Lee SJ, Janssen I, Heymsfield SB, Ross R (2004) Relation between whole-body and regional measures of human skeletal muscle. Am J Clin Nutr 80:1215–1221

24.

Divers J, Wagenknecht LE, Bownden DW et al (2010) Regional adipose tissue associations with calcified atherosclerotic plaque: African American-diabetes heart study. Obesity (Silver Spring) 18:2004–2009

25.

Yoon DH, Choi SH, Yu JH et al (2012) The relationship between visceral adiposity and cognitive performance in older adults. Age Ageing 41:456–461

26.

Boettcher M, Machann J, Stefan N et al (2009) Intermuscular adipose tissue (IMAT): association with other adipose tissue compartments and insulin sensitivity. J Magn Reson Imaging 29:1340–1345

27.

Santanasto AJ, Glynn NW, Newman MA et al (2011) Impact of weight loss on physical function with changes in strength, muscle mass, and muscle fat infiltration in overweight to moderately obese older adults: a randomized clinical trial. J Obes. doi:10.1155/2011/516576

28.

Muñoz J, Gower B (2003) Relationship between serum leptin concentration and low-density muscle in postmenopausal women. J Clin Endocrinol Metab 88:1157–1161

29.

Morie M, Reid KF, Miciek R et al (2010) Habitual physical activity levels are associated with performance in measures of physical function and mobility in older men. J Am Geriatr Soc 58:1727–1733

30.

Lang T, Cauley JA, Tylavsky F et al (2010) Computed tomographic measurements of thigh muscle cross-sectional area and attenuation coefficient predict hip fracture: the health, aging, and body composition study. J Bone Miner Res 25:513–519

31.

Prior SJ, Joseph LJ, Brandauer J et al (2007) Reduction in midthigh low-density muscle with aerobic exercise training and weight loss impacts glucose tolerance in older men. J Clin Endocrinol Metab 92:880–886

32.

Lim SC, Tan BY, Chew SK et al (2002) The relationship between insulin resistance and cardiovascular risk factors in overweight/obese non-diabetic Asian adults: the 1992 Singapore National Health Survey. Int J Obes Relat Metab Disord 26:1511–1516

33.

Campbell AJ, Buchner DM (1997) Unstable disability and the fluctuations of frailty. Age Ageing 26:315–318

34.

Rodríguez Mañas L, Féart C, Mann G et al (2012) On behalf of the FOD-CC group. Searching for an operational definition of frailty: a Delphi method based consensus statement. The frailty operative definition-consensus conference project. J Gerontol A Biol Sci Med Sci 68:62–67

35.

Thomas F, Pannier B, Benetos A et al (2013) Viceral obesity is not an independent risk factor of mortality in subjects over 65 years. Vasc Health Risk Manag 9:739–745

36.

De Schutter A, Lavie CJ, Kachur S et al (2014) Body composition and mortality in a large cohort with preserved ejection fraction: untangling the obesity paradox. Mayo Clin Proc 89:1072–1079

37.

Hong ES, Khang AR, Roh E et al (2014) Counterintuitive relationship between viceral fat and all-cause mortality in an elderly Asian population. Obesity. doi:10.1002/0by.20914

38.

Lavie CJ, De Schutter A, Alpert MA et al (2014) Obesity paradox, cachexia, frailty, and heart failure. Heart Fail Clin 10:319–326

39.

Strandberg TE, Stenholm S, Strandberg AY et al (2013) The "obesity paradox", frailty, disability, and mortality in older men: a prospective, longitudinal cohort study. Am J Epidemiol 178:1452–1460

40.

Hong NS, Kim KS, Lee IK et al (2012) The association between obesity paradox and mortality in the elderly differs by serum concentrations of persistent organic pollutants: a possible explanation for the obesity paradox. Int J Obes 36:1170–1175

41.

Mazurek T, Zhang L, Zalewski A et al (2003) Human epicardial adipose tissue is a source of inflammatory mediators. Circulation 108:2460–2466

42.

Sacks HS, Fain JN (2007) Human epicardial adipose tissue: a review. Am Heart J 153:907–917

43.

Nasir K, Clouse M (2012) Role of nonenhanced multidetector CT coronary artery calcium testing in asymptomatic and symptomatic individuals. Radiology 264:637–649

44.

Issever AS, Kentenich M, Köhlitz T et al (2013) Osteoporosis and atherosclerosis: a post-mortem MDCT study of an elderly cohort. Eur Radiol 23:2823–2829
Acknowledgments
The scientific guarantor of this publication is Mikel Izquierdo, Head of Department of Health Sciences, Public University of Navarra. This study has received funding by the Spanish Department of Health and Institute Carlos III of the Government of Spain [Spanish Net on Aging and frailty; (RETICEF)], and Economy and Competitivity Department of the Government of Spain, under grants numbered RD12/043/0002, and DEP2011-24105, respectively. Institutional Review Board approval was obtained. Written informed consent was obtained from all subjects (patients) in this study. Methodology: retrospective, cross-sectional study, observational multicenter study, performed at one institution.
About this article
Cite this article
Idoate, F., Cadore, E.L., Casas-Herrero, A. et al. Adipose tissue compartments, muscle mass, muscle fat infiltration, and coronary calcium in institutionalized frail nonagenarians. Eur Radiol 25, 2163–2175 (2015). https://doi.org/10.1007/s00330-014-3555-5
Received:

Revised:

Accepted:

Published:

Issue Date:
Keywords
Adipose tissue

Frailty

Muscle quality

Coronary calcium

Muscle fat infiltration