Abstract
Objectives
To prospectively compare computed tomography (CT) of the hindfoot in the supine non-weight-bearing position (NWBCT) with upright weight-bearing position (WBCT).
Methods
Institutional review board approval and informed consent of all patients were obtained. NWBCT and WBCT scans of the ankle were obtained in 22 patients (mean age, 46.0 ± 17.1 years; range 19–75 years) using a conventional 64-row CT for NWBCT and a novel cone-beam CT for WBCT. Two musculoskeletal radiologists independently performed the following measurements: the hindfoot alignment angle, fibulocalcaneal and tibiocalcaneal distances, lateral talocalcaneal joint space width, talocalcaneal overlap and naviculocalcaneal distance. Significant changes between NWBCT and WBCT were sought using Wilcoxon signed-rank test. P values <0.05 were considered statistically significant.
Results
Significant differences were found for all measurements except the hindfoot alignment angle and tibiocalcaneal distance. Significant measurement results were as follows (NWBCT/WBCT reader 1; NWBCT/WBCT reader 2, mean ± standard deviation): fibulocalcaneal distance 3.6 mm ± 5.2/0.3 mm ± 6.0 (P = 0.006); 1.4 mm ± 6.3/-1.1 mm ± 6.3 (P = 0.002), lateral talocalcaneal joint space width 2.9 mm ± 1.7/2.2 mm ± 1.1 (P = 0.005); 3.4 mm ± 1.9/2.4 mm ± 1.3 (P = 0.001), talocalcaneal overlap 4.1 mm ± 3.9/1.4 mm ± 3.9 (P = 0.001); 4.5 mm ± 4.3/1.4 mm ± 3.7 (P < 0.001) and naviculocalcaneal distance 13.5 mm ± 4.0/15.3 mm ± 4.7 (P = 0.037); 14.0 mm ± 4.4/15.7 mm ± 6.2 (P = 0.100). Interreader agreement was good to excellent (ICC 0.48–0.94).
Conclusion
Alignment of the hindfoot significantly changes in the upright weight-bearing CT position. Differences can be visualised and measured using WBCT.
Key Points
• Cone-beam computed tomography (CBCT) offers new opportunities for musculoskeletal problems
• Visualization and quantification of hindfoot alignment are possible in upright weight-bearing CBCT
• Hindfoot alignment changes significantly from non-weight-bearing to weight-bearing CT
• The weight-bearing position leads to a decrease in the fibulocalcaneal distance and talocalcaneal overlap
• The naviculocalcaneal distance is increased in the weight-bearing position
This is a preview of subscription content, log in to check access.
Access options
Buy single article
Instant access to the full article PDF.
US$ 39.95
Tax calculation will be finalised during checkout.
Subscribe to journal
Immediate online access to all issues from 2019. Subscription will auto renew annually.
US$ 199
Tax calculation will be finalised during checkout.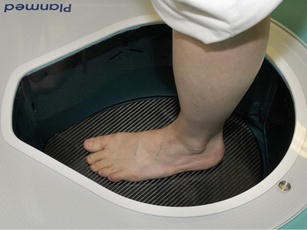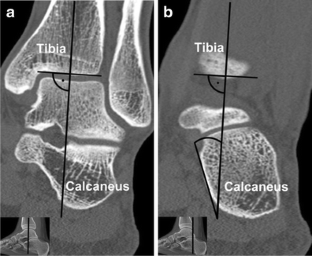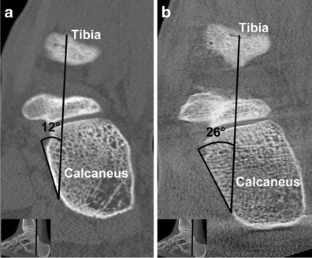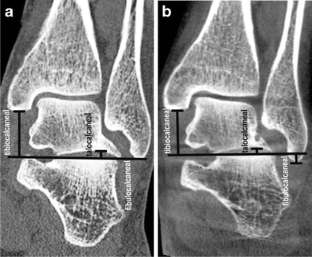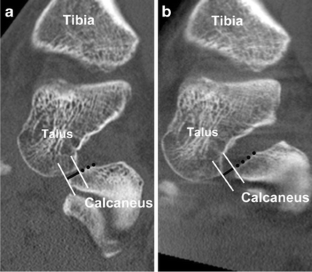 References
1.

Nosewicz TL, Knupp M, Bolliger L, Hintermann B (2012) The reliability and validity of radiographic measurements for determining the three-dimensional position of the talus in varus and valgus osteoarthritic ankles. Skeletal Radiol 41:1567–1573

2.

Buck FM, Hoffmann A, Mamisch-Saupe N, Espinosa N, Resnick D, Hodler J (2011) Hindfoot alignment measurements: rotation-stability of measurement techniques on hindfoot alignment view and long axial view radiographs. AJR Am J Roentgenol 197:578–582

3.

Van Bergeyk AB, Younger A, Carson B (2002) CT analysis of hindfoot alignment in chronic lateral ankle instability. Foot Ankle Int 23:37–42

4.

Greisberg J, Hansen ST, Sangeorzan B (2003) Deformity and degeneration in the hindfoot and midfoot joints of the adult acquired flatfoot. Foot Ankle Int 24:530–534

5.

Saltzmann CL, el-Khoury GY (1995) The hindfoot alignment view. Foot Ankle Int 16:572–576

6.

Ananthakrisnan D, Ching R, Tencer A, Hansen ST, Sangeorzan BJ (1999) Subluxation of the talocalcaneal joint in adults who have symptomatic flatfoot. J Bone Joint Surg Am 81A:1147–1154

7.

Ferri M, Scharfenberger AV, Goplen G, Daniels TR, Pearce D (2008) Weightbearing CT scan of severe flexible pes planus deformity. Foot Ankle Int 29:199–204

8.

Kido M, Ikoma K, Imai K, Maki M, Takatori R, Tokunaga D et al (2011) Load response of the tarsal bones in patients with flatfoot deformity: in vivo 3D study. Foot Ankle Int 32:1017–1022

9.

Kido M, Ikoma K, Imai K, Inoue N, Kubo T (2013) Load response of the medial longitudinal arch in patients with flatfoot deformity: in vivo 3D study. Clin Biomech 28:568–573

10.

Ledoux WR, Rohr ES, Ching RP, Sangeorzan BJ (2006) Effect of foot shape on the three-dimensional position of foot bones. J Orthop Res 24:2176–2186

11.

Malicky ES, Crary JL, Houghton MJ, Agel J, Hansen ST, Sangeorzan BJ (2002) Talocalcaneal and subfibular impingement in symptomatic flatfoot in adults. J Bone Joint Surg Am 84A:2005–2009

12.

Ellis SJ, Deyer T, Williams BR, Yu JC, Lehto S, Maderazo A, Pavlov H et al (2010) Assessment of lateral hindfoot pain in acquired flatfoot deformity using weightbearing multiplanar imaging. Foot Ankle Int 31:361–371

13.

Tuominen EKL, Kankare J, Koskinen SK, Mattila KT (2013) Weight-bearing CT imaging of the lower extremity. AJR Am J Roentgenol 200:146–148

14.

Koskinen SK, Haapamäki VV, Salo J, Lindfors NC, Kortesniemi M, Seppälä L, Mattila KT (2013) CT arthrogarphy of the wrist using a novel, mobile, dedicated extremity cone-beam CT (CBCT). Skeletal Radiol 42:649–657

15.

Ippolito E, Fraracci L, Farsetti P, De Maio F (2004) Validity of the anteroposterior talocalcaneal angle to assess congenital clubfoot correction. AJR Am J Roentgenol 182:1279–1282

16.

Donovan A, Rosenberg ZS (2009) Extraarticular lateral hindfoot impingement with posterior tibial tendon tear: MRI correlation. AJR Am J Roentgenol 193:672–678

17.

Buck FM, Hoffmann A, Mamisch-Saupe N, Farshad M, Resnick D, Espinosa N, Hodler J (2013) Diagnostic performance of MRI measurements to assess hindfoot malalignment. An assessment of four measurement techniques. Eur Radiol 23:2594–2601

18.

Rosner BA (2011) The intraclass correlation coefficient. In: Fundamentals of Biostatistics, 7th edn. Brooks/Cole, Boston, USA, p 569

19.

Donovan A, Rosenberg ZS (2010) MRI of ankle and lateral hindfoot impingment syndromes. AJR Am J Roentgenol 195:595–604

20.

Seltzer SE, Weissmann BN, Braunstein EM, Adams DF, Thomas WH (1984) Computed tomography of the hindfoot. J Comput Assist Tomogr 8:488–497
About this article
Cite this article
Hirschmann, A., Pfirrmann, C.W.A., Klammer, G. et al. Upright Cone CT of the hindfoot: Comparison of the non-weight-bearing with the upright weight-bearing position. Eur Radiol 24, 553–558 (2014). https://doi.org/10.1007/s00330-013-3028-2
Received:

Accepted:

Published:

Issue Date:
Keywords
Hindfoot alignment

Cone-beam computed tomography

Weight-bearing

Talocalcaneal overlap

Fibulocalcaneal distance