Abstract
Objectives
To investigate whether whole-body diffusion-weighted imaging (WB-DWI) alone is adequate for detecting metastases in melanoma patients, or if standard WB contrast-enhanced magnetic resonance imaging (WB-ceMRI) is required.
Methods
Seventy-one WB-DWI studies were performed quarterly along with whole-body MRI including contrast-enhanced sequences (WB-ceMRI) in 19 patients with advanced melanoma. The reference standard was biopsy, other imaging investigations, or changes observed on follow-up. Findings of metastasis in separate WB-DWI and WB-DWI + WB-ceMRI readings were compared using κ statistics. Additionally, the distribution of findings was examined and calculated per body region (brain, neck, chest, abdomen, liver, pelvis, subcutaneous tissues, bones) and diagnostic accuracy (DA), sensitivity, specificity, negative predictive value, and positive predictive value were calculated per patient.
Results
The eight examinations that were positive by the reference standard contained a total of 14 metastatic findings. With almost perfect agreement between techniques (κ = 85 %, 95 % CI 70–100 %) for detection of examinations with metastatic findings, and complete agreement in extracranial metastasis detection, 10 metastases were detected using WB-DWI and 13 using WB-DWI + WB-ceMRI. WB-DWI and WB-DWI + WB-MRI had equivalent per patient DA (79 %).
Conclusions
WB-DWI without additional WB-ceMRI sequences is promising for the detection of extracranial metastases in melanoma patients, but contrast-enhanced MRI is required for evaluating the brain.
Key Points
• Whole-body (WB) magnetic resonance imaging (MRI) is increasingly used for oncological disease assessment.
• WB diffusion-weighted MRI detects extracranial metastases in melanoma patients.
• Contrast-enhanced MRI is only required for detecting brain metastases.
• WB-DWI is inferior to low-dose CT for detecting lung metastases.
Access options
Buy single article
Instant access to the full article PDF.
USD 39.95
Price excludes VAT (USA)
Tax calculation will be finalised during checkout.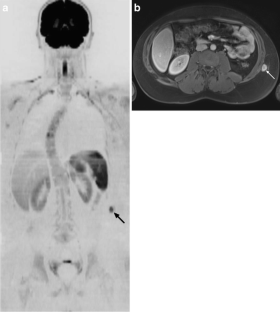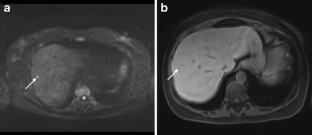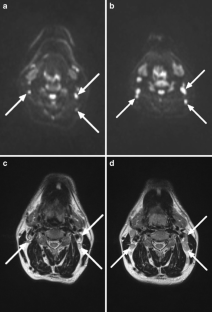 Abbreviations
ADC:

apparent diffusion coefficient

MIP:

maximum intensity projections

MPR:

multi-planar reformatted images

WB-ceMRI:

whole-body magnetic resonance imaging

WB-DWI:

whole-body diffusion-weighted imaging
References
Forschner A, Eigentler TK, Pflugfelder A et al (2010) Melanoma staging: facts and controversies. Clin Dermatol 28:275–280

Siegel R, Naishadham D, Jemal A (2013) Cancer statistics, 2013. CA Cancer J Clin 63:11–30

Balch CM, Gershenwald JE, Soong SJ et al (2009) Final version of 2009 AJCC melanoma staging and classification. J Clin Oncol 27:6199–6206

Eigentler TK, Caroli UM, Radny P et al (2003) Palliative therapy of disseminated malignant melanoma: a systematic review of 41 randomised clinical trials. Lancet Oncol 4:748–759

Brand CU, Ellwanger U, Stroebel W et al (1997) Prolonged survival of 2 years or longer for patients with disseminated melanoma. An analysis of related prognostic factors. Cancer 79:2345–2353

Wong SL, Coit DG (2006) Role of surgery in patients with stage IV melanoma. Curr Opin Oncol 16:155–160

Sharpless SM, Das Gupta TK (1998) Surgery for metastatic melanoma. Semin Surg Oncol 14:311–318

Garbe C, Schaudendorf D, Regent D et al (2008) Short German guidelines: malignant melanoma. J Dtsch Dermatol Ges 6:S9–S14

Mayerhoefer ME, Prosch H, Herold CJ, Weber M, Karanikas G (2012) Assessment of pulmonary melanoma metastases with 18F-FDG PET/CT: which PET-negative patients require additional tests for definitive staging? Eur Radiol 22:2451–2457

Bafounta ML, Beauchet A, Chagnon S et al (2004) Ultrasonography or palpation for detection of melanoma nodal invasion: a meta-analysis. Lancet Oncol 5:673–680

Kaufmann PM, Crone-Münzebrock W (1992) Tumor follow-up using sonography and computed tomography in the abdominal region of patients with malignant melanoma. Aktuelle Radiol 2:81–85

Müller-Horvat C, Radny P, Eigentler TK et al (2006) Prospective comparison of the impact on treatment decisions of whole-body magnetic resonance imaging and computed tomography in patients with metastatic malignant melanoma. Eur J Cancer 42:342–350

Hausmann D, Jochum S, Utikal J, Hoffmann RC et al (2011) Comparison of the diagnostic accuracy of whole-body MRI and whole-body CT in stage III/IV malignant melanoma. J Dtsch Dermatol Ges 9:212–222

Dellestable P, Granel-Brocard F, Rat AC, Olivier P, Régent D, Schmutz JL (2011) Impact of whole body magnetic resonance imaging (MRI) in the management of melanoma patients, in comparison with positron emission tomography/computed tomography (PET/CT) and CT. Ann Dermatol Venereol 138:377–383

Fischer MA, Nanz D, Hany T et al (2013) Diagnostic accuracy of whole-body MRI/DWI image fusion for detection of malignant tumours: a comparison with PET/CT. Eur Radiol 21:246–255

Hegenscheid K, Seipel R, Schmidt CO et al (2013) Potentially relevant incidental findings on research whole-body MRI in the general adult population: frequencies and management. Eur Radiol 23:816–826

Platzek I, Zastrow S, Deppe PE et al (2010) Whole-body MRI in follow-up of patients with renal cell carcinoma. Acta Radiol 51:581–589

Pearce T, Philip S, Brown J et al (2012) Bone metastases from prostate, breast and multiple myeloma: differences in lesion conspicuity at short-tau inversion recovery and diffusion-weighted MRI. Br J Radiol 85:1102–1106

Takahara T, Imai Y, Yamashita T et al (2006) Diffusion weighted whole body imaging with background body signal suppression (DWIBS): technical improvement using free breathing, STIR and high resolution 3D display. Radiat Med 22:275–282

Kwee TC, Takahara T, Ochiai R, Nievelstein RA, Luijten PR (2008) Diffusion-weighted whole-body imaging with background body signal suppression (DWIBS): features and potential applications in oncology. Eur Radiol 18:1937–1952

Wolchok JD, Hoos A, O'Day S et al (2009) Guidelines for the evaluation of immune therapy activity in solid tumors: immune-related response criteria. Clin Cancer Res 15:7412–7420

O'Regan KN, Jagannathan JP, Ramaiya N et al (2011) Radiologic aspects of immune-related tumor response criteria and patterns of immune-related adverse events in patients undergoing ipilimumab therapy. AJR Am J Roentgenol 197:W241–W246

Harisinghani MG, Barentsz J, Hahn PF et al (2003) Noninvasive detection of clinically occult lymph-node metastases in prostate cancer. N Engl J Med 348:2491–2499

Triantafyllou M, Studer UE, Birkhäuser FD et al (2013) Ultrasmall superparamagnetic particles of iron oxide allow for the detection of metastases in normal sized pelvic lymph nodes of patients with bladder and/or prostate cancer. Eur J Cancer 49:616–624

Pfannenberg C, Aschoff P, Schanz S et al (2007) Prospective comparison of 18F-fluorodeoxyglucose positron emission tomography/computed tomography and whole-body magnetic resonance imaging in staging of advanced malignant melanoma. Eur J Cancer 43:557–564

Koh DM, Brown G, Riddell AM et al (2008) Detection of colorectal hepatic metastases using MnDPDP MR imaging and diffusion-weighted imaging (DWI) alone and in combination. Eur Radiol 18:903–910

Giesel FL, Mehndiratta A, Essig M (2010) High-relaxivity contrast-enhanced magnetic resonance neuroimaging: a review. Eur Radiol 10:2461–2474

Kim SH, Lee JY, Lee JM, Han JK, Choi BI (2011) Apparent diffusion coefficient for evaluating tumour response to neoadjuvant chemoradiation therapy for locally advanced rectal cancer. Eur Radiol 21:987–995

Thoeny HC, Forstner R, De Keyzer F (2012) Genitourinary applications of diffusion-weighted MR imaging in the pelvis. Radiology 263:326–342

Giannarini G, Petralia G, Thoeny HC (2012) Potential and limitations of diffusion-weighted magnetic resonance imaging in kidney, prostate, and bladder cancer including pelvic lymph node staging: a critical analysis of the literature. Eur Urol 61:326–340

Laurent V, Trausch G, Bruot O et al (2010) Comparative study of two whole-body imaging techniques in the case of melanoma metastases: advantages of multi-contrast MRI examination including a diffusion-weighted sequence in comparison with PET-CT. Eur J Radiol 75:376–383

Padhani AR, Koh DM, Collins DJ (2011) Whole-body diffusion-weighted MR imaging in cancer: current status and research directions. Radiology 261:700–718

Padhani AR, Gogbashian A (2011) Bony metastases: assessing response to therapy with whole-body diffusion MRI. Cancer Imaging 11:S129–S145

Schmidt GP, Baur-Melnyk A, Herzog P et al (2005) High-resolution whole-body MRI tumor staging with the use of parallel imaging versus dual modality PET-CT: experience on a 32-channel system. Invest Radiol 40:743–753

Antoch G, Vogt FM, Freudenberg LS et al (2003) Whole-body dual-modality PET/CT and whole-body MRI for tumor staging in oncology. JAMA 290:3199–3206

Layer G, Steudel A, Schuller H et al (1999) Magnetic resonance imaging to detect bone marrow metastases in the initial staging of small cell lung carcinoma and breast carcinoma. Cancer 85:1004–1009
Acknowledgements
We thank Guarniflon S.p.A. for the financial support of Dr. Alessi. Funding sources had no influence in acquisition, analysis, or interpretation of the data.
Electronic supplementary material
Below is the link to the electronic supplementary material.
Detailed summary of imaging findings per body region (DOC 45 kb)
About this article
Cite this article
Petralia, G., Padhani, A., Summers, P. et al. Whole-body diffusion-weighted imaging: is it all we need for detecting metastases in melanoma patients?. Eur Radiol 23, 3466–3476 (2013). https://doi.org/10.1007/s00330-013-2968-x
Received:

Revised:

Accepted:

Published:

Issue Date:

DOI: https://doi.org/10.1007/s00330-013-2968-x
Keywords