Abstract
Objective
To evaluate intravoxel incoherent motion (IVIM) model-based liver lesion characterisation from three b-value diffusion-weighted imaging (DWI).
Methods
The 1.5-T DWI data from a respiratory gated spin-echo echo-planar magnetic resonance imaging sequence (b = 0, 50, 800 s/mm2) were retrospectively analysed in 38 patients with different liver lesions. Conventional apparent diffusion coefficient ADC = ADC(0,800) as well as IVIM-based parameters D′ = ADC(50,800), ADC_low = ADC(0,50), and f′ were calculated voxel-wise. Sixty-one regions of interest in hepatocellular carcinomas (HCCs, n = 24), haemangiomas (HEMs, n = 11), focal nodular hyperplasias (FNHs, n = 11), and healthy liver tissue (REFs, n = 15) were analysed. Group differences were investigated using Student's t-test and receiver-operating characteristic (ROC) analysis.
Results
Mean values ± standard deviations of ADC, D′, ADC_low (in 10-5 mm2/s), and f′ (in %) for REFs/FNHs/HEMs/HCCs were 130 ± 11/143 ± 27/168 ± 16/113 ± 25, 104 ± 12/123 ± 25/162 ± 18/102 ± 23, 518 ± 66/437 ± 97/268 ± 69/283 ± 120, and 18 ± 3/14 ± 4/6 ± 3/9 ± 5, respectively. Differences between lesions and REFs were more significant for IVIM-based parameters than for conventional ADC. ROC analysis showed the best discriminability between HCCs and FNHs for ADC_low and f′ and between HEMs and FNHs or HCCs for D′.
Conclusion
Three instead of two b-value DWI enables a numerically stable and voxel-wise IVIM-based analysis for improved liver lesion characterisation with tolerable acquisition time.
Key Points
• Quantitative analysis of diffusion-weighted MRI helps liver lesion characterisation.
• Analysis of intravoxel incoherent motion is superior to apparent diffusion coefficient determination.
• Only three b-values enable separation of diffusion and microcirculation effects.
• The method presented is numerically stable, with voxel-wise results and short acquisition times.
Access options
Buy single article
Instant access to the full article PDF.
USD 39.95
Price excludes VAT (USA)
Tax calculation will be finalised during checkout.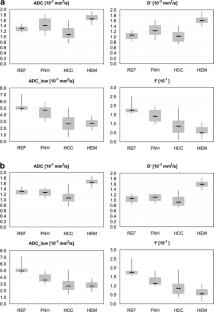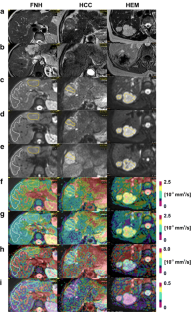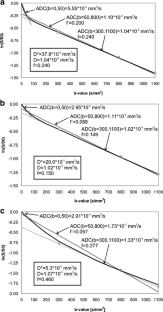 References
Padhani AR, Liu G, Koh DM et al (2009) Diffusion-weighted magnetic resonance imaging as a cancer biomarker: Consensus and recommendations. Neoplasia 11:102–125

Taouli B, Koh DM (2010) Diffusion-weighted MR imaging of the liver. Radiology 254:47–66

Taouli B (2012) Diffusion-weighted MR imaging for liver lesion characterization: A critical look. Radiology 262:378–380

Sinkus R, Van Beers BE, Vilgrain V, DeSouza N, Waterton JC (2012) Apparent diffusion coefficient from magnetic resonance imaging as a biomarker in oncology drug development. Eur J Cancer 48:425–431

Takahara T, Kwee TC (2012) Low b-value diffusion-weighted imaging: Emerging applications in the body. J Magn Reson Imaging 35:1266–1273

Kwee TC, Takahara T (2011) Diffusion-weighted MRI for detecting liver metastases: Importance of the b-value. Eur Radiol 21:150

Goshima S, Kanematsu M, Kondo H et al (2008) Diffusion-weighted imaging of the liver: Optimizing b value for the detection and characterization of benign and malignant hepatic lesions. J Magn Reson Imaging 28:691–697

Parikh T, Drew SJ, Lee VS et al (2008) Focal liver lesion detection and characterization with diffusion-weighted MR imaging: Comparison with standard breath-hold T2-weighted imaging. Radiology 246:812–822

Gourtsoyianni S, Papanikolaou N, Yarmenitis S, Maris T, Karantanas A, Gourtsoyiannis N (2008) Respiratory gated diffusion-weighted imaging of the liver: value of apparent diffusion coefficient measurements in the differentiation between most commonly encountered benign and malignant focal liver lesions. Eur Radiol 18:486–492

Coenegrachts K, Delanote J, Ter BL et al (2007) Improved focal liver lesion detection: comparison of single-shot diffusion-weighted echoplanar and single-shot T2 weighted turbo spin echo techniques. Br J Radiol 80:524–531

Koh DM, Collins DJ, Orton MR (2011) Intravoxel incoherent motion in body diffusion-weighted MRI: reality and challenges. AJR Am J Roentgenol 196:1351–1361

Guiu B, Cercueil JP (2011) Liver diffusion-weighted MR imaging: The tower of Babel? Eur Radiol 21:463–467

Le Bihan D, Breton E, Lallemand D, Aubin ML, Vignaud J, Laval-Jeantet M (1988) Separation of diffusion and perfusion in intravoxel incoherent motion MR imaging. Radiology 168:497–505

Le Bihan D, Breton E, Lallemand D, Grenier P, Cabanis E, Laval-Jeantet M (1986) MR imaging of intravoxel incoherent motions: Application to diffusion and perfusion in neurologic disorders. Radiology 161:401–407

Yamada I, Aung W, Himeno Y, Nakagawa T, Shibuya H (1999) Diffusion coefficients in abdominal organs and hepatic lesions: Evaluation with intravoxel incoherent motion echo-planar MR imaging. Radiology 210:617–623

Le Bihan D (2008) Intravoxel incoherent motion perfusion MR imaging: A wake-up call. Radiology 249:748–752

Dyvorne HA, Galea N, Nevers T et al (2013) Diffusion-weighted imaging of the liver with multiple b values: Effect of diffusion gradient polarity and breathing acquisition on image quality and intravoxel incoherent motion parameters—a pilot study. Radiology 266:920–929

Andreou A, Koh DM, Collins DJ et al (2013) Measurement reproducibility of perfusion fraction and pseudodiffusion coefficient derived by intravoxel incoherent motion diffusion-weighted MR imaging in normal liver and metastases. Eur Radiol 23:428–434

Leitao HS, Doblas S, D'Assignies G et al (2013) Fat deposition decreases diffusion parameters at MRI: a study in phantoms and patients with liver steatosis. Eur Radiol 23:461–467

Guiu B, Petit JM, Capitan V et al (2012) Intravoxel incoherent motion diffusion-weighted imaging in nonalcoholic fatty liver disease: A 3.0-T MR study. Radiology 265:96–103

Lee JT, Liau J, Murphy P, Schroeder ME, Sirlin CB, Bydder M (2012) Cross-sectional investigation of correlation between hepatic steatosis and IVIM perfusion on MR imaging. Magn Reson Imaging 30:572–578

Dijkstra H, Baron P, Kappert P, Oudkerk M, Sijens PE (2012) Effects of microperfusion in hepatic diffusion weighted imaging. Eur Radiol 22:891–899

Lewin M, Arrive L, Lacombe C et al (2010) Diffusion-weighted MR imaging of liver pathology: Principles and clinical applications. J Radiol 91:11–26

Luciani A, Vignaud A, Cavet M et al (2008) Liver cirrhosis: intravoxel incoherent motion MR imaging–pilot study. Radiology 249:891–899

Patel J, Sigmund EE, Rusinek H, Oei M, Babb JS, Taouli B (2010) Diagnosis of cirrhosis with intravoxel incoherent motion diffusion MRI and dynamic contrast-enhanced MRI alone and in combination: preliminary experience. J Magn Reson Imaging 31:589–600

Bruix J, Sherman M (2011) Management of hepatocellular carcinoma: An update. Hepatology 53:1020–1022

Steudel A, Träber F, Reiser M (1993) Hepatic tumors: relaxometry and quantitative tissue characterization with magnetic resonance imaging. Frontiers Eur Radiol 9:45–61

Stanisz GJ, Odrobina EE, Pun J et al (2005) T1, T2 relaxation and magnetization transfer in tissue at 3T. Magn Reson Med 54:507–512

Lewin M, Fartoux L, Vignaud A, Arrive L, Menu Y, Rosmorduc O (2011) The diffusion-weighted imaging perfusion fraction f is a potential marker of sorafenib treatment in advanced hepatocellular carcinoma: A pilot study. Eur Radiol 21:281–290

Lemke A, Stieltjes B, Schad LR, Laun FB (2011) Toward an optimal distribution of b values for intravoxel incoherent motion imaging. Magn Reson Imaging 29:766–776

Cho GY, Kim S, Jensen JH, Storey P, Sodickson DK, Sigmund EE (2012) A versatile flow phantom for intravoxel incoherent motion MRI. Magn Reson Med 67:1710–1720

Koh DM, Blackledge M, Collins DJ et al (2009) Reproducibility and changes in the apparent diffusion coefficients of solid tumours treated with combretastatin A4 phosphate and bevacizumab in a two-centre phase I clinical trial. Eur Radiol 19:2728–2738

Coenegrachts K, Delanote J, Ter BL et al (2009) Evaluation of true diffusion, perfusion factor, and apparent diffusion coefficient in non-necrotic liver metastases and uncomplicated liver hemangiomas using black-blood echo planar imaging. Eur J Radiol 69:131–138

Schraml C, Schwenzer NF, Martirosian P et al (2009) Diffusion-weighted MRI of advanced hepatocellular carcinoma during sorafenib treatment: initial results. AJR Am J Roentgenol 193:W301–W307

Bruegel M, Holzapfel K, Gaa J et al (2008) Characterization of focal liver lesions by ADC measurements using a respiratory triggered diffusion-weighted single-shot echo-planar MR imaging technique. Eur Radiol 18:477–485

Moteki T, Horikoshi H (2006) Evaluation of hepatic lesions and hepatic parenchyma using diffusion-weighted echo-planar MR with three values of gradient b-factor. J Magn Reson Imaging 24:637–645

Aoyagi T, Shuto K, Okazumi S et al (2012) Apparent diffusion coefficient correlation with oesophageal tumour stroma and angiogenesis. Eur Radiol 22:1172–1177

Le Bihan D, Turner R (1992) The capillary network: A link between IVIM and classical perfusion. Magn Reson Med 27:171–178

Duong TQ, Kim SG (2000) In vivo MR measurements of regional arterial and venous blood volume fractions in intact rat brain. Magn Reson Med 43:393–402

Coenegrachts K (2009) Magnetic resonance imaging of the liver: New imaging strategies for evaluating focal liver lesions. World J Radiol 1:72–85

Ichikawa T, Haradome H, Hachiya J, Nitatori T, Araki T (1998) Diffusion-weighted MR imaging with a single-shot echoplanar sequence: Detection and characterization of focal hepatic lesions. AJR Am J Roentgenol 170:397–402

Xing D, Papadakis NG, Huang CL, Lee VM, Carpenter TA, Hall LD (1997) Optimised diffusion-weighting for measurement of apparent diffusion coefficient (ADC) in human brain. Magn Reson Imaging 15:771–784

Lemke A, Laun FB, Simon D, Stieltjes B, Schad LR (2010) An in vivo verification of the intravoxel incoherent motion effect in diffusion-weighted imaging of the abdomen. Magn Reson Med 64:1580–1585

Kartalis N, Loizou L, Edsborg N, Segersvard R, Albiin N (2012) Optimising diffusion-weighted MR imaging for demonstrating pancreatic cancer: A comparison of respiratory-triggered, free-breathing and breath-hold techniques. Eur Radiol 22:2186–2192

Taouli B, Sandberg A, Stemmer A et al (2009) Diffusion-weighted imaging of the liver: Comparison of navigator triggered and breathhold acquisitions. J Magn Reson Imaging 30:561–568

Kwee TC, Takahara T, Niwa T et al (2009) Influence of cardiac motion on diffusion-weighted magnetic resonance imaging of the liver. MAGMA 22:319–325

Nasu K, Kuroki Y, Sekiguchi R, Kazama T, Nakajima H (2006) Measurement of the apparent diffusion coefficient in the liver: Is it a reliable index for hepatic disease diagnosis? Radiat Med 24:438–444

Mürtz P, Flacke S, Träber F, van den Brink JS, Gieseke J, Schild HH (2002) Abdomen: diffusion-weighted MR imaging with pulse-triggered single-shot sequences. Radiology 224:258–264

Hollingsworth KG, Lomas DJ (2006) Influence of perfusion on hepatic MR diffusion measurement. NMR Biomed 19:231–235

Bilgili MY (2012) Reproducibility of apparent diffusion coefficients measurements in diffusion-weighted MRI of the abdomen with different b values. Eur J Radiol 81:2066–2068

Rosenkrantz AB, Oei M, Babb JS, Niver BE, Taouli B (2011) Diffusion-weighted imaging of the abdomen at 3.0 Tesla: Image quality and apparent diffusion coefficient reproducibility compared with 1.5 Tesla. J Magn Reson Imaging 33:128–135

Braithwaite AC, Dale BM, Boll DT, Merkle EM (2009) Short- and midterm reproducibility of apparent diffusion coefficient measurements at 3.0-T diffusion-weighted imaging of the abdomen. Radiology 250:459–465

Kwee TC, Takahara T, Koh DM, Nievelstein RA, Luijten PR (2008) Comparison and reproducibility of ADC measurements in breathhold, respiratory triggered, and free-breathing diffusion-weighted MR imaging of the liver. J Magn Reson Imaging 28:1141–1148

Kim SY, Soo LS, Bumwoo P et al (2012) Reproducibility of measurement of apparent diffusion coefficients of malignant hepatic tumors: Effect of DWI techniques and calculation methods. J Magn Reson Imaging 36:1131–1138

Kim SY, Lee SS, Byun JH et al (2010) Malignant hepatic tumors: short-term reproducibility of apparent diffusion coefficients with breath-hold and respiratory-triggered diffusion-weighted MR imaging. Radiology 255:815–823
About this article
Cite this article
Penner, AH., Sprinkart, A.M., Kukuk, G.M. et al. Intravoxel incoherent motion model-based liver lesion characterisation from three b-value diffusion-weighted MRI. Eur Radiol 23, 2773–2783 (2013). https://doi.org/10.1007/s00330-013-2869-z
Received:

Revised:

Accepted:

Published:

Issue Date:

DOI: https://doi.org/10.1007/s00330-013-2869-z
Keywords
Liver lesion characterisation

IVIM

Diffusion

Perfusion

MRI