Abstract
Objectives
To determine the elasticity characteristics of focal liver lesions (FLLs) by shearwave elastography (SWE).
Methods
We used SWE in 108 patients with 161 FLLs and in the adjacent liver for quantitative and qualitative FLLs stiffness assessment. The Mann–Whitney test was used to assess the difference between the groups of lesions where a P value less than 0.05 was considered significant.
Results
SWE acquisitions failed in 22 nodules (14 %) in 13 patients. For the 139 lesions successfully evaluated, SWE values were (in kPa), for the 3 focal fatty sparings (FFS) 6.6 ± 0.3, for the 10 adenomas 9.4 ± 4.3, for the 22 haemangiomas 13.8 ± −5.5, for the 16 focal nodular hyperplasias (FNHs) 33 ± −14.7, for the 2 scars 53.7 ± 4.7, for the 26 HCCs 14.86 ± 10, for the 53 metastasis 28.8 ± 16, and for the 7 cholangiocarcinomas 56.9 ± 25.6. FNHs had significant differences in stiffness compared with adenomas (P = 0.0002). Fifty percent of the FNHs had a radial pattern of elevated elasticity. A significant difference was also found between HCCs and cholangiocarcinomas elasticity (P = 0.0004).
Conclusions
SWE could be useful in differentiating FNHs and adenomas, or HCCs and cholangiocarcinomas by ultrasound.
Key Points
• Elastography is becoming quite widely used as an adjunct to conventional ultrasound
• Shearwave elastography (SWE) could help differentiate adenomas from fibrous nodular hyperplasia
• SWE could also be helpful in distinguishing between hepatocellular carcinomas and cholangiocarcinomas
• SWE could improve the identify hepatocellular carcinomas in cirrhotic livers
Access options
Buy single article
Instant access to the full article PDF.
US$ 39.95
Tax calculation will be finalised during checkout.
Subscribe to journal
Immediate online access to all issues from 2019. Subscription will auto renew annually.
US$ 119
Tax calculation will be finalised during checkout.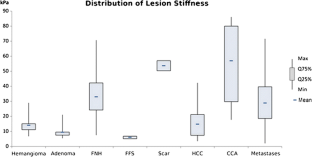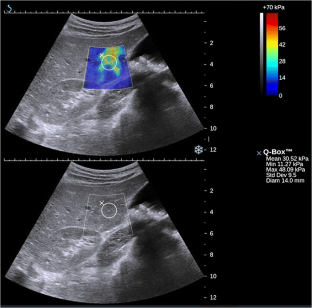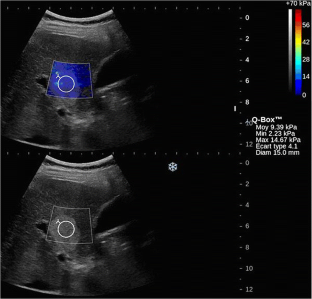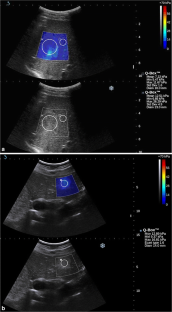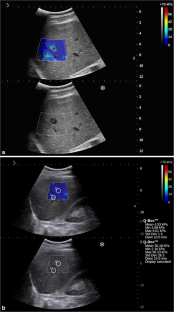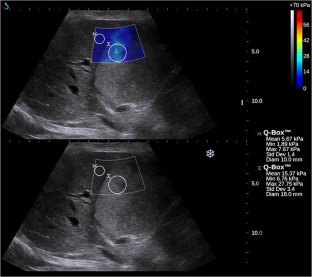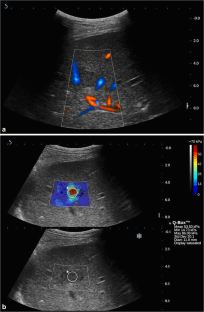 Abbreviations
ARFI:

Acoustic radiation force imaging

CCA:

Cholangiocarcinoma

CEUS:

Contrast-enhanced ultrasound

CECT:

Contrast-enhanced computed tomography

FLL:

Focal liver lesion

FFS:

Focal fatty sparing

FNH:

Focal nodular hyperplasia

HCC:

Hepatocellular carcinoma

CEMRI:

Contrast-enhanced magnetic resonance imaging

SSI:

Supersonic shear imaging

SWE:

Shearwave elastography

TE:

Transient elastography
References
1.

Wernecke K, Rummeny E, Bongartz G et al (1991) Detection of hepatic masses in patients with carcinoma: comparative sensitivities of sonography, CT, and MR imaging. AJR Am J Roentgenol 157:731–739

2.

Celli N, Gaiani S, Piscaglia F et al (2007) Characterization of liver lesions by real-time contrast-enhanced ultrasonography. Eur J Gastroenterol Hepatol 19:3–14

3.

Lindor KD, Bru C, Jorgensen RA et al (1996) The role of ultrasonography and automatic-needle biopsy in outpatient percutaneous liver biopsy. Hepatology 23:1079–1083

4.

Atwell TD, Smith RL, Hesley GK et al (2010) Incidence of bleeding after 15,181 percutaneous biopsies and the role of aspirin. AJR Am J Roentgenol 194:784–789

5.

Yeh WC, Li PC, Jeng YM et al (2002) Elastic modulus measurements of human liver and correlation with pathology. Ultrasound Med Biol 28:467–474

6.

Russo A, Sparacino G, Plaja S et al (1989) Role of intraoperative ultrasound in the screening of liver metastases from colorectal carcinoma: initial experiences. J Surg Oncol 42:249–255

7.

Lyshchik A, Higashi T, Asato R et al (2005) Thyroid gland tumor diagnosis at US elastography. Radiology 237:202–211

8.

Tsutsumi M, Miyagawa T, Matsumura T et al (2007) The impact of real-time tissue elasticity imaging (elastography) on the detection of prostate cancer: clinicopathological analysis. Int J Clin Oncol 12:250–255

9.

Thomas A, Fischer T, Frey H et al (2006) Real-time elastography—an advanced method of ultrasound: first results in 108 patients with breast lesions. Ultrasound Obstet Gynecol 28:335–340

10.

Saftoiu A, Vilman P (2006) Endoscopic ultrasound elastography—a new imaging technique for the visualization of tissue elasticity distribution. J Gastrointestin Liver Dis 15:161–165

11.

Kato K, Sugimoto H, Kanazumi N, Nomoto S, Takeda S, Nakao A (2008) Intra-operative application of real-time tissue elastography for the diagnosis of liver tumours. Liver Int 28:1264–1271

12.

Foucher J, Chanteloup E, Vergniol J et al (2006) Diagnosis of cirrhosis by transient elastography (FibroScan): a prospective study. Gut 55:403–408

13.

Masuzaki R, Tateishi R, Yoshida H et al (2007) Assessing liver tumor stiffness by transient elastography. Hepatol Int 1:394–397

14.

Heide R, Strobel D, Bernatik T, Goertz RS (2010) Characterization of focal liver lesions (FLL) with acoustic radiation force impulse (ARFI) elastometry. Ultraschall Med 31:405–409

15.

Yu H, Wilson SR (2011) Differentiation of benign from malignant liver masses with Acoustic Radiation Force Impulse technique. Ultrasound Q 27:217–223

16.

Gallotti A, D'Onofrio M, Romanini L, Cantisani V, Pozzi Mucelli R (2012) Acoustic Radiation Force Impulse (ARFI) ultrasound imaging of solid focal liver lesions. Eur J Radiol 81:451–455

17.

Cho SH, Lee JY, Han JK, Choi BI (2010) Acoustic radiation force impulse elastography for the evaluation of focal solid hepatic lesions: preliminary findings. Ultrasound Med Biol 36:202–208

18.

Davies G, Koenen M (2011) Acoustic radiation force impulse elastography in distinguishing hepatic haemangiomata from metastases: preliminary observations. Br J Radiol 84:939–943

19.

Fahey BJ, Nelson RC, Bradway DP, Hsu SJ, Dumont DM, Trahey GE (2008) In vivo visualization of abdominal malignancies with acoustic radiation force elastography. Phys Med Biol 53:279–293

20.

Ying L, Lin X, Xie ZL, Tang FY, Hu YP, Shi KQ (2012) Clinical utility of acoustic radiation force impulse imaging for identification of malignant liver lesions: a meta-analysis. Eur Radiol. doi: 10.1007/s00330-012-2540-0

21.

Cosgrove DO, Berg WA, Dore CJ et al (2012) Shear wave elastography for breast masses is highly reproducible. Eur Radiol 22:1023–1032

22.

Berg WA, Cosgrove DO, Dore CJ et al (2012) Shear-wave elastography improves the specificity of breast US: the BE1 multinational study of 939 masses. Radiology 262:435–449

23.

Ferraioli G, Tinelli C, Zicchetti M et al (2012) Reproducibility of real-time shear wave elastography in the evaluation of liver elasticity. Eur J Radiol 81:3102–3106

24.

Bruix J, Sherman M (2005) Management of hepatocellular carcinoma. Hepatology 42:1208–1236

25.

Bartolozzi C, Battaglia V, Bozzi E (2011) Hepatocellular nodules in liver cirrhosis: contrast-enhanced MR. Abdom Imaging 36:290–299

26.

Garteiser P, Doblas S, Daire JL et al (2012) MR elastography of liver tumours: value of viscoelastic properties for tumour characterisation. Eur Radiol 22:2169–2177

27.

Bercoff J, Tanter M, Fink M (2004) Supersonic shear imaging: a new technique for soft tissue elasticity mapping. IEEE Trans Ultrason Ferroelectr Freq Control 51:396–409

28.

Buetow PC, Pantongrag-Brown L, Buck JL, Ros PR, Goodman ZD (1996) Focal nodular hyperplasia of the liver: radiologic-pathologic correlation. Radiographics 16:369–388

29.

Hoyt K, Warram JM (2009) Quantitative elasticity measurements reveal intratumoral changes in response to antiangiogenic therapy—preliminary results. Proceedings of the 2009 IEEE Ultrasonics Symposium, Rome, pp 1443–1446

30.

Sirica AE, Campbell DJ, Dumur CI (2011) Cancer-associated fibroblasts in intrahepatic cholangiocarcinoma. Curr Opin Gastroenterol 27:276–284

31.

Okamoto K, Tajima H, Ohta T et al (2010) Angiotensin II induces tumor progression and fibrosis in intrahepatic cholangiocarcinoma through an interaction with hepatic stellate cells. Int J Oncol 37:1251–1259

32.

Vilana R, Forner A, Bianchi L et al (2009) Intrahepatic peripheral cholangiocarcinoma in cirrhosis patients may display a vascular pattern similar to hepatocellular carcinoma on contrast-enhanced ultrasound. Hepatology 51:2020–2029

33.

Ariizumi S, Kotera Y, Takahashi Y et al (2011) Mass-forming intrahepatic cholangiocarcinoma with marked enhancement on arterial-phase computed tomography reflects favorable surgical outcomes. J Surg Oncol 104:130–139

34.

Padera TP, Stoll BR, Tooredman JB, Capen D, di Tomaso E, Jain RK (2004) Pathology: cancer cells compress intratumour vessels. Nature 427:695

35.

Paszek MJ, Weaver VM (2004) The tension mounts: mechanics meets morphogenesis and malignancy. J Mammary Gland Biol Neoplasia 9:325–342

36.

Wu J, Long Q, Xu S, Padhani AR (2009) Study of tumor blood perfusion and its variation due to vascular normalization by anti-angiogenic therapy based on 3D angiogenic microvasculature. J Biomech 42:712–721
Acknowledgements
We thank Matthew Brucce, Assistant Director of Ultrasound at Supersonic Imagine for remarks on shearwave elastography technology. The authors thank the Professor David Cosgrove for his help during the writing of this article.
About this article
Cite this article
Guibal, A., Boularan, C., Bruce, M. et al. Evaluation of shearwave elastography for the characterisation of focal liver lesions on ultrasound. Eur Radiol 23, 1138–1149 (2013). https://doi.org/10.1007/s00330-012-2692-y
Received:

Revised:

Accepted:

Published:

Issue Date:
Keywords
Elastography

Focal liver lesion

Shearwave elastography

Stiffness

Ultrasound