Abstract
Purpose
To update the guidelines of the Contrast Media Safety Committee (CMSC) of the European Society of Urogenital Radiology (ESUR) on nephrogenic systemic fibrosis and gadolinium-based contrast media.
Areas covered
Topics reviewed include the history, clinical features and prevalence of nephrogenic systemic fibrosis and the current understanding of its pathophysiology. The risk factors for NSF are discussed and prophylactic measures are recommended. The stability of the different gadolinium-based contrast media and the potential long-term effects of gadolinium in the body have also been reviewed.
Key Points
• Clinical features, risk factors and prevention of nephrogenic systemic fibrosis are reviewed
• Patients with GFR below 30 ml/min/1.73 m 2 have increased risk of developing NSF
• Low stability gadolinium contrast media show the strongest association with NSF
• Following guidelines regarding gadolinium contrast agents minimises the risk of NSF
• Potential long-term harm from gadolinium accumulation in the body is discussed
Access options
Buy single article
Instant access to the full article PDF.
US$ 39.95
Tax calculation will be finalised during checkout.
Subscribe to journal
Immediate online access to all issues from 2019. Subscription will auto renew annually.
US$ 119
Tax calculation will be finalised during checkout.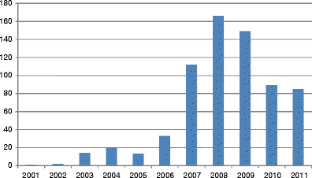 References
1.

Thomsen HS (2007) ESUR guideline: gadolinium-based contrast media and nephrogenic systemic fibrosis. Eur Radiol 17:2692–2696

2.

Stacul F, van der Molen AJ, Reimer P, Webb JAW, Thomsen HS, Morcos SK, Almén T, Aspelin P, Bellin M-F, Clement O, Heinz-Peer G; Contrast Media Safety Committee of the European Society of Urogenital Radiology (ESUR) (2011) Contrast induced nephropathy: updated ESUR Contrast Media Safety Committee guidelines. Eur Radiol 21:2527–2541

3.

Prince MR, Arnoldus C, Frisoli JK (1996) Nephrotoxicity of high-dose gadolinium compared with iodinated contrast. JMRI 1:162–166

4.

Thomsen HS, Almén T, Morcos SK; Contrast Media Safety Committee of the European Society of Urogenital Radiology (2002) Gadolinium-containing contrast media for radiographic examinations: a position paper. Eur Radiol 12:2600–2605

5.

Gemmette JJ, Forauer AR, Kazanijan S, Dasika N, Williams DM, Cho K (2001) Safety of large volume gadolinium angiography. J Vasc Interv Radiol 12(Part 2):S28

6.

Cowper SE, Robin HS, Steinberg SM et al (2000) Scleromyxoedema-like cutaneous disease in renal dialysis patients. Lancet 356:1000–1001

7.

Grobner T (2006) Gadolinium: a specific trigger for the development of nephrogenic fibrosing dermopathy and nephrogenic systemic fibrosis. Nephrol Dial Transplant 21:1104–1108

8.

Marckmann P, Skov L, Rossen K et al (2006) Nephrogenic systemic fibrosis: suspected causative role of gadodiamide used for contrast-enhanced magnetic resonance imaging. J Am Soc Nephrol 17:2359–2362

9.

Thomsen HS, Marckmann P (2008) Extracellular Gd-CM: Differences in prevalence of NSF. Eur J Radiol 66:180–183

10.

Thomsen HS (2009) Delayed reactions: nephrogenic systemic fibrosis. In: Thomsen HS, Webb JAW (eds) Contrast media: safety issues and ESUR guidelines, 2nd edn. Springer, Heidelberg, pp 187–196

11.

Thomsen HS (2009) Nephrogenic systemic fibrosis: history and epidemiology. Radiol Clin N Am 47:827–831

12.

Broome DR (2008) Nephrogenic systemic fibrosis associated with gadolinium based contrast agents: a summary of the medical literature reporting. Eur J Radiol 66:230–234

13.

Idée J-M, Port M, Dencausse A, Lancelot E, Corot C (2009) Involvement of gadolinium chelates in the mechanism of nephrogenic systemic fibrosis: an update. Radiol Clin N Am 47:855–869

14.

Evans CH (1990) The occurrence and metabolism of lanthanides. In: Biochemistry of the lanthanides. Plenum Press, New York, pp 285–337

15.

Palasz A, Czekaj P (2000) Toxicological and cytophysiological aspects of lanthanides action. Acta Biochim Pol 47:1107–1114

16.

Adding LC, Bannenberg GL, Gustafsson LE (2001) Basic experimental studies and clinical aspects of gadolinium salts and chelates. Cardiovasc Drug Rev 19:41–56

17.

Korolenko TA, Dergunova MA, Alekseenko TV et al (2006) Intralysosomal accumulation of gadolinium and lysosomal damage during selective depression of liver macrophages in vivo. Bull Exp Biol Med 142:391–394

18.

Spencer AJ, Wilson SA, Batchelor J et al (1997) Gadolinium chloride toxicity in the rat. Toxicol Pathol 25:245–255

19.

De Haën C (2001) Conception of the first magnetic resonance imaging contrast agents; a brief history. Top Magn Reson Imaging 12:221–2230

20.

Thomsen HS, Dawson P, Tweedle MF (2012) MR and CT contrast agents for perfusion imaging and regulatory issues. In: Bammer R (ed) MR & CT perfusion imaging: clinical applications and theoretical principles. Lippincott Williams & Wilkins, Philadelphia (in press)

21.

Morcos SK (2009) Chelates and stability. In Thomsen HS, Webb JAW (eds) Contrast media: safety issues and ESUR guidelines, 2nd edn. Springer, Heidelberg, pp 155-160

22.

Tweedle MF, Wedeking P, Kumar K (1995) Biodistribution of radiolabeled formulated gadopentetate, gadoteridol, gadoterate and gadodiamide in mice and rats. Invest Radiol 30:372–380

23.

Pietsch H, Lengsfeld P, Jost G, Frenzel T, Hütter J, Sieber MA (2009) Long-term retention of gadolinium in the skin of rodents following the administration of gadolinium-based contrast agents. Eur Radiol 19:1417–1424

24.

Evans CH, Drouven BJ (1983) The promotion of collagen polymerization by lanthanide and calcium ions. Biochem J 213:751–758

25.

Brouven BJ, Evans CK (1986) Collagen fibrillogenesis in the presence of lanthanides. J Biol Chim 261:11792–11797

26.

Brady T, Gore J (1991) Discussion. Presented at SMRM Workshop on Contrast Enhanced Magnetic Resonance, Napa, CA, May 23-25, 1991. Magn Reson Med 22:229–232

27.

Müller N, Günzel P, Schöbel C (1992) Ionic and non-ionic gadolinium-containing magnetic resonance contrast media. Comparison of effects and their reversibility in repeated dose toxicity studies in rats. Adv MRI Contrast 1(Suppl 1):15–28

28.

Edward M, Quinn JA, Mukherjee S et al (2008) Gadodiamide contrast agent 'activates' fibroblasts: a possible cause of nephrogenic systemic fibrosis. J Pathol 214:584–593

29.

Morcos SK (2011) Experimental studies investigating the pathophysiology of nephrogenic systemic fibrosis; what did we learn so far? Eur Radiol 21:496–500

30.

Abu-Alfa AK (2011) Nephrogenic systemic fibrosis and gadolinium-based contrast agents. Adv Chronic Kidney Dis 18:188–198

31.

Thomsen HS (2010) Contrast-enhanced MRI in patients with impaired renal function: recent recommendations to minimize the risk of nephrogenic systemic fibrosis. Solutions Contrast Imaging 1:2–7

32.

Marckmann P, Skov L (2009) Nephrogenic systemic fibrosis: clinical picture and treatment. Radiol Clin N Am 47:833–840

33.

Marckmann P, Skov L, Rossen K et al (2008) Clinical manifestations of gadodiamide-related nephrogenic systemic fibrosis. Clin Nephrol 69:161–168

34.

Giradi M, Kay J, Elston DM, LeBoit PE, Abu-Alfa A, Cowper SE (2011) Nephrogenic systemic fibrosis: clinicopathological definition and workup recommendations. J Am Acad Dermatol 65:1095–1106

35.

Todd DJ, Kagan A, Chibnik LB, Kay J (2007) Cutaneous changes of nephrogenic systemic fibrosis. Predictor of early mortality and association with gadolinium exposure. Arthritis Rheum 56:3433–3441

36.

Qureshi ZP, Bennett CL, Sator OA, Norris LB, Xirasagar A, Thomsen HS (2012) Gadolinium induced nephrogenic systemic fibrosis, the rise and fall of an iatrogenic disease. Clin Kidney J 5:82–88

37.

Rydahl C, Thomsen HS, Marckman P (2008) High prevalence of nephrogenic systemic fibrosis in chronic renal failure patients exposed to gadodiamide, a Gadolinium(Gd)-containing magnetic resonance contrast agent. Invest Radiol 43:141–144

38.

COMMISSION DECISION of 1.7.2010 concerning, in the framework of Article 31 of Directive 2001/83/EC of the European Parliament and of the Council, the marketing authorisations for Gadolinium-containing contrast agents for human use which contain one or more of the active substances "gadodiamide, gadopentetic acid, gadobenic acid, gadoxetic acid, gadoteridol, gadobutrol and gadoteric acid". http://ec.europa.eu/health/documents/community-register/html/refh_others.htm. Accessed December 2011

39.

Food and Drug Administration. Press Release September 9th 2010 http://www.fda.gov/NewsEvents/Newsroom/PressAnnouncements/ucm225286.htm. Accessed October 1st 2010 Accessed December 2011

40.

Wertman R, Altun E, Martin DR et al (2008) Risk of nephrogenic systemic fibrosis: evaluation of gadolinium chelate contrast agents at four American universities. Radiology 248:799–806

41.

Elmholdt TR, Pedersen M, Jorgensen B et al (2011) Nephrogenic systemic fibrosis is found only among gadolinium-exposed patients with renal insufficiency: a case–control study from Denmark. Br J Dermatol 165:828–836

42.

Tsushima Y, Kanal E, Thomsen HS (2010) Nephrogenic systemic fibrosis: risk factors suggested from Japanese published cases. Brit J Radiol 83:590–595

43.

Marckmann P, Skov L, Rossen K, Heaf JG, Thomsen HS (2007) Case–control study of gadodiamide-related nephrogenic systemic fibrosis. Nephrol Dial Transplant 22:3174–3178

44.

National Institute for Health and Clinical Excellence (2008) Early identification and management of Chronic kidney disease in adults in primaty and secondary care. www.nice.org.uk/CG073. Assessed June 17th 2012

45.

Sena BF, Stern JP, Pandharipande PV et al (2010) Screening patients to assess renal function before administering gadolinium chelates: assessment of the Choyke questionnaire. AJR Am J Roentgenol 195:424–428

46.

Maloo M, Abt P, Kashyap R et al (2006) Nephrogenic systemic fibrosis among liver transplant recipients: a single institution experience and topic update. Am J Transplant 6:2212–2217

47.

Chow DS, Bahrami S, Raman SS et al (2011) Risk of nephrogenic systemic fibrosis in liver transplantation patients. AJR Am J Roentgenol 197:658–662

48.

KDOQI Clinical Practice Guidelines for chronic kidney disease (2002) Evaluation, classification and stratification. Am J Kidney Dis 39:S1–S266

49.

Grebe SO, Borrmann M, Altenburg A, Wesselman U, Hein D, Haage P (2008) Chronic inflammation and accelerated atherosclerosis as important cofactors in nephrogenic systemic fibrosis following intravenous gadolinium exposure. Clin Exp Nephrol 12:403–406

50.

Heinz-Peer G, Neruda A, Watschinger B et al (2010) Prevalence of NSF following intravenous gadolinium-contrast media administration in dialysis patients with endstage renal disease. Eur J Radiol 76:12–34

51.

Abraham JL, Thakral C, Skov L et al (2008) Dermal inorganic gadolinium concentrations: evidence for in vivo transmetallation and long-term persistence in nephrogenic systemic fibrosis. Brit J Dermatol 158:273–280

52.

Sieber MA, Lengsfeld P, Frenzel T et al (2008) Preclinical investigation to compare different gadolinium-based contrast agents regarding their propensity to release gadolinium in vivo and to trigger nephrogenic systemic fibrosis-like lesions. Eur Radiol 18:2164–2173

53.

Wadas TJ, Sherman CD, Miner JH et al (2010) The biodistribution of [153Gd]Gd-labeled magnetic resonance contrast agents in a transgenic mouse model of renal failure differs greatly from control mice. Magn Reson Med 64:1274–1280

54.

White GW, Gibby WA, Tweedle MF (2006) Comparison of Gd (DTPA-BMA) (Omniscan) versus Gd(HP-DO3A) (ProHance) relative to gadolinium retention in human bone tissue by inductively coupled plasma mass spectroscopy. Invest Radiol 41:272–278

55.

Webb JAW (2009) Pregnancy and lactation. In: Thomsen HS, Webb JAW (eds) Contrast media: safety issues and ESUR Guidelines, 2nd edn. Springer, Heidelberg, pp 95–102

56.

American College of Radiology. Manual of Contrast Media Version 7 2010 http://www.acr.org/SecondaryMainMenuCategories/quality_safety/contrast_manual/NephrogenicSystemicFibrosis.aspx. Accessed December 2011

57.

Morcos SK, Thomsen HS, Webb JAW; Contrast Media Safety Committee of the European Society of Urogenital Radiology (ESUR) (2007) Dialysis and contrast media. Eur Radiol 12:3026–3030

58.

Thomsen HS (2008) Is NSF only the tip of the "gadolinium toxicity" iceberg? J Magn Reson Imaging 28:284–286

59.

Lind Ramskov K, Thomsen HS (2009) Nephrogenic systemic fibrosis and contrast medium-induced nephropathy: a choice between the devil and the deep blue sea for patients with reduced renal function? Acta Radiol 50:965–967

60.

Martin DR, Semelka RC, Chapman A et al (2009) Nephrogenic systemic fibrosis versus contrast-induced nephropathy: risks and benefits of contrast-enhanced MR and CT renally impaired patients. J Magn Reson Imaging 30:1350–1356
Acknowledgements
Members of the Committee: H.S. Thomsen (Chairman, University of Copenhagen, Denmark), F. Stacul (Secretary, University of Trieste, Italy), T. Almén (University of Lund, Sweden), M.-F. Bellin (University of Paris, France), Michele Bertolotto (University of Trieste, Italy), G. Bongartz (University of Basle, Switzerland), O. Clement (University of Paris, France), G. Heinz-Peer (University of Vienna, Austria), Peter Leander (University of Lund, Sweden), S.K. Morcos (University of Sheffield, United Kingdom), P. Reimer (University of Freiburg, Germany), A. van der Molen (University of Leiden, the Netherlands), J.A.W. Webb (St. Bartholomew's Hospital, United Kingdom). Consultants to the Committee: Eric Lancelot (Guerbet, France), P. Lengsfeld (Bayer Pharma, Germany), A. Spinazzi (Bracco, Italy). ESUR: www.esur.org
About this article
Cite this article
Thomsen, H.S., Morcos, S.K., Almén, T. et al. Nephrogenic systemic fibrosis and gadolinium-based contrast media: updated ESUR Contrast Medium Safety Committee guidelines. Eur Radiol 23, 307–318 (2013). https://doi.org/10.1007/s00330-012-2597-9
Received:

Revised:

Accepted:

Published:

Issue Date:
Keywords
Nephrogenic systemic fibrosis

Contrast media

Gadolinium

Renal insufficiency