Abstract
Objectives
To evaluate the features of stent gap (SG) and the long-term impact of SG on in-stent restenosis (ISR) in patent stents.
Methods
A total of 347 consecutive patients with 781 stents who underwent MDCT were assessed for SG and ISR. Clinical and stent features were compared between the SG and non-SG groups. In the follow-up study, among 82 patients with 175 patent stents [26 assessed by conventional coronary angiography (CCA) including 6 contacted in a telephone survey, 46 assessed by computed tomography angiography (CTA) and 10 by both], the incidence of ISR was compared between stents with and without SG.
Results
Three patients and 13 stents were excluded. SG was observed in 12.5% of patients and 8.6% of stents. ISR detected by CTA was noted in 21.2% of SG, and SG accounted for 23.7% of ISR. Stent number, length, location, overlapping pattern, tortuosity and in-out angle were predisposing factors for SG. During a mean follow-up period of 15 months after detection of SG, the incidence of ISR was significantly higher in the SG group than in the non-SG group (43.8/14.9% by CCA, 33.3/10.1% by CTA and CCA).
Conclusion
Patent stents with SG detected by CTA had a higher incidence of late restenosis, indicating that long-term follow-up or further intervention is necessary.
Key Points
• Coronary artery computed tomographic angiography (CTA) is increasingly used following coronary intervention.
• Gaps within coronary stents detected by CTA correlate with in-stent restenosis.
• Patients with stent gaps have more late restenosis at follow-up.
• More attention should be given to patients with stent gaps.
Access options
Buy single article
Instant access to the full article PDF.
USD 39.95
Price excludes VAT (USA)
Tax calculation will be finalised during checkout.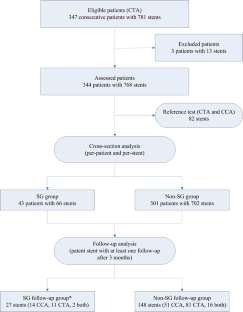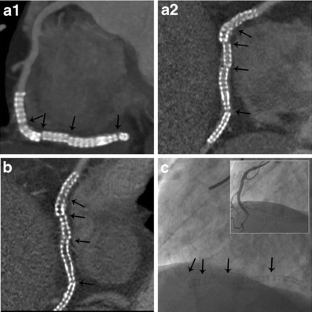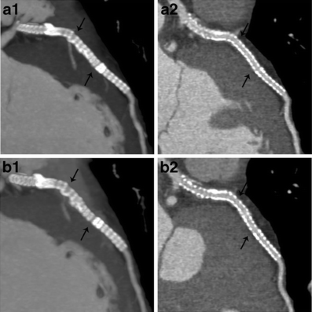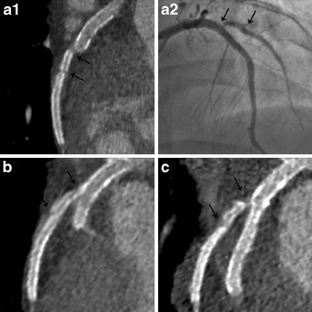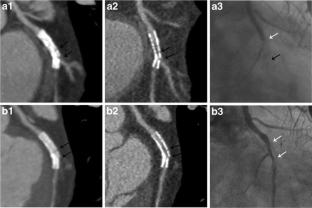 Abbreviations
SF:

Stent fracture

SG:

Stent gap

CTA:

Computed tomography angiography

CCA:

Conventional coronary angiography

ISR:

In-stent restenosis

SES:

Sirolimus-eluting stent

MDCT:

Multi-detector computed tomography

MIP:

Maximum intensity projection

MPR:

Multi-planar reconstruction

CPR:

Curved-planar reconstruction
References
Lee SH, Park JS, Shin DG et al (2007) Frequency of stent fracture as a cause of coronary restenosis after sirolimus-eluting stent implantation. Am J Cardiol 100:627–630

Lee MS, Jurewitz D, Aragon J, Forrester J, Makkar RR, Kar S (2007) Stent fracture associated with drug-eluting stents: clinical characteristics and implications. Catheter Cardiovasc Interv 69:387–394

Shaikh F, Maddikunta R, Djelmami-Hani M, Solis J, Allaqaband S, Bajwa T (2008) Stent fracture, an incidental finding or a significant marker of clinical in-stent restenosis? Catheter Cardiovasc Interv 71:614–618

Kim JS, Lee SY, Lee JM et al (2009) Significant association of coronary stent fracture with in-stent restenosis in sirolimus-eluting stents. Coron Artery Dis 20:59–63

Kim HS, Kim YH, Lee SW et al (2009) Incidence and predictors of drug-eluting stent fractures in long coronary disease. Int J Cardiol 133:354–358

Nakazawa G, Finn AV, Vorpahl M et al (2009) Incidence and predictors of drug-eluting stent fracture in human coronary artery—a pathologic analysis. J Am Coll Cardiol 54:1924–1931

Lim HB, Hur G, Kim SY et al (2008) Coronary stent fracture: detection with 64-section multidetector CT angiography in patients and in vitro. Radiology 249:810–819

Park KW, Park JJ, Chae IH et al (2011) Clinical characteristics of coronary drug-eluting stent fracture: insights from a two-center des registry. J Korean Med Sci 26:53–58

Park SM, Kim JY, Hong BK et al (2011) Predictors of stent fracture in patients treated with closed-cell design stents: sirolimus-eluting stent and its bare-metal counterpart, the BX velocity stent. Coron Artery Dis 22:40–44

Aoki J, Nakazawa G, Tanabe K et al (2007) Incidence and clinical impact of coronary stent fracture after sirolimus-eluting stent implantation. Catheter Cardiovasc Interv 69:380–386. doi:10.1002/ccd.20950

Ino Y, Toyoda Y, Tanaka A et al (2010) Serial angiographic findings and prognosis of stent fracture site without early restenosis after sirolimus-eluting stent implantation. Am Heart J 160:e771–e779

Kim U, Kim DI, Kim DK et al (2011) Long-term clinical and angiographic outcomes of patients with sirolimus-eluting stent fracture. Int J Cardiol. doi:10.1016/j.ijcard.2011.01.013

Serikawa T, Kawasaki T, Koga H et al (2011) Late catch-up phenomenon associated with stent fracture after sirolimus-eluting stent implantation: incidence and outcome. J Interv Cardiol 24:165–171

Hecht HS, Polena S, Jelnin V et al (2009) Stent gap by 64-detector computed tomographic angiography relationship to in-stent restenosis, fracture, and overlap failure. J Am Coll Cardiol 54:1949–1959

Pang JH, Kim D, Beohar N, Meyers SN, Lloyd-Jones D, Yaghmai V (2009) Detection of stent fractures: a comparison of 64-slice CT, conventional cine-angiography, and intravascular ultrasonography. Acad Radiol 16:412–417

Freed MS, Safian RD (2001) Proximal vessel tortuosity and angulated lesions. In: Safian RD, Freed MS (eds) Manual of interventional cardiology, 3rd edn. Physicians's Press, Royal Oak, MI, pp 237–243

McCollough C, Cody D, Edyvean S, Geise R (2008) The measurement, reporting, and management of radiation dose in CT. Report of AAPM Task Group 23 of the Diagnostic Imaging Council CT Committee. American Association of Physicists in Medicine, College Park, MD

Ino Y, Toyoda Y, Tanaka A et al (2009) Predictors and prognosis of stent fracture after sirolimus-eluting stent implantation. Circ J 73:2036–2041

Oncel D, Oncel G, Tastan A, Tamci B (2008) Evaluation of coronary stent patency and in-stent restenosis with dual-source CT coronary angiography without heart rate control. AJR Am J Roentgenol 191:56–63

Pugliese F, Weustink AC, Van Mieghem C et al (2008) Dual source coronary computed tomography angiography for detecting in-stent restenosis. Heart 94:848–854

Pflederer T, Marwan M, Renz A et al (2009) Noninvasive assessment of coronary in-stent restenosis by dual-source computed tomography. Am J Cardiol 103:812–817

Okumura M, Ozaki Y, Ishii J et al (2007) Restenosis and stent fracture following sirolimus-eluting stent (SES) implantation. Circ J 71:1669–1677

Lee SE, Jeong MH, Kim IS et al (2009) Clinical outcomes and optimal treatment for stent fracture after drug-eluting stent implantation. J Cardiol 53:422–428
Acknowledgements
The authors would like to thank Dr. Chen, Jiuhong, CT Research Collaboration, Healthcare Sector, Siemens Ltd., China, for her assistance with editing. This research was funded by National Key Technology R&D Program of SPRECA-MDCT. The contract grant number is 2007BAI05B02.
About this article
Cite this article
Zhang, X., Yang, L., Ju, H. et al. Prevalence and prognosis of coronary stent gap detected by multi-detector CT: a follow-up study. Eur Radiol 22, 1896–1903 (2012). https://doi.org/10.1007/s00330-012-2458-6
Received:

Revised:

Accepted:

Published:

Issue Date:

DOI: https://doi.org/10.1007/s00330-012-2458-6
Keywords
X-ray computed tomography

Stent

Coronary restenosis

Prognosis

Coronary angiography