Abstract
Objective
The aim of this pilot study was to test and demonstrate the feasibility of simultaneous positron emission tomography (PET) and magnetic resonance imaging (MRI) of the head and upper neck area using a new hybrid PET/MRI system.
Methods
Eight patients with malignant head and neck tumours were included in the pilot study. Directly after routine PET/CT imaging with a whole-body system using the glucose derivative 2-[18F]fluoro-2deoxy-D-glucose (FDG) as a radiotracer additional measurements were performed with a prototype PET/MRI system for simultaneous PET and MR imaging. Physiological radiotracer uptake within regular anatomical structures as well as tumour uptake were evaluated visually and semiquantitatively (metabolic ratios) in relation to cerebellar uptake on the PET/MRI and PET/CT systems.
Results
The MR datasets showed excellent image quality without any recognisable artefacts caused by the inserted PET system. PET images obtained with the PET/MRI system exhibited better detailed resolution and greater image contrast in comparison to those from the PET/CT system. An excellent agreement between metabolic ratios obtained with both PET systems was found: R = 0.99 for structures with physiological tracer uptake, R = 0.96 for tumours.
Conclusion
Simultaneous PET/MRI of the head and upper neck area is feasible with the new hybrid PET/MRI prototype.
This is a preview of subscription content,
to check access.
Access this article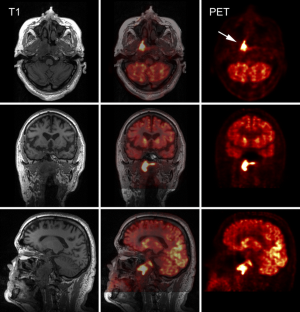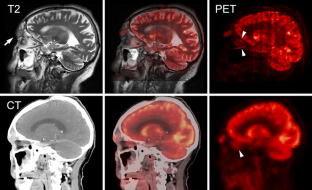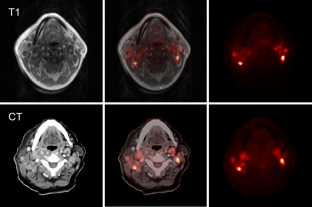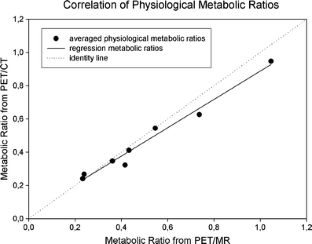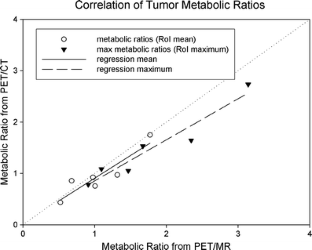 References
Guntinas-Lichius O, Wendt T, Buentzel J, Esser D, Lochner P, Mueller A, Schultze-Mosgau S, Altendorf-Hofmann A (2010) Head and neck cancer in Germany: a site-specific analysis of survival of the Thuringian cancer registration database. J Cancer Res Clin Oncol 136:55–63

Gardner M, Halimi P, Valinta D, Plantet MM, Alberini JL, Wartski M, Banal A, Hans S, Floiras JL, Housset M, Labib A (2009) Use of single MRI and 18 F-FDG PET-CT scans in both diagnosis and radiotherapy treatment planning in patients with head and neck cancer: advantage on target volume and critical organ delineation. Head Neck 31:461–467

Goerres GW, Mosna-Firlejczyk K, Steurer J, von Schulthess GK, Bachmann LM (2003) Assessment of clinical utility of 18F-FDG PET in patients with head and neck cancer: a probability analysis. Eur J Nucl Med Mol Imaging 30:562–571

Bruschini P, Giorgetti A, Bruschini L, Nacci A, Volterrani D, Cosottini M, Ursino F, Mariani G, Fattori B (2003) Positron emission tomography (PET) in the staging of the head neck cancer: comparison between PET and CT. Acta Otorhinolaryngol Ital 23:446–453

Comoretto M, Balestreri L, Borsatti E, Cimitan M, Franchin G, Lise M (2008) Detection and restaging of residual and/or recurrent nasopharyngeal carcinoma after chemotherapy and radiation therapy: comparison of MR imaging and FDG PET/CT. Radiology 249:203–11

Anzai Y, Carroll WR, Quint DJ, Bradford CR, Minoshima S, Wolf GT, Wahl RL (1996) Recurrence of head and neck cancer after surgery or irradiation: prospective comparison of 2-deoxy-2- [F-18] fluoro-D-glucose PET and MR imaging diagnoses. Radiology 200:135–141

Judenhofer MS, Wehrl HF, Newport DF, Catana C, Siegel SB, Becker M, Thielscher A, Kneilling M, Lichy MP, Eichner M, Klingel K, Reischl G, Widmaier S, Röcken M, Nutt RE, Machulla HJ, Uludag K, Cherry SR, Claussen CD, Pichler BJ (2008) Simultaneous PET-MRI: a new approach for functional and morphological imaging. Nat Med 14:459–465

Schlemmer HP, Pichler BJ, Schmand M, Burbar Z, Michel C, Ladebeck R, Jattke K, Townsend D, Nahmias C, Jacob PK, Heiss WD, Claussen CD (2008) Simultaneous MR/PET imaging of the human brain: feasibility study. Radiology 248:1028–1035

Brambilla M, Secco C, Dominietto M, Matheoud R, Sacchetti G, Inglese E (2005) Performance characteristics obtained for a new 3-dimensional lutetium oxyorthosilicate-based whole-body PET/CT scanner with the National Electrical Manufacturers Association NU 2-2001 standard. J Nucl Med 46:2083–2091

Comtat C, Bataille F, Michel C, Jones JP, Sibomana M, Janeiro L, Trebossen R (2004) OSEM-3D reconstruction strategies for the ECAT HRRT. In: Conference Record of the 2004 Institute of Electrical and Electronics Engineers (IEEE) Nuclear Science Symposium and Medical Imaging Conference. Piscataway, NJ: IEEE 3492–3496

Hofmann M, Steinke F, Scheel V, Charpiat G, Farquhar J, Aschoff P, Brady M, Schölkopf B, Pichler BJ (2008) MRI-based attenuation correction for PET/MRI: a novel approach combining pattern recognition and atlas registration. J Nucl Med 49:1875–1883

Jabour BA, Choi Y, Hoh CK, Rege SD, Soong JC, Lufkin RB, Hanafee WN, Maddahi J, Chaiken L, Bailet J et al (1993) Extracranial head and neck: PET imaging with 2-[F-18]fluoro-2-deoxy-D-glucose and MR imaging correlation. Radiology 186:27–35

Rege SD, Chaiken L, Hoh CK, Choi Y, Lufkin R, Anzai Y, Juillard G, Maddahi J, Phelps ME, Hawkins RA (1993) Change induced by radiation therapy in FDG uptake in normal and malignant structures of the head and neck: quantitation with PET. Radiology 189:807–812
Acknowledgements
We would like to thank the staff of the cyclotron and radiochemistry facilities of Tübingen University and all contributing members of Siemens Healthcare for the continuous support. Furthermore, we acknowledge Heinz-Peter Schlemmer, Thomas Nägele, Roland Bares, Ulrike Ernemann, Martin Heuschmid, Matthias Hofmann, Matthias Reimold and Frédéric Mantlik for their contributions. Financial research support was provided through the "Deutsche Forschungsgemeinschaft" (grants PI771/5-1 and PI771/1-1, and SFB 656 Münster, project C6) as well as through the Swiss Werner Siemens-Foundation. Part of this work was supported by the Herzzentrum Münster e.V. (travel grant to L.S.).
Additional information
Andreas Boss and Lars Stegger equally contributed in the authorship.
About this article
Cite this article
Boss, A., Stegger, L., Bisdas, S. et al. Feasibility of simultaneous PET/MR imaging in the head and upper neck area. Eur Radiol 21, 1439–1446 (2011). https://doi.org/10.1007/s00330-011-2072-z
Received:

Revised:

Accepted:

Published:

Issue Date:

DOI: https://doi.org/10.1007/s00330-011-2072-z
Keywords