Abstract
Objective
To retrospectively compare semi-automated and manual volume measurements of malignant liver tumours and inter- and intra-observer variability using commercially available software.
Methods
This study was performed on 60 consecutive patients with untreated liver metastases (30) and HCCs (30), i.e. 92 lesions (49 metastases, 43 HCCs) using hepatic MDCT. Lesion volumes were manually measured independently by two radiologists and semi-automatically by the same two radiologists and a technician. Those measurements were repeated on 20 patients (10 metastases and 10 HCCs) a week later. An independent operator timed all the measurements. Using the Spearman correlation coefficient and Bland-Altman plots, statistical analyses were performed.
Results
Liver lesion volumes obtained with semi-automated and manual methods were well correlated (Spearman, r = 0.98 and 0.91). Their agreement was high for intra-observer measurements with the semi-automated method (Spearman, r = 0.91 and 0.94). The agreement was lower for inter-observer measurements with both methods (Spearman, r = 0.87 for semi-automated and 0.91 for manual). The semi-automated method significantly reduced the post-processing duration (23s ± 19s vs. 33s ± 11s, p value <0.0001).
Conclusion
In our study, semi-automated volume analysis of malignant liver tumours correlated well with the manual method. Furthermore, the semi-automated volume analysis was significantly quicker.
Access options
Buy single article
Instant access to the full article PDF.
USD 39.95
Price excludes VAT (USA)
Tax calculation will be finalised during checkout.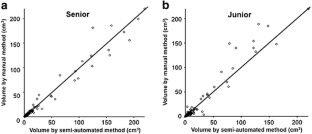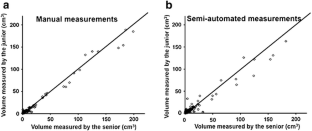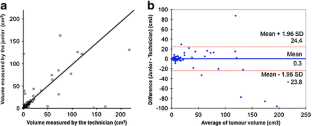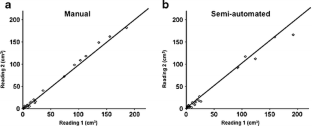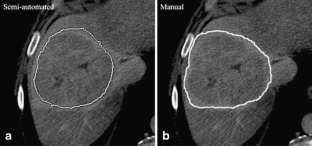 References
Miller AB, Hoogstraten B, Staquet M, Winkler A (1981) Reporting results of cancer treatment. Cancer 47:207–214

James K, Eisenhauer E, Christian M, Terenziani M, Vena D, Muldal A, Therasse P (1999) Measuring response in solid tumors: unidimensional versus bidimensional measurement. J Natl Cancer Inst 91:523–528

Therasse P, Arbuck SG, Eisenhauer EA, Wanders J, Kaplan RS, Rubinstein L, Verweij J, Van Glabbeke M, van Oosterom AT, Christian MC, Gwyther SG (2000) New guidelines to evaluate the response to treatment in solid tumors. European Organization for Research and Treatment of Cancer, National Cancer Institute of the United States, National Cancer Institute of Canada. J Natl Cancer Inst 92:205–216

Eisenhauer E, Therasse P, Bogaerts J, Schwartz L (2009) New response evaluation criteria in solid tumours: revised RECIST guideline (version 1.1). Eur J Cancer 45:228–247

Prasad SR, Jhaveri KS, Saini S, Hahn PF, Halpern EF, Sumner JE (2002) CT tumor measurement for therapeutic response assessment: comparison of unidimensional, bidimensional, and volumetric techniques initial observations. Radiology 225:416–419

Sargenta DJ, Rubinstein L, Schwartz L et al (2009) Validation of novel imaging methodologies for use as cancer clinical trial end-points. Eur J Cancer 45:290–299

Keil S, Bruners P, Ohnsorge L, Plumhans C (2010) Semiautomated versus manual evaluation of liver metastases treated by radiofrequency ablation. J Vasc Interv Radiol 21:245–251

Keil S, Behrendt FF, Stanzel S et al (2008) Semi-automated measurement of hyperdense, hypodense and heterogeneous hepatic metastasis on standard MDCT slices. Comparison of semi-automated and manual measurement of RECIST and WHO criteria. Eur Radiol 18:2456–2465

Bruix J, Sherman M (2005) Practice Guidelines Committee, American Association for the Study of Liver Diseases. Management of hepatocellular carcinoma. Hepatology 42:1208–1236

Erasmus JJ (2003) Interobserver and intraobserver variability in measurement of non-small cell carcinoma lung lesions: implication for assessment of tumor response. J Clin Oncol 21:2574–2582

Wormanns D, Kohl G, Klotz E (2004) Volumetric measurements of pulmonary nodules at multi-row detector CT: in vivo reproducibility. Eur Radiol 14:86–92

Marten K, Auer F, Schmidt S (2006) Inadequacy of manual measurements compared to automated CT volumetry in assessment of treatment response of pulmonary metastases using RECIST criteria. Eur Radiol 16:781–790

Fabel M, von Tengg-Kobligk H, Giesel FL (2008) Semi-automated volumetric analysis of lymph node metastases in patients with malignant melanoma stage III/IV—a feasibility study. Eur Radiol 18:1114–1122

Meier S, Schenk A, Mildenberger P, Bourquain H, Pitton M, Thelen M (2004) Evaluation of a new software tool for the automatic volume calculation of hepatic tumors. First results. Fortschr Röntgenstr 176:234–238
About this article
Cite this article
Dubus, L., Gayet, M., Zappa, M. et al. Comparison of semi-automated and manual methods to measure the volume of liver tumours on MDCT images. Eur Radiol 21, 996–1003 (2011). https://doi.org/10.1007/s00330-010-2013-2
Received:

Revised:

Accepted:

Published:

Issue Date:

DOI: https://doi.org/10.1007/s00330-010-2013-2
Keywords
Liver neoplasms

CT

Tumor

Volumetry

Liver tumor

Tumor response

Semi-automated volumetry