Radiation dose of cardiac computed tomography – what has been achieved and what needs to be done
Abstract
This review highlights the recently introduced techniques by manufacturers and various research workers to reduce radiation dose in coronary CT. It discusses in detail the development of ECG-based tube current modulation, the application of low tube voltage protocols and prospective ECG-gating. It also briefly discusses two further methods of dose reduction, namely minimisation of the x-y anatomical coverage and adaptive statistical iterative reconstruction.
Introduction
In the October issue of European Radiology in 2009, Ertel and colleagues [1] described a spiral computed tomography (CT) technique employing a very high table feed (and pitch) for a fast data acquisition of the heart. The authors performed experiments in three pigs using a first-generation dual-source CT machine equipped with prototype software allowing pitch factors up to 3.0. The high-pitch mode delivered good image quality of the pig hearts, similar to that obtained from a standard spiral low-pitch data acquisition technique. Most importantly, the corresponding effective radiation dose of a high-pitch cardiac CT study in their first experiments was only 2.0 mSv.
In the November issue of European Radiology in 2009, Lell and colleagues [2] could extend these initial results to a first feasibility study employing the high-pitch mode in a series of 25 patients and using a second-generation dual-source CT machine. Data were acquired synchronized to the electrocardiogram (ECG), and starting at 60% of the R-R interval with a pitch of 3.2 or 3.4.
Again, image quality of the heart and coronary arteries using the high-pitch mode was good to excellent, along with a very small rate of segments having a non-diagnostic image quality. Importantly, the average estimated effective radiation dose of the high-pitch mode was 0.88 mSv and 1.0 mSv, depending on the protocol used.
These two studies nicely illustrate the most recent achievement in radiation dose lowering algorithms, enabling a cardiac CT study for the non-invasive evaluation of the coronary arteries with a radiation dose of around (or even below) 1 mSv. Confirmation of these results was published thereafter in a number of studies [3, 4], also demonstrating the high diagnostic performance of the high-pitch mode for coronary imaging when compared to the reference standard modality catheter coronary angiography [5, 6]. In this editorial, we want to briefly summarize and highlight the most amazing achievements that were made over the last few years in regard to the radiation dose of cardiac CT, resulting in a tremendous reduction in radiation exposure to the patients undergoing this non-invasive imaging test.
Summary of radiation dose reducing techniques
The recent years showed an overall increase in the use of CT for imaging of the heart and coronary arteries. For example in the United States, around 2.3 million CT coronary angiography examinations are currently performed annually [7]. The downside of this increased use of the radiation-associated cardiac imaging test is the increase in the collective radiation dose, which might pose a risk to the population [8]. It is obvious that the strategy to lower the overall radiation burden to the population must be twofold: First, the radiation dose of the individual CT study should be lowered to a level that is as low as reasonably achievable; and second, the total number of CT studies must be controlled by strict adherence to common guidelines and recommendations.
With ECG-gated cardiac CT, radiation dose is closely related to the table feet, or pitch value. The pitch for spiral CT coronary angiography studies as e.g. employed with 64-slice CT machines is typically low, ranging from 0.2 to 0.5. This indicates that the table is advanced by less than one detector width during each gantry rotation. Thus, this technique exposes the same anatomic area to X-ray radiation during consecutive rotations of the gantry, which results in a relatively high radiation dose. With retrospectively ECG-gated cardiac single-source 64-slice CT, radiation dose values of up to 21 mSv have been reported for coronary imaging [
9
], while average effective doses of this technique are in the range of 15 mSv [
8
,
10
,
11
,
12
] (Fig. 
1
).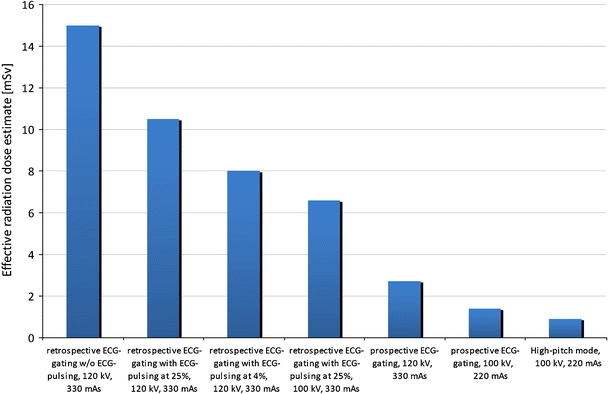 Outlook and conclusion
This brief overview was intended to demonstrate and highlight the many steps that were undertaken in the past years for lowering the radiation exposure to patients undergoing cardiac CT. Employing these techniques, the effective radiation dose of a CT coronary angiography study can be reduced from around 15 to as low as 1 mSv in selected patients. It is important to note that the current effective radiation doses from cardiac CT are at the level or even below those reported for the reference standard modality catheter coronary angiography. In addition, it is also lower than that of a standard chest or abdominal CT study. Thus, the achievements in radiation dose reduction in cardiac CT must be considered tremendous, and similar success stories in radiation dose lowering techniques for CT of other body regions are still be awaited.
Nevertheless, still a number of issues and problems need to be addressed and solved in the near future. Considerable problems continue to be present for the CT imaging of coronary artery stents. While CT stent imaging can be now performed – similar to the imaging of the native coronary arteries – at a low radiation dose, the in-stent visualization still is limited [30, 31], and a routine application of CT for the follow-up of coronary stent patency cannot be recommended so far.
Another important issues is the question on how we will assure that all these radiation dose lowering protocols for cardiac CT are used by the increasingly large radiological community performing cardiac imaging. In parallel, cardiac imagers must strictly adhere to the appropriate indications for cardiac CT. For example, use of this modality in asymptomatic subjects for screening purposes (as part of so-called check-up examinations) should be disallowed. Otherwise, all our efforts to lower the radiation dose of individual CT studies will be thwarted by an increasing total number of imaging tests. When the latter cannot be prevented, the collective radiation dose to the population undergoing X-ray-based cardiac imaging might continue to increase even further.
Copyright information
© European Society of Radiology 2010