Abstract
Objectives
We assessed the additional value of contrast-enhanced CT versus US for evaluation of acute cervical inflammatory masses and choosing treatment strategy.
Methods
We retrospectively reviewed 210 files of paediatric patients admitted with an acute inflammatory neck mass from 2005 to 2008 (M:F = 108:102, mean age 4.5 years). All patients underwent diagnostic ultrasound and Doppler of the neck; CT was performed in 25 patients within 2–72 h. Clinical and radiological findings were correlated, and imaging impact on patient management was assessed.
Results
In the 210 patients, US provided sufficient information in 184 of 185 (99.5%) patients undergoing only US. In one patient with no sonographic evidence of collection, an abscess was drained surgically on the point of fluctuation. Fluid collections were drained in 17 patients based on US findings; inflammatory processes were managed conservatively in 164. CT provided additional information in 4 of 25 patients (16.0%), revealing airways compromise in 2 and collections in 2.
Conclusion
US provided sufficient information about the nature, location, and extent of the inflammatory mass in 97.6% of our patients, suggesting it should be the main, and generally single, imaging technique in these patients. CT should be reserved for patients with an aggravating clinical course and suspicion of deep neck infection or airways compromise.
Access options
Buy single article
Instant access to the full article PDF.
USD 39.95
Price excludes VAT (USA)
Tax calculation will be finalised during checkout.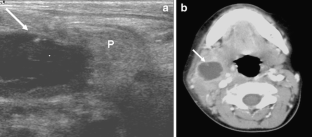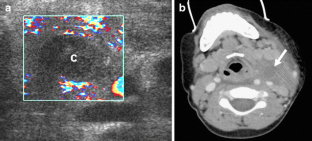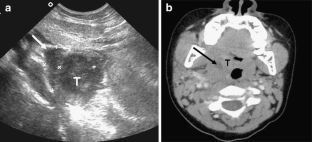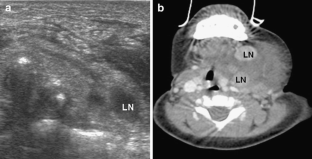 References
Weber AL, Siciliano A (2000) CT and MR imaging evaluation of neck infections with clinical correlations. Radiol Clin North Am 38:941–968, ix

Williams H (2007) Paediatric neck lumps I - inflammatory and neoplastic lesions iIncluding salivary gland abnormalities. Ultrasound 15:124–135

Meuwly JY, Lepori D, Theumann N, Schnyder P, Etechami G, Hohlfeld J, Gudinchet F (2005) Multimodality imaging evaluation of the pediatric neck: techniques and spectrum of findings. Radiographics 25:931–948

Elden LM, Grundfast KM, Vezina G (2001) Accuracy and usefulness of radiographic assessment of cervical neck infections in children. J Otolaryngol 30:82–89

Douglas SA, Jennings S, Owen VM, Elliott S, Parker D (2005) Is ultrasound useful for evaluating paediatric inflammatory neck masses? Clin Otolaryngol 30:526–529

Courtney MJ, Miteff A, Mahadevan M (2007) Management of pediatric lateral neck infections: Does the adage "...never let the sun go down on undrained pus..." hold true? Int J Pediatr Otorhinolaryngol 71:95–100

Quraishi MS, O'Halpin DR, Blayney AW (1997) Ultrasonography in the evaluation of neck abscesses in children. Clin Otolaryngol Allied Sci 22:30–33

Ho EC, McArdle K, Hall A (2006) Is ultrasound useful for evaluating paediatric inflammatory neck masses? Clin Otolaryngol 31:233; author reply 233–234

Turkington JR, Paterson A, Sweeney LE, Thornbury GD (2005) Neck masses in children. Br J Radiol 78:75–85

Vazquez E, Enriquez G, Castellote A, Lucaya J, Creixell S, Aso C, Regas J (1995) US, CT, and MR imaging of neck lesions in children. Radiographics 15:105–122
Acknowledgement
The authors did not receive outside funding for this research. None of the authors has any conflict of interest with a company that produces or distributes a product mentioned herein.
The authors wish to thank Shifra Fraifeld, a research associate in the Department of Radiology, for her editorial assistance in the preparation of this manuscript.
About this article
Cite this article
Rozovsky, K., Hiller, N., Koplewitz, B.Z. et al. Does CT have an additional diagnostic value over ultrasound in the evaluation of acute inflammatory neck masses in children?. Eur Radiol 20, 484–490 (2010). https://doi.org/10.1007/s00330-009-1563-7
Received:

Revised:

Accepted:

Published:

Issue Date:

DOI: https://doi.org/10.1007/s00330-009-1563-7
Keywords
Paediatric

CT

Inflammatory mass

Neck

Ultrasound

Management