Abstract
We compared effective doses for recent computed tomography (CT) examinations calculated based on International Commission on Radiological Protection publication number 103 (ICRP 103) with those calculated based on ICRP publication number 60 (ICRP 60), and considered the usefulness of the effective dose in CT dose evaluation. After placing radiophotoluminescence glass dosimeters (RPLDs) inside or outside an anthropomorphic phantom, we examined from the chest to the pelvis, cardiac, and cranial regions of the phantom. The absorbed dose was calculated by multiplying calibrated dose values of RPLD by the mass energy coefficient ratio. The effective dose was calculated as the sum total of the value for each tissue, which was multiplied by the equivalent dose according to the tissue weighting factor recommended in ICRP 103 and ICRP 60. Calculated effective doses based on ICRP 103 were different by –11% to +82% compared with those based on ICRP 60. The values of absorbed doses for selective tissues were relatively higher than the values for the effective dose. The effective dose represents only a mean dose value for an average human. Therefore, assessing the absolute dose of particular individuals in CT examinations based exclusively on the effective dose is not recommended.
This is a preview of subscription content, log in to check access.
Access options
Buy single article
Instant access to the full article PDF.
US$ 39.95
Price includes VAT for USA
Subscribe to journal
Immediate online access to all issues from 2019. Subscription will auto renew annually.
US$ 199
This is the net price. Taxes to be calculated in checkout.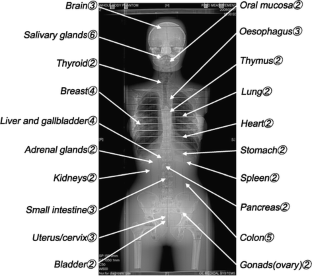 References
1.

Flohr TG, Stierstorfer K, Ulzheimer S, Bruder H, Primak AN, McCollough CH (2005) Image reconstruction and image quality evaluation for a 64-slice CT scanner with z-flying focal spot. Med Phys 32:2536–2547

2.

Arthurs OJ, Yates SJ, Set PA, Gibbons DA, Dixon AK (2009) Evaluation of image quality and radiation dose in adolescent thoracic imaging: 64-slice is preferable to 16-slice multislice CT. Br J Radiol 82:157–161

3.

Wang YN, Jin ZY, Kong LY, Zhang ZH, Song L, Zhang SY, Zhang LR, Lin SB, Wang Y, Zhao WM (2006) [Comparison of coronary angiography between 64-slice and 16-slice spiral CT]. Zhongguo Yi Xue Ke Xue Yuan Xue Bao 28:26–31

4.

Wolf F, Feuchtner GM, Homolka P, Langenberger H, Stadler A, Bader TR, Weber M, Lammer J, Loewe C (2007) In vitro imaging of coronary artery stents: Are there differences between 16- and 64-slice CT scanners? Eur J Radiol 68:465–470

5.

Ertl-Wagner B, Eftimov L, Blume J, Bruening R, Becker C, Cormack J, Brueckmann H, Reiser M (2008) Cranial CT with 64-, 16-, 4- and single-slice CT systems—comparison of image quality and posterior fossa artifacts in routine brain imaging with standard protocols. Eur Radiol 18:1720–1726

6.

Brenner DJ, Hall EJ (2007) Computed tomography—an increasing source of radiation exposure. N Engl J Med 357:2277–2284

7.

Einstein AJ, Henzlova MJ, Rajagopalan S (2007) Estimating risk of cancer associated with radiation exposure from 64-slice computed tomography coronary angiography. JAMA 298:317–323

8.

Rampado O, Marchisio F, Izzo A, Garelli E, Bianchi CC, Gandini G, Ropolo R (2009) Effective dose and image quality evaluations of an automatic CT tube current modulation system with an anthropomorphic phantom. Eur J Radiol (in press). doi:10.1016/j.ejrad.2008.06.027

9.

Stolzmann P, Leschka S, Scheffel H, Krauss T, Desbiolles L, Plass A, Genoni M, Flohr TG, Wildermuth S, Marincek B, Alkadhi H (2008) Dual-source CT in step-and-shoot mode: noninvasive coronary angiography with low radiation dose. Radiology 249:71–80

10.

Hermann F, Martinoff S, Meyer T, Hadamitzky M, Jiang C, Hendrich E, Hausleiter J (2008) Reduction of radiation dose estimates in cardiac 64-Slice CT angiography in patients after coronary artery bypass graft surgery. Invest Radiol 43:253–260

11.

International Commission on Radiological Protection (2007) The 2007 recommendations of the International Commission on Radiological Protection. ICRP publication no. 103, Annals of ICRP 37, Pergamon, Oxford, pp 1–332

12.

International Commission on Radiological Protection (1991) 1990 recommendations of the International Commission on Radiological Protection. ICRP publication no. 60, Annals of ICRP 21, Pergamon, Oxford, pp 1–201

13.

International Commission on Radiation Units & Measurements (1989) Tissue Substitutes in Radiation Dosimetry and Measurement. ICRU report no.44. ICRU, Bethesda

14.

International Commission on Radiation Units & Measurements (1992) Photon, electron, proton and neutron interaction data for body tissues. ICRU report no.46, ICRU, Bethesda

15.

Lund CC, Browder NC (1944) The estimation of areas of burns. Surg Gynaecol Obstet 79:352–358

16.

Jones DG, Shrimpton PC (1993) Normalized organ doses for X-ray computed tomography calculated using Monte Carlo techniques. National Radiological Protection Board SR-250, NRPB, Chilton

17.

International Commission on Radiological Protection (2007) Managing patient dose in multi-detector computed tomography (MDCT). ICRP publication no.102, Annals of ICRP 37. Pergamon, Oxford, pp 1–80

18.

Catalano C, Francone M, Ascarelli A, Mangia M, Iacucci I, Passariello R (2007) Optimizing radiation dose and image quality. Eur Radiol 17:F26–F32

19.

Asahi Techno Glass (2000) RPL glass dosemeter environmental monitoring system: basic characteristic data. Chiyoda Technol, Tokyo

20.

Ludlow JB, Davies-Ludlow LE, Brooks SL, Howerton WB (2006) Dosimetry of 3 CBCT devices for oral and maxillofacial radiology: CB Mercuray, NewTom 3G and i-CAT. Dentomaxillofac Radiol 35:219–226
About this article
Cite this article
Matsubara, K., Koshida, K., Suzuki, M. et al. Effective dose evaluation of multidetector CT examinations: influence of the ICRP recommendation in 2007. Eur Radiol 19, 2855 (2009). https://doi.org/10.1007/s00330-009-1497-0
Received:

Revised:

Accepted:

Published:
Keywords
Computed tomography

Effective dose

Absorbed dose

Radiation dosimetry

Stochastic effect