Abstract
Non-contrast-enhanced cranial computed tomography (NECT) and CT angiography (CTA) are the most frequently used modalities in the triage of patients with acute ischemic and hemorrhagic stroke. CTA bone removal can improve the delineation of vasculature closely adjacent to bony structures, which is sometimes limited in standard CTA. The aim of this study was the evaluation of the clinical benefit of bone subtraction (BS) regarding delineation of cerebral vasculature, reading time and depiction of vascular pathologies compared to standard CTA without BS. A total of 100 patients who underwent NECT and supraaortic CTA on a 64-slice CT system were retrospectively included in the study. Bone removal was performed by subtraction of the NECT data from the CTA data using a dedicated workstation. Standard and BS CTA of each patient was reviewed for delineation of cerebral vasculature (grading scale from 1 = "excellent delineation" to 10 = "hardly any delineation"), reading time and depiction of vascular pathologies (standardized catalog) by two blinded readers. For BS data sets, the quality of BS was rated by a combination of the criteria complete bone removal, depiction of vascular structures and sufficient quality for diagnostic evaluation. The use of BS significantly reduced reading time from 4.60 min to 3.49 min (p < 0.001). Performing BS, the quality of vascular delineation of the cerebral arteries, cerebral veins and cavernous segment of the ICA increased significantly as compared to standard CTA (1.70 vs. 2.70; 2.60 vs. 4.12; 2.35 vs. 4.40, all p < 0.001). Consensus reading showed 41 pathologies in 35 patients. Diagnosis was missed or wrong overall in 15 cases, with 3 missed aneurysms (CTA: 2 vs. BS: 1), 8 wrong stenotic findings (CTA: 3 vs. BS: 5) and 4 missed partial thromboses (CTA: 2 vs. BS: 2). Performing BS in supraaortic CTA for the evaluation of cerebral vasculature reduces reading time and improves delineation of vessels. Diagnostic accuracy in general is not improved by BS, as the diagnostic accuracy of stenotic vessel alterations is reduced by potential truncation artifacts, but the detection rate of cerebral aneurysms slightly increases.
Access options
Buy single article
Instant access to the full article PDF.
USD 39.95
Price excludes VAT (USA)
Tax calculation will be finalised during checkout.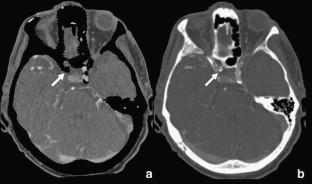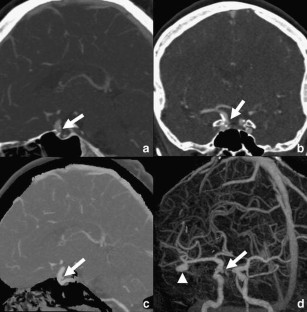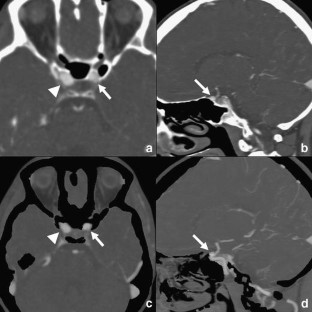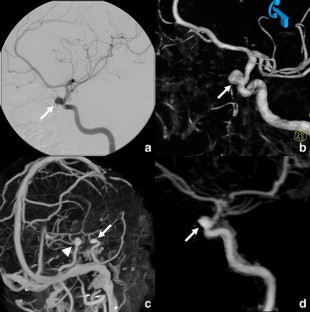 References
Grunwald I, Reith W (2002) Non-traumatic neurological emergencies: imaging of cerebral ischemia. Eur Radiol 12:1632–1647

Thurnher MM, Castillo M (2005) Imaging in acute stroke. Eur Radiol 15:408–415

Farkas J, Xavier A, Prestigiacomo CJ (2004) Advanced imaging application for acute ischemic stroke. Emerg Radiol 11:77–82

Tomandl BF, Klotz E, Handschu R et al (2003) Comprehensive imaging of ischemic stroke with multisection CT. Radiographics 23:565–592

Esteban JM, Cervera V (2004) Perfusion CT and angio CT in the assessment of acute stroke. Neuroradiology 46:705–715

Kloska SP, Fischer T, Nabavi DG et al (2007) Color-coded perfused blood volume imaging using multidetector CT: initial results of whole-brain perfusion analysis in acute cerebral ischemia. Eur Radiol 17(9):2352–2358 Epub 2007 Feb 23. Sep

Kato Y, Nair S, Sano H et al (2002) Multi-slice 3D-CTA-an improvement over single slice helical CTA for cerebral aneurysms. Acta neurochirurgica 144:715–722

Teksam M, McKinney A, Casey S et al (2004) Multi-section CT angiography for detection of cerebral aneurysms. AJNR Am J Neuroradiol 25:1485–1492

Lell M, Tomandl BF, Anders K, Baum U, Nkenke E (2005) Computed tomography angiography versus digital subtraction angiography in vascular mapping for planning of microsurgical reconstruction of the mandible. Eur Radiol 15:1514–1520

Pandolfo I, Vinci S, Salamone I, Granata F, Mazziotti S (2007) Evaluation of the anterior ethmoidal artery by 3D dual volume rotational digital subtraction angiography and native multidetector CT with multiplanar reformations. Initial findings. Eur Radiol 17:1584–1590

Kouskouras C, Charitanti A, Giavroglou C et al (2004) Intracranial aneurysms: evaluation using CTA and MRA. Correlation with DSA and intraoperative findings. Neuroradiology 46:842–850

Hoh BL, Cheung AC, Rabinov JD et al (2004) Results of a prospective protocol of computed tomographic angiography in place of catheter angiography as the only diagnostic and pretreatment planning study for cerebral aneurysms by a combined neurovascular team. Neurosurgery 54:1329–1340 discussion 1340–1342

Gonzalez-Darder JM, Pesudo-Martinez JV, Feliu-Tatay RA (2001) Microsurgical management of cerebral aneurysms based in CT angiography with three-dimensional reconstruction (3D-CTA) and without preoperative cerebral angiography. Acta Neurochir (Wien) 143:673–679

Dammert S, Krings T, Moller-Hartmann W et al (2004) Detection of intracranial aneurysms with multislice CT: comparison with conventional angiography. Neuroradiology 46:427–434

Chappell ET, Moure FC, Good MC (2003) Comparison of computed tomographic angiography with digital subtraction angiography in the diagnosis of cerebral aneurysms: a meta-analysis. Neurosurgery 52:624–631 discussion 630–631

Anderson GB, Steinke DE, Petruk KC, Ashforth R, Findlay JM (1999) Computed tomographic angiography versus digital subtraction angiography for the diagnosis and early treatment of ruptured intracranial aneurysms. Neurosurgery 45:1315–1320 discussion 1320–1322

Gorzer H, Heimberger K, Schindler E (1994) Spiral CT angiography with digital subtraction of extra- and intracranial vessels. J Comput Assist Tomogr 18:839–841

Venema HW, den Heeten GJ (2003) Subtraction helical CT angiography of intra- and extracranial vessels: technical considerations and preliminary experience–rediscovery of matched mask bone elimination? AJNR Am J Neuroradiol 24:1491 author reply 1491–1492

Tomandl BF, Hammen T, Klotz E et al (2006) Bone-subtraction CT angiography for the evaluation of intracranial aneurysms. AJNR Am J Neuroradiol 27:55–59

Lell M, Anders K, Klotz E et al (2006) Clinical evaluation of bone-subtraction CT angiography (BSCTA) in head and neck imaging. Eur Radiol 16:889–897

Pluim JP, Maintz JB, Viergever MA (2003) Mutual-information-based registration of medical images: a survey. IEEE Trans Med Imaging 22:986–1004

Zhang Z, Berg M, Ikonen A et al (2005) Carotid stenosis degree in CT angiography: assessment based on luminal area versus luminal diameter measurements. Eur Radiol 15:2359–2365

Hirai T, Korogi Y, Ono K et al (2001) Maximum stenosis of extracranial internal carotid artery: effect of luminal morphology on stenosis measurement by using CT angiography and conventional DSA. Radiology 221:802–809

Villablanca JP, Jahan R, Hooshi P et al (2002) Detection and characterization of very small cerebral aneurysms by using 2D and 3D helical CT angiography. AJNR Am J Neuroradiol 23:1187–1198

Casey SO, Alberico RA, Patel M et al (1996) Cerebral CT venography. Radiology 198:163–170

Tipper G, U-King-Im JM, Price SJ et al (2005) Detection and evaluation of intracranial aneurysms with 16-row multislice CT angiography. Clin Radiol 60:565–572

Piotin M, Gailloud P, Bidaut L et al (2003) CT angiography, MR angiography and rotational digital subtraction angiography for volumetric assessment of intracranial aneurysms. An experimental study. Neuroradiology 45:404–409

Hollingworth W, Nathens AB, Kanne JP et al (2003) The diagnostic accuracy of computed tomography angiography for traumatic or atherosclerotic lesions of the carotid and vertebral arteries: a systematic review. Eur J Radiol 48:88–102

Koelemay MJ, Nederkoorn PJ, Reitsma JB, Majoie CB (2004) Systematic review of computed tomographic angiography for assessment of carotid artery disease. Stroke; a journal of cerebral circulation 35:2306–2312

Sakamoto S, Kiura Y, Shibukawa M et al (2006) Subtracted 3D CT angiography for evaluation of internal carotid artery aneurysms: comparison with conventional digital subtraction angiography. AJNR Am J Neuroradiol 27:1332–1337

Schwartz RB, Tice HM, Hooten SM, Hsu L, Stieg PE (1994) Evaluation of cerebral aneurysms with helical CT: correlation with conventional angiography and MR angiography. Radiology 192:717–722

Lell MM, Anders K, Uder M et al (2006) New Techniques in CT Angiography. Radiographics 26(Suppl 1):S45–S62

Imakita S, Onishi Y, Hashimoto T et al (1998) Subtraction CT angiography with controlled-orbit helical scanning for detection of intracranial aneurysms. AJNR Am J Neuroradiol 19:291–295

Jayakrishnan VK, White PM, Aitken D et al (2003) Subtraction helical CT angiography of intra- and extracranial vessels: technical considerations and preliminary experience. AJNR Am J Neuroradiol 24:451–455

Zhang Z, Berg MH, Ikonen AE, Vanninen RL, Manninen HI (2004) Carotid artery stenosis: reproducibility of automated 3D CT angiography analysis method. Eur Radiol 14:665–672

Venema HW, Hulsmans FJ, den Heeten GJ (2001) CT angiography of the circle of Willis and intracranial internal carotid arteries: maximum intensity projection with matched mask bone elimination-feasibility study. Radiology 218:893–898

Majoie CB, van Straten M, Venema HW, den Heeten GJ (2004) Multisection CT venography of the dural sinuses and cerebral veins by using matched mask bone elimination. AJNR Am J Neuroradiol 25:787–791
About this article
Cite this article
Morhard, D., Fink, C., Becker, C. et al. Value of automatic bone subtraction in cranial CT angiography: comparison of bone-subtracted vs. standard CT angiography in 100 patients. Eur Radiol 18, 974–982 (2008). https://doi.org/10.1007/s00330-008-0855-7
Received:

Revised:

Accepted:

Published:

Issue Date:

DOI: https://doi.org/10.1007/s00330-008-0855-7
Keywords