Abstract
Our aim was to compare the perfusion [blood flow (BF)] values obtained by first-pass dynamic contrast-enhanced (DCE) T2-weighted magnetic resonance (MR) and computed tomography (CT) imaging of squamous cell carcinoma (SCC) in the upper aerodigestive tract in the same patient population. Seventeen patients with histologically proven primary SCC of the upper aerodigestive tract were prospectively evaluated. The perfusion CT studies were obtained using a 16-row multi-slice CT scanner running a commercial software package with a deconvolution-based technique; while the perfusion MR studies (1.5 T) were analysed with in-house-written MR perfusion software based also on a deconvolution technique. The mean perfusion values of SCC assessed by perfusion CT and MR imaging were 68.93 ± 31.61 and 81.56 ± 49.25 ml/min/100 g, respectively. The Bland-Altman graph showed a proportional error in the perfusion values measured by DCE-CT and -MR imaging; however, the degree of agreement was acceptable (95% limits of agreement: −66.1 to 40.8). Regression analysis of the perfusion values demonstrated significant correlation between the modalities: BFMR = 1.34 × BFCT – 10.93 (P < 0.0005, r 2 = 0.74). The parametric maps generated by both modalities provided insights into the tumour perfusion, while analysis of the obtained perfusion values demonstrated that both modalities may be used interchangeably in SCC in the upper aerodigestive tract.
Access options
Buy single article
Instant access to the full article PDF.
USD 39.95
Price excludes VAT (USA)
Tax calculation will be finalised during checkout.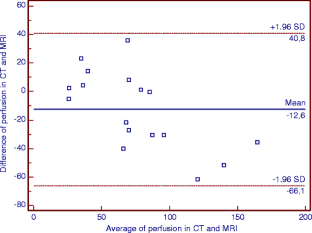 References
Bisdas S, Baghi M, Smolarz A et al (2007) Quantitative measurements of perfusion and permeability of oropharyngeal and oral cavity cancer, recurrent disease, and associated lymph nodes using first-pass contrast-enhanced computed tomography studies. Invest Radiol 42:172–179

Lankester KJ, Taylor JN, Stirling JJ et al (2007) Dynamic MRI for imaging tumor microvasculature: comparison of susceptibility and relaxivity techniques in pelvic tumors. J Magn Reson Imaging 25:796–805

Rempp KA, Brix G, Wenz F, Becker CR, Guckel F, Lorenz WJ (1994) Quantification of regional cerebral blood flow and volume with dynamic susceptibility contrast-enhanced MR imaging. Radiology 193:637–641

Bland JM, Altman DG (1995) Comparing methods of measurement: why plotting difference against standard method is misleading. Lancet 346:1085–1087

Bland JM, Altman DG (2003) Applying the right statistics: analyses of measurement studies. Ultrasound Obstet Gynecol 22:85–93

Gandhi D, Hoeffner EG, Carlos RC, Case I, Mukherji SK (2003) Computed tomography perfusion of squamous cell carcinoma of the upper aerodigestive tract. Initial results. J Comput Assist Tomogr 27:687–693

Rumboldt Z, Al-Okaili R, Deveikis JP (2005) Perfusion CT for head and neck tumors: pilot study. AJNR Am J Neuroradiol 26:1178–1185

Hermans R, Lambin P, Van der Goten A et al (1999) Tumoural perfusion as measured by dynamic computed tomography in head and neck carcinoma. Radiother Oncol 53:105–111

Gandhi D, Chepeha DB, Miller T et al (2006) Correlation between initial and early follow-up CT perfusion parameters with endoscopic tumor response in patients with advanced squamous cell carcinomas of the oropharynx treated with organ-preservation therapy. AJNR Am J Neuroradiol 27:101–106

Zima A, Carlos R, Gandhi D, Case I, Teknos T, Mukherji SK (2007) Can pretreatment CT perfusion predict response of advanced squamous cell carcinoma of the upper aerodigestive tract treated with induction chemotherapy? AJNR Am J Neuroradiol 28:328–334

Hermans R, Meijerink M, Van den Bogaert W, Rijnders A, Weltens C, Lambin P (2003) Tumor perfusion rate determined noninvasively by dynamic computed tomography predicts outcome in head-and-neck cancer after radiotherapy. Int J Radiat Oncol Biol Phys 57:1351–1356

Wintermark M, Maeder P, Verdun FR et al (2000) Using 80 kVp versus 120 kVp in perfusion CT measurement of regional cerebral blood flow. AJNR Am J Neuroradiol 21:1881–1884

Kuperman VY, Alley MT (1999) Differentiation between the effects of T1 and T2* shortening in contrast-enhanced MRI of the breast. J Magn Reson Imaging 9:172–176

Uematsu H, Maeda M (2006) Double-echo perfusion-weighted MR imaging: basic concepts and application in brain tumors for the assessment of tumor blood volume and vascular permeability. Eur Radiol 16:180–186

de Bazelaire C, Rofsky NM, Duhamel G et al (2006) Combined T2* and T1 measurements for improved perfusion and permeability studies in high field using dynamic contrast enhancement. Eur Radiol 16:2083–2091

Ellinger R, Kremser C, Schocke MF et al (2000) The impact of peak saturation of the arterial input function on quantitative evaluation of dynamic susceptibility contrast-enhanced MR studies. J Comput Assist Tomogr 24:942–948

Asaumi J, Yanagi Y, Hisatomi M, Matsuzaki H, Konouchi H, Kishi K (2003) The value of dynamic contrast-enhanced MRI in diagnosis of malignant lymphoma of the head and neck. Eur J Radiol 48:183–187

Baba Y, Furusawa M, Murakami R et al (1997) Role of dynamic MRI in the evaluation of head and neck cancers treated with radiation therapy. Int J Radiat Oncol Biol Phys 37:783–787

Baba Y, Yamashita Y, Onomichi M, Murakami R, Takahashi M (1999) Dynamic magnetic resonance imaging of head and neck lesions. Top Magn Reson Imaging 10:125–129

Guckel C, Schnabel K, Deimling M, Steinbrich W (1996) Dynamic snapshot gradient-echo imaging of head and neck malignancies: time dependency and quality of contrast-to-noise ratio. Magma 4:61–69

Hoskin PJ, Saunders MI, Goodchild K, Powell ME, Taylor NJ, Baddeley H (1999) Dynamic contrast enhanced magnetic resonance scanning as a predictor of response to accelerated radiotherapy for advanced head and neck cancer. Br J Radiol 72:1093–1098

Escott EJ, Rao VM, Ko WD, Guitierrez JE (1997) Comparison of dynamic contrast-enhanced gradient-echo and spin-echo sequences in MR of head and neck neoplasms. AJNR Am J Neuroradiol 18:1411–1419

Galbraith SM, Lodge MA, Taylor NJ et al (2002) Reproducibility of dynamic contrast-enhanced MRI in human muscle and tumours: comparison of quantitative and semi-quantitative analysis. NMR Biomed 15:132–142

Jackson A, Kassner A, Annesley-Williams D, Reid H, Zhu XP, Li KL (2002) Abnormalities in the recirculation phase of contrast agent bolus passage in cerebral gliomas: comparison with relative blood volume and tumor grade. AJNR Am J Neuroradiol 23:7–14

Essig M, Wenz F, Scholdei R et al (2002) Dynamic susceptibility contrast-enhanced echo-planar imaging of cerebral gliomas. Effect of contrast medium extravasation. Acta Radiol 43:354–359
About this article
Cite this article
Bisdas, S., Medov, L., Baghi, M. et al. A comparison of tumour perfusion assessed by deconvolution-based analysis of dynamic contrast-enhanced CT and MR imaging in patients with squamous cell carcinoma of the upper aerodigestive tract. Eur Radiol 18, 843–850 (2008). https://doi.org/10.1007/s00330-007-0827-3
Received:

Revised:

Accepted:

Published:

Issue Date:

DOI: https://doi.org/10.1007/s00330-007-0827-3
Keywords