Abstract
Benign and malignant neoplasms as well as metastatic lymph nodes of 39 patients were examined using localized single voxel magnetic resonance spectroscopy (MRS) [repetition time (TR) 1500, echo time (TE) 135) at 1.5 T. New techniques with simultaneous correction of motion artefacts during the acquisition, three-dimensional saturation pulses, respiratory triggering and smaller volume of interest (VOI) size, were applied. Ratios of peak areas under the choline (Cho) and creatine (Cr) resonances were estimated in all cases and compared with those from samples of normal tissue. Ninety one spectra were acquired in 39 patients, 63 of which were suitable for further evaluation. The smallest VOI was 0.40 cm3. The Cho/Cr ratios in all malignant neoplasms (mean: 5.2, range: 1.7–17.8) were significantly elevated relative to those in the normal muscle structures (mean: 0.9, range: 0.2–1.4), while those in the benign neoplasms were elevated (mean: 24.4, range: 1.4–59.7) with respect to those in the malignant ones. The average Cho/Cr ratio in the metastatic lymph nodes was significantly higher (mean: 4.8, range: 3.3–5.6) than that for benign lymphoid hyperplasia (mean: 2.2, range: 1.0–3.0). MRS measurements were able to differentiate recurrent disease from post-therapeutic tissue changes in 11 out of 13 patients.
This is a preview of subscription content, log in to check access.
Access options
Buy single article
Instant access to the full article PDF.
US$ 39.95
Price includes VAT for USA
Subscribe to journal
Immediate online access to all issues from 2019. Subscription will auto renew annually.
US$ 199
This is the net price. Taxes to be calculated in checkout.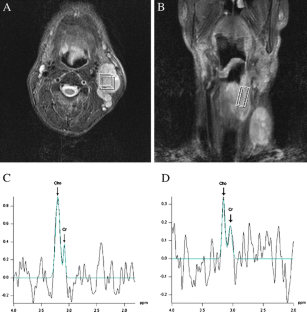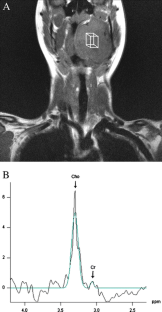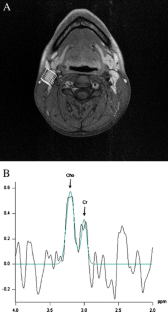 References
1.

Law M, Hamburger M, Johnson G, Inglese M, Londono A, Golfinos J, Zagzag D, Knopp EA (2004) Differentiating surgical from non-surgical lesions using perfusion MR imaging and proton MR spectroscopic imaging. Technol Cancer Res Treat 3:557–565

2.

Bolan PJ, Nelson MT, Yee D, Garwood M (2005) Imaging in breast cancer: Magnetic resonance spectroscopy. Breast Cancer Res 7:149–152

3.

Hanaoka H, Yoshioka Y, Ito I, Niitu K, Yasuda N (1993) In vitro characterization of lung cancers by the use of 1 H nuclear magnetic resonance spectroscopy of tissue extracts and discriminant factor analysis. Magn Reson Med 29:436–440

4.

Wetter A, Hubner F, Lehnert T, Fliessbach K, Vorbuchner M, Roell S, Zangos S, Luboldt W, Vogl TJ (2005) Three-dimensional 1 H-magnetic resonance spectroscopy of the prostate in clinical practice: technique and results in patients with elevated prostate-specific antigen and negative or no previous prostate biopsies. Eur Radiol 15:645–652

5.

Cheng LL, Burns MA, Taylor JL, He W, Halpern EF, McDougal WS, Wu CL (2005) Metabolic characterization of human prostate cancer with tissue magnetic resonance spectroscopy. Cancer Res 65:3030–3034

6.

Dowling C, Bollen AW, Noworolski SM, et al (2001) Preoperative proton MR spectroscopic imaging of brain tumours: correlation with histopathological analysis of resection specimens. AJNR Am J Neuroradiol 22:604–612

7.

Rutkowski T, Tarnawski R, Sokol M, Maciejewski B (2003) 1 H-MR spectroscopy of normal brain tissue before and after postoperative radiotherapy because of primary brain tumours. Int J Radiat Oncol Biol Phys 56:1381–1389

8.

Star-Lack JM, Adalsteinsson E, Adam MF, et al (2000) In vivo 1 H MR spectroscopy of head and neck lymph node metastasis and comparison with oxygen tension measurements. AJNR Am J Neuroradiol 21:183–193

9.

Mukherji SK, Schiro S, Castillo M, Kwock L, Muller KE, Blackstock W (1997) Proton MR spectroscopy of squamous cell carcinoma of the extracranial head and neck: in vitro and in vivo studies. AJNR Am J Neuroradiol 18:1057–1072

10.

Huang W, Roche P, Shindo M, Madoff D, Geronimo C, Button T (2000) Evaluation of head and neck tumour response to therapy using in vivo 1 H MR spectroscopy: correlation with pathology. Proc Int Soc Magn Reson Med 8:552

11.

Maheshwari SR, Mukherji SK, Neelon B, et al. (2000) The choline/creatine ratio in five benign neoplasms: comparison with squamous cell carcinoma by use in vitro spectroscopy. AJNR Am J Neuroradiol 21:1930–1935

12.

King AD, Yeung DKW, Ahuja AT, Leung SF, Tse GMK, van Hasselt AC (2004) In vivo proton MR spectroscopy of primary and nodal nasopharyngeal carcinoma. AJNR Am J Neuroradiol 25:484–490

13.

Adalsteinsson E, Spielman DM, Pauly JM, Terris DJ, Sommer G, Macovski A (1998) Feasibility study of lactate imaging of head and neck tumours. NMR Biomed 11:360–369

14.

Gerstle RJ, Aylward SR, Kromhout Schiro S, Mukherji SK (2000) The role of neural networks in improving the accuracy of MR spectroscopy for the diagnosis of head and neck cancer. AJNR Am J Neuroradiol 21:1133–1138

15.

Sobin LH, Wittekind C (eds) (2002) UICC: TNM classification of malignant tumours, 6th edn. Wiley, New York

16.

Mescher M, Merkle H, Kirsch J, Garwood M, Gruetter R (1998) Simultaneous in vivo spectral editing and water suppression. NMR Biomed 11:266–272

17.

Barker PB, Hearshen DO, Boska MD (2001) Single-voxel proton MRS of the human brain at 1.5 T and 3.0 T. Magn Reson Med 45:765–769

18.

Hurd RE, Freeman DM (1989) Metabolite specific proton magnetic resonance imaging. Proc Natl Acad Sci USA 4402–4406

19.

Russell P, Lean CL, Delbridge L, May GL, Dowd S, Mountford CE (1994) Proton magnetic resonance and human thyroid neoplasia: discrimination between benign and malignant neoplasms. Am J Med 96:383–388

20.

Mountford CE, Lean CL, Hancock R, Dowd S, Mackinnon WB, Tattersall MH, Russell P (1993) Magnetic resonance spectroscopy detects cancer in draining lymph nodes. Invasion Metastasis 13:57–71

21.

MacKinnon WB, Barry PA, Malycha PL, Gillett DJ, Russell P, Lean CL, Doran ST, Barraclough BH, Bilous M, Mountford CE (1997) Fine-needle biopsy specimens of benign lesions distinguished from invasive cancer ex vivo with proton MR spectroscopy. Radiology 204:661–666

22.

Motoori K, Yamamoto S, Ueda T, Nakano K, Muto T, Nagai Y, Ikeda M, Funatsu H, Ito H (2004) Inter- and intratumoural variability in magnetic resonance imaging of pleomorphic adenoma. J Comput Assist Tomogr 28:233–246

23.

Majos C, Julia-Sape M, Alonso J, Serralonga M, Aguilera C, Acebes JJ, Arus C, Gili J (2004) Brain tumor classification by proton MR spectroscopy: comparison of diagnostic accuracy at short and long TE. AJNR Am J Neuroradiol 25:1696–1704
About this article
Cite this article
Bisdas, S., Baghi, M., Huebner, F. et al. In vivo proton MR spectroscopy of primary tumours, nodal and recurrent disease of the extracranial head and neck. Eur Radiol 17, 251–257 (2007). https://doi.org/10.1007/s00330-006-0294-2
Received:

Revised:

Accepted:

Published:

Issue Date:
Keywords
Choline

Creatine

Head and neck

Lymph nodes

Proton MR spectroscopy