Abstract
The use of multidetector computed tomography (MDCT) in routine abdominal explorations has increased the detection of the nutcracker phenomenon, defined as left renal vein (LRV) compression by adjacent anatomic structures. The embryology and anatomy of the nutcracker phenomenon are relevant as a background for the nutcracker syndrome, a rare cause of hematuria as well as other symptoms. MDCT examples of collateral renal vein circulation (gonadal, ureteric, azygous, lumbar, capsular) and aortomesenteric (anterior) and retroaortic (posterior) nutcracker phenomena in patients with no urologic complaint are shown as well as studies performed on patients with gross hematuria of uncertain origin. Incidental observation of collateral veins draining the LRV in abdominal MDCT explorations of asymptomatic patients may be a sign of a compensating nutcracker phenomenon. Imbalance between LRV compression and development of collateral circulation may lead to symptomatic nutcracker syndrome.
Access options
Buy single article
Instant access to the full article PDF.
USD 39.95
Price excludes VAT (USA)
Tax calculation will be finalised during checkout.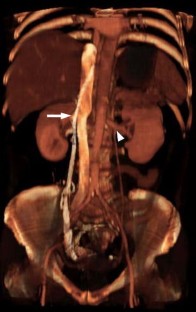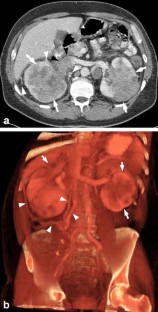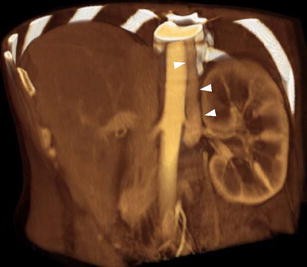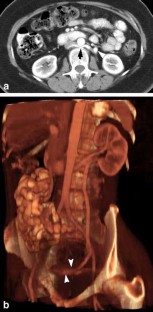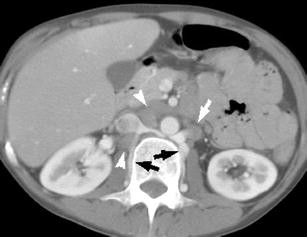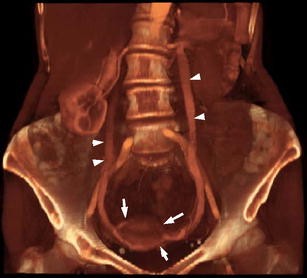 References
Mathews R, Smith PA, Fishman EK, Marshall FF (1999) Anomalies of the inferior vena cava and renal veins: embryologic and surgical considerations. Urology 53:873–880

Gray's Anatomy of the Human Body (1918) The veins of the lower extremity, abdomen, and pelvis. http://www.bartleby.com/107/173.html

Witz M, Kantarovsky A, Morag B, Shifrin EG (1996) Renal vein occlusion: a review. J Urol 155:1173–1179

Satyapal KS, Kalideen JM (195) The renal veins in the human cadaveric fetus: their importance as contributors to collateral flow. J Anat 186:405–409

Tsushima Y, Matsumoto M, Sato N, Ishizaka H, Endo K (1993) Renal vein to portal vein collaterals in three cases of renal cell carcinoma extending into the inferior vena cava: consequences for chemoembolization. Cardiovasc Interv Radiol 16:189–192

Satyapal KS, Kalideen JM, Haffejee AA, Singh B, Robbs JV (1999) Left renal vein variations. Surg Radiol Anat 21:77–81

Trigaux JP, Vandroogenbroek S, De Wispelaere JF, Lacrosse M, Jamart J (1998) Congenital anomalies of the inferior vena cava and left renal vein: evaluation with spiral CT. J Vasc Interv Radiol 9(2):339–345

Hohenfellner M, Steinbach F, Schultz-Lampel D, Schantzen W, Walter K, Cramer BM, Thuroff JW, Hohenfellner R (1991) The nutcracker syndrome: new aspects of pathophysiology, diagnosis and treatment. J Urol 146(3):685–688

Shokeir AA, El-Diasty TA, Ghoneim MA (1994) The nutcracker syndrome: new methods of diagnosis and treatment. Br J Urol 74:139–143

Shaper KRL, Jackson JE, Williams G (1994) The Nutcracker Syndrome: an uncommon cause of haematuria. Br J Urol 74:144–146

Ali-el-Dein B, Osman Y, El-Din S, El-Diasty T, Mansour O, Ghoneim MA (2003) Anterior and posterior nutcracker syndrome: a report on 11 cases. Transplant Proc 35:851–853

Beckmann CF, Abrams HL (1982) Idiopathic renal vein varices: incidence and significance. Radiology 143:649–652

Puig S, Stühlinger HG, Domanovits H, Staudenherz A, Zebenholzer K, Rebhandl W, Prokop M (2002) Posterior "nutcracker" phenomenon in a patient with abdominal aortic aneurysm. Eur Radiol 12:S133–S135

Grossfeld GD, Litwin MS, Wolf JS et al (2001) Evaluation of asymptomatic microscopic hematuria in adults: the American Urological Association best practice policy—part I: definition, detection, prevalence, and etiology. Urology 57:599–603

Park SJ, Lim JW, Cho BS, Yoon TY, Oh JH (2002) Nutcracker syndrome in children with orthostatic proteinuria: diagnosis on the basis of Doppler sonography. J Ultrasound Med 21(1):39–45; quiz 46

Lee SJ, You ES, Lee JE, Chung EC (1997) Left renal vein entrapment syndrome in two girls with orthostatic proteinuria. Pediatr Nephrol 11:218–220

Faizan MK, Finn LS, Paladin AM, McDonald RA (2002) A 14-year-old girl with recumbent proteinuria. Pediatr Nephrol 17(5):379–381

Graif M, Hauser R, Hirshebein A, Botchan A, Kessler A, Yabetz H (2000) Varicocele and the testicular–renal venous route: hemodynamic Doppler sonographic investigation. J Ultrasound Med 19:627–631

Takemura T, Iwasa H, Yamamoto S, Hino S, Fukushima K, Isokawa S, Okada M, Yoshioka K (2000) Clinical and radiological features in four adolescents with nutcracker syndrome. Pediatr Nephrol 14(10–11):1002–1005

Takahashi Y, Ohta S, Sano A, Kuroda Y, Kaji Y, Matsuki M, Matsuo M (2000) Does severe nutcracker phenomenon cause pediatric chronic fatigue? Clin Nephrol 53(3):174–181

Hohenfellner M, D'Elia G, Hampel C, Dahms S, Thuroff JW (2005) Transposition of the left renal vein for treatment of the nutcracker phenomenon: long-term follow-up. Urology 59(3):354–357

Yu G, Bo S (2003) The nutcracker syndrome. J Urol 169:2293–2294

Park YB, Lim SH, Ahn JH, Kang E, Myung SC, Shim HJ, Yu SH (2000) Nutcracker syndrome: intravascular stenting approach. Nephrol Dial Transplant 15:99–101

Kim SH, Cho SW, Kim HD, Chung JW, Park JH, Han MC (1996) The nutcracker syndrome: diagnosis with Doppler US. Radiology 198:93–97

Takebayashi S, Ueki T, Ikeda N, Fujikawa A (1999) Diagnosis of the nutcracker syndrome with color Doppler sonography: correlation with flow patterns on retrograde left renal venography. Am J Roentgenol 172:39–43

Belenky A, Bartal G, Atar E, Cohen M, Bachar GN (2002) Ovarian varices in healthy female kidney donors: incidence, morbidity, and clinical outcome. Am J Roentgenol 179:625–627

Rozenblit AM, Ricci ZJ, Tuvia J, Amis ES Jr (2001) Incompetent and dilated ovarian veins: a common CT finding in asymptomatic parous women. Am J Roentgenol 176:119–122

Buschi AJ, Harrison RB, Brenbridge ANAG, Williamson BRJ, Gentry RR, Cole R (1980) Distended left renal vein: CT/sonographic normal variant. Am J Roentgenol 135:339–342
About this article
Cite this article
Cuéllar i Calàbria, H., Quiroga Gómez, S., Sebastià Cerqueda, C. et al. Nutcracker or left renal vein compression phenomenon: multidetector computed tomography findings and clinical significance. Eur Radiol 15, 1745–1751 (2005). https://doi.org/10.1007/s00330-005-2688-y
Received:

Revised:

Accepted:

Published:

Issue Date:

DOI: https://doi.org/10.1007/s00330-005-2688-y
Keywords