Abstract
The aim of this study was to assess the up- and download performance of an image Web system (IWS) during simultaneous up- and download procedures. Following preparatory tests, the upload capacity (UC) with and without simultaneous download and the time-to-display (TTD) with and without simultaneous upload were determined for different image, server and compression types, and with up to 16 concurrent clients. The UC varied between 1.7–5.5 Gigabyte per hour (GB/h) and was slightly influenced by a simultaneous download; however, the TTDs were substantially prolonged during an upload and only below 5 s with up to four to six concurrent clients. The choice of image and server type had a strong impact on UC and TTD. Lossy primary compression proved slightly superior. An effective UC of approximately 4.0 GB/h or 96 Gigabyte per day (GB/day) can be achieved, which appears suitable even for large institutions. Because of its substantial influence on UC and TTD during simultaneous up- and download, the server hardware should be equipped with two processors and 1 GB RAM. Lossy primary compression may be used with slight performance benefits when full-resolution images are not required. The upload is a time-demanding process, and it is possible that during peak hours the waiting times are unacceptable for clinicians.
Access options
Buy single article
Instant access to the full article PDF.
USD 39.95
Price excludes VAT (USA)
Tax calculation will be finalised during checkout.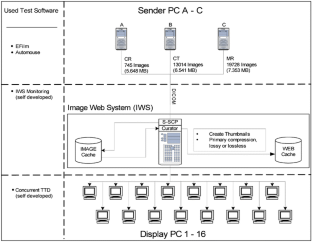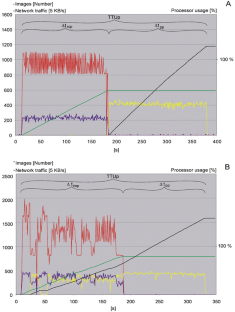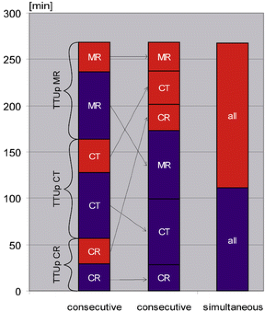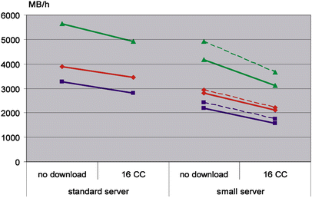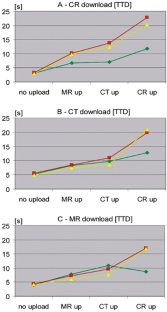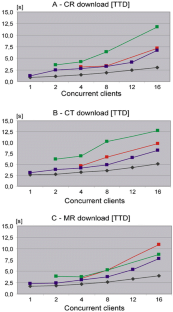 References
Kotter E, Langer M (1998) Integrating HIS-RIS-PACS: the Freiburg experience. Eur Radiol 8:1707–1718

Bick U, Lenzen H (1999) PACS: the silent revolution. Eur Radiol 9:1152–1160

Ratib O, Ligier Y, Bandon D, Valentino D (2000) Update on digital image management and PACS. Abdom Imaging 25:333–340

Bennett WF, Tunstall KM, Skinner PW, Spigos DG (2002) Delivering images to the operating room: a Web-based solution. J Digit Imaging 15:137–139

Bennett WF, Spigos DG, Tzalonikou MT, Terrell JE, Augustyn MA (1999) Web-based viewing of picture archiving and communications systems images. Part I: optimal personal computer configuration. J Digit Imaging 12:112–115

Bennett WF, Spigos DG, Tzalonikou MT, Terrell JE, Augustyn MA (1999) Web-based viewing of picture archiving and communications systems images. Part II: the effect of compression on speed of transmission. J Digit Imaging 12:116–118

Bergh B, Pietsch M, Schlaefke A, Vogl TJ (2003) Performance of web-based image distribution: client oriented measurements. Eur Radiol 13:2161–2169

Bergh B, Pietsch M, Schlaefke A, Garcia I, Vogl TJ (2003) Performance of web-based image distribution: server oriented measurements. Eur Radiol DOI 10.1007/s00330-003-1880-1

Bellon E, Wauters J, Fernandez-Bayo J, Feron M, Verstreken K, Van Cleynenbreugel J, Van den Bosch B, Desmaret M, Marchal G, Suetens P (1997) Using WWW and JAVA for image access and interactive viewing in an integrated PACS. Med Inform 22:291–300

Fernandez-Bayo J, Barbero O, Rubies C, Sentis M, Donoso L (2000) Distributing medical images with internet technologies: a DICOM web server and a DICOM java viewer. Radiographics 20:581–590

Schomer DF, Elekes AA, Hazle JD, Huffman JC, Thompson SK, Chui CK, Murphy WA (1998) Introduction to wavelet-based compression of medical images. Radiographics 18:469–481

Mildenberger P, Eichelberg M, Martin E (2002) Introduction to the DICOM standard. Eur Radiol 12:920–927

Foord K (2001) Year 2000: status of picture archiving and digital imaging in European hospitals. Eur Radiol 11:513–524

Frund R, Techert J, Strotzer M, Borner W, Tsakpinis A, Feuerbach S (2001) The PACS concept of the University of Regensburg. Rofo Fortschr Geb Rontgenstr Neuen Bildgeb Verfahr 173:362–367

Bandon D, Ligier Y, Trayser G, Girard C, Logean M, Ratib O (1998) A hospital-wide distributed PACS based on intranet. Medinfo 9:1075–1079

Foord KD (1999) PACS workstation respecification: display, data flow, system integration, and environmental issues, derived from analysis of the Conquest Hospital pre-DICOM PACS experience. Eur Radiol 9:1161–1169

Sung MM, Kim HJ, Yoo SK, Choi BW, Nam JE, Kim HS, Lee JH, Yoo HS (2002) Clinical evaluation of compression ratios using JPEG2000 on computed radiography chest images. J Digit Imaging 15:78–83

Melson DL, Moore SM, Blaine JG, Clark KW, Sadhra S, Blume H (2002) Challenges in image acquisition and distribution for clinical image service. J Digit Imaging 15:144–150

Tamm EP, Thompson S, Venable SL, McEnery K (2002) Impact of multislice CT on PACS resources. J Digit Imaging 15:96–101

Parisi SB, Mogel GT, Dominguez R, Dao H, Cramer TJ (1998) The effect of 10:1 compression and soft copy interpretation on the chest radiographs of premature neonates with reference to their possible application in teleradiology. Eur Radiol 8:141–143
About this article
Cite this article
Bergh, B., Pietsch, M., Schlaefke, A. et al. Upload capacity and time-to-display of an image Web system during simultaneous up- and download processes. Eur Radiol 14, 526–533 (2004). https://doi.org/10.1007/s00330-003-2059-5
Received:

Revised:

Accepted:

Published:

Issue Date:

DOI: https://doi.org/10.1007/s00330-003-2059-5
Keywords
Web-based image distribution

Internet technology

World Wide Web

Picture archiving and communications systems

Image compression