Abstract
Morton's neuroma (MN) is a frequent cause of metatarsalgia. The aim of our study was to evaluate the efficacy of neuroma alcohol-sclerosing therapy (NAST) under US guide in MN after a 10-month follow-up. Forty intermetatarsal neuromas underwent alcohol-sclerosing therapy after sonographic evaluation of their dimensions and echotexture. After subcutaneous anesthesia, a sclerosing solution composed of anesthetic (carbocaine–adrenaline 70%) and ethylic alcohol (30%) was injected inside the mass under US guidance. The procedure was repeated at intervals of 15 days until the resolution of the symptoms. A total or partial symptomatic relief was obtained in 36 cases (90%). No procedure-related complications were observed. Transitory plantar pain, due to the flogistic reaction induced by the sclerosing solution, occurred in 6 cases (15%). The 10-month follow-up revealed a 20–30% mass volume reduction and an adiposus-like change in echotexture. In the 4 cases (10%) of therapeutic failure, the preliminary sonography demonstrated a hypoechoic echotexture with a strong US beam attenuation corresponding to a highly fibrous neuroma after surgical resection. The NAST is a feasible and cost-efficient procedure with high rates of therapeutic success.
Access options
Buy single article
Instant access to the full article PDF.
US$ 39.95
Tax calculation will be finalised during checkout.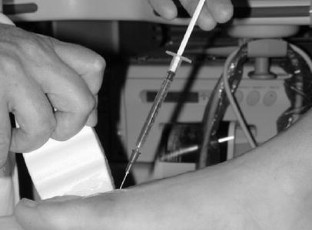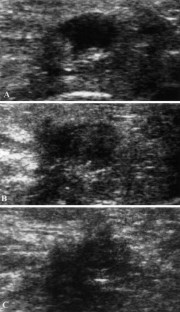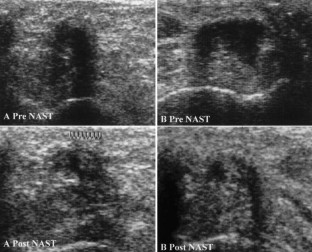 References
1.

Wu KK (1996) Morton's interdigital neuroma: a clinical review of its etiology, treatment, and results. J Foot Ankle Surg 35:112–119

2.

Meachim G, Abberton JJ (1971) Histological findings in Morton's metatarsalgia. J Pathol 103:209–217

3.

Durlacher L (1845) In: Treatise on corns, bunions, diseases of nails, and the general management of the feet. Simpkin and Marshall, London, p 52

4.

Morton TG (1876) A peculiar and painful affection of the fourth metatarsophalangeal articulation. Am J Med Sci 71:37–45

5.

Young G, Lindsey J (1993) Etiology of symptomatic recurrent interdigital neuromas. J Am Podiatr Med Assoc 83:255–258

6.

Vachon P, Lemay M, Bouchard HL (1991) Pathologic study of Morton's neuroma. Can J Surg 34:356–358

7.

Ha'Eri GB, Fornasier VL, Schatzker J (1979) Morton's neuroma: pathogenesis and ultrastructure. Clin Orthop 141:256–259

8.

Tate RO, Rusin JJ (1978) Morton's neuroma: its ultrastructural anatomy and biomechanical etiology. J Am Podiatry Assoc 68:797–807

9.

Quinn TJ, Jacobson JA, Craig JG, van Holsbeeck MT (2000) Sonography of Morton's neuromas. Am J Roentgenol 174:1723–1728

10.

Morscher E, Ulrich J, Dick W (2000) Morton's intermetatarsal neuroma: morphology and histological substrate. Foot Ankle Int 21:558–562

11.

Murphey MD, Smith WS, Smith SE, Kransdorf MJ, Temple HT (1999) From the archives of the AFIP. Imaging of musculoskeletal neurogenic tumors: radiologic–pathologic correlation. Radiographics 19:1253–1280

12.

Graham CE, Graham DM (1984) Morton's neuroma: a microscopic evaluation. Foot Ankle 5:150–153

13.

Bourke G, Owen J, Machet D (1994) Histological comparison of the third interdigital nerve in patients with Morton's metatarsalgia and control patients. Aust N Z J Surg 64:421–424

14.

Bencardino J, Rosenberg ZS, Beltran J, Liu X, Marty-Delfaut E (2000) Morton's neuroma: Is it always symptomatic? Am J Roentgenol 175:649–653

15.

Mendicino SS, Rockett MS (1979) Morton's neuroma: update on diagnosis and imaging. Clin Podiatr Med Surg 14:303–311

16.

Okafor B, Shergill G, Angel J (1997) Treatment of Morton's neuroma by neurolysis. Foot Ankle Int 18:284–287

17.

Shapiro PP, Shapiro SL (1995) Sonographic evaluation of interdigital neuromas. Foot Ankle Int 16:604–606

18.

Milgram JE (1993) Design and use of pads and strappings for office relief of the painful foot. In: Kiene RH, Johnson KA (eds) Symposium of the foot and ankle. Mosby, St. Louis, pp 95–101

19.

Goslin R, Tollafield DR, Rome K (1997) Mechanical therapeutics in the clinic. In: Tollafield DR, Merriman LM (eds) Clinical skills in treating the foot, vol 11. Churchill Livingstone, London, pp187–216

20.

Tollafield DR, Pratt DJ, Rome K (1997) Prescription orthoses. In: Tollafield DR, Merriman LM (eds) Clinical skills in treating the foot, vol 11. Churchill Livingstone, London, pp 217–247

21.

Dockery GL (1999) The treatment of intermetatarsal neuromas with 4% alcohol sclerosing injections. J Foot Ankle Surg 6:403–408

22.

Masala S, Fanucci E, Ronconi P, Taormina P, Romagnoli A, Simonetti G (2001) Treatment of intermetatarsal neuromas with alcohol injection under US guide. Radiol Med 102:370–373

23.

Frisca DA, Strom DE, Parr JW, Saltzman CL, Johnson KA (1991) Surgical treatment for primary interdigital neuroma. Orthopedics 14:669–672

24.

Keh RA, Ballew KK, Higgins KR, Odom R, Harkless LB (1992) Long-term follow-up of Morton's neuroma. J Foot Surg 31:93–95

25.

Wilson S, Kuwada GT (1995) Retrospective study of the use of a plantar transverse incision vs a dorsal incision for excision of neuroma. J Foot Ankle Surg 34:537–546

26.

Gudas C, Mattana G (1986) Retrospective analysis of intermetatarsal neuroma excision with preservation of the transverse metatarsal ligament. J Foot Surg 25:459–463

27.

Diebold PF, Daum B, Dang-Vu V, Litchinko M (1996) True epineural neurolysis in Morton's neuroma: a 5-year follow up. Orthopedics 19:397–400

28.

Price PD, Miller G (1992) Internal neurolysis. J Foot Surg 31:250–259

29.

Mulder JD (1951) The causative mechanism in Morton's metatarsalgia. J Bone Joint Surg 33B:94–95

30.

Johnson JE, Johnson KA, Unni KK (1988) Persistent excision on an interdigital neuroma. J Bone Joint Surg 10A:651–657

31.

Barrett SL, Pignetti TT (1994) Endoscopic decompression for intermetatarsal nerve entrapment: the EDIN technique: preliminary study with cadaveric specimens; early clinical results. J Foot Ankle Surg 33:503–508

32.

Hodor L, Barkal K, Hatch-Fox LD (1997) Cryogenic denervation of the intermetatarsal space neuroma. J Foot Ankle Surg 36:311–314

33.

Rengachary SS, Watanabe IS, Singer P, Bopp WJ (1983) Effect of glycerolon peripheral nerve: an experimental study. Neurosurgery 13:681–688
About this article
Cite this article
Fanucci, E., Masala, S., Fabiano, S. et al. Treatment of intermetatarsal Morton's neuroma with alcohol injection under US guide: 10-month follow-up. Eur Radiol 14, 514–518 (2004). https://doi.org/10.1007/s00330-003-2057-7
Received:

Revised:

Accepted:

Published:

Issue Date:
Keywords
Foot

Alcohol

Morton's neuroma

US

Peripheral neuropathies