Abstract
The aim of this study was to quantitatively assess non-calcified coronary artery plaques and to determine their predictive value for the detection of coronary artery disease (CAD). A total of 179 patients underwent a calcium screening examination and a contrast-enhanced multidetector-row computed tomography angiography (MDCT) of the coronary arteries for various indications. The traditional calcium scores were evaluated and all examinations were reviewed for the presence of non-calcified plaques with an attenuation of 0–130 Hounsfield units (HU). The number, mean attenuation, and volume of these non-calcified plaques were recorded. All patients also underwent conventional catheter angiography. Coronary calcium was detected in 73% (131 of 179) of the patients. Overall incidence of purely non-calcified plaques was 30% (53 of 179). In 27% of the patients (48 of 179) no calcium was detected; however, 15% of these patients without calcifications showed non-calcified plaques (7 of 48). Significant correlations were found between the volume of calcified plaques, volume of non-calcified plaques, and total plaque volume. There were significant differences in plaque composition comparing different risk factor profiles and different stages of CAD. Volumetric assessment of non-calcified coronary artery plaques is feasible using contrast-enhanced MDCT. Screening for non-calcified plaques identifies patients with signs of CAD that are missed in a calcium screening examination.
Access options
Buy single article
Instant access to the full article PDF.
USD 39.95
Price excludes VAT (USA)
Tax calculation will be finalised during checkout.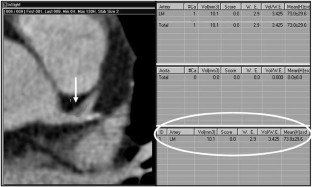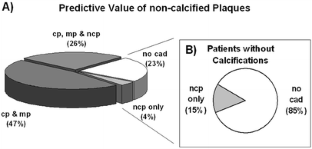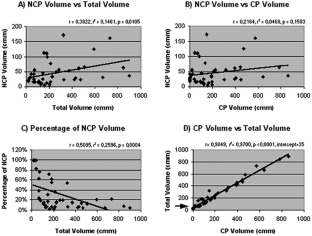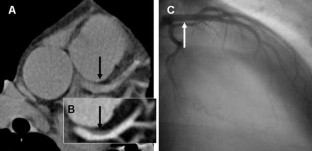 References
Fuster V, Fayad ZA, Badimon JJ (1999) Acute coronary syndromes: biology. Lancet 353 (Suppl 2):5–9

Pasterkamp G, Falk E, Woutman H, Borst C (2000) Techniques characterizing the coronary atherosclerotic plaque: influence on clinical decision making? J Am Coll Cardiol 36:13–21

Fayad ZA, Fuster V, Nikolaou K, Becker C (2002) Computed tomography and magnetic resonance imaging for noninvasive coronary angiography and plaque imaging: current and potential future concepts. Circulation 106:2026–2034

Becker CR, Knez A, Jakobs TF, Aydemir S, Becker A, Schoepf UJ et al. (1999) Detection and quantification of coronary artery calcification with electron-beam and conventional CT. Eur Radiol 9:620–624

Virmani R, Kolodgie FD, Burke AP, Farb A, Schwartz SM (2000) Lessons from sudden coronary death: a comprehensive morphological classification scheme for atherosclerotic lesions. Arterioscler Thromb Vasc Biol 20:1262–1275

Virmani R, Burke AP, Farb A (2001) Sudden cardiac death. Cardiovasc Pathol 10:211–218

Burke AP, Taylor A, Farb A, Malcom GT, Virmani R (2000) Coronary calcification: insights from sudden coronary death victims. Z Kardiol 89 (Suppl 2):49–53

Oliver TB, Lammie GA, Wright AR, Wardlaw J, Patel SG, Peek R et al. (1999) Atherosclerotic plaque at the carotid bifurcation: CT angiographic appearance with histopathologic correlation. Am J Neuroradiol 20:897–901

Becker CR, Knez A, Leber A, Treede H, Haberl R, Reiser MF (2001) Angiography with multi-slice spiral CT: detecting plaque before it causes symptoms. MMW Fortschr Med 143:30–32

Becker CR, Knez A, Ohnesorge B, Schoepf UJ, Reiser MF (2000) Imaging of noncalcified coronary plaques using helical CT with retrospective ECG gating. Am J Roentgenol 175:423–424

Stary HC (2000) Natural history and histological classification of atherosclerotic lesions: an update. Arterioscler Thromb Vasc Biol 20:1177–1178

Becker CR, Nikolaou K, Muders M, Babaryka G, Crispin A, Schoepf UJ et al. (2003) Ex-vivo coronary atherosclerotic plaque characterization with multi-detector-row CT. Eur Radiol DOI 10.1007/s00330-003-1889-5

Becker CR, Knez A, Leber A, Hong C, Treede H, Wildhirt S et al. (2000) Initial experiences with multi-slice detector spiral CT in diagnosis of arteriosclerosis of coronary vessels. Radiologe 40:118–122

Agatston AS, Janowitz WR, Hildner FJ, Zusmer NR, Viamonte M, Detrano F (1990) Quantification of coronary artery calcium using ultrafast computed tomography. J Am Coll Cardiol 15:827–832

Callister TQ, Cooil B, Raya SP, Lippolis NJ, Russo DJ, Raggi P (1998) Coronary artery disease: improved reproducibility of calcium scoring with an electron-beam CT volumetric method. Radiology 208:807–814

Hong C, Becker CR, Schoepf UJ, Ohnesorge B, Bruening R, Reiser MF (2002) Coronary artery calcium: absolute quantification in nonenhanced and contrast-enhanced multi-detector row CT studies. Radiology 223:474–480

Georgiou D, Budoff MJ, Kaufer E, Kennedy JM, Lu B, Brundage BH (2001) Screening patients with chest pain in the emergency department using electron beam tomography: a follow-up study. J Am Coll Cardiol 38:105–110

Lamont DH, Budoff MJ, Shavelle DM, Shavelle R, Brundage BH, Hagar JM (2002) Coronary calcium scanning adds incremental value to patients with positive stress tests. Am Heart J 143:861–867

Kopp AF, Schroeder S, Baumbach A, Kuettner A, Georg C, Ohnesorge B et al. (2001) Non-invasive characterisation of coronary lesion morphology and composition by multislice CT: first results in comparison with intracoronary ultrasound. Eur Radiol 11:1607–1611

Taguchi R, Takasu J, Itani Y, Yamamoto R, Yokoyama K, Watanabe S et al. (2001) Pericardial fat accumulation in men as a risk factor for coronary artery disease. Atherosclerosis 157:203–209

Stary HC, Chandler AB, Glagov S, Guyton JR, Insull W Jr, Rosenfeld ME et al. (1994) A definition of initial, fatty streak, and intermediate lesions of atherosclerosis: a report from the Committee on Vascular Lesions of the Council on Arteriosclerosis, American Heart Association. Circulation 89:2462–2478

Glagov S, Weisenberg E, Zarins CK, Stankunavicius R, Kolettis GJ (1987) Compensatory enlargement of human atherosclerotic coronary arteries. N Engl J Med 316:1371–1375

Losordo DW, Rosenfield K, Kaufman J, Pieczek A, Isner JM (1994) Focal compensatory enlargement of human arteries in response to progressive atherosclerosis: in-vivo documentation using intravascular ultrasound. Circulation 89:2570–2577

Little WC, Constantinescu M, Applegate RJ, Kutcher MA, Burrows MT, Kahl FR et al. (1988) Can coronary angiography predict the site of a subsequent myocardial infarction in patients with mild-to-moderate coronary artery disease? Circulation 78:1157–1166

Giroud D, Li JM, Urban P, Meier B, Rutishauer W (1992) Relation of the site of acute myocardial infarction to the most severe coronary arterial stenosis at prior angiography. Am J Cardiol 69:729–732

Stary HC, Chandler AB, Dinsmore RE, Fuster V, Glagov S, Insull W Jr et al. (1995) A definition of advanced types of atherosclerotic lesions and a histological classification of atherosclerosis: a report from the Committee on Vascular Lesions of the Council on Arteriosclerosis, American Heart Association. Arterioscler Thromb Vasc Biol 15:1512–1531

Jakobs TF, Becker CR, Ohnesorge B, Flohr T, Suess C, Schoepf UJ et al. (2002) Multislice helical CT of the heart with retrospective ECG gating: reduction of radiation exposure by ECG-controlled tube current modulation. Eur Radiol 12:1081–1086
About this article
Cite this article
Nikolaou, K., Sagmeister, S., Knez, A. et al. Multidetector-row computed tomography of the coronary arteries: predictive value and quantitative assessment of non-calcified vessel-wall changes. Eur Radiol 13, 2505–2512 (2003). https://doi.org/10.1007/s00330-003-2053-y
Received:

Revised:

Accepted:

Published:

Issue Date:

DOI: https://doi.org/10.1007/s00330-003-2053-y
Keywords
Coronary artery disease

Plaque imaging

Computed tomography