Abstract
Whilst the Arctic and boreal bumblebee fauna is increasingly studied worldwide, information is missing about the genetic connections between circum-boreal populations of some widespread species, especially those living in remote regions like North-East Siberia and Alaska. Here, we study one of the most common boreal bumblebee species, Bombus (Pyrobombus) jonellus (Kirby, 1802), as a model to investigate current circum-boreal genetic connections and relations with relictual populations in its post-glacial refugia in Southern Europe. Our haplotype network analysis based on a fragment of the cytochrome oxidase 1 gene reveals two main conspecific lineages, one in Europe including the Southern relictual populations from the Pyrenees and the second comprising Eastern Palearctic and Nearctic populations. However, West-Siberian populations of Bombus jonellus share haplotypes with the two distinct lineages. These results could indicate a postglacial, multidirectional and circum-boreal recolonization both in Europe and East-Palearctic from refugia in Siberia, in addition to other recolonization ways from Southern European refugia and Beringia. These findings highlight that a priori distant and isolated conspecific populations of B. jonellus could presently remain connected or have only presented a recent break in gene flow.
Access options
Buy single article
Instant access to the full article PDF.
USD 39.95
Price excludes VAT (USA)
Tax calculation will be finalised during checkout.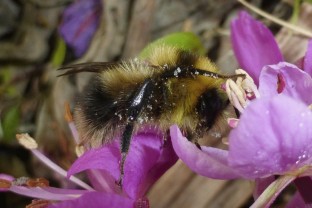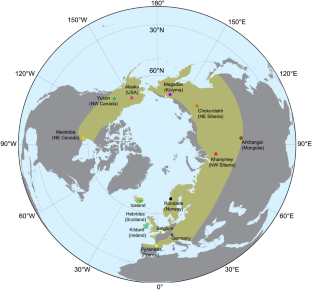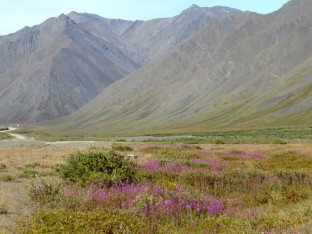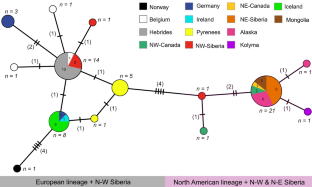 Data availability
All data are available in the main text or the supplementary materials including full data sets with the global sampling. Genetic sequences are available on Genbank (Accession Number in Online Resource 1).
References
Alcaide M, Scordato ES, Price TD, Irwin DE (2014) Genomic divergence in a ring species complex. Nature 511:83–85

Alford DV (1975) Bumblebees. Davis-Poynter, London, pp 1–352

Bandelt HJ, Forster P, Röhl A (1999) Median-joining networks for inferring intraspecific phylogenies. Mol Biol Evol 16:37–48

Berg LS (1959) Die geographischen Zonen der Sowjetunion, vol 5. BG Teubner, Leipzig, pp 1–437

Bolotov IN, Kolosova YS, Podbolotskaya MV, Potapov GS, Grishchenko IV (2013) Mechanism of density compensation in island bumblebee assemblages (Hymenoptera, Apidae, Bombus) and the notion of reserve compensatory species. Biol Bull 40:318–328

Brasero N, Martinet B, Michez D, Lecocq T, Valterova I, Rasmont P (2020) Taxonomic revision of the Sylvarum group of bumblebees using an integrative approach. Syst Biodivers 18:12–28

Brasero N, Ghisbain G, Lecocq T, Michez D, Valterová I, Biella P, Monfared A, Williams PH, Rasmont P, Martinet B (2021) Resolving the species status of overlooked West-Palaearctic bumblebees. Zool Scr 50:616–632

Brunke AJ, Salnitska M, Hansen AK, Zmudzinska A, Smetana A, Buffam J, Solodovnikov A (2020) Are subcortical rove beetles truly Holarctic? An integrative taxonomic revision of north temperate Quedionuchus (Coleoptera: Staphylinidae: Staphylininae). Org Divers Evol 20:77–116

Byvaltsev AM, Proshchalykin My, Levchenko TV, Kupianskaya AN, Akulov EN (2016) Bumble bee fauna (Hymenoptera, Apidae: Bombus Latreille) of Krasnoyarsk Territory. A.I. Kurentsov's Annual Memorial Meetings 27:137–154

Combe FJ, Sikes DS, Tkach VV, Hope AG (2021) Origins and diversity of the Bering Sea Island fauna: shifting linkages across the northern continents. Biodivers Conserv. https://doi.org/10.1007/s10531-021-02153-3

Curtis J (1835) Insects. Descriptions, & c. of the insects brought home by Commander James Clark Ross, R.N., F.R.S. & c. In J. Ross: appendix to the narrative of a second voyage in search of a North-West Passage, and of a residence in the arctic regions during the years 1829, 1830, 1831, 1832, 1833, London, pp 59–80

Dalla Torre KW (1880) Unsere Hummel-(Bombus) Arten. Der Naturhistoriker 2:40–41

Davydova NG (2003) Fauna of bees (Hymenoptera, Apidae) of Yakutia. PhD Thesis. Zoological Institute of RAS, Saint-Petersburg, pp 1–320

de Lattin G (1967) Grundriss der Zoogeographie. Gustav Fischer, Stuttgar, pp 1–602

Dehon M, Engel MS, Gérard M, Aytekin AM, Ghisbain G, Williams PH, Rasmont P, Michez D (2019) Morphometric analysis of fossil bumble bees (Hymenoptera, Apidae, Bombini) reveals their taxonomic affinities. ZooKeys 891:71–118

Dylewska M (1996) Nasze trzmiele. Ośrodek Doradztwa Rolniczego, Karniowice, pp 1–256

Fabricius JC (1793) Entomologia systematica emendata et aucta. Secundum classes, ordines, genera, species adjectis synonimis, locis observationibus, descriptionibus. Hafniae, viii+pp 1–519

Falk S, Lewington R (2017) Veldgids bijen voor Nederland en Vlaanderen. Kosmos, Utrecht, pp 1–432

Genoud D, Rasmont P (2009) Nouvelles données biogéographiques sur Bombus jonellus (KIRBY, 1802) (Hymenoptera, Apidae) dans les Pyrénées. OSMIA 3:12–16

Ghisbain G, Williams PH, Michez D, Branstetter MG, Rasmont P (2020) Contribution to the knowledge of the bumblebee fauna of Afghanistan (Hymenoptera, Apidae, Bombus Latreille). ZooKeys 973:69–87

Habel JC, Drees C, Schmitt T, Assmann T (2010) Review refugial areas and postglacial colonizations in the western Palearctic. In: Habel JC, Assmann T (eds) Relict species. Springer, Berlin, pp 189–197

Hall TA (1999) BioEdit: a user-friendly biological sequence alignment editor and analysis program for Windows 95/98/NT. Nucleic Acids Symp Ser 41:95–98

Hatfield R, Jepsen S, Thorp R, Richardson L, Colla S, Foltz Jordan S (2016) Bombus jonellus. The IUCN Red List of Threatened Species 2016:e.T13340493A46440176. https://doi.org/10.2305/IUCN.UK.2016-1.RLTS.T13340493A46440176.en

Hebert PD, Ratnasingham S, De Waard JR (2003) Barcoding animal life: cytochrome c oxidase subunit 1 divergences among closely related species. Proc R Soc Lond B Biol Sci 270:96-99

Hines HM (2008) Historical biogeography, divergence times, and diversification patterns of bumble bees (Hymenoptera: Apidae: Bombus). Syst Biol 57:58–75

Irwin EG, Geoghegan J (2001) Theory, data, methods: developing spatially explicit economic models of land use change. Agric Ecosyst Environ 85:7–24

Irwin DE, Bensch S, Irwin JH, Price TD (2005) Speciation by distance in a ring species. Science 307:414–416

Ito M, Kuranishi RB (2000) Bumble bees (Hymenoptera: Apidae) occurring in the Kamchatka Peninsula and the North Kuril Islands. Nat Hist Res 7:281–289

Kirby W (1802) Monographia apum Angliae; or, an attempt to divide into their natural genera and families, such species of the Linnean genus Apis as have been discovered in England: with descriptions and observations. J. Raw, Ipswich, pp 1–388

Koch JB, Lozier J, Strange JP, Ikerd H, Griswold T, Cordes N, Solter L, Stewart I, Cameron SA (2015) USBombus, a database of contemporary survey data for North American Bumble Bees (Hymenoptera, Apidae, Bombus) distributed in the United States. Biodivers Data J 3:e6833

Kratochwil A (2016) Review of the Icelandic bee fauna (Hymenoptera: Apoidea: Anthophila). Integr Syst 9:217–227

Kupianskaya AN, Proshchalykin MYu, Lelej AS (2011) Contribution to the bee fauna (Hymenoptera, Apoidea: Megachilidae, Apidae) of Shantar Islands. Far East Entomol 229:1–6

Lecocq T, Brasero N, De Meulemeester T, Michez D, Dellicour S, Lhomme P, De Jonghe R, Valterová I, Urbanová K, Rasmont P (2015) An integrative taxonomic approach to assess the status of Corsican bumblebees: implications for conservation. Anim Conserv 18:236–248

Levchenko TV, Tomkovich KP (2014) Contribution to the bee fauna (Hymenoptera: Apiformes) of the Khanty-Mansi Autonomous Region, Western Siberia, Russia. Entomofauna Z Entomol 35:85–100

Lhomme P, Williams SD, Ghisbain G, Martinet B, Gérard M, Hines HM (2021) Diversification pattern of the widespread Holarctic Cuckoo bumble bee, Bombus flavidus (Hymenoptera: Apidae): the east side story. Insect Syst Divers 5:1–15

Løken A (1973) Studies on scandinavian bumble bees (Hymenoptera, Apidae). Nor Entomol Tidsskr 20:1–218

Madsen HB, Schmidt HT, Rasmussen C (2016) Distriktskatalog over Danmarks bier (Hymenoptera, Apoidea). Entomologiske Meddelelser 83:43–70

Martinet B, Brasero N, Lecocq T, Biella P, Valterová I, Michez D, Rasmont P (2018) Adding attractive semio-chemical trait refines the taxonomy of Alpinobombus (Hymenoptera: Apidae). Apidologie 49:838–851

Martinet B, Lecocq T, Brasero N, Gerard M, Urbanová K, Valterová I, Gjershaug JO, Michez D, Rasmont P (2019) Integrative taxonomy of an arctic bumblebee species complex highlights a new cryptic species (Apidae: Bombus). Zool J Linn Soc 187:599–621

Martinet B, Zambra E, Przybyla K, Lecocq T, Anselmo A, Nonclercq RP, Michez D, Hennebert E (2021a) Mating under climate change: impact of simulated heatwaves on reproduction of model pollinators. Funct Ecol 35:739–752

Martinet B, Dellicour S, Ghisbain G, Przybyla K, Zambra E, Lecocq T, Boustani M, Baghirov R, Michez D, Rasmont P (2021b) Global effects of extreme temperatures on wild bumblebees. Conserv Biol. https://doi.org/10.1111/cobi.13685

Monahan WB, Pereira RJ, Wake DB (2012) Ring distributions leading to species formation: a global topographic analysis of geographic barriers associated with ring species. BMC Biol 10:20

Nei M, Kumar S (2000) Molecular evolution and phylogenetics. Oxford University Press, New York, pp 1–348

Nieto A, Roberts SPM, Kemp J, Rasmont P, Kuhlmann M, García Criado M, Biesmeijer JC, Bogusch P, Dathe HH, De la Rúa P, De Meulemeester T, Dehon M, Dewulf A, Ortiz-Sánchez FJ, Lhomme P, Pauly A, Potts SG, Praz C, Quaranta M, Radchenko VG, Scheuchl E, Smit J, Straka J, Terzo M, Tomozii B, Window J, Michez D (2014) European Red List of bees. Publication Office of the European Union, Luxembourg, pp 1–84

Päckert M, Martens J, Eck S, Nazarenko AA, Valchuk OP, Petri, B, Veith M (2005) The great tit (Parus major)—a misclassified ring species. Biol J Linn Soc 86:153–174

Panfilov DV (1957) Experience of reconstruction of paleogeography of Northern Eurasia in the Quaternary period based on the materials of modern bumblebee fauna [In Russia]. In: Proceedings of the 1st session of the All-Union Paleontological Society on January 24–28, 1955. Gosgeoltehizdat, Moscow, pp 97–106

Panfilov DV (1982) Map 150: Bombus jonellus (Kirby, 1802). In: Skarlato OA (ed) Provisional atlas of the insects in the European part of USSR. Nauka, Leningrad, p 28

Parkkinen S, Paukkunen J, Teras I (2018) Suomen kimalaiset. Docendo Oy, Yuvaskyla, pp 1–176

Paukkunen J, Kozlov MV (2015) Stinging wasps, ants and bees (Hymenoptera: Aculeata) of the Murmansk region, Northwest Russia. Entomol Fenn 26:53–73

Paukkunen J, Kozlov MV (2020) Stinging wasps, ants and bees (Hymenoptera: Aculeata) of the Nenets Autonomous Okrug, northern Russia. Ann Zool Fenn 57:115–128

Pekkarinen A (1981) Distribution of bumblebees (Hymenoptera, Apidae: Bombus and Psithyrus) in eastern Fennoscandia. Not Entomol 61:71–89

Potapov GS, Kolosova YS (2020) Bombus (Pyrobombus) jonellus (Kirby, 1802) in the north-western Russian Plain: its distribution and ecology. Arct Environ Res 20:1–9

Potapov GS, Kondakov AV, Kolosova YS, Tomilova AA, Filippov BY, Gofarov MY, Bolotov IN (2018) Widespread continental mtDNA lineages prevail in the bumblebee fauna of Iceland. ZooKeys 774:141–153

Potapov GS, Kondakov AV, Filippov BY, Gofarov MY, Kolosova YS, Spitsyn VM, Tomilova AA, Zubrii NA, Bolotov IN (2019) Pollinators on the polar edge of the Ecumene: taxonomy, phylogeography, and ecology of bumble bees from Novaya Zemlya. ZooKeys 866:85–115

Proshchalykin MY (2004) A check list of the bees (Hymenoptera, Apoidea) of the southern part of the Russian Far East. Far East Entomol 143:1–17

Proshchalykin MY, Kupianskaya AN (2005) The bees (Hymenoptera, Apoidea) of the northern part of the Russian Far East. Far East Entomol 153:1–39

Proshchalykin MY, Lelei AS, Kupyanskaya AN (2004) The fauna of bees (Hymenoptera, Apoidea) of Sakhalin Island. In: The flora and fauna of Sakhalin Island: materials of the International Sakhalin Project, Dalnauka, Vladivostok, pp 154–192

Rasmont P, Iserbyt S (2014) Atlas of the European Bees: genus Bombus, 3rd edn. STEP Project, Atlas Hymenoptera, Mons, Gembloux. Accessed 20 Nov 2020

Rasmont P, Franzén M, Lecocq T, Harpke A, Roberts SP, Biesmeijer JC et al (2015) Climatic risk and distribution atlas of European bumblebees. Pensoft Publishers, Sofia, pp 1–236

Rasmont P, Ghisbain G, Terzo M (2021) Bumblebees of Europe and neighbouring regions. NAP editions, Verrières-le-Buisson, pp 1–638 (in press)

Reinig WF (1937) Die Holarktis. Ein Beitrag zur diluvialen und alluvialen Geschichte der Cirkumpolaren Faunen-und Florengebiete. Gustav Fischer, Jena, pp 1–124

Sanmartin I, Enghoff H, Ronquist F (2001) Patterns of animal dispersal, vicariance and diversification in the Holarctic. Biol J Linn Soc 73:345–390

Sikes DS, Trumbo ST, Peck SB (2016) Cryptic diversity in the New World burying beetle fauna: Nicrophorus hebes Kirby, 1837; new status as a resurrected name (Coleoptera: Silphidae: Nicrophorinae). Arthropod Syst Phylogeny 74:299–309

Sirois-Delisle C, Kerr JT (2018) Climate change-driven range losses among bumblebee species are poised to accelerate. Sci Rep 8:1–10

Streinzer M, Chakravorty J, Neumayer J, Megu K, Narah J, Schmitt T, Bharti H, Spaethe J, Brockmann A (2019) Species composition and elevational distribution of bumble bees (Hymenoptera, Apidae, Bombus Latreille) in the east Himalaya, Arunachal Pradesh, India. ZooKeys 851:71–89

Stresemann E, Timofeeff-Ressovsky NW (1947) Artentstehung in geographishen Formenkreisen. I. Der Formenkreis Larus argentatus-cachinnans-fuscus. Biol Zent Bl 66:57–76

Tamura K, Stecher G, Peterson D, Filipski A, Kumar S (2013) MEGA6: molecular evolutionary genetics analysis version 6.0. Mol Biol Evol 30:2725–2729

Williams PH (1985) A preliminary cladistic investigation of relationships among the bumble bees (Hymenoptera, Apidae). Syst Entomol 10:239–255

Williams PH (1991) The bumble bees of the Kashmir Himalaya (Hymenoptera: Apidae, Bombini). Bull Br Mus 60:1–204

Williams PH (1998) An annotated checklist of bumble bees with an analysis of patterns of description (Hymenoptera: Apidae, Bombini). Bull Nat Hist Mus Entomol 67:79–152

Williams PH, Ito M, Matsumura T, Kudo I (2010) The bumblebees of the Nepal Himalaya (Hymenoptera: Apidae). Insecta Matsumurana 66:115–151

Williams PH, Thorp RW, Richardson L, Colla SR (2014) Bumble bees of North America: an identification guide. Princeton University Press, Princeton, pp 1–208

Williams PH, Berezin MV, Cannings SG, Cederberg B, Ødegaard F, Rasmussen C, Richardson LL, Rykken J, Sheffield CS, Thanoosing C, Byvaltsev AM (2019) The arctic and alpine bumblebees of the subgenus Alpinobombus revised from integrative assessment of species' gene coalescents and morphology (Hymenoptera, Apidae, Bombus). Zootaxa 4625:1–68

Williams PH, Altanchimeg D, Byvaltsev A, De Jonghe R, Jaffar S, Japoshvili G et al (2020) Widespread polytypic species or complexes of local species? Revising bumblebees of the subgenus Melanobombus world-wide (Hymenoptera, Apidae, Bombus). Eur J Taxon 719:1–120
Acknowledgements
The authors thank the Abisko, Sweden, (Magnus Augner and Linnéa Wanhatalo), Tarfala, Sweden (Peter Läkare and Gunhild Ninis Rosqvist), Toolik field, USA (Michael Abels), Kluane lake, Canada (Sian Williams), Whapmagostuui-Kuujuarapik, Québec (Sydney Arruda), Salluit, Québec (Sydney Arruda), Chokurdakh Research station, E-Siberia (Trofim Maximov and Roman Petrov) and Khanymey, W-Siberia (Sergey Kirpotin, Ruslan Baghirov) scientific stations and all associated people for their hospitality and for their help for collecting bumblebee material especially Roland De Jonghe for specimens from Mongolia. The authors thank Thomas Wood for proofreading and comments on the manuscript. We also thank the referees Jan Ove Gjershaug, Sondre Dahle, Derek S. Sikes and one anonymous referee for their constructive comments which allowed the significant improvement of the manuscript. BM is a postdoctoral researcher for FRS-FNRS (Fonds de la Recherche Scientifique). GG and KP contributed as PhD students granted by the FRS-FNRS. The research was funded by the European Union's Horizon 2020 project INTERACT, under grant agreement No 730938. The study was partly supported by the Ministry of Science and Higher Education of the Russian Federation (Project No. AAAA-A18-118011690221-0). We are also grateful to Hannele Savela (Oulu University, INTERACT administration) for her help in the INTERACT application process.
Funding
The research was funded by the European Union's Horizon 2020 project INTERACT, under grant agreement No 730938. The study was partly supported by the Ministry of Science and Higher Education of the Russian Federation (Project No. AAAA-A18-118011690221-0).
Ethics declarations
Conflict of interest
The authors declare no competing financial interests.
Additional information
Publisher's Note
Springer Nature remains neutral with regard to jurisdictional claims in published maps and institutional affiliations.
Supplementary Information
Below is the link to the electronic supplementary material.
Online Resource 1 Table of sampling. Sample code refers to the sample labels used in genetic analyses including the GenBank accession numbers for each sample (when conspecific samples display the same gene sequence, only one of them has been submitted to Genbank).
About this article
Cite this article
Martinet, B., Ghisbain, G., Przybyla, K. et al. Distant but related: genetic structure in the circum-boreal bumblebee Bombus jonellus (Kirby, 1802). Polar Biol 44, 2039–2047 (2021). https://doi.org/10.1007/s00300-021-02937-x
Received:

Revised:

Accepted:

Published:

Issue Date:

DOI: https://doi.org/10.1007/s00300-021-02937-x
Keywords
Polar species

Relictual populations

Bumblebees

Genetic connections

Post-glacial recolonization

Ice ages