Abstract
Parental care is a rather common reproductive strategy in fishes, particularly in species with low fecundity and large eggs as the Antarctic icefish (Channichthyidae). The infrequent use of underwater devices to record fish behaviour and the logistic limitations of operating in the Antarctic marine environment have prevented, so far, the collection of data about rare species. Integrating results from benthic trawling and underwater photographic images, we provide the first demographic and reproductive behavioural data for the channichthyid Neopagetopsis ionah, describing the nesting and parental care behaviour of a spawning population in the south-eastern Weddell Sea. The population sampled by the Agassiz trawl was dominated by females, and consisted of several post-spawning as well as a few mature females spread over a narrow size range. Based on otolith reading, the population included two cohorts estimated as four- and five-year-old fish. Following common trade-off between fecundity and egg size, females of N. ionah spawned few large eggs (733–1810 eggs/female, 4.9–6.5 mm in diameter). The nesting site was characterized by fine sediments with sparse gravel and the accompanying benthic invertebrate community showed low densities and was relatively poor. A total of 93 nests were counted along the video transect, most of them with a single guarding male or left unattended. Fish remains or whole dead specimens were frequently observed in the proximity of the nest. This observation represents the first record of post-spawning mortality associated with parental care which has never been documented before in Antarctic fishes.
Access options
Buy single article
Instant access to the full article PDF.
USD 39.95
Price excludes VAT (USA)
Tax calculation will be finalised during checkout.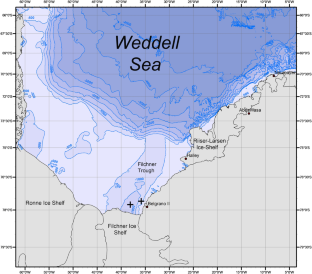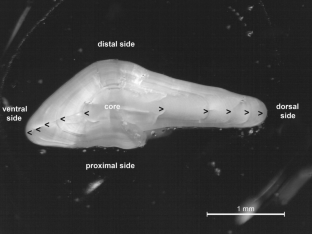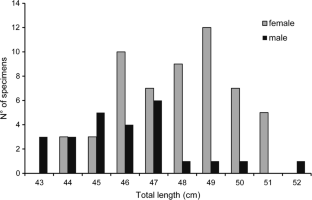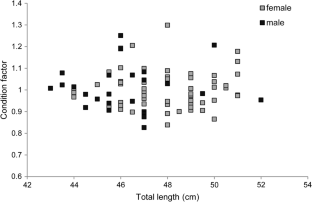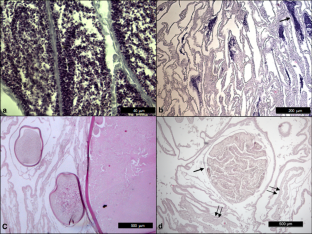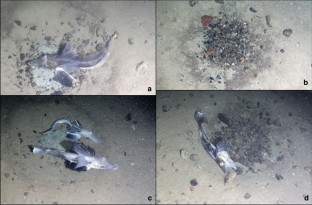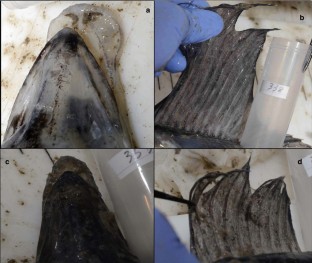 References
Andersson M, Simmons LW (2006) Sexual selection and mate choice. Trends Ecol Evol 21:296–302. https://doi.org/10.1016/j.tree.2006.03.015

Arntz WE, Gutt J (1997) The Expedition ANTARKTIS XIII/3 (EASIZ I) of RV "Polarstern" to the eastern Weddell Sea in 1996. Ber Polarforsch 249:1–148

Arntz WE, Gutt J (1999) The Expedition ANTARKTIS XV/3 (EASIZ II) of RV "Polarstern" in 1998. Ber Polarforsch 301:1–244

Balshine S, Sloman KA (2011) Parental care in fishes. In: Farrel AP (ed) Encyclopedia of fish physiology: from genome to environment. Academic Press, San Diego, CA, pp 670–677

Beamish RJ, Fournier DA (1981) A method of comparing the precision of a set of age determinations. Can J Fish Aquat Sci 38:982–983. https://doi.org/10.1139/f81-132

Blumer LS (1982) A bibliography and categorization of bony fishes exhibiting parental care. Zool J Linnean Soc 76:1–22. https://doi.org/10.1111/j.1096-3642.1982.tb01939.x

Bolger T, Connolly PL (1989) The selection of suitable indices for the measurement and analysis of fish condition. J Fish Biol 34:171–182. https://doi.org/10.1111/j.1095-8649.1989.tb03300.x

Brown-Peterson NJ, Wyanski DM, Saborido-Rey F, Macewicz BJ, Lowerre-Barbieri SK (2011) A standardized terminology for describing reproductive development in fishes. Mar Coast Fish 3:52–70. https://doi.org/10.1080/19425120.2011.555724

Chang WYB (1982) A statistical method for evaluating the reproducibility of age determination. Can J Fish Aquat Sci 39:1208–1210. https://doi.org/10.1139/f82-158

Desvignes T, Le François NR, Goetz LC, Smith SS, Shusdock KA, Parker SK, Postlethwait JH, Detrich HW (2019) Intergeneric hybrids inform reproductive isolating barriers in the Antarctic icefish radiation. Sci Rep 9:1–10. https://doi.org/10.1038/s41598-019-42354-z

Detrich HW III, Jones CD, Kim S, North AW, Thurber A, Vacchi M (2005) Nesting behaviour of the icefish Chaenocephalus aceratus at Bouvetøya Island, Southern Ocean. Polar Biol 28:828–832. https://doi.org/10.1007/s00300-005-0010-8

Duhamel G (1991) The biological and demographic peculiarities of the icefish Champsocephalus gunnari Lönnberg, 1905 from the Kerguelen plateau. In: Di Prisco G, Maresca R, Tota B (eds) Biology of Antarctic fishes. Springer, Berlin, pp 40–53

Duhamel G (1995) New Data on spawning, hatching and growth of Champsocephalus gunnari on the shelf of the Kerguelen Islands. CCAMLR Sci 2:21–34

Eastman JT (1993) Antarctic fish biology: evolution in a unique environment. Academic Press, San Diego

Eastman JT (2020) The buoyancy-based biotope axis of the evolutionary radiation of Antarctic cryonotothenioid fishes. Polar Biol 43:1217–1231. https://doi.org/10.1007/s00300-020-02702-6

Ekau W, Gutt J (1991) Notothenioid fishes from the Weddell Sea and their habitat, observed by underwater photography and television. Proc NIPR Symp Polar Biol 4:36–49

Elgar MA (1990) Evolutionary compromise between a few large and many small eggs: comparative evidence in teleost fish. Oikos 59:283–287. https://doi.org/10.2307/3545546

Everson I, North AW, Paul A, Cooper R, McWilliam NC, Kock K-H (2001) Spawning locations of mackerel icefish at South Georgia. CCAMLR Sci 8:107–118

Ferrando S, Castellano L, Gallus L, Ghigliotti L, Masini MA, Pisano E, Vacchi M (2014) A demonstration of nesting in two Antarctic icefish (Genus Chionodraco) using a fin dimorphism analysis and ex situ videos. PLoS ONE 9:e90512. https://doi.org/10.1371/journal.pone.0090512

Gerdes D (1990) Antarctic trials with the multibox corer, a new device for benthos sampling. Polar Rec 26:35–38. https://doi.org/10.1017/S0032247400022749

Gross MR (2005) The evolution of parental care. Q Rev Biol 80:37–45

Iwami T, Kock K-H (1990) Channichthyidae. In: Gon O, Heemstra PC (eds) Fishes of the Southern Ocean. JLB Smith Institute of Ichthyology, Grahamstown, pp 381–399

Jones CD, Near TJ (2012) The reproductive behaviour of Pogonophryne scotti confirms widespread egg-guarding parental care among Antarctic notothenioids. J Fish Biol 80:2629–2635. https://doi.org/10.1111/j.1095-8649.2012.03282.x

Knust R, Schröder M (2014) The expedition PS82 of the research vessel Polarstern to the southern Weddell Sea in 2013/2014. Ber Polar-Meeresforsch 680:1–155

Kock K-H (1989) Reproduction in Antarctic fish around Elephant Island. Arch FischWiss 39:171–210

Kock K-H (2005) Antarctic icefishes (Channichthyidae): a unique family of fishes. A review, Part 1. Polar Biol 28:862–895. https://doi.org/10.1007/s00300-005-0019-z

Kock K-H, Kellermann A (1991) Reproduction in Antarctic notothenioid fishes-a review. Antarct Sci 3:125–150. https://doi.org/10.1017/S0954102091000172

Kock K-H, Everson I (2003) Shedding new light on the life cycle of mackerel icefish in the Southern Ocean. J Fish Biol 63:1–21. https://doi.org/10.1046/j.1095-8649.2003.00150.x

Kock K-H, Jones CD, Wilhelms S (2000) Biological characteristics of Antarctic fish stocks in the southern Scotia Arc region. CCAMLR Sci 7:1–41

Kock K-H, Pshenichnov L, DeVries AL (2006) Evidence for egg brooding and parental care in icefish and other notothenioids in the Southern Ocean. Antarct Sci 18:223–227. https://doi.org/10.1017/S0954102006000265

Kock K-H, Pshenichnov L, Jones CD, Gröger J, Riehl R (2008) The biology of the spiny ice fish Chaenodraco wilsoni Regan, 1914. Polar Biol 31:381–393. https://doi.org/10.1007/s00300-007-0366-z

Kuhn T, Zizka VMA, Münster J, Klapper R, Mattiucci S, Kochmann J, Klimpel S (2018) Lighten up the dark: metazoan parasites as indicators for the ecology of Antarctic crocodile icefish (Channichthyidae) from the north-west Antarctic Peninsula. PeerJ 6:e4638. https://doi.org/10.7717/peerj.4638

La Mesa M, Piepenburg D, Pineda-Metz S, Riginella E, Eastman JT (2019) Spatial distribution and habitat preferences of demersal fish assemblages in the southeastern Weddell Sea (Southern Ocean). Polar Biol 42:1025–1040. https://doi.org/10.1007/s00300-019-02495-3

Lisovenko LA, Trunov IA (1989) New information on the reproduction of Jonah glassfish, Neopagetopsis ionah, of the Lazarev Sea. J Ichthyol 29:27–33

Litvinov F, Tormosov D, Frolkina ZH (2004) The brief review of the AtlantNIRO's investigations of living marine resources: whales, krill and fish in the Atlantic sector of the Antarctic. Document WG-EMM-04/30, CCAMLR, Hobart

Mank JE, Promislow DEL, Avise JC (2005) Phylogenetic perspectives in the evolution of parental care in ray-finned fishes. Evol 59:1570–1578. https://doi.org/10.1554/04-734

Marino IAM, Benazzo A, Agostini C, Mezzavilla M, Hoban SM, Patarnello T, Zane L, Bertorelle G (2013) Evidence for past and present hybridization in three Antarctic icefish species provides new perspectives on an evolutionary radiation. Mol Ecol 22:5148–5161. https://doi.org/10.1111/mec.12458

Mück I, Wacker S, Myhre LC, Amundsen T (2013) Nest distribution affects behaviour and mating success in a marine fish. Behav Ecol Sociobiol 67:609–619. https://doi.org/10.1007/s00265-013-1480-2

Murua H, Kraus G, Saborido-Rey F, Witthames PR, Thorsen A, Junquera S (2003) Procedures to estimate fecundity of marine fish species in relation to their reproductive strategy. J Northwest Atl Fish Sci 33:33–54. https://doi.org/10.2960/J.v33.a3

Novillo M, Moreira E, Macchi G, Barrera-Oro E (2019) Reproductive effort in Chaenocephalus aceratus validated by gonadal histology: inshore sites serve as spawning grounds for some notothenioids. Polar Biol 42:1959–1972. https://doi.org/10.1007/s00300-019-02571-8

Pearse AGE (1985) Histochemistry theoretical and applied analytical technology. Churchill Livingstone, Edinburgh

Pineda-Metz SEA, Gerdes D (2018) Seabed images versus corer sampling: a comparison of two quantitative approaches for the analysis of marine benthic communities in the southern Weddell Sea (Southern Ocean). Polar Biol 41:515–526. https://doi.org/10.1007/s00300-017-2211-3

Pineda-Metz SEA, Gerdes D (2020) Seabed images taken at Site PS82/098-1 deployment during POLARSTERN cruise PS82. PANGAEA. https://doi.org/10.1594/PANGAEA.914159

Potts GW (1984) Parental behavior in temperate marine teleosts with special reference to the development of nest structures. In: Potts GW, Wootton RJ (eds) Fish reproduction: strategies and tactics. Academic Press, Oxford, pp 223–244

Shandikov GA, Faleeva TI (1992) Features of gametogenesis and sexual cycles of six notothenioid fishes from East Antarctica. Polar Biol 11:615–621. https://doi.org/10.1007/BF00237956

Sokal RR, Rohlf FJ (1995) Biometry. The principle and practice of statistics in biological research. Freeman, San Francisco

Witthames PR, Thorsen A, Murua H, Saborido-Rey F, Greenwood LN, Dominguez R, Korta M, Kjesbu OS (2009) Advances in methods for determining fecundity: application of the new methods to some marine fishes. Fish Bull 107:148–164

Wöhrmann APA (1996) Antifreeze glycopeptides and peptides in Antarctic fish species from the Weddell Sea and the Lazarev Sea. Mar Ecol Progr Ser 130:47–59. https://doi.org/10.3354/meps130047

Wootton RJ, Smith C (2014) Reproductive biology of teleost fishes. Wiley, New York

Ziegler AF, Smith CR, Edwards KF, Vernet M (2017) Glacial dropstones: islands enhancing seafloor species richness of benthic megafauna in West Antarctic Peninsula fjords. Mar Ecol Progr Ser 583:1–14. https://doi.org/10.3354/meps12363
Acknowledgements
We thank the Alfred-Wegener-Institut, Helmholtz-Zentrum für Polar- und Meeresforschuna ll and all the crew members and personnel aboard RV Polarsternduring PS 82 expedition for their invaluable contribution. The authors are also grateful to Maj Wetjen, Kai Wätjen and Rainer Knust, Massimiliano Babbucci (Alfred Wegener Institute Helmholtz Centre for Polar and Marine Research) for their support in sample collection. We sincerely thank Esteban Barrera-Oro, Alberta Mandich and Katja Mintenbeck, whose comments greatly improved the early draft of the manuscript. CP acknowledges financial support from the University of Padua (BIRD164793/16, SEED2019) and from the European Marie Curie project 'Polarexpress' Grant No. 622320. This study was conducted within the project 2013/C1.07, and MLM acknowledges financial support of the Italian National Antarctic Research Program (PNRA) and by the Ministero dell'Istruzione, dell'Università`e della Ricerca (MIUR).
Ethics declarations
Conflict of interest
All authors declare that they have no affiliations with or involvement in any organization or entity with any financial interest or non-financial interest in the subject matter or materials discussed in this manuscript.
Ethical Approval
All applicable institutional, national or international guidelines for the use and care of animals were strictly followed in the study.
Additional information
Publisher's Note
Springer Nature remains neutral with regard to jurisdictional claims in published maps and institutional affiliations.
About this article
Cite this article
Riginella, E., Pineda-Metz, S.E.A., Gerdes, D. et al. Parental care and demography of a spawning population of the channichthyid Neopagetopsis ionah, Nybelin 1947 from the Weddell Sea. Polar Biol 44, 1725–1735 (2021). https://doi.org/10.1007/s00300-021-02913-5
Received:

Revised:

Accepted:

Published:

Issue Date:

DOI: https://doi.org/10.1007/s00300-021-02913-5
Keywords