Abstract
Giant petrels Macronectes spp. are the largest avian predator-scavengers in the Southern Ocean and feed both by direct predation and by scavenging carrion. However, they are not considered to be predators of adult albatrosses. We report the first records of Southern Giant Petrels M. giganteus attacking and killing incubating Atlantic Yellow-nosed Albatrosses Thalassarche chlororhynchos on Gough Island. From 2017 to 2019, a total of 87 adult carcasses were found near nests within long-term monitoring areas. In 2019, 16 motion-activated cameras filmed 32 nests between September and January, during incubation up until chicks were no longer guarded by their parents. Camera footage revealed at least six different male Southern Giant Petrels independently attacking 11 incubating Atlantic Yellow-nosed Albatrosses, killing and feeding on 5 of those. We also recorded a Southern Giant Petrel attacking a brooding Atlantic Yellow-nosed Albatross and carrying its chick away. Of these camera-monitored nests breeding success was 18.75%, nest failure was due to parent mortality (n = 6), chick mortality (3) and nest abandonment (17), with giant petrels being confirmed or strongly suspected in at least 14 of 26 cases (54%). We observed these attacks in two out of 11 study areas, but it is uncertain whether this behaviour occurs elsewhere on Gough Island, or whether it is a novel hunting method learnt by a few individuals. However, if this behaviour spreads across albatross colonies, the resulting increase in adult mortality could have a significant impact on this endangered Atlantic Yellow-nosed Albatross population.
Access options
Buy single article
Instant access to the full article PDF.
US$ 39.95
Tax calculation will be finalised during checkout.
Subscribe to journal
Immediate online access to all issues from 2019. Subscription will auto renew annually.
US$ 119
Tax calculation will be finalised during checkout.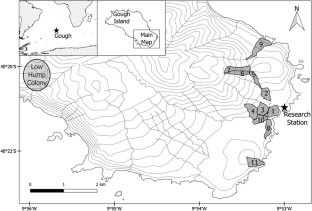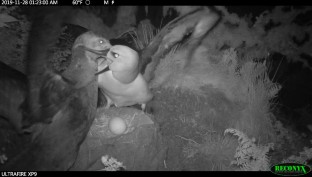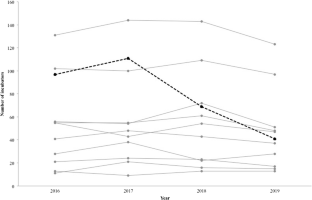 References
ACAP (Agreement on the Conservation of Albatrosses and Petrels) (2009) Agreement on the Conservation of Albatrosses and Petrels, species assessments: Atlantic Yellow-nosed Albatross Thalassarche chlororhynchos. http://www.acap.aq/index.php/species-assessments. Accessed September 2009

Bester MN, Burle MH, Hofmeyr GJ, Wilson JW (2006) Population trends of Subantarctic fur seals at Gough Island. S Afr J Wildl Res 36:191–194

Cooper J, Parker GC (2011) Observations of sexual dimorphism among the Southern Giant Petrels Macronectes giganteus of Gough Island. Sea Swallow 60:84–90

Copello S, Quintana F, Pérez F (2008) Diet of the Southern Giant Petrel in Patagonia: fishery-related items and natural prey. Endanger Species Res 6:15–23

Cox JB (1978) Albatross killed by giant petrel. Emu 78:94–95

Davies D, Dilley B, Bond A, Cuthbert R, Ryan PG (2015) Trends and tactics of mouse predation on Tristan Albatross Diomedea dabbenena chicks at Gough Island, South Atlantic Ocean. Avian Conserv Ecol. https://doi.org/10.5751/ACE-00738-100105

De Bruyn PJN, Cooper J (2005) Who's the boss? Giant petrel arrival times and interspecific interactions at a seal carcass at sub-Antarctic Marion Island. Polar Biol 28:571–573

Dilley BJ, Davies D, Connan M, Cooper J, de Villiers M, Swart L, Vandenabeele S, Ropert-Coudert Y, Ryan PG (2013) Giant petrels as predators of albatross chicks. Polar Biol 36:761–766

Forster IP, Phillips RA (2009) Influence of nest location, density and topography on breeding success in the black-browed albatross Thalassarche melanophris. Mar Ornithol 37:213–217

González-Solís J, Croxall JP, Wood AG (2000) Foraging partitioning between giant petrels Macronectes spp. and its relationship with breeding population changes at Bird Island, South Georgia. Mar Ecol Prog Ser 204:279–288

Granroth-Wilding HMV, Phillips RA (2019) Segregation in space and time explains the coexistence of two sympatric sub-Antarctic petrels. Ibis 161:101–116

Hunter S (1983) The food and feeding ecology of the giant petrels Macronectes halli and M. giganteus at South Georgia. J Zool 200:521–538

Hunter S (1985) The role of giant petrels in the Southern Ocean ecosystem. In: Siegfried WR, Condy PR, Laws RM (eds) Antarctic nutrient cycles and food webs. Springer, Berlin, pp 534–542

Hunter S (1987) Species and sexual isolating mechanisms in sibling species of giant petrels Macronectes. Polar Biol 7:295–301

Hunter S, Brooke MdeL (1992) The diet of giant petrels Macronectes spp. at Marion Island Southern Ocean. Colon Waterbirds 15:56–65

Jones CW, Risi MM, Cleeland J, Ryan PG (2019) First evidence of mouse attacks on adult albatrosses and petrels breeding on sub-Antarctic Marion and Gough Islands. Polar Biol 42:619–623

Le Bohec C, Gauthier-Clerc M, Gendner JP, Chatelain N, Le Maho Y (2003) Nocturnal predation of king penguins by giant petrels on the Crozet Islands. Polar Biol 26:587–590

Poncet S, Wolfaardt AC, Barbraud C, Reyes-Arriagada R, Black A, Powell RB, Phillips RA (2020) The distribution, abundance, status and global importance of giant petrels (Macronectes giganteus and M. halli) breeding at South Georgia. Polar Biol 43:17–34

Rogers AD, Frinault BA, Barnes DK, Bindoff NL, Downie R, Ducklow HW, Friedlaender AS, Hart T, Hill SL, Hofmann EE, Linse K (2019) Antarctic futures: an assessment of climate-driven changes in ecosystem structure, function, and service provisioning in the Southern Ocean. Annu Rev Mar Sci 12:87–120

Ryan PG (2007) Field guide to the animals and plants of Tristan da Cunha and Gough Island. Pisces Publications, Newbury

Ryan PG, Sommer E, Breytenbach E (2008) Giant petrels Macronectes hunting Northern rockhopper penguins Eudyptes moseleyi at sea. Ardea 96:129–134

Sagar PM, Warham J (1998) Breeding biology of southern Buller's albatrosses at the Snares, New Zealand. In: Robertson GA, Gales R (eds) Albatross biology and conservation. Surrey Beatty and Sons, Chipping Norton, pp 92–98

Tickell WLN (2000) Albatrosses. Pica Press, Sussex
Acknowledgements
Logistical support was provided by the South African Department of Environment Forestry and Fisheries, the University of Cape Town and Royal Society for the Protection of Birds through the Gough Island Restoration Programme. The Tristan da Cunha Administrator, Island Council and Conservation Department provided permission for our monitoring work on Gough Island. We would like to thank Dr Michael Brooke and an anonymous reviewer for making suggestions which improved this manuscript.
Ethics declarations
Conflict of interest
The authors declare that they have no conflict of interests.
Ethical approval
Field procedures were approved by the Animal Ethics Committee of the Royal Society for the Protection of Birds.
Additional information
Publisher's Note
Springer Nature remains neutral with regard to jurisdictional claims in published maps and institutional affiliations.
Supplementary Information
Below is the link to the electronic supplementary material.
Online Resource 1: Video of an incubating Atlantic Yellow-nosed Albatross on Gough Island being attacked by mice captured with a motion-sensor triggered camera in November 2019 (MP4 28781 KB)
Online Resource 3: Video of a Southern Giant Petrel attacking an incubating Atlantic Yellow-nosed Albatross on Gough Island captured with a motion-sensor triggered camera in November 2019 (MP4 11470 KB)
Online Resource 2: Southern Giant Petrel carrying an Atlantic Yellow-nosed Albatross chick away from the nest after successfully pushing the brooding adult (bottom right) off the nest (TIFF 6161 KB)
About this article
Cite this article
Risi, M.M., Jones, C.W., Osborne, A.M. et al. Southern Giant Petrels Macronectes giganteus depredating breeding Atlantic Yellow-nosed Albatrosses Thalassarche chlororhynchos on Gough Island. Polar Biol 44, 593–599 (2021). https://doi.org/10.1007/s00300-021-02810-x
Received:

Revised:

Accepted:

Published:

Issue Date:
Keywords
Foraging behaviour

Predation

Breeding success

Camera trap

Tristan da Cunha Archipelago
Novel foraging tactics