Abstract
Elephant Island sits on the front lines of ecological change in the Scotia Arc region, but most of the island has remained unsurveyed for nearly 50 years. As a result, there has been no way to establish whether changes on the island reflect those to the south along the Western Antarctic Peninsula or whether, in contrast, populations have remained stable, as on the more northerly South Sandwich Islands. At the core of the Chinstrap Penguin (Pygoscelis antarcticus) breeding range, at the southern edge of the Macaroni Penguin (Eudyptes chrysolophus) and (very recently) King Penguin (Aptenodytes patagonicus) ranges, at the northern limit of the Adélie Penguin (Pygoscelis adeliae) range, and in an area where Gentoo Penguin (Pygoscelis papua) populations are expanding southward, Elephant Island is situated at a unique ecological crossroads, hosting both sub-Antarctic and Antarctic seabirds, the former of which may be responding favorably to the very same climate changes that imperil the latter. Fortunately, an exhaustive census of the island in 1970–71 provides a rigorous baseline against which to document ecological change. Here, we report on the first complete survey of the island since 1970–71, conducted from January 9–20, 2020. Results indicate a decrease in Chinstrap Penguin populations, a doubling of Gentoo Penguins, a stable number of Macaroni Penguins, continuing occupancy by a few Adélie Penguins, and evidence of King Penguin breeding expansion. Our findings demonstrate that Elephant Island's seabird community has changed dramatically over the past five decades and that these changes appear to be ongoing.
Access options
Buy single article
Instant access to the full article PDF.
USD 39.95
Price includes VAT (USA)
Tax calculation will be finalised during checkout.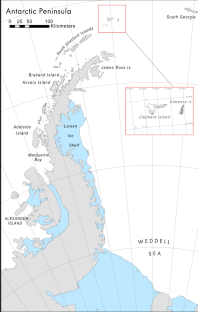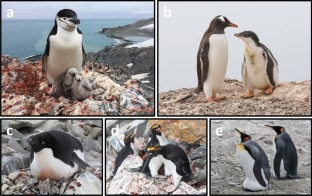 References
Agnew CH (1972) Elephant Island. Alpine J 204–210

Agnew DJ (1997) The CCAMLR ecosystem monitoring programme. Antarct Sci 9:235–242

Borowicz A, McDowall P, Youngflesh C, Sayre-McCord T, Clucas G, Herman R, Forrest S, Rider M, Schwaller M, Hart T, Jenouvrier S, Polito MJ, Singh H, Lynch HJ (2018) Multi-modal survey of Adélie Penguin mega-colonies reveals the Danger Islands as a seabird hotspot. Sci Rep 8:3926

Borowicz A, Forrest S, Wethington M, Strycker N, Lynch HJ (2020) Presence of King Penguins (Aptenodytes patagonicus) on Elephant Island provides further evidence of range expansion. Polar Biol. https://doi.org/10.1007/s00300-020-02760-w

Burley M (1972) Joint services expedition to Elephant Island. Geogr J 138:298–308

Casanovas PV, Naveen R, Forrest S, Poncet J, Lynch HJ (2015) A comprehensive coastal seabird survey maps out the front lines of ecological change on the Western Antarctic Peninsula. Polar Biol 38:927–940

CCAMLR (2004) Standard methods for monitoring parameters of predators species. CCAMLR Ecosystem Monitoring Programme, Hobart

Che-Castaldo C, Jenouvrier S, Youngflesh C, Shoemaker K, Humphries G, McDowall P, Landrum L, Holland M, Li Y, Ji R, Lynch HJ (2017) Pan-Antarctic analysis aggregating spatial estimates of Adélie Penguin abundance reveals robust dynamics despite stochastic noise. Nat Commun 8:832

Conroy JWH, White MG, Furse JR, Bruce G (1975) Observations on the breeding biology of the Chinstrap Penguin, Pygoscelis antarctica, at Elephant Island, South Shetland Islands. Antarct Surv Bull 40:23–32

Creuwels JCS, Poncet S, Hodum PJ, van Franeker JA (2007) Distribution and abundance of the southern fulmar (Fulmarus glacialoides). Polar Biol 30:1083

Crossin GT, Trathan P, Crawford RJM (2013) Macaroni Penguin (Eudyptes chrysolophus) and royal penguin (Eudyptes schlegeli). In: Borboroglu PG, Boersma PD (eds) Penguins: natural history and conservation. University of Washington Press, Seattle, pp 185–208

Croxall JP, Furse JR (1980) Food of Chinstrap Penguins (Pygoscelis antarctica) and Macaroni Penguins (Eudyptes chrysolophus) at Elephant Island group, South Shetland Islands. Ibis 122:237–245

Croxall JP, Kirkwood EG (1979) The distribution of penguins on the Antarctic Peninsula and islands of the Scotia Sea. British Antarctic Survey, Cambridge

Croxall JP, Prince PA, Ricketts C (1985) Relationships between prey life-cycles and the extent, nature and timing of seal and seabird predation in the Scotia Sea. In: Siegfried WR, Condy P, Laws RM (eds) Proceedings of the fourth SCAR symposium on Antarctic biology. Springer, Berlin

Dunn MJ, Jackson JA, Adlard S, Lynnes AS, Briggs DR, Fox D et al (2016) Population size and decadal trends of three penguin species nesting at Signy Island, South Orkney Islands. PLoS One 11:e0164025

Foley CM, Fagan WF, Lynch HJ (2020) Correcting for within-season demographic turnover to estimate the island-wide population of King Penguins (Aptenodytes patagonicus) on South Georgia. Polar Biol 43:251–262

Foley CM, Hart T, Lynch HJ (2018) King Penguin populations increase on South Georgia but explanations remain elusive. Polar Biol 41:1111–1122

Furse JR (1979) Elephant Island: An Antarctic expedition. Anthony Nelson, Shrewsbury

Goebel ME, Perryman WL, Hinke JT, Krause DJ, Hann NA, Gardner S, LeRoi DJ (2015) A small unmanned aerial system for estimating abundance and size of Antarctic predators. Polar Biol 35:619–630

Gonzalez-Zevallos D, Santos MM, Rombala EF, Juares MA, Coria NR (2013) Abundance and breeding distribution of seabirds in the northern part of the Danco Coast. Antarctic Peninsula Polar Res 32:11133

Heimark GM, Heimark RJ (1988) Observations of birds and marine mammals at Palmer Station November 1985 to November 1986. Antarct J US 23:14–17

Herman R, Borowicz A, Lynch M, Trathan P, Hart T, Lynch HJ (2020) Update on the global abundance and distribution of Gentoo Penguins (Pygoscelis papua). Polar Biol. https://doi.org/10.1007/s00300-020-02759-3

Hinke J, Salwicka K, Trivelpiece SG, Watters GM, Trivelpiece WZ (2007) Divergent responses of Pygoscelis penguins reveal a common environmental driver. Oecologia 153:845

Humphries G, Naveen R, Schwaller M, Che-Castaldo C, Mcdowall P, Schrimpf M, Lynch HJ (2017) Mapping application for Penguin populations and projected dynamics (MAPPPD): data and tools for dynamic management and decision support. Polar Rec 53:1–7

Jablonski B (1984) Distribution, numbers, and breeding preferences of penguins in the region of the Admiralty Bay (King George Island, South Shetland Islands) in the season 1979/80. Pol Polar Res 5:5–16

Juáres MA, Ferrer F, Coria NR, Santos MM (2017) Breeding events of King Penguin at the South Shetland Islands: Has it come to stay? Polar Biol 40:457–461

Korczak-Abshire M, Zmarz A, Rodzewicz M, Kycko M, Karsznia I, Chwedorzewska KJ (2019) Study of fauna population changes on Penguin Island and Turrent Point Oasis (King George Island, Antarctica) using an unmanned aerial vehicle. Polar Biol 42:217–224

Liu Y, Shah V, Borowicz A, Wethington M, Strycker N, Forrest S, Lynch H, Singh H (2020) Efficient UAV and machine learning based method in penguin colony census. IEEE/OES Autonomous Underwater Vehicle Symposium, Memorial University of Newfoundland, St. John's, NL

Lynch HJ, Fagan WF, Naveen R (2010) Population trends and reproductive success at a frequently visited penguin colony on the western Antarctic Peninsula. Polar Biol 33:493–503

Lynch HJ, LaRue MA (2014) First global census of the Adélie Penguin. Auk Ornithol Adv 131:457–466

Lynch HJ, Naveen R, Casanovas PV (2013) Antarctic Site Inventory breeding bird survey data 1994/95–2012/13. Ecology 94:2653

Lynch HJ, Naveen R, Fagan WF (2008) Censuses of penguin, blue-eyed shag Phalacrocorax atriceps and southern giant petrel Macronectes giganteus populations on the Antarctic Peninsula, 2001–2007. Mar Ornithol 36:83–97

Lynch HJ, Naveen R, Trathan PN, Fagan WF (2012) Spatially integrated assessment reveals widespread changes in penguin populations on the Antarctic Peninsula. Ecology 93:1367–1377

Lynch HJ, Ratcliffe N, Passmore J, Foster E, Trathan PN (2012) Sensitivity analysis identifies high influence sites for estimates of penguin krill consumption on the Antarctic Peninsula. Antarct Sci 25:19–23

Lynch HJ, White R, Naveen R, Black AD, Meixler MS, Fagan WF (2016) In stark contrast to widespread declines along the Scotia Arc, a survey of the South Sandwich Islands finds a robust seabird community. Polar Biol 39:1615–1625

Naveen R, Lynch HJ, Forrest S, Mueller T, Polito M (2012) First direct, site-wide penguin survey at Deception Island, Antarctica, suggests significant declines in breeding Chinstrap Penguins. Polar Biol 35:1879–1888

Petry MV, Basler AB, Valls FCL, Krüger L (2013) New southerly breeding location of King Penguins (Aptenodytes patagonicus) on Elephant Island (Maritime Antarctic). Polar Biol 36:603–606

Petry MV, Valls FCL, Petersen ES, Finger JVG, Krüger L (2018) Population trends of seabirds at Stinker Point, Elephant Island, Maritime Antarctica. Antarct Sci 30:220–226

Pfeifer C, Barbosa A, Mustsafa O, Peter H-U, Rummler M-C, Brenning A (2019) Using fixed-wing UAV for detecting and mapping the distribution and abundance of penguins on the South Shetland Islands. Antarctica Drones 3:39

Poncet S, Poncet J (1985) A survey of penguin breeding populations at the South Orkney Islands. Brit Antarct Surv B 68:71–81

Ropert-Coudert Y, Chiaradia A, Ainley D, Barbosa A, Boersma PD, Brasso R, Dewar M, Ellenberg U, García-Borboroglu P, Emmerson L, Hickcox R, Jenouvrier S, Kato A, McIntosh RR, Lewis P, Ramírez F, Ruoppolo V, Ryan PG, Seddon PJ, Sherley RB, Vanstreels RET, Waller LJ, Woehler EJ, Trathan PN (2019) Happy feet in a hostile world? The future of penguins depends on proactive management of current and expected threats. Front Mar Sci 6:1–23

Rümmler M-C, Mustafa O, Maercker J, Peter H-U, Esefeld J (2015) Measuring the influence of unmanned aerial vehicles on Adélie Penguins. Polar Biol. https://doi.org/10.1007/s00300-015-1838-1

Sander M, Balbao TC, Polito MJ, Costa ES, Carneiro APB (2007) Recent decrease in Chinstrap Penguin (Pygoscelis antarctica) populations at two of Admiralty Bay's islets on King George Island, South Shetland Islands, Antarctica. Polar Biol 30:659–661

Schuford WD, Spear LB (1988) Surveys of breeding penguins and other seabirds in the South Shetland Islands, Antarctica, January-February 1987. NOAA Tech Rep NMFS F/NEC-59

Southwell C, Emmerson L, McKinlay J, Newbery K, Takahashi A, Kat A et al (2015) Spatially extensive standardized surveys reveal widespread, multi-decadal increase in East Antarctic Adélie Penguin populations. PLoS One 10:e0139877

Strycker N, Wethington M, Borowicz A, Forrest S, Witharana C, Hart T, Lynch HJ (2020) A global population assessment of the Chinstrap Penguin (Pygoscelis antarctica). Sci Rep 10:19474

Trathan PN, Ratcliffe N, Masden EA (2012) Ecological drivers of change at South Georgia: the krill surplus, or climate variability. Ecography 35:983–993

Trivelpiece WZ, Hinke JT, Miller AK, Reiss CS, Trivelpiece SG, Watters GM (2011) Variability in krill biomass links harvesting and climate warming to penguin population changes in Antarctica. PNAS 108:7625–7628

Trivelpiece W, Trivelpiece S, Volkman N (1987) Ecological segregation of Adélie, Gentoo, and Chinstrap Penguins at King George Island, Antarctica. Ecology 68:351–361

Watters GM, Hinke JT, Reiss CS (2020) Long-term observations from Antarctica demonstrate that mismatched scales of fisheries management and predator–prey interaction lead to erroneous conclusions about precaution. Sci Rep 10:2314

Wilson GJ (1983) Distribution and abundance of Antarctic and sub-Antarctic penguins: a synthesis of current knowledge. Biomass 4:1–46
Acknowledgements
We thank the Pew Charitable Trusts, whose support enabled the investigative team to conduct this research. We are grateful to Greenpeace International and the crew of the M/Y Esperanza for their tenacity and passion in supporting us in the field. We also thank Tom Hart and Norman Ratcliffe for helpful comments in reviewing this manuscript.
Funding
This study was funded by the Pew Charitable Trusts with logistical support provided by Greenpeace International.
Ethics declarations
Conflicts of interest
The authors declare that they have no conflicts of interest.
Ethics approval
This investigation involved no contact with animals. The protocol was approved by the Stony Brook University Institutional Animal Care and Use Committee (IRBNet ID 237420). The field work was carried out under a permit granted by the National Science Foundation under the Antarctic Conservation Act (45 CFR §673 et seq.) with an initial environmental evaluation approved by the US Environmental Protection Agency Office of Federal Activities.
Additional information
Publisher's Note
Springer Nature remains neutral with regard to jurisdictional claims in published maps and institutional affiliations.
Electronic supplementary material
Below is the link to the electronic supplementary material.
About this article
Cite this article
Strycker, N., Borowicz, A., Wethington, M. et al. Fifty-year change in penguin abundance on Elephant Island, South Shetland Islands, Antarctica: results of the 2019–20 census. Polar Biol 44, 45–56 (2021). https://doi.org/10.1007/s00300-020-02774-4
Received:

Revised:

Accepted:

Published:

Issue Date:
Keywords
Chinstrap Penguin

Gentoo Penguin

Adélie Penguin

Macaroni Penguin

King Penguin

South Shetland Islands

Antarctic Peninsula

Scotia Arc

Unmanned aerial vehicle