Abstract
King penguins (Aptenodytes patagonicus) are a circumpolar sub-Antarctic species inhabiting most of the major sub-Antarctic island chains of the Southern Ocean, the Falkland Islands, and regions of Patagonia. Despite early suggestions to the contrary, there is no conclusive historical evidence of King penguin inhabitation of the Antarctic Peninsula or the South Shetland Islands until the past decade. After a near-complete survey of Elephant Island, we report widespread presence of this species, including documented incubation at one site and molting at another. While we found no evidence of King penguins successfully fledging a chick at any of the sites where individuals were found, their presence across numerous sites suggests the potential for future range expansion in response to warming conditions.
Access options
Buy single article
Instant access to the full article PDF.
USD 39.95
Price includes VAT (USA)
Tax calculation will be finalised during checkout.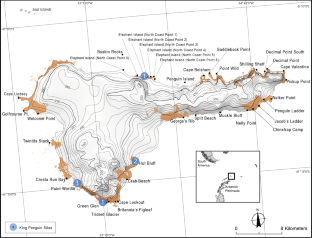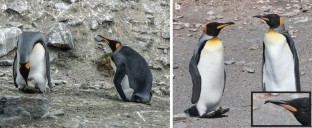 Data availability
All relevant data are included in the body of this note.
References
Atkinson A, Hill SL, Pakhomov EA, Siegel V, Reiss CS, Loeb VJ, Steinberg DK, Schmidt K, Tarling G, Gerrish AL, Sailley SF (2019) Krill (Euphausia superba) distribution contracts southward during rapid regional warming. Nat Clim Chang 9:142–147. https://doi.org/10.1038/s41558-018-0370-z

Burley M (1971) Joint services expedition to Elephant Island, 1970–71. Polar Rec 15:924–925. https://doi.org/10.1017/S0032247400062173

Conroy JWH, White MG (1973) The breeding status of the King penguin (Aptenodytes patagonica). Brit Antarct Surv B 32:31–40

Croxall JP, Kirkwood EG (1979) The distribution of penguins on the Antarctic Peninsula and islands of the Scotia Sea. British Antarctic Survey, Cambridge

Foley CM, Hart T, Lynch HJ (2018) King penguin populations increase on South Georgia but explanations remain elusive. Polar Biol 41:1111–1122. https://doi.org/10.1007/s00300-018-2271-z

Foley CM, Fagan WF, Lynch HJ (2020) Correcting for within-season demographic turnover to estimate the island-wide population of King penguins (Aptenodytes patagonicus) on South Georgia. Polar Biol 43:251–262. https://doi.org/10.1007/s00300-020-02627-0

Gryz P, Gerlée A, Korczak-Abshire M (2018) New breeding site and records of King penguins (Aptenodytes patagonicus) on King George Island (South Shetlands, Western Antarctic). Polar Rec 54:275–283. https://doi.org/10.1017/S0032247418000554

Juáres MA, Negrete J, Mennucci JA, Perchiavale PJ, Santos M, Moreira E, Coria NR (2014) Further evidence of king penguins' breeding range extension at the South Shetland Islands? Antarct Sci 26:261–262. https://doi.org/10.1017/S0954102013000655

Juáres MA, Ferrer F, Coria NR, Santos MM (2017) Breeding events of King penguin at the South Shetland Islands: Has it come to stay? Polar Biol 40:457–461. https://doi.org/10.1007/s00300-016-1947-5

Petry MV, Basler AB, Valls FCL, Krüger L (2013) New southerly breeding location of king penguins (Aptenodytes patagonicus) on Elephant Island (Maritime Antarctic). Polar Biol 36:603–606. https://doi.org/10.1007/s00300-012-1277-1

Pistorius P, Baylis A, Croft S, Pütz K (2012) Population development and historical occurrence of King penguins at the Falkland Islands. Antarct Sci 24:435–440. https://doi.org/10.1017/S0954102012000302

Poloczanska E, Brown C, Sydeman W et al (2013) Global imprint of climate change on marine life. Nat Clim Change 3:919–925. https://doi.org/10.1038/nclimate1958

Pütz K, Trathan PN, Pedrana J, Collins MA, Poncet S, Lüthi B (2014) Post-fledging dispersal of king penguins (Aptenodytes patagonicus) from two breeding sites in the South Atlantic. PLoS ONE 9:e97164. https://doi.org/10.1371/journal.pone.0097164

Root TL, Price JT, Hall KR, Schneider SH, Rosenzweig C, Pounds JA (2003) Fingerprints of global warming on wild animals and plants. Nature 421:57–60. https://doi.org/10.1038/nature01333

Weimerskirch H, Le Bouard F, Ryan PG, Bost CA (2018) Massive decline of the world's largest King penguin colony at Ile aux Cochons, Crozet. Antarct Sci 30:236–242. https://doi.org/10.1017/S0954102018000226

Woehler EJ, Croxall JP (1997) The status and trends of Antarctic and sub-Antarctic seabirds. Mar Ornithol 25:43–66
Acknowledgements
The authors wish to thank Frida Bengtsson, Grant Oakes, Greenpeace, and the crew of the MY Esperanza for their tenacity, assistance, and logistical support for this expedition. They also gratefully acknowledge Oceanites, the financial support of the Pew Charitable Trusts, and constructive reviews from Mariana A. Juáres and Maria V. Petry.
Funding
Support for fieldwork was provided by the Pew Charitable Trusts.
Ethics declarations
Conflict of interest
All authors declare that they have no conflict of interest.
Ethical approval
Fieldwork was permitted under the U.S. Antarctic Conservation Act (permit ACA 2019–001, ACA 2020–010, ACA 2020–011). Observations of King penguins were approved by the Institutional Animal Care and Use Committee at Stony Brook University (2011–1881-R2-6.19.20-BI).
Additional information
Publisher's Note
Springer Nature remains neutral with regard to jurisdictional claims in published maps and institutional affiliations.
About this article
Cite this article
Borowicz, A., Forrest, S., Wethington, M. et al. Presence of King penguins (Aptenodytes patagonicus) on Elephant Island provides further evidence of range expansion. Polar Biol 43, 2117–2120 (2020). https://doi.org/10.1007/s00300-020-02760-w
Received:

Revised:

Accepted:

Published:

Issue Date:
Keywords
Range expansion

Climate change

Colonization

Antarctica