Abstract
Though climate change is widely known to negatively affect the distribution and abundance of many species, few studies have focused on species that may benefit. Gentoo Penguin (Pygoscelis papua) populations have grown along the Western Antarctic Peninsula (WAP), a region accounting for ~ 30% of their global population. These trends of population growth in Gentoo Penguins are in stark contrast to those of Adélie and Chinstrap Penguins, which have experienced considerable population declines along the WAP attributed to environmental changes. The recent discovery of previously unknown Gentoo Penguin colonies along the WAP and evidence for southern range expansion since the last global assessment in 2013 motivates this review of the abundance and distribution of this species. We compiled and collated all available recent data for every known Gentoo Penguin colony in the world and report on previously unknown Gentoo Penguin colonies along the Northwestern section of the WAP. We estimate the global population of Gentoo Penguins to be 432,144 (95th CI 338,059 – 534,114) breeding pairs, with approximately 364,359 (95th CI 324,052 – 405,132) breeding pairs (85% of the population) living in the Atlantic sector. Our estimates suggest that the global population has increased by approximately 11% since 2013, with even greater increases (23%) along the WAP. The Falkland Islands population, which comprises 30% of the global population, has remained stable, though only a subset of colonies have been surveyed since the last comprehensive survey in 2010. Our assessment identifies South Georgia and sub-Antarctic islands in the Indian Ocean as being the most critical data gaps for this species.
Access options
Buy single article
Instant access to the full article PDF.
US$ 39.95
Tax calculation will be finalised during checkout.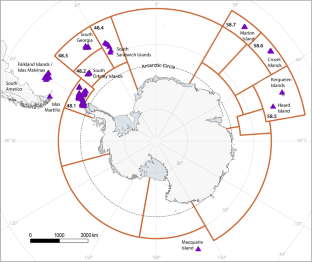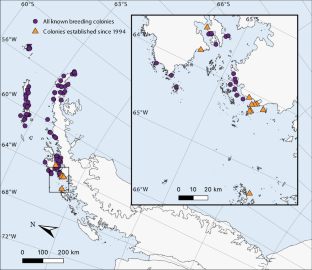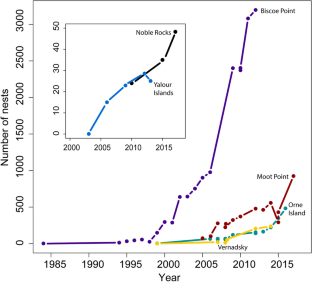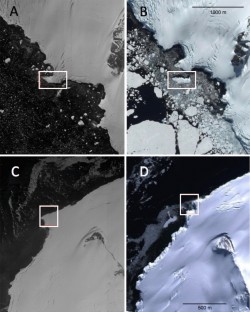 References
Baylis AM, Crofts S, Wolfaardt AC (2013) Population trends of Gentoo Penguins Pygoscelis papua breeding at the Falkland Islands. Mar Ornithol 41:1–5

Baylis AM, Orben RA, Arnould JP, Christiansen F, Hays GC, Staniland IJ (2015) Disentangling the cause of a catastrophic population decline in a large marine mammal. Ecology 96:2834–2847. https://doi.org/10.1890/14-1948.1

Borowicz A, McDowall P, Youngflesh C, Sayre-McCord T, Clucas G, Herman R, Forrest S, Rider M, Schwaller M, Hart T, Jenouvrier S, Polito MJ, Singh H, Lynch HJ (2018) Multi-modal survey of Adélie Penguin mega-colonies reveals the Danger Islands as a seabird hotspot. Sci Reports 8:1–9. https://doi.org/10.1038/s41598-018-22313-w

Bost CA, Clobert J (1992) Gentoo penguin Pygoscelis papua: Factors affecting the process of laying a replacement clutch. Acta Oecol 13:593–605

Chen IC, Hill JK, Ohlemüller R, Roy DB, Thomas CD (2011) Rapid range shifts of species associated with high levels of climate warming. Science 333:1024–1026. https://doi.org/10.1126/science.1202702

Cherel Y, Hobson KA, Guinet C, Vanpe C (2007) Stable isotopes document seasonal changes in trophic niches and winter foraging individual specialization in diving predators from the Southern Ocean. J Anim Ecol 76:826–836. https://doi.org/10.1111/j.13652656.2007.01238.x

Cimino MA, Fraser WR, Irwin AJ, Oliver MJ (2013) Satellite data identify decadal trends in the quality of Pygoscelis Penguin chick-rearing habitat. Glob Change Biol 19:136–148. https://doi.org/10.1111/gcb.12016

Clements JF, Schulenberg TS, Iliff MJ, Roberson D, Fredericks TA, Sullivan BL, Wood CL (2017) The eBird/Clements checklist of birds of the world: v2016. Retrieved from https://www.birds.cornell.edu/clementschecklist/download/

Clucas GV, Dunn MJ, Dyke G, Emslie SD, Levy H, Naveen R, Polito MJ, Pybus OG, Rogers AD, Hart T (2014) A reversal of fortunes: climate change 'winners' and 'losers' in Antarctic Peninsula penguins. Sci Reports 4:5024. https://doi.org/10.1038/srep05024

Clucas GV, Younger JL, Kao D, Emmerson L, Southwell C, Wienecke B, Lelliott P (2018) Comparative population genomics reveals key barriers to dispersal in Southern Ocean penguins. Mol Ecol 27:4680–4697. https://doi.org/10.1111/mec.14896

Cole TL, Dutoit L, Dussex N, Hart T, Alexander A, Younger JL, Clucas GV, Frugone MJ, Cherel Y, Cuthbert R, Ellenberg U (2019) Receding ice drove parallel expansions in Southern Ocean penguins. Proc Nat Acad Sci USA 116:26690–26696. https://doi.org/10.1073/pnas.1904048116

Crawford RJ, Whittington PA, Upfold L, Ryan PG, Petersen SL, Dyer BM, Cooper J (2009) Recent trends in numbers of four species of penguins at the Prince Edward Islands. Afr J Mar Sci 31:419–426. https://doi.org/10.2989/AJMS.2009.31.3.14.1002

Crawford RJ, Dyer BM, Upfold L, Makhado AB (2014) Congruent, decreasing trends of gentoo penguins and Crozet shags at sub-Antarctic Marion Island suggest food limitation through common environmental forcing. Afr J Mar Sci 36:225–231. https://doi.org/10.2989/1814232X.2014.926293

Crofts S, Stanworth A (2019) Falkland Islands Seabird Monitoring Programme - Annual Report 2018/2019 (SMP26). Falklands Conservation, Stanley

Croxall JP, Kirkwood ED (1979) The distribution of penguins on the Antarctic Peninsula and islands of the Scotia Sea. British Antarctic Survey, Cambridge, U.K.

de Dinechin M, Dobson FS, Zehtindjiev P, Metcheva R, Couchoux C, Martin A, Quillfeldt P, Jouventin P (2012) The biogeography of Gentoo Penguins (Pygoscelis papua). Can J Zool 90:352–360. https://doi.org/10.1139/z2012-016

Dunlop JN (2009) The population dynamics of tropical seabirds establishing frontier colonies on islands off south-western Australia. Mar Ornithol 37:99–105

Dunn MJ, Forcada J, Jackson JA, Waluda CM, Nichol C, Trathan PN (2019) A long-term study of Gentoo Penguin (Pygoscelis papua) population trends at a major Antarctic tourist site, Goudier Island, Port Lockroy. Biodivers Conserv 28:37–53. https://doi.org/10.1007/s10531-018-1635-6

Forcada J, Trathan PN (2009) Penguin responses to climate change in the Southern Ocean. Glob Change Biol 15:1618–1630. https://doi.org/10.1111/j.1365-2486.2009.01909.x

Fulton EA (2011) Interesting times: winners, losers, and system shifts under climate change around Australia. ICES J Mar Sci 68:1329–1342. https://doi.org/10.1093/icesjms/fsr032

Herman R, Valls FCL, Hart T, Petry MV, Trivelpiece W, Polito MJ (2017) Seasonal consistency and individual variation in foraging strategies differ between and within Pygoscelis Penguin populations in the Antarctic Peninsula region. Mar Biol 164:115. https://doi.org/10.1007/s00227-017-3142-9

Hickling R, Roy DB, Hill JK, Fox R, Thomas CD (2006) The distributions of a wide range of taxonomic groups are expanding polewards. Glob Change Biol 12:450–455. https://doi.org/10.1111/j.1365-2486.2006.01116.x

Humphries GRW, Naveen R, Schwaller M, Che-Castaldo C, McDowall P, Schrimpf M, Lynch HJ (2017) Mapping application for penguin populations and projected dynamics (MAPPPD): data and tools for dynamic management and decision support. Polar Rec 53:160–166. https://doi.org/10.1017/S0032247417000055

Jouventin P (1994) Les populations d'oiseaux marins des T.A.A.F.: Résumé de 20 années de recherché. Aluada 62:44–47

LaRue MA, Ainley DG, Swanson M, Dugger KM, Lyver PO'B, Barton K, Ballard G, (2013) Climate change winners: Receding ice fields facilitate colony expansion and altered dynamics in an Adélie Penguin metapopulation. PLoS ONE 8:e60568. https://doi.org/10.1371/2Fjournal.pone.0060568

Lescroël A, Bost CA (2005) Foraging under contrasting oceanographic conditions: the gentoo penguin at Kerguelen Archipelago. Mar Ecol Prog Ser 302:245–261. https://doi.org/10.3354/meps302245

Lescroël A, Bost CA (2006) Recent decrease in Gentoo Penguin populations at Iles Kerguelen. Antarct Sci 18:171–174. https://doi.org/10.1017/S0954102006000198nt

Levy H, Clucas GV, Rogers AD, Leaché AD, Ciborowski KL, Polito MJ, Lynch HJ, Dunn MJ, Hart T (2016) Population structure and phylogeography of the Gentoo Penguin (Pygoscelis papua) across the Scotia Arc. Ecol Evol 6:1834–1853. https://doi.org/10.1002/2Fece3.1929

Lynch HJ, Fagan WF, Naveen R, Trivelpiece SG, Trivelpiece WZ (2011) Differential advancement of breeding phenology in response to climate may alter staggered breeding among sympatric pygoscelid penguins. Mar Ecol Prog Ser 454:135–145. https://doi.org/10.3354/meps09252

Lynch HJ, Trathan NR (2012) Spatially integrated assessment reveals widespread changes in penguin populations on the Antarctic Peninsula. Ecology 93:1367–1377. https://doi.org/10.1890/11-1588.1

Lynch HJ (2013) Gentoo Penguins (Pygoscelis papua) In: Borboroglu PG, Boersma PD (ed) Penguins: Natural History and Conservation, 1st ed. Seattle: University of Washington Press, pp 75–88

Lynch HJ, Naveen R, Casanovas PV (2013) Antarctic Site Inventory breeding bird survey data 1994/95-2012/13. Ecology 94:2653. https://doi.org/10.1890/13-1108.1

Lynch HJ, White R, Naveen R, Black A, Meixler MS, Fagan WF (2016) In stark contrast to widespread declines along the Scotia Arc, a survey of the South Sandwich Islands finds a robust seabird community. Polar Biol 39:1615–1625. https://doi.org/10.1007/s00300-015-1886-6

Masello JF, Kato A, Sommerfeld J, Mattern T, Quillfeldt P (2017) How animals distribute themselves in space: variable energy landscapes. Front Zool 14(1):33. https://doi.org/10.1186/s12983-017-0219-8

McMahon KW, Michelson CI, Hart T, McCarthy MD, Patterson WP, Polito MJ (2019) Divergent trophic responses of sympatric penguin species to historic anthropogenic exploitation and recent climate change. P Nat Acad Sci USA 116:25721–25727. https://doi.org/10.1073/pnas.1913093116

Mott PG, Wiggins WD (1965) Falkland Islands and Dependencies Aerial Survey Expedition 1955–57. Geogr J 131:430–432

Naveen R, Lynch HJ, Forrest S, Mueller T, Polito M (2012) First direct, site-wide penguin survey at Deception Island, Antarctica, suggests significant declines in breeding Chinstrap Penguins. Polar Biol 35:1879–1888. https://doi.org/10.1007/s00300-012-1230-3

Oro D, Ruxton GD (2001) The formation and growth of seabird colonies: Audouin's gull as a case study. J Anim Ecol 70:527–535. https://doi.org/10.1046/j.1365-2656.2001.00511.x

Parks and Wildlife Service (2006) Macquarie Island Nature Reserve and World Heritage Area Management Plan. Parks and Wildlife Service, Department of Tourism, Arts, and the Environment, Hobart

Pecl GT, Araújo MB, Bell JD, Blanchard J, Bonebrake TC, Chen IC, Clark TD, Colwell RK, Danielsen F, Evengård B, Falconi L (2017) Biodiversity redistribution under climate change: Impacts on ecosystems and human well-being. Science. https://doi.org/10.1126/science.aai9214

Pertierra LR, Segovia NI, Noll D, Martinez PA, Pliscoff P, Barbosa A, Aragón P, Raya Rey A, Pistorius P, Trathan P, Polanowski A (2020) Cryptic speciation in gentoo penguins is driven by geographic isolation and regional marine conditions: Unforeseen vulnerabilities to global change. Divers Distrib (No volume assigned yet). https://doi.org/10.1111/ddi.13072

Petry MV, Valls FC, Petersen ES, Finger JV, Krüger L (2018) Population trends of seabirds at Stinker Point, Elephant Island, Maritime Antarctica. Antarct Sci 30:220–226. https://doi.org/10.1594/PANGAEA.887844

Pritchard H, Ligtenberg SRM, Fricker HA, Vaughan DG, Van den Broeke MR, Padman L (2012) Antarctic ice-sheet loss driven by basal melting of ice shelves. Nature 484:502–505. https://doi.org/10.1038/nature10968

Paolo FS, Fricker HA, Padman L (2015) Volume loss from Antarctic ice shelves is accelerating. Science 348:327–331. https://doi.org/10.1126/science.aaa0940

Polito MJ, Trivelpiece WZ, Patterson WP, Karnovsky NJ, Reiss CS, Emslie SD (2015) Contrasting specialist and generalist patterns facilitate foraging niche partitioning in sympatric populations of Pygoscelis Penguins. Mar Ecol Prog Ser 519:221–237. https://doi.org/10.3354/meps11095

QGIS Development Team (2018) QGIS Geographic Information System. Open Source Geospatial Foundation Project. https://qgis.osgeo.org.

R Development Core Team (2017) R: a language and environment for statistical computing. R Foundation for Statistical Computing. www.R-project.org/

Rey AR, Rosciano N, Liljesthröm M, Samaniego RS, Schiavini A (2014) Species-specific population trends detected for penguins, gulls and cormorants over 20 years in sub-Antarctic Fuegian Archipelago. Polar Biol 37:1343–1360. https://doi.org/10.1007/s00300-014-15266

Santoro S, Green AJ, Figuerola J (2016) Immigration enhances fast growth of a newly-established source population. Ecology 97:1048–1057. https://doi.org/10.1890/14-2462.1

Sandvik H, Erikstad KE, Barrett RT, Yoccoz NG (2005) The effect of climate on adult survival in five species of North Atlantic seabirds. J Anim Ecol 74:817–831. https://doi.org/10.1111/j.1365-2656.2005.00981.x

Shepherd A, Fricker HA, Farrell SL (2018) Trends and connections across the Antarctic cryosphere. Nature 558:223–232. https://doi.org/10.1038/s41586-018-0171-6

Smagol VM, Dzhulay AO, Dykyy IV, Milinevsky GP, Dykyy EO (2018) Pygoscelis penguin census in the Vernadsky Antarctic station area. Working Paper SC-CAMLR-XXXVII/BG/06 for the Commission for the Conservation of Antarctic Marine Living Resources

Somero GN (2010) The physiology of climate change: how potentials for acclimatization and genetic adaptation will determine 'winners' and 'losers.' J Exp Biol 213:912–920. https://doi.org/10.1242/jeb.037473

Stammerjohn SE, Martinson DG, Smith RC, Iannuzzi RA (2008) Sea ice in the western Antarctic Peninsula region: Spatio-temporal variability from ecological and climate change perspectives. Deep Sea Res Part II: Top Stud Oceanogr 55:2041–2058. https://doi.org/10.1016/j.dsr2.2008.04.026

Thomas CD, Franco AM, Hill JK (2006) Range retractions and extinction in the face of climate warming. Trends Ecol Evol 21:415–416. https://doi.org/10.1016/j.tree.2006.05.012

Trathan PN, Daunt FJH, Murphy EJ (1996) South Georgia: an ecological atlas. Br Antarct Surv

Trathan PN, Grant SM, Siegel V, Kock KH (2013) Precautionary spatial protection to facilitate the scientific study of habitats and communities under ice shelves in the context of recent, rapid, regional climate change. CCAMLR Science 20:139–151

Trivelpiece WZ, Hinke JT, Miller AK, Reiss CS, Trivelpiece SG, Watters GM (2011) Variability in krill biomass links harvesting and climate warming to penguin population changes in Antarctica. P Nat Acad Sci USA 108:7625–7628. https://doi.org/10.1073/pnas.1016560108

Turner J, Phillips T, Marshall GJ, Hosking JS, Pope JO, Bracegirdle TJ, Deb P (2017) Unprecedented springtime retreat of Antarctic sea ice in 2016. Geophys Res Lett 44:6868–6875. https://doi.org/10.1002/2017GL073656

Vaughan DG, Marshall GJ, Connolley WM, Parkinson C, Mulvaney R, Hodgson DA, King JC, Pudsey CJ, Turner J (2003) Recent rapid regional climate warming on the Antarctic Peninsula. Clim Change 60:243–274. https://doi.org/10.1023/A:1026021217991

Vianna JA, Noll D, Dantas GPM, Virginia Petry M, Barbosa A, González-Acuña D, Le Bohec C, Bonadonna F, Poulin E (2017) Marked phylogeographic structure of Gentoo Penguin reveals an ongoing diversification process along the Southern Ocean. Mol Phylogenet Evol 107:486–498. https://doi.org/10.1016/j.ympev.2016.12.003

Weimerskirch H, Zotier R, Jouventin P (1988) The avifauna of the Kerguelen islands. Emu 89:15–29. https://doi.org/10.1071/MU9890015

Weimerskirch H, Inchausti P, Guinet C, Barbraud C (2003) Trends in bird and seal populations as indicators of a system shift in the Southern Ocean. Antarct Sci 15:249–256. https://doi.org/10.1017/S0954102003001202

Woehler EJ (1993) The distribution and abundance of Antarctic and Subantarctic penguins. Scientific Commission on Antarctic Research, Cambridge, UK, p 2017

Younger J, Emmerson L, Southwell C, Lelliott P, Miller K (2015) Proliferation of East Antarctic Adélie Penguins in response to historical deglaciation. BMC Evol Biol 15:236. https://doi.org/10.1186/s12862-015-0502-2
Acknowledgements
We would like to thank Ron Naveen and IAATO member cruise companies for logistical support of opportunistic field surveys, as well as the Dalio Foundation for funding the Danger Islands Expedition. We would like to thank Alastair Baylis and Henri Weimerskirch for providing information on Gentoo Penguins on the Falkland Islands and several other sub-Antarctic islands. We also thank reviewers Melanie Massaro, Charles-André Bost, and Thomas Mattern for their constructive and insightful feedback to improve this manuscript.
Ethics declarations
Conflict of interest
The authors declare no conflicts of interest.
Additional information
Publisher's Note
Springer Nature remains neutral with regard to jurisdictional claims in published maps and institutional affiliations.
Electronic supplementary material
Below is the link to the electronic supplementary material.
About this article
Cite this article
Herman, R., Borowicz, A., Lynch, M. et al. Update on the global abundance and distribution of breeding Gentoo Penguins (Pygoscelis papua). Polar Biol 43, 1947–1956 (2020). https://doi.org/10.1007/s00300-020-02759-3
Received:

Revised:

Accepted:

Published:

Issue Date:
Keywords
Gentoo penguins

Range expansion

Global census

Antarctic peninsula

Glacial retreat

Sea ice